Contertop Dishwashers Buying Guide - Model Reviews, Advantages And Drawbacks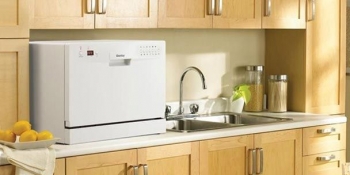 The Tower of Pisa may be beautiful, but slanted piles of plates waiting for you return to get washed are not that attracting. You can save time by delegating such an important deed to a dishwasher, a helper that makes dining convenient. But what if you are going to move soon? Full-scale dishwashers are not a good option. A portable dishwasher is just the kind of equipment you need.
We would like to introduce you a comprehensive buying guide that is dedicated to the world of small, but effective lifesavers called portable dishwashers!
1. Drawbacks of portable dishwashers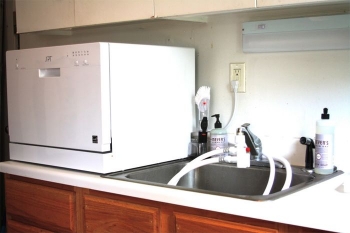 There are some things that can spoil the impression, yet they are not that numerous and depend on the situation the dishwashers are used in.
Water inconvenience. Since water is taken from a tap using a special hose, it is impossible to use the tap when the dishwasher is working. There are models that can hook up quite easily, thus making it possible to release the tap 'for a moment' to have a glass of water, but many owners of portable dishwashers complain about not having an opportunity to use the kitchen the way they want when the washing is on.
Considerable weight. Some models may be heavy. Though there are wheels on most of them, there is some feedback that carrying the machines may be difficult for a woman.
Loud running. The majority of portable dishwashers make quite loud noises. Feedback suggests that these sounds may be loud enough to spoil the impression.
2. Types of portable dishwashers
There are two main types of portable dishwashers: freestanding and countertop. The first one resembles a regular dishwasher; the second one can be placed on a table or some other surface.
Freestanding dishwashers. These are almost like full-sized built-in dishwashers, but can be moved, as they are equipped with small wheels. When there is no urgent need to wash the dishes, you roll the machine somewhere where it will not be on anyone's way, or you can set it against a back wall in the kitchen. All you need to do to use the device is to roll it out and attach it to the sink. Such dishwashers are no worse in terms of efficiency and the number of dishes they can handle than traditional dishwashers;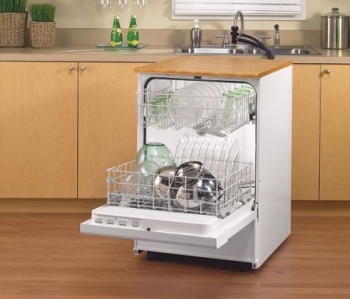 Countertop dishwashers. This type is distinguished by the ability to save space in small kitchens. Such dishwashers have a size of a printer or a microwave. They also fall into two groups:

Those running on electricity. This type is more efficient and reliable, as electricity does not (at least in most cases) fail often. Besides, it features water heaters, thus cleaning your dishes better;
Those relying on water pressure. Such ones use a sink to power the dishwasher. They depend on water pressure, and if the latter is not quite good, the efficiency leaves much to be desired.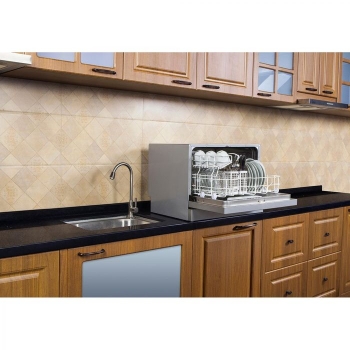 3. How to choose a portable dishwasher
The process of choosing a portable dishwasher has a variety of aspects, and each of them is worth considering.
Think of how many dishes you need to wash at a time. This is a very important aspect, since the size of the dishwasher directly affects the number of dishes and tableware it can get cleaned at a time.
Imagine where you will place it. Do you have considerable space in the kitchen? Pick a freestanding dishwasher. Or it is difficult even to go to the fridge without dropping something on the way? Then a countertop dishwasher is the right option for you.
Check the functions. The first two things to consider are crucial, and while the rest are not that fundamental, they are also important. For instance, functions. Check whether your potential dishwasher has all the functions you may need. Do you want it to start washing the dishes at a certain time? Look for a delayed start option. Do electricity bills frighten you every time you see them? Choose a machine with energy-saving features. The same is true of adjustable racks, multiple cycles, etc.
Appearance also matters. Think of how this or that machine would look and whether it will match your décor. There are so many designs presented in the market that everyone will definitely find something to his or her liking.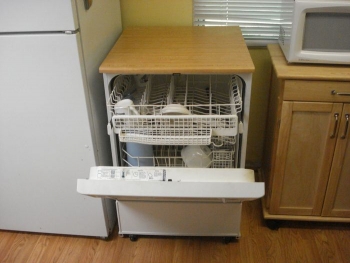 4. Top 5 models and reviews
Here is our review of the most popular models. All these models have great (4+) feedback and guarantee high quality washing.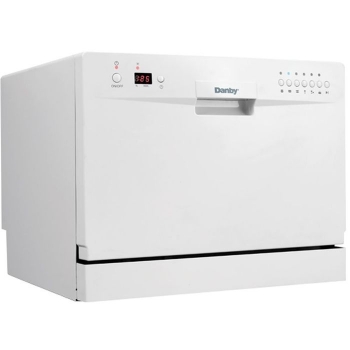 It is a countertop portable dishwasher that is among the favorites of customers.
Energy Star - helps save energy and thus money;
Low water consumption (3.17 gallons / 12 liters during normal cycle);
Easy to connect to any kitchen tap;
Automatic dispenser for detergent and rinse substances;
LED display;
6 wash cycles;
Stainless steel interior;
Concerning the wash cycles: 'The longest one, the heavy is 1 hour 45 minutes, normal 1:25, light 1:15, glass 1:10, speed 45minutes and soak 10 minutes' - Blue Bear07;
Weight: 50 pounds (22.68 kg);
Noise: 55 dB;
Dimensions: 19.7 x 21.6 x 17.2 inches (50 x 54.8 x 43.68 cm);
Customer reviews:
- 'This is a compact washer. Large dishes are hard to fit! I use it every night cause I can only fit about 4 glasses, 3-4 medium plates, the silverware and maybe a small pot. So keep that in mind. Pre wash your dishes a bit, if its dried on to the plate or pan its probably not going to come off. It will on a second cycle most of the time from what I've experienced. Works best when you clear the table and put everything straight into the dishwasher and use it right then' - Mike
- 'Absolutely best big-ticket item I've bought in a while! Fit on my counter beautifully. It does a great job washing even unscraped, unrinsed dishes. Remember to clean out the drain filter from time to time though!' - R. Carlson
- 'This little gem is a mighty mite! It works awesome and is very quiet. I am very happy with it so far. It has exceeded my expectations. The only problem I had was the adapter that comes with it didn't fit my faucet. I had to go to several stores before I found one that works. Once that was done, no further problems. Great value for the money' - Harold
Here is a bonus: a picture made by DogBitez that shows the dimensions of this model in comparison with surrounding objects.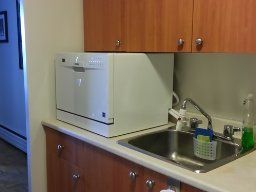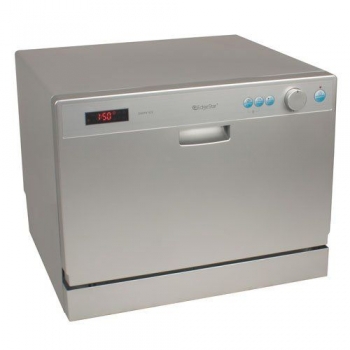 This 6 place setting dishwasher is the leader of the portable dishwasher category. It is a quiet portable dishwasher that features:
LED display;
Low energy consumption - as the manufacturer claims, it uses 61% less energy than similar countertop dishwashers;
Features delayed start;
Child lock function;
Stainless steel interior;
Comes with a 5 foot (152.4 cm) hose;
Dimensions: 17 3/16" x 21 11/16" x 19 11/16" (43.6 x 55 x 50 cm);
Customer reviews:
- 'I had a little issue with cloudy residue on my dishes which was easily remedied by cutting down my detergent in half (which makes sense, considering the machine itself is half the size of a conventional dishwasher)... On one occasion, my dishwasher leaked from behind at the hose connection. Now, before I do a load, I quickly check the hoses are securely tightened (super easy to do) and have not had a problem since. Cleaning the interior, filters, and wash arm is effortless. The stainless steel interior does not hold odors and cleans easily as well. This dishwasher is easy to connect and disconnect from the faucet, just remember to turn off the water before disconnecting. It is not as much a tragedy if this happens, but comedic...and you will probably never forget to turn off the water again…' - Kathleen E. Quinn
- 'The only issues I've had is that it makes an alarming whining/grinding sound during the wash cycle occasionally and the silverware basket is annoyingly constructed with two differently-sized holes such that dinner forks/soup spoons only fit in half of them... But otherwise, it's a great appliance for one or two people' - Myra OC
- 'I've put extremely dirty dishes in it, without rinsing, just to see if it could handle it. Good news - it can! It also holds more dishes than expected, if you're only using plates. My plates are about 11inches square, and they fit no problem. The rack isn't very well designed for bowls though. The spikes aren't quite wide enough, so bowls take up more room than they should. It can also be difficult to load large dishes in it, because the rack doesn't pull out far enough to clear the top of the inside of the dishwasher. This is really a minor problem though. I would recommend this dishwasher to anyone' - Kayla Stoner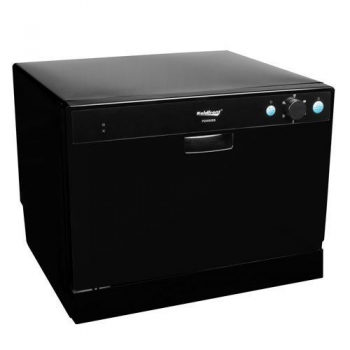 This is a countertop model that is capable of meeting the expectations of the majority of customers.
Features a dish rack, cutlery basket and cup shelf;
Able to hold plates up to 10.5" (26.67 cm) in diameter;
6 wash cycles;
Easy connection. Comes with an adapter that fits most kitchen faucets;
Stainless steel interior;
Consumes 3.8 gallons (14.38 liters) of water during normal wash;
Noise: 55 dB;
Dimensions: 17 3/16" x 21 11/16" x 19 11/16" (43.6 x 55 x 50 cm);
Customer reviews:
- 'I like that the manual lists the time and water and energy consumption for each cycle. Based on my very rough calculations (I'm a science guy), it uses about as much water as hand washing, but more electricity... It's got lots of cycles but it cleans really well on the lightest two. One of those has a drying cycle and the other doesn't. I can't imagine needing to use the Heavy or even Normal cycles... All in all, I'm quite happy with the dishwasher and I'm very glad I bought it' - BOM
- 'This Koldfront does it all from scouring heavy cookware to gently cleaning china and crystal. Mine fits neatly on the middle shelf of my baker's rack and is super quiet. It holds six place settings, so I would not call it small by any means. It is well worth the price' - Mary Jane Tate
- 'Installation is pretty easy: just a faucet nozzle swap which can be done with a pair of pliers, then screwing in a couple hoses into the back of the unit. Setting up for doing the dishes is a breeze: pop a detergent pack into the unit and close the door, turn on the hot water until it's hot, turn it off, pop on the quick release of the hose, turn on the water to build up pressure again, hit a couple buttons and you're off and washing' - Ken Carlson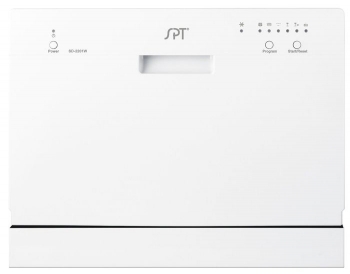 Another countertop dishwasher that is among the top models and distinguished by lots of positive feedback).
Energy Star certified - this model is characterized by low energy consumption;
6 wash cycles;
Stainless steel interior;
Weight: 48.5 pounds (22 kg);
Dimensions: 21.6 x 19.7 x 17.2 inches (54.8 x 50 x 43.68 cm);
Easy connection to any kitchen faucet;
Features a water heater;
Customer reviews:
- 'This dishwasher is absolutely wonderful. Was easy to set up (except be sure to push the washer arm down into place - mine had come out in shipping despite being very well packaged, no biggie). I can't believe how many dishes fit and get washed so thoroughly in this little thing! It does a perfect job of washing dishes. The hose goes on & off the faucet with ease in 2 seconds using their supplied adaptor. Seems very sturdy and well made. My only complaint was that the instructions tell you to be sure to use dishwasher detergent "with chemicals". This is ridiculous - you can now purchase natural dishwasher detergent at most health food stores, and the one I am using works like a charm' - Susan Philips
- '-I was concerned about taking the attachment on and off the faucet, but it is extremely easy and only takes a second. My water comes out very hot in my apartment, so I've never had an issue but I would make sure the water is hot for use. The booklet/manual that comes with the dishwasher is actually very helpful, and I use it quite a bit. If you overload or load things right next to each other, sometimes dishes will not get fully clean. However, this is true with any dishwasher. I have found that you can get creative with what you put in and how. Don't be afraid to experiment. I have washed everything from tupperware to heavy pots and pans with success. If you let food dry on dishes, it may not come off if you just put it in without presoaking/scrubbing. If you put dishes in immediately and just scrape excess food off before hand, they get squeaky clean. No pre-scrubbing needed. It's never broken down. Easy to clean. It runs quietly, and beeps when it's finished' - A. Gillis
A bonus picture made by stkeys that shows the item in the kitchen environment: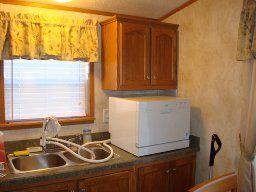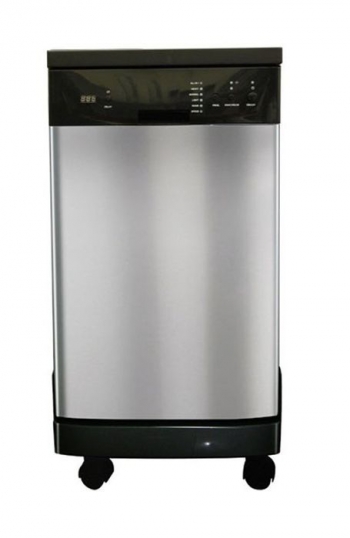 The last but not the least in our list of top 5 portable dishwashers is a freestanding machine.
Time Delay Feature enables you to choose when to start the washing within 24 hours! (1-24 hours delay);
6 wash programs;
Adjustable upper rack that helps accommodate the device to your plates;
Easy connection to faucet (adapter included);
Stainless steel interior;
Noise: 55 dB;
Water consumption during normal cycle: 3.65 gallons (13.82 liters);
Weight: 121.3 pounds (55 kg);
Dimensions: 26 x 17.7 x 36 inches (66 x 45 x 91.4 cm);
Customer reviews:
- 'This unit takes the cake, no prerinse required and uses very little water and my china always comes out sparkling. Very well made: stainless steel tub, easy to connect faucet adapter that doesnt leak. Cleans better than the $2000 Bosch unit at my mom's house. As an added bonus its on casters so it can roll away when you dont need it and the countertop is great to store your dish gel and rinse aid (I use finish, BTW)' - Jamison M. Hill
- 'It is easy to hook up and fits male or female faucets, fits an entire set of dishes, cleans very well, and looks sharp. I like that the cord and hose are retractable and fit inside the back of the dishwasher when not in use. It comes with measuring cups for detergent, but we used the all-in-one packs with the all-in-one setting. It worked very well! It had a little trouble with removing peanut butter (because I was sort of terrible about rinsing) and it didn't dry the greatest, but even still I would recommend this to anyone! We just opened it up after running it and let things airdry overnight before putting dishes away. It's a great dishwasher!' - AshleyA
5. Conclusion
As we can see, portable dishwashers are lifesavers to many people who do not want to spend much time scrubbing plates again and again. There are plenty of good models of both freestanding and countertop types that can meet the expectations of any customer. If you need a portable machine that does the job for you, it's high time to try it out.