Portable Ice Makers - The Ultimate Buying Guide!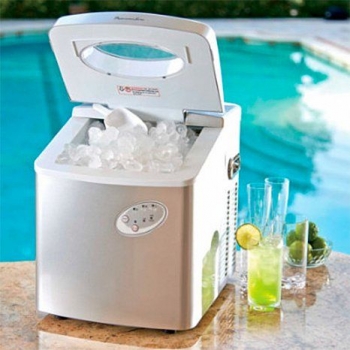 Close your eyes and let your thoughts take you away into the summer. You just had a swim in the pool and now are taking a sunbath. The midday sun feels hot and makes you feel thirsty. You smile thinking of a refreshing mojito you are going to make for yourself right away without even leaving home. You enter the house, prepare the cocktail, and then slowly enjoy its cool mint flavor and a pleasant rustle of ice cubes in your glass… And now open your eyes. If up to this imaginary situation you had doubted whether a portable ice maker is worth spending your money or not, so hopefully now your hesitations gave way to another, more important, question: how to choose a portable ice-making machine?
This article is intended to answer this and many more questions to help you invest in the best portable ice maker.
1. Drawbacks of using a portable ice maker
As a consequence of small size, the storage capacity of portable ice machines is far below their production rates, so they can hold rather small amount of the ice they produce at a time – no more than 5 lbs / 2.3 kg for most. To fix this issue, we can advice that you store a batch or two "as a reserve" in the freeze to ensure you will immediately have a large amount of prepared ice at your fingertips;
They are not refrigerators – all they do is produce ice. This means that the ice they produce melts fast, however, you already know, it doesn't seem to be a big issue thanks to ice makers' ability to recycle melted water and use it for preparing fresh ice cubes;
In contrast with undercounter ice makers, portable models generate ice cubes of smaller size that would melt quicker;
2. What should you consider when buying a portable ice maker
By now you are well aware why you need to get yourself an ice maker. However, it doesn't mean you just pick any ice maker you find on the shelf. To make choice wisely and to ensure you get the best unit, pay attention to the following key considerations:
Ice Production. A countertop portable ice maker produces about 20 lbs / 9 kg of ice cubes a day on average, but you may find a little "work horse" enable for a higher production rate, up to 28 lbs / 12.6 kg per day. Therefore, you should seek a machine depending on your ice consumption rate;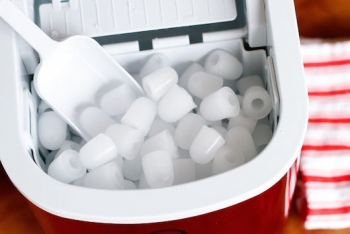 Type of Ice. Most portable ice makers produce semi-soft bullet shaped cloudy ice, but there are a few portable ice machines able to make the restaurant-quality clear ice of cubic form. This is considered one of the major features not only aesthetically, but for some other reasons you'll be given in detail a bit further;
Size of Ice. Modern brands of portable ice makers provide up to three different cube sizes. The dimension of an ice cube can become vital if you are a person who appreciates a glass of fine whisky, for instance. You would certainly know that too much might ruin the taste of noble drink, this is why it's important to put just the right amount of ice in it. Different sizes allow more versatility;
Storage capacity. This specification will tell you what amount of ice the machine is capable to hold at one time. For those who worry about overflow, there's good news: most models are equipped with an overflow protection system, which makes the ice maker stop once your basket is full;
Cycle time. How fast do you need your ice to be prepared? Some models can boast of being able to generate a single batch of ice as little as in 6 minutes, while others need up to 20 minutes for this. Considering that one batch normally consists of 9 ice cubes, you should think over what cycle length will satisfy your demands better;
Style. If appearance means much for you and you prefer every new device to blend in with your kitchen décor, there are large variety of style and color solutions that manufacturers of compact ice makers provide on the market. For today the most wide-spread models in this specification are stainless steel;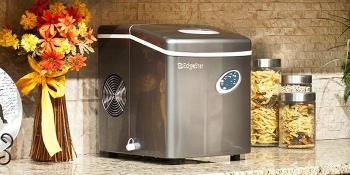 Energy consumption Energy Star ratings will let you know how much power/energy your portable ice maker will consume in your specific situation. You should be mindful of this feature when choosing: for example, an ice maker installed at home won't bother too much of energy usage unlike the one plugged in via a 12volt plug to your car or RV;
Innovative Features Since all the portable ice makers are not intended to be a freezer and are able just to generate ice, their manufacturers found a smart solution on this issue. They integrated a recycle mechanism into machines so they could produce fresh ice continuously from melted water until you stop the process. Another worth mentioning innovative feature of very few brands (further – it's more, let's hope) is the automatic timer function. It allows setting the time desired to start and stop making ice. Once time is set, you can forget about it for a while, and still find the ice fresh made when you are back.
3. What kind of ice do your prefer?
An ice cube seems simple enough, just water frozen, doesn't it? But you might, however, occasionally wonder why some of the ice cubes look so cloudy and others are clear. For sure, clear ice is the thing everyone wants to know how to make it. Well, there are some reasons of such a difference in ice cubes, starting with a kind of water used and leading to a way of ice-making process. Since our guide is devoted to ice makers, we won't bore you describing brainy tips of making clear ice at home and by your hands. Instead, let's see how the portable ice makers manage to do it so you could decide what kind of ice cubes are more welcome to your drinks:
All tap water contains impurities, fluoride, calcium and other minerals and organic particles, which remain even in filtered water of some amount. These impurities are pushed away from water molecules as water freezes and crystallizes. You get cloudy ice cubes if the water is being frozen too fast from the outside inward, so that all those impurities are pushed into the center and essentially cloud the water. This is the way the most portable ice machines freeze the water, and as they are oriented to provide you and your friends with ice in a very quick and efficient manner, it doesn't worth being upset with the cloudy appearance of your ice, everybody will appreciate your party anyway!
Clear ice melts 5 times slower than cloudy one and is made by spraying layers of water onto small heat sinks. This freezes the ice layer by layer, forcing impurities out and leaving behind only the pure water that crystallizes. There are some portable ice-making machines on the market that produces crystal clear ice, and this feature can be indispensable for those fields where presentation is everything or if you prefer an individual approach to your every single guest, like in a restaurant. However, you'd have to sacrifice the speed rate of ice-making process and be ready to spend a bit more money on buying such a unit.
Our usual rating of top models in the following chapter includes more detailed descriptions of these types of ice-making machines.
4. Top 6 portable ice makers according to customers' choice
Now that you have all the information you need concerning the factors you should consider before buying, it is vital that you put into practice. To succeed in this, get familiar with our usual rating of best models on today's market according to customers' reviews – their word alive is the best form of advertising.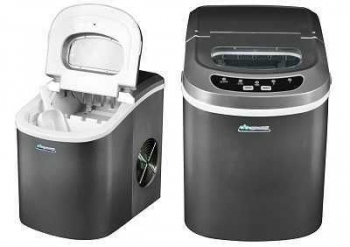 Cost: $129 - $150 BUY NOW
Key features include:
Dimensions: 11" H x 14.8" W x 14.7" D / 28 x 37.5 x 37.3 cm;
Weighs only 20 lbs / 9 kg;
Produces up to 26 lbs / 11.7 kg per day;
Makes fresh ice in as little as 6 minutes;
Each ice cycle produces 9 cubes of ice;
Comes with 2 ice sizes;
Equipped with Lighted indicators to remind you to add water and empty ice;
Automatic overflow protection;
Pros.
One of the fastest portable ice maker on today's market;
Rather cheap portable ice maker considering its great performance features;
Has a stainless steel body that is quite robust;
Portability makes it perfect for outdoor parties, boats, and RVs;
Meltwater from ice in hopper is made back into new cubes;
No water leaks;
Contemporary sleek design available in silver, red and black colors;
ETL certified, which means that the ice maker meets all North American safety requirements.
Cons.
Can be noisy during the first cycle;
It's a bit more expensive than other similar portable ice makers;
The first few batches of ice after purchase have a vaguely plastic smell.
In total, the reviews of the Avalon AB-ICE26S are overwhelmingly positive. Users are impressed by a combination of small size and great performance of this machine. It's excellent on boats, while camping and in RVs, or just having it on the kitchen counter for whenever extra guests arrive. Some users report the ice maker is noisy, while the majority says that the unit is quieter in operation than other ice makers they've tried.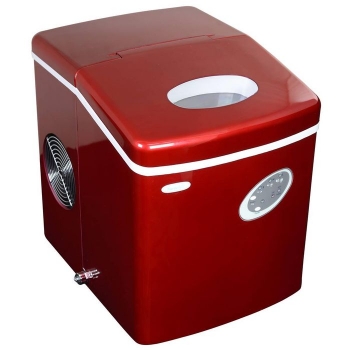 Cost: $160 - $195 BUY NOW
Key features include:
Dimensions: 14.5" H x 11.8" W x 15" D / 36.8 x 30 x 38 cm;
Weighs 26.8 lbs / 12 kg;
Makes 9 pieces of ice every 15 minutes;
Produces up to 28 lbs / 12.6 kg of ice a day;
Three different ice size settings;
Produces bullet shaped ice of a cloudy type;
Removable ice bin;
Pros.
Simple, intuitive, push-button controls allow anyone to operate;
Has a drain plug for easy drainage, in case you need to store or move it;
Compact, low-profile design fits under upper cabinets, but its applications are not reduced to the house. Take it in your RV, camper, or boat!
Contemporary sleek design available in variety of colors to blend in with your kitchen décor perfectly;
Stainless steel makes it a durable machine.
Cons.
It is quite noisy while functioning and you might not want to keep it close to the bedrooms;
First few batches of ice can have a plastic taste.
Overall, 70 percent of reviewers rate the Newair AI-100 at four or better. Buyers are satisfied with its great production quality and performance both indoors and out. They report using the machine at parties, barbecues, in RVs, on boats, and on camping trips using a generator. Like in all ice machines, users notice that ice cubes make a racket while they first dump into an empty ice bucket, but report that the unit itself is pretty quiet in operation.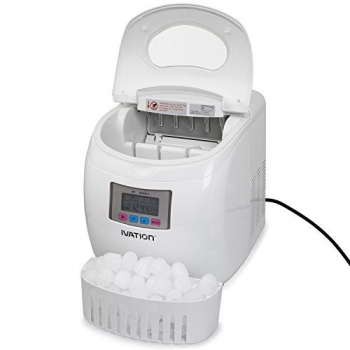 Key features include:
13.7" H x 14.7" W x 16" D / 34.8 x 37.3 x 40.6 cm;
Weighs only 23 lbs / 10.3 kg;
The ice cycle – less than 7 minutes;
Ice making capacity: 26.5 lbs / 12 kg per day;
Ice storage capacity: 2.2 lbs / 1 kg;
Three selectable cube sizes;
Clear LCD display, auto-on/off timer;
Produces 9 cubes per cycle;
Pros.
Removable tray for easy ice transfer;
Has an innovative technology of compressor refrigeration, which facilitates efficient ice making;
There is an easy-to-use programmable timer, which allows you to set when the machine starts and stops, based on your needs;
The smart alerts will notify the user on when to empty the ice tray and refill the water tank using a beeping alarm;
Has a sleek, ingenious design to give a special appeal to your kitchen design.
Cons.
For some of the users, the alarm system on this machine can be annoying, with the continuous beeps;
The pump is easy to break, some of the users are complaining about its failure in barely four months;
No clear indication in regards to the warranty.
To sum up, the Ivation portable ice maker has deserved the buyers' great appreciation for its unique design, innovation, ease of use and inexpensive price.
Watch the full review of Ivation ice machine. Operation principle is common to all portable ice makers.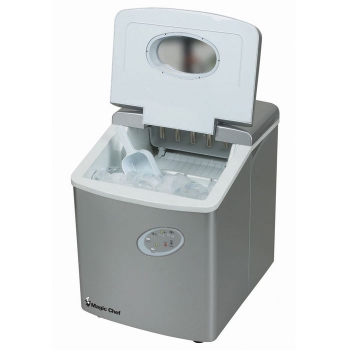 Cost: $149 - $199 BUY NOW
Key features include:
Dimensions: 18" H x 16.8" W x 14.5" D / 45.7 x 42.7 x 36.8 cm;
Weight: 29 lbs / 13 kg;
Plastic housing;
Consumes 600 watts when running;
Makes up to 27 lbs / 12.2 kg of ice in a day;
Cycle time – 7 minutes;
Three ice cubes sizes;
Makes 9 pieces of ice at a time;
Pros.
Makes ice continuously so you never run out;
Has an easy-to-use touchpad, with relevant light indicators for selection of ice size, power, add water and so on;
It has a built-in water drain, which will replenish the water and make fresh ice;
Has a removable ice basket for easy clean and maintenance
The machine is ETL-approved.
Cons.
There are several consumers who have consistently complained that the machine is quite noisy when it is running;
Ice sizes look mostly the same, not much difference at all;
First few batches of ice can have a plastic taste.
All in all, the Magic Chief is a portable ice maker recommended by 67 percent of users and rated at five. The majority of buyers mark the machine's durability, speed, quiet work when comparing with other ice makers, and affordable price.
4.5 Edgestar IP211SS Stainless Steel Portable Clear Ice Maker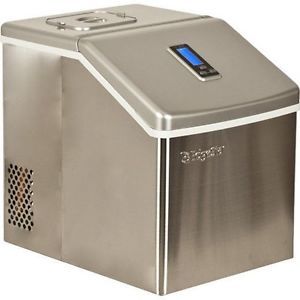 Cost: $253 - $449
Key features include:
Dimensions: 14" H x 11.3" W x 14.3" D / 35.6 x 28.7 x 36.3 cm;
Weight: 26.2 lbs / 11.8 kg;
Produces ice in 20 minutes;
Makes up to 20 lbs / 9 kg of clear ice a day;
Able to store up to 2.2 lbs / 1 kg at one time;
Commercial-grade stainless steel housing;
Automatic on/off timer;
Where to buy: Available on official website and Compact Appliance.
Pros.
This compact and portable ice maker is one of the first on the market to produce restaurant-quality clear square ice cubes;
Easy-to-use electronic controls allow operating the machine without an effort;
Is a perfect complement to your kitchen, bar or office;
Recycles not in use ice into more fresh, clean ice;
Not too noisy.
Cons.
Some of the reviewers complain that this model stops working after about half a year of use;
Do have some leaking issues among users;
It's also noted that the ice cubes produced are smaller than expected.
As a result, 82 percent of customers would recommend the Edgestar Clear Ice maker to a friend. Although it also shares the same complaint on not being a freezer as well as other ice makers, buyers are amazed by delicious, impurity-free ice and the speed at which it's produced.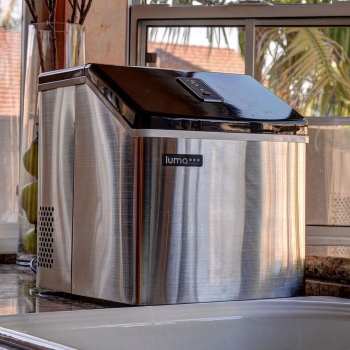 Cost: $206 - $279 BUY NOW
Key features include:
Dimensions: 11.3" H x 14.8" W x 14.1" D / 28.7 x 37.6 x 35.8 cm;
Weight: 25.5 lbs / 11.5 kg;
Stainless steel finish, plastic lid;
Produces 28 lbs / 12.6 kg of ice daily;
Ice cycle – up to 15 minutes;
Produces clear square ice cubes;
Pros.
It really makes crystal clear restaurant-quality ice, almost exactly like what you'd find in a bar;
Equipped with low water and full ice alerts to let you know when the unit needs maintenance;
Stylish and flattering to any home bar or kitchen;
No plumbing required, just plug in and play;
Works quietly;
Uses R-134A refrigerant, which prevents damage to the ozone layer.
Cons.
According to some customers' reviews, the Luma Comfort can happen to fail in producing ice without a reason after several months of great work.
5. Conclusion
Here we are having reached the end of our journey to the world of portable ice makers. So now, armed with this comprehensive buying guide, go ahead and check out what ice maker will best match your plans for the coming summer and your lifestyle as a whole. And from then on, let it produce small luxuries for your nearest and dearest whether it's about a hospitality situation or just making a perfect refreshing drink for yourself.