Compact Portable Washing Machines: a comprehensive buying guide
One day you will wake up and realize that you definitely need a portable washing machine. Seems unbelievable? Don't jump to hasty conclusions - this is a true life-saver if you are living in a condo or just going on vacation. We will prove that there are many reasons why this little helper might come in handy in any situation regardless of a person's income and housing conditions. Having read this article, you will have no doubts how useful it is.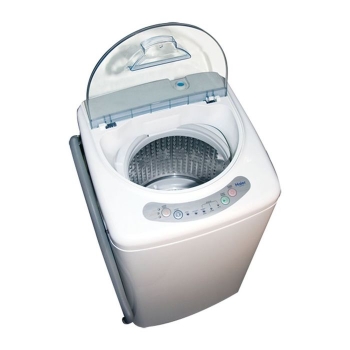 Benefits of using a portable washing machine.
Portable washing machines are invaluable if you do not have enough space or want to use very often. Here is a list of why portables can be called life-savers:
One of the most important advantages of a portable washer is its size. You can roll it out if you need to have your clothes cleaned and hide it again afterwards;
Such space-saving features mentioned in the previous sentence also benefit for its capability of being easily transported. Just place it your car trunk and here you go!
Small washers are generally cheaper than full-sized ones;
Portable washers provide high-quality washing despite its size;
Most models come with convenient handles that make it easy to carry;
Many small washing machines are equipped with the same high-quality parts that are used for full-sized machines - smaller doesn't mean worse!
Portable washers come in different shapes and colors;
Since they are small, such washers are effective in terms of energy cost;
Most portable washers come with a faucet adapter that makes it possible to connect it to a kitchen or bathroom sink. No need to deal with washing hookups!
Portable washers pay for themselves in several months, as you don't have to spend money in laundromats any more;
There is no need to assign certain place for a washer, since it can be put on a counter.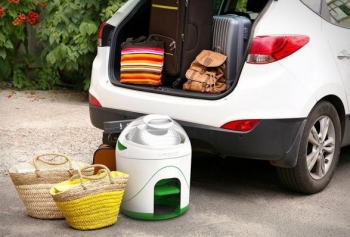 Drawbacks of portable washing machines
Of course, no tiny washer will compare to full-sized washing machines in terms of efficiency, but the drawbacks are not that crucial as it may seem.
If you have a large family, a portable washer is not an option since you cannot load all of your dirty clothes and linen there at once;
Users of small washers often complain about the fact that there are always things hanging all over. Since the portions are small, there will constantly be things drying. It should be mentioned, though, that it is true only of those that use portable washers instead of full-sized ones on a regular basis;
Portable kits differ, so before buying make sure it is easy to carry your washer;
Some people find it difficult to assemble such washers, but this drawback is easily overcome if your washer is supplied with a detailed instruction.
Kinds of portable washing machines.
When it comes to designs, prepare to face a wide variety of washers!
Just like washing machines of standard size, portables can be front-load and top-load.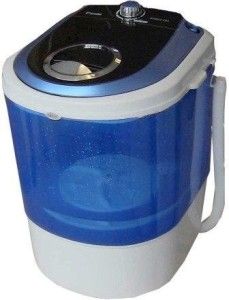 Example of an electric-type portable washer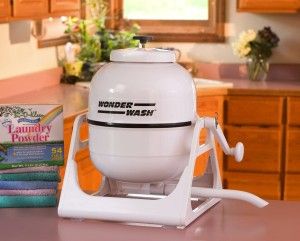 Human-powered portable washer placed on a counter.
How to choose a portable washing machine.
Now we have come to the most important part. Here are several tips that may help you choose a portable washer that will become your loyal friend!
Reviews of popular models.
Portable washing machines are presented in a variety of models. Since this kind of equipment is widely used, there are many options. Let us consider the most interesting ones.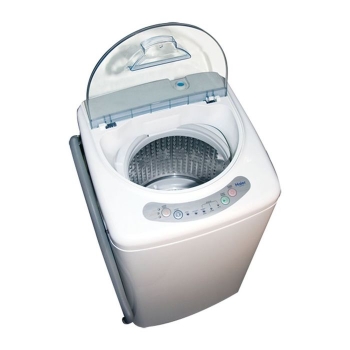 This model has wonderful reviews and proves one of the best options among all electric washers. Is it rather expensive, but really efficient and can handle a lot of clothes at once. It is equipped with a pulsator, which means it's energy-effective and requires less water.
Features:
It is faucet-controlled. This washer has an inlet valve that can be connected to a water hose. Water temperature is determined by the faucet;
Easy assembly. Haier comes with a sink adapter that makes setup fast and easy;
Heavy duty casters.This washer is supplied with heavy duty casters that can be attached to it on order to move the device with ease. It is especially convenient if you intend to move your washer often from its storage location to your bathroom or kitchen and back;
The basket is made of stainless steel.This device is made of high-quality durable materials;
The washer will notify you with a signal upon the end of cycle;
It comes with a 1-year warranty;
Electrical requirements: 120V/60Hz;
It can both wash and spin;
Capacity: 28 liters;
Weight: 61 pounds (27.6 kg);
Dimensions: 36x23.2x23.2 inches (91.4x59x59 cm);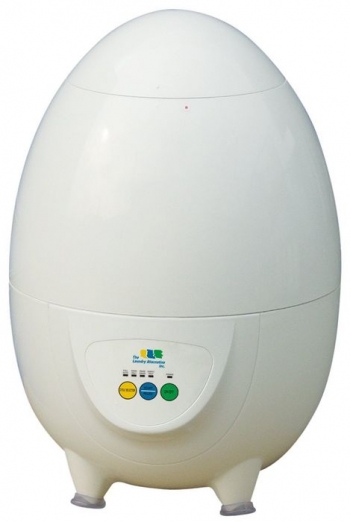 This egg-like machine is quite simple. It is cheaper than the previous one, but obviously its features are worse.
Features:
No spin cycle;
2.2 lb(1kg) washing capacity, which means it fits best for washing socks and underwear;
This washer comes with a 2-year warranty;
Voltage: 110V;
A countertop machine that rinses automatically;
It is really quiet;
Unique design;
Weight: 13 pounds (5.9 kg);
Dimensions: 18x12.5x12.5 inches (45.7x31.7x31.7 cm);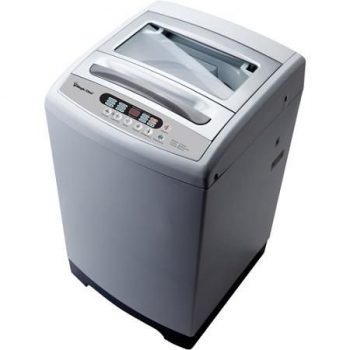 This model is characterized by good reviews. Though quite expensive, it is a high-quality washer that is worth the money spent.
Features:
Full-size functionality - this washer works with the same efficiency as standard washing machines;
Comes with a digital display and a touchpad;
Running is really quiet and does not exceed 72 dB;
Remaining wash cycle time is displayed on an LED screen;
Pulsator-baseddesign;
6 wash cycle programsand 3 water level selections;
Capacity: 1.6 cubic feet (0.045 cubic meters);
Weight: 68.2 pounds (30.9 kg);
Dimensions: 24.4x23.6x39.4 inches (62x58.4x100 cm);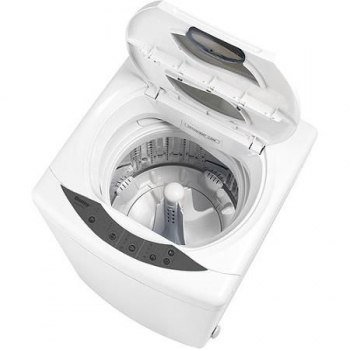 It is an expensive, though high-quality substitute for a full-size washing machine.
Features:
8 washing programs;
Capacity of 11.02 lbs(5 kg);
Features electronic controls;
Tub and drum are made of high-quality stainless steel, which means the device is durable;
Quiet operation;
Safety lid and water overflow protection;
Voltage: 120V;
Weight: 70 pounds (31.7 kg);
Dimensions: 21.6x21.4x33.9 inches (54.8x54,3x86.1 cm);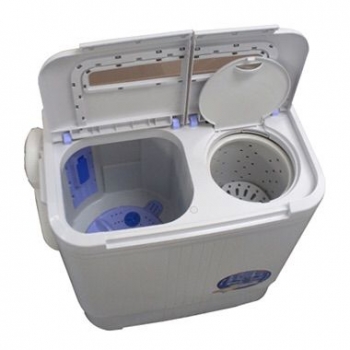 This model is available in two different sizes of 6lbs (2.7kg) and 10 lbs (4.5kg). It is distinguished by a built in spinner which makes it unusual.
Features:
It has drainage pump out, all you need to do is to hang nook over side of sink or toilet;
Voltage: 110V;
It comes with a 1-year warranty;
It is easy to operate. If you don't want to mess with hoses, simply fill it with water manually;
This double-sided device can be used for washing (one side) and spinning (the other side);
Weight: 28 lbs (12.7 kg);
Dimensions: 20.9 x 12.6 x 26.4 inches (50.8 x 30.5 x 66 cm);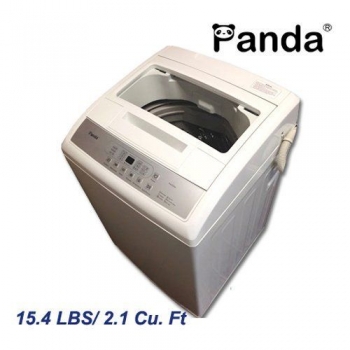 Here is another panda willing to live with you! It is a substitute for Haier, but get ready to pay more.
Features:
See-through lid;
Pulsator-based mechanism;
This device is connected to a hose with the help of a special adapter;
Touchpad controls and LED indicators;
Delayed start option!
6 wash cycles;
Fully automatic operation;
Two rollersmake it easy to move;
Weigh: 81.1 pounds (36.7 kg);;
Dimensions: 20.7 x 20.3 x 36.3 inches (52.5 x 51.5 x 92.2 cm);
This is a model for those who cannot access electricity sources.
Features:
Does not require any electricity at all;
Weight: 5 pounds(2.2 kg);
It is a hand-crank washer that has a unique pressure system;
Ideal for diapers and those who travel a lot;
This washer comes with a 2-year warranty;
Consumes less water than handwashing;
Dimensions: 16 x 12 x 12 inches (40.6 x 30.5 x 30.5 cm);
Capacity: 4.84 lbs (2.1 kg);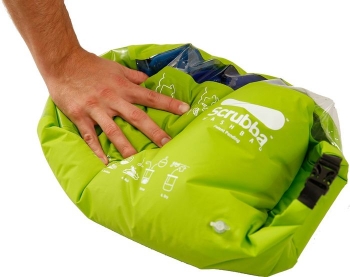 The last but not the least - welcome our special guest Scrubba! It is an invention that makes it possible to wash your tiny clothes anywhere - even in an airplane!
All you have to do is to fill this waterproof bag with water and cleaning material, seal the bag, expel all the air that is left inside with the help of a special valve, place it on a surface (floors will do too) and rub it against the washboard for 30 seconds. And voila - your things are clean!
Features:
Extremely tiny - this 'washing machine' weighs 5 oz (140 g)!
Great for camping, travelling and other trips;
Can also be used as a dry-bag;
Dimensions: 12.6 x 0.2 x 21.3 inches (32 x 0.5 x 54.1 cm);
Capacity: 3-4L (~1 gal) - optimal for washing;
The most compact washing machine in the world!
9. Conclusion
So we have reached the end of our journey into the world of portable washing machines. To sum it up, it is an invaluable device for those who do not have enough space for a full-sized washer or those who travel a lot. It provides great opportunities and can works very efficiently. Such washers are great in terms of convenience too, especially if you buy one with a built in dryer!