Vacuum Cleaner Pet Grooming Brushes, Storage Bags, Brush Kits And Other 18 Helpful Vacuum Cleaner Accessories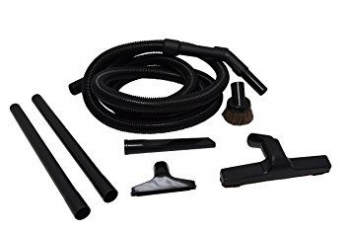 How much time do you usually spend on vacuuming? Are you always satisfied with the result? The vacuum is one of the most helpful tools in the house that should be used correctly to provide an excellent result. With a variety of vacuums on the market, it actually does not matter much what type you have – canister, bagged, bagless, central vacuum system, etc. – clean and tidy are a sought-after effect for any vac. So if you want to vacuum like a pro regardless the appliance you have, you need to follow certain cleaning rules. We can assume that you know them already but let's check whether you use all of them or only some:
5 vacuum cleaning tips for becoming a pro cleaner
Vacuum multiple times – when cleaning is far from being your favorite routine, repeating actions may seem even more irritating. But the truth is that once is not enough. If you want to be sure the area is free of dust, vacuum it several times, especially if you have a pet. Any pet owner will tell you how hard they try to get rid of fallen hair, sometimes it demands to vacuum up to 10 times in different directions on certain areas. So keep on vacuuming patiently!
Empty the canister – when the canister or a bag is already full, you will surely get a hard time trying to clean the area. However, the truth is that bag vacuums always look half-full and you do not need to wait until the bag is completely full, otherwise the vac loses suction. On that point, if you want to be sure the vacuum cleaning is 100% efficient, clean up the canister or reuse the bag before starting your cleaning routine.
Use additional vacuum accesories – baseboards and crevices do require cleaning. At least twice a month it is recommended to clean them thoroughly. Even if you have hardwood, a crevice tool is very helpful on the edges of the room, which is the place where dirt is accumulated over the years. A soft bristle brush is a must-have for baseboards. The effect you get can't be compared to vacuuming holes and edges with a standard vacuum brush for the floor. So opt for vacuum cleaner accessories for better cleaning.
Do not wait until the carpet is dirty – this is a usual mistake people used to do, they just think that the carpet or hardwood should be cleaned only when the dust is vivid. Professional cleaners follow the scheduled graphic of cleaning, for instance, they vacuum on certain days of the week which they find convenient and do that regularly even when the floor looks clean. The truth is, there is dust there anyway but when you vacuum it systematically, the floor look clean all the time.
Vacuum last – dust, make the beds, polish the furniture, do whatever you planned to do and as a final step vacuum the area. Run the vacuum only when you are sure that all possible dust in already on the floor and you can clean it completely. And enjoy your perfectly clean room!
Vacuum Cleaner Brushes
Brushes are essential tools that make cleaning an efficient activity. A properly selected assortment of brushes saves your time and energy. Here are basic and necessary vacuum cleaner brushes that should be in every house:
Long-reach and crevice brushes
Do you need to clean a lint screen dryer but you don't know how to reach inside? Moreover, you have to be satisfied with the result, haven't you? You can save this problem in less than $20. Look at this long reach brush compatible with many vacuum cleaner models. It easily reaches deep areas that you would not even dare to touch. You won't have to actually, just let the brush do the work.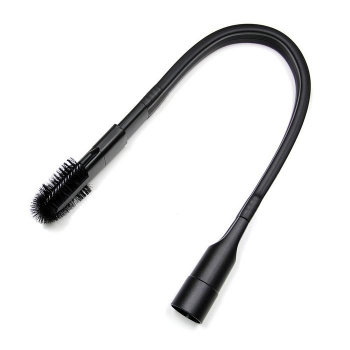 Moving furniture and large home appliances such as fridge, dryer or washer is a hard routine. But this wand makes magic! It will get underneath nearly all the places in the house with no problem. Attach this vacuum cleaner accessory to the main part. It consists of two parts so it bends when you are trying to reach deep places. It has some flaws but the result much exceeds those minor issues.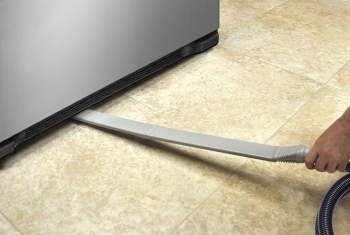 Don't you start singing "In Between" the song by Linkin Park every time you see crumbles in sofa crevices? You should start then, it's soothing, or you should buy a crevice vac tool for better cleaning. It easily gets into tight places and fits most of the vacuums with 1 – ¼ – diameter hose. Made of hard plastic, it is going to work to the end of life.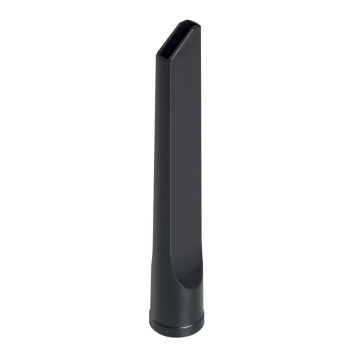 Pet grooming brushes
Pet hair issues are irritating, aren't they? But if your pet is not running away on hearing a vac working, you can try this vacuum accessory. It fits many vacs; it has enough holes in the right places to suck fur but not your pet in. This brush will hep you minimize the amount of fallen hair on the floor. Hope your pet will love to be groomed with it!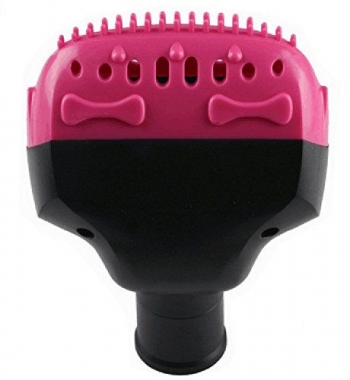 Pet lovers are patient people enduring torn cushions, scattered things, tons of saliva, etc. Pet shedding is also the issue but as opposed to aforementioned concerns, it can be easily solved with the help of a pet grooming tool for your vacuum. This brush perfectly fits Dyson vacuums and is a must-have for the owners of long-hair pets.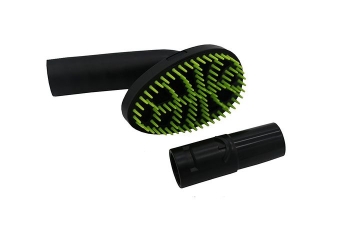 Vacuum auto brushes
This is a funny looking vacuum accessory. Resembling a duck webbed foot, it is narrow but it does not compromise the suction. Most users claim that together with a crevice tool they make a great kit that can help you clean your car interior to as good condition as you got it. It works excellent for upholstery and car seats without sucking them inside the house.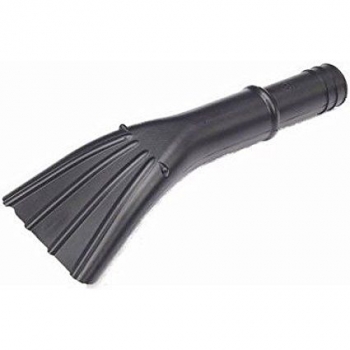 Keep the car you drive in clean and neat. Regular cleaning won't be so boring if you have right cleaning tools, do you? This brush is a helper in making your seats and door panels look as good as new. You can also use it for cleaning things in the garage or house. Bristles are of a good size to provide a sweeping effect with no sacrifice to suction.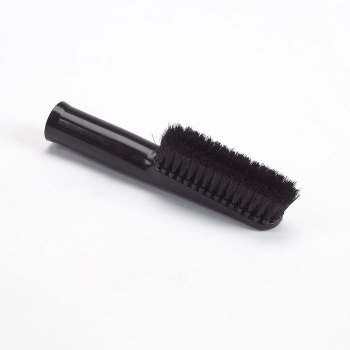 Brush kits
If you are a cleaning fanatic and you are sure you need various brushes for dustless shining perfection in your house, you definitely need this kit. There are 7 items in a set that includes a connector, a top brush, a radiator brush, a long flat suction tool, a corner brush, a hair brush, an upholstery brush, and a deep cleaning brush. All of them will turn you into a cleaning pro!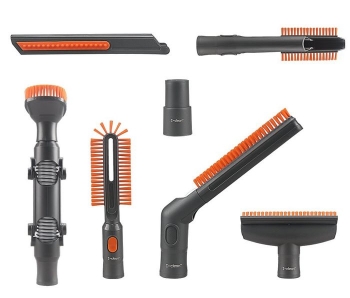 Sometimes more is cheaper than less. This works for the vacuum acessories set as well. If you need more than two brushes, it will be cheaper to buy a whole set of 6 pieces. The kit includes the adapter that attaches the brush to any vac. Overall, this budget vacuum fitting is effective in cleaning the tricky places in the house.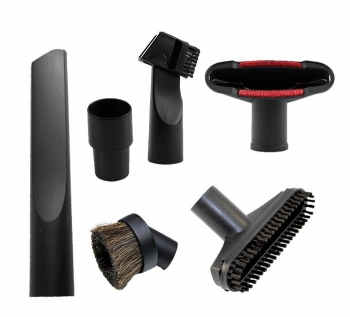 Random brushes
This brush provides extra cleaning whenever and wherever you need. There is a turbo button that you switch when required. This brush is an excellent floor cleaning solution when you are fighting with fallen pet hair. The turbo tool does a great job and saves your time.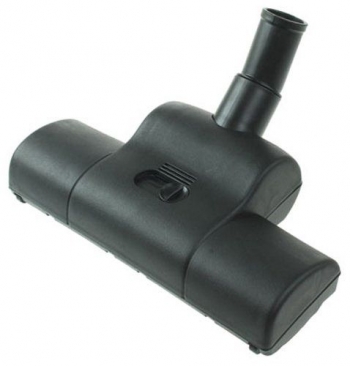 Housecleaning is a daunting routine; as far as you can't elude it you can still make it easier with the help of vacuum accessories. A soft bristle brush is a must-have. It is perfect for the baseboards, which are usually numerous in the house and most often neglected. Give your baseboards a good cleaning, opt for this vac attachment to help you.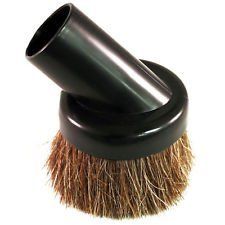 Are you looking for a handy vacuum accessory for dusting the furniture? We've found one for you – this is a mophead with microfiber dust fridge. It is soft, does not scratch delicate items or wooden floor and it is great for cleaning ceramic. Do you need more benefits? Go and read the reviews of mophead owners. We are sure you will love it!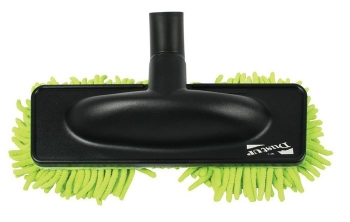 Vacuum Accessories
Alongside brushes, there are some other vacuum accessories that might be helpful for both cleaning and space organizing. We've picked highly-rated tools that are handy when used on a regular basis.
This is a space-saver when it concerns storing the hose and wire. It is compact but no matter how you coil your hose, the hanger does the job just fine. Made of metal, it won't sag under the weight. You can use it behind the door to hide the vac parts in a distant place.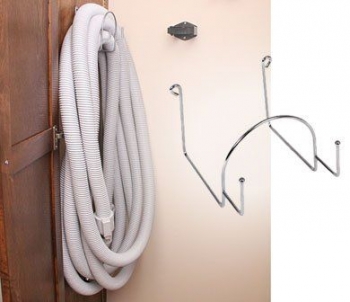 Wall marks irritate severely, especially fresh ones after you repainted the walls. So if you want to protect them from dark marks, you need to cover it with something soft and non-marking. Just like this hose cover. It fits snugly, has a zipper that allows to put it on and off easily, and the material is sturdy. This is a life-changer that divides your life into "Before" and "After". No more marks, clean walls, and covered hose.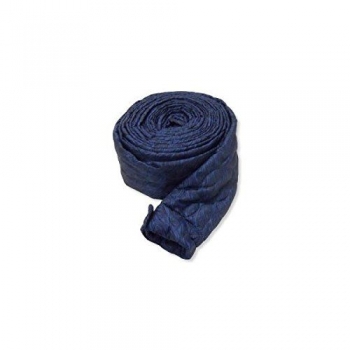 Lines may get clogged with dust quite easily – this is what you can't see but can feel due to low suction power. To keep the pipes and hose clean there is a specific vacuum hose cleaner. At first sight, it may look like a simple cloth with the pleasant scent but once you give it a chance, you will be pleasantly surprised with the result.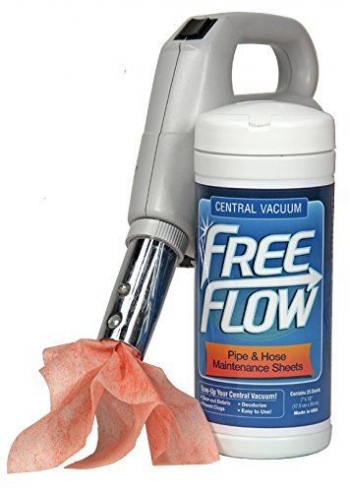 A dust-away vacuum cleaner attachment is effective when the pads are good. Good pads are numerous pads. When a set of 4 costs only $6 you can do cleaning every day! These are nice vac pads compatible with Shark Rocket Vacuum and other models. It is always good to have extra cleaning tools at home, especially when they are so good.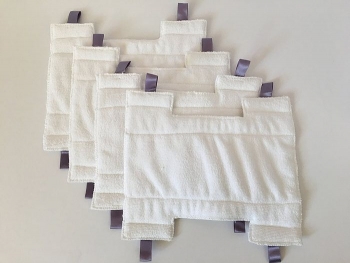 In the era of canister vacuums or central vacuum systems, you may think vacuum bags are not used anymore. If you have a good dinosaur bagged vacuum at home that sucks dust as a crazy monster that you do not want to part with, buy it a ton of strong bags. They have handy stickers for the hole to keep the dust inside when you throw the bag. Having a good vacuum is great but having a large stock of vac bags is farsightedly.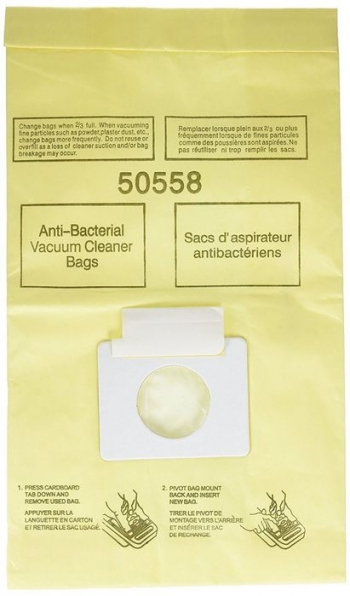 They are space savers! When space matters, it really means a lot. If there is no free storage left in your closet, you can give these bags a test. No leaks, no tears, and a lifetime warranty. The manufacturer also includes a manual pump in a set which is handy for the campers but with a vacuum cleaner, it will take you a couple of seconds to create a very compact compressed package.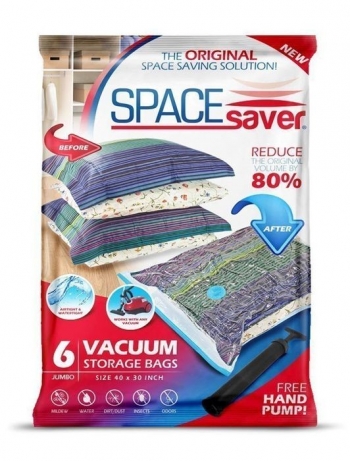 As you can see, the selection of vacuum cleaner accessories is rich and versatile. The vacuum attachments may have a sophisticated look, tricky adapters, fold-out constructions, with that they greatly increase cleaning efficiency. Hope, with the above-mentioned vacuum accessories cleansing your floor will be fun and easy. Make vacuuming a priority and you we are guaranteed to get a house free of dust and cleaner indoor air.