Arm Rests, Special Pads, Cord Holders, Cleaning And Other 16 Useful Mouse Accessories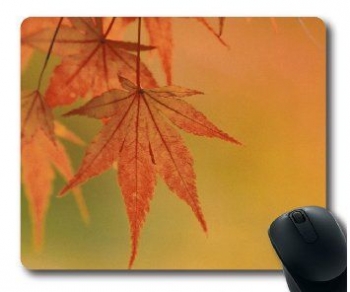 A mouse is a kind of equipment that does not seem to be able to have a lot of accessories. Yet there are things that can facilitate the process of using one and add convenience. This article features a list of items that can help you protect, clean and utilize your mouse in the best way possible.
I. Arm rests:
This rest pad helps you avoid wrist stress, as the gel cushion conforms to the wrist curves. The wrist rest is filled with soft gel, not hard foam. It has rubber back and fabric top (neoprene), providing the optimal surface for mouse usage. The item comes in three colours: black, blue and silver (shown in the picture). By the way, this product can be used by those with a latex allergy (at least there are cases when people suffering from this condition did not experience any symptoms when using the pad). And yes, it DOES work with optical mice. Made in China. Note that the base is flexible, so it's not appropriate for using in bed.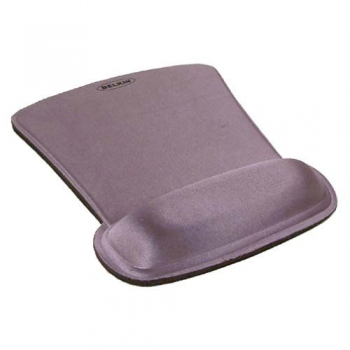 Technical details:
Dimensions: 12" x 9.2" x 1.5" (30.5 x 23.4 x 3.8 cm);
Wireless type: 802.11 a/b/g/n;
Weight: 6.4 ounces (180 g);
Feedback summary
Some say the smell of this pad persists even after several months of using, so get ready to feel it - even washing does not help (though several people claim there's no odor - most purchasers DO feel it). As the item is rubberized, it does not slip (if the back got dirty, clean it to maintain its non-slipping qualities). It may also make crunchy sounds when pushed.
Actually, it's one of the best arm rests you can find, as there are thousands of reviews, and most of them are positive, suggesting it's comfortable and useful. Well, at least it used to be. The major drawback is that the manufacturer started filling it with FOAM instead of GEL. So ask the vendor you're buying from what's inside: older pads may still be with gel, while some reviews suggest Belkin DID NOT change information about the product and started selling foam versions instead, which are said to be worse than gel ones.
2. Uarter Computer Armrest Adjustable Arm Wrist Rest Support
This arm rest features not only special space for mouse, but for the arm itself. Besides, it can be attached not only to a desk (as shown in the picture), but to a chair. The mart is made of neoprene. The ergonomic shape makes the process of mouse usage comfortable, and the whole thing is easy to attach. It comes with the screws necessary for the installation, as well as the two clamps, so you won't have to buy additional ones.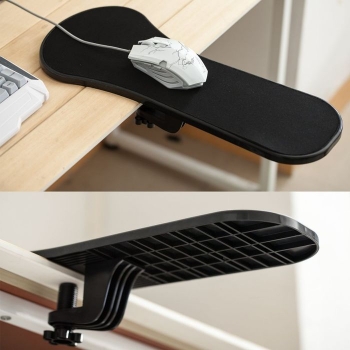 What's in the box:
1 armrest mouse mat;
2 attachment clamps;
Technical details:
Weight: 862 g (30.4 ounces);
Dimensions: 47 cm (18.5") x 21.4 cm (8.4") x 4.2 cm (1.65");
Feedback summary
Warning: the feedback suggests this item is not suitable for all types of tables and chairs, e.g. if the chair armrests are curved, you won't manage to use it successfully, as it will always lose balance. It's also a little bit flimsy, so do not expect it to be a true part of your desk. It does not have rubber pads, so it tends to move when in use. Besides, it cannot be tucked away when not in use, so there are drawbacks, but it still does the job and makes it more comfortable to use a mouse, so the majority of verified purchasers recommend buying it.
3. Refaxi Cartoon Dairy Cow Wrist Support
Kids appreciate the design of this mouse pad with an arm rest. And not only kids - adults will also love the way the cow drawing 'looks' at its owner! The snout of the cow makes a cushion filled with gel that serves as a wrist rest. As all similar products do, this one is aimed at helping you spend much time using the computer without pain in joints and tissues. It's good to use it both at home or in school!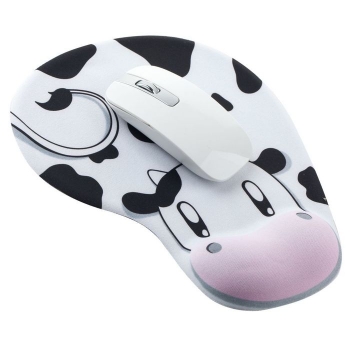 Technical details:
Weight: 122 g (4.3 ounces);
Dimensions: 2 cm (0.8") x 19 cm (7.5") x 23 cm (9");
Feedback summary
There are not that many review yet (there're only 12 of them), but the majority of them are positive. The left-handed will not love the way it's designed, but will still be able to use it. It's 'amoozing', as one of the purchasers wrote. It provides nice wrist support and is characterized by high quality, so actually it's a good product worth recommending if you want to find a funny filling for a stocking.
It's a product worth looking at at least due to its construction: it features both a forearm support and a mouse pad. It can be used for both hands. One of the peculiarities of this product is that it's made in Finland! The forearm support can be removed or adjusted if necessary. The pad is made of true leather. Large screws make the installation of this item a breeze. It's a very expensive arm support, but it's due to its quality and materials used.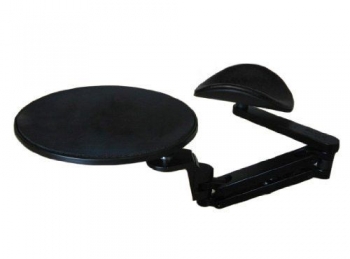 Technical details:
Pad material: true leather;
2 arm lengths, 2 pad sizes and 2 clamp sizes;
Made in Finland.
Feedback summary
All 4 customers who left a review are satisfied with the product - it really helps relieve and prevent pain in arms and is comfortable and durable. One of the users even said he's had one for fifteen years!
II. Pads:
The pad in question is designed for gamers but can be used by anyone. It has textured surface and stitched edges, which ensures comfort and durability (though there's the silk version of the pad which is available at the same price). Among its features is the anti-fraying stitched frame that helps avoid deformation. The rubber base provides an anti-slip effect to make the process of using more stable. The anti-curling technology used in the design does not let the pad deform when in use.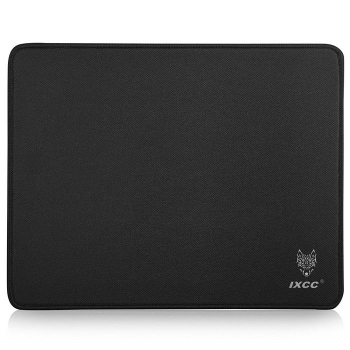 Technical details:
Dimensions: 13" (33 cm) x 10.2" (26 cm) x 0.2" (0.5 cm);
Colour: black;
Weight: 7.4 ounces (210 g).
Feedback summary
The overwhelming majority of reviews are positive, which makes this pad a top choice. Though, one person said it's recommended to buy the silk version instead of the textured one if you are an owner of a Razer Naga Epic mouse. Also, some say it tends to slide, and one even said it had a chemical smell. Except for these rare reviews posted by unsatisfied users, it's almost perfect (several purchasers claimed their mice failed to operate well on it and recommended buying the smoother one) and worth buying. Actually, it seems to be the top mouse pad.
It's a large mouse pad, so you'll have plenty of space to move. You can also place your keyboard and other accessories on it. The stylish design looks really good and serious. The surface is smooth, so it's convenient to use a mouse on it. It's lightweight, durable and only 2 mm (0.08") high. The top part is waterproof, so even spilt tea and coffee will not harm it. The bottom is rubberized, so the pad doesn't slide. Anti-fraying edge stitching makes the item durable. One of the peculiarities is that you can even wash it in a washing machine! By the way, it comes coiled in its own bag.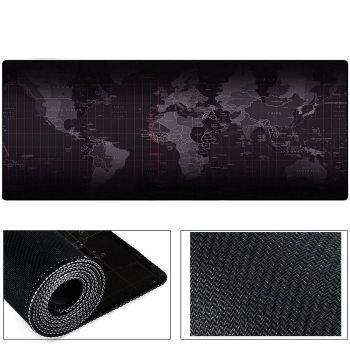 Technical details:
Dimensions: 80 cm (31.5") x 0.3 cm (0.12") x 30 cm (11.8");
Weight: 349 g (12.3 ounces);
Feedback summary
It's a very good product of high quality, and the reviews prove it too. Though, several people claimed they wanted the printing to be better and brighter, as it also has some kind of a blue sheen. Well, that's actually an advantage, as designed this way, it does not distract you from using your computer and keyboard. The black colour is more like purple, but still it's a great item definitely worth buying.
The sleek design of the pad and the material used are what made us add this item to the list. It's made of aluminum, and the silver colour and design look minimalistic and stylish. There are several options available: the round one, the rectangular one (black), the rectangular one of M size, and the rectangular one of L size (the latter costs 1 pound more). All of them have rubber bottom to prevent slipping. It's very easy to clean and waterproof. The surface is frosted, so moving your mouse accurately becomes a breeze.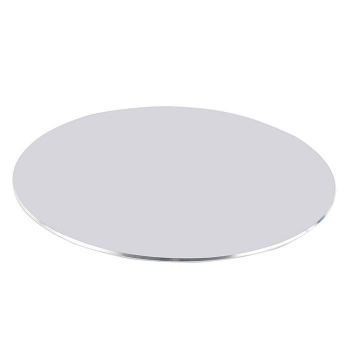 Technical details:
Weight: 322 g (11.4 ounces);
Dimensions (for the round one): 25.6 cm (10") x 25.6 cm (10") x 1 cm (0.4");
Feedback summary
The major drawback is that this pad is really noisy when in use. This is stated by several users, so it's a common issue. Most people like how it matches the design of iMac and other Apple products. The build quality is good, and the overall rating is fine. Except for the noise, it does not seem to have major drawbacks.
This pad does not only serve as a pad - it also helps you make notes! For a very cheap price you get a pad with sheets of paper to plan your week, make schedules and put down notes and tasks. The sheets are stuck together on the top and on the left side just like post-it notes, so the paper does not wrinkle when you use a mouse.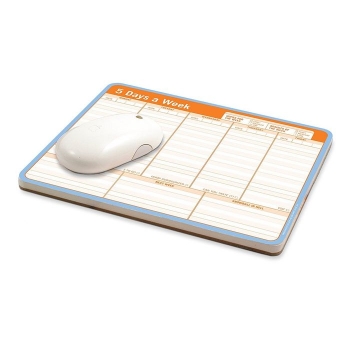 Technical details:
Material: high quality hard plastic;
Weight: 299 g (10.6 ounces);
Dimensions: 24.1 cm (9.5") x 1 cm (0.4") x 20.3 cm (8");
Number of sheets: 60.
Feedback summary
It's a good and plain product that serves as a mouse pad and paper for taking notes - that's why most people find it a very useful thing (and the price is really good too!).
III. Cord holders:
1. ENHANCE Mouse Bungee Cord Holder and Active USB Hub with Blue LED Lighting
This cord holder looks so sci-fi, that's why it's loved by gamers. The blue LED lighting makes it stylish and alien. The USB hub integrated in the item is what adds even more convenience. The bungee arm is made of silicone, so it holds the cord well. Four 2.0 USB ports enable you to connect other appliances and save space, as you can combine a bungee and a USB hub in one device. The lighting can be switched on/off in case you need to do so. The rubberized feet keep the product in place as you use the mouse. By the way, the manufacturer provides a 3 year warranty!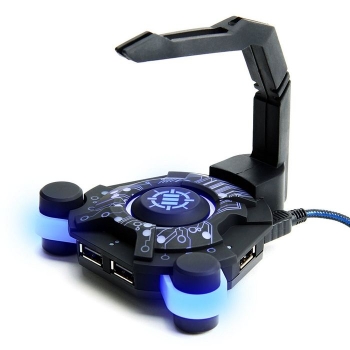 Technical details:
4 2.0 USB ports;
Warranty: 3 years;
Dimensions: 5" (12.7 cm) x 6.63" (16.8 cm) x 2" (5 cm);
Weight: 7.52 ounces (213 g).
Feedback summary
Some complain it cannot synchronize the data and can be used for charging only, though others don't experience such an issue. There are people who find the cord too short, and several users reported LED breaking down very fast. If no parts of the item come broken (or already prone to breaking), users like it because of its being multipurpose and looking interesting. Make sure you don't put in many pieces of equipment which consume a lot of energy, otherwise the hub may turn off.
It's a product sold at a very reasonable price, so it's worth a try. It's a simple cord bungee with no special features - it just does what a typical cord bungee must do, e.g. holds the cord in place, thus preventing cord mess.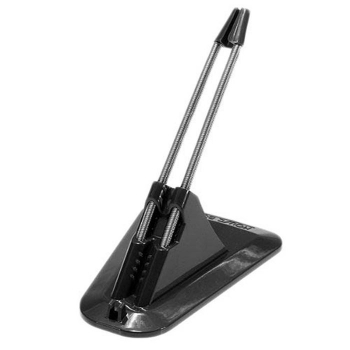 Technical details:
Material: plastic, metal;
Colour: black;
Weight: 157 g (5.5 ounces);
Dimensions: 13.2 cm (5.2") x 11.6 cm (4.6") x 8 cm (3.15").
Feedback summary
As to the drawbacks, it does not fit several models of mice (such as Razer ones, for instance), so people have to use tape around the bungee. The build quality seems to be average, and it's not heavy enough. Well, as the price is really low, purchasers do not regret buying it (at least most of them), because it is still capable of holding the cord.
The most distinctive feature of this model is the magnetic design - the top is attached to the base with the help of magnet, keeping it in place. The bottom is rubber-coated, so slipping must not be an issue. It fits almost all cables due to the adjustable design.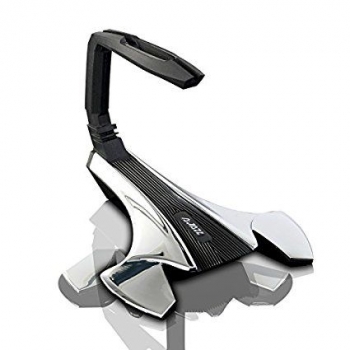 Technical details:
Weight: 236 g (8.3 ounces);
Dimensions: 48 cm (18.9") x 20.5 cm (8") x 2.5 cm (1");
Feedback summary
The only minor drawback is that it, like one purchaser said, FEELS less sturdy than it IS. Well, it's a simple and reliable bungee that does what it's supposed to do, so go for it. They say it is compatible with most cables, as it's adjustable.
IV. Cleaning accessories:
This cleaning product is dedicated to both keyboards and mice. It can also be used for cleaning any kind of plastic surfaces, as it is eco-friendly, biodegradable, hypoallergenic and antistatic. The manufacturer claims it kills 99.99% of all germs present on the surfaces stated above and has no fragrance. If you happen to spill it on your skin, it won't harm it (though rinsing is needed). It takes a little amount of the liquid to clean office equipment, so the bottle is supposed to last long. As an example, they say you can clean an average laptop keyboard about 750 times using this bottle. The liquid comes with a special towel made of microfiber: it can be used about 400 times and washed if needed. As to the bottle content, it contains neither alcohol nor ammonia, and there're no harsh chemicals, so plastic surfaces are not damaged by the liquid. Another feature is that bottles are reusable too - you can save money and the environment by refilling it at the manufacturer's. Made in the UK.
P.S. There are several bottle sizes available, namely 50 ml, 100 ml and 250 ml; the information posted in the section concerns the 250 ml version.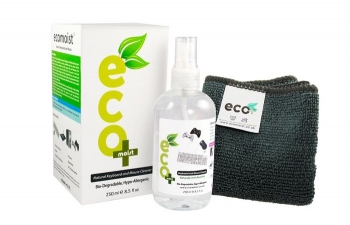 Technical details:
Towel size: 40 cm x 40 cm (15.75" x 15.75");
Bottle size: 250 ml (8.4 ounces);
Dimensions: 5 cm (2") x 14 cm (5.5") x 5 cm (2");
Feedback summary
The overwhelming (literally!) majority of users love this product (80 out of 86 rated it 5). Though it must be said that many people were given a discount on the account they post a review, so it may affect the results. So, if we forget the satisfaction of most users and proceed to the negative reviews, we can report that, according to some people's opinion, it may not kill as many bacteria as the manufacturer claims it does, and one person said it's just a cloth and a little spray, so there's no difference between the product and some water. Well, as the majority of users say it really does its job well, it's a thing worth recommending.
These are cleaning wipes which are not for mice only, but can be used to clean any plastic surface, including monitors, keyboards and other equipment. There are 100 wipes in the set, and they say it removes dust, dirt, grime, and ink residue. The container is resealable, so it keeps the moist in the wipes. The manufacturer claims it contains no alcohol.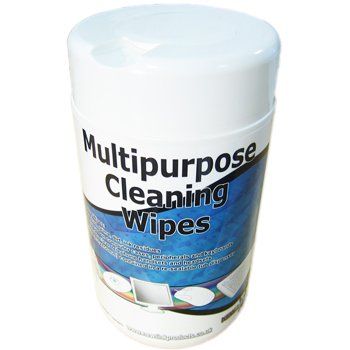 Technical details:
Feedback summary
Purchasers report it's just mere wipes, so unless you leave the container open or in some hot place where they can dry, they're good and do their job well. As it's just wipes, there is not much to say about them.
V. Cases:
This case fits the Logitech M535 and M335 models. Like any other case, it protects your mouse from scratches and dirt. It has a zipper and is made of EVA. It's a high quality case which is rated very high and seems to be one of the examples of a good case.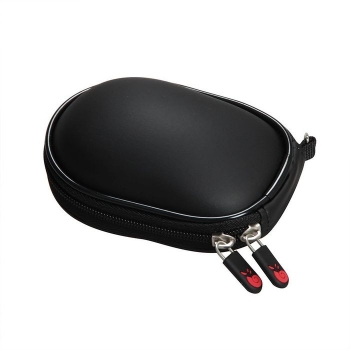 Technical details:
Material: EVA;
Weight: 0.3 ounces (8.5 g);
Dimensions: 2.9" (7.3 cm) x 4.7" (12 cm) x 1.3" (3.3 cm);
Colour: black.
Feedback summary
Though there are only 6 reviews, all of them suggest it's a great case which is good at protecting the mice of the above stated kinds and fits them perfectly.
It's a stylish case for Apple Magic Mouse, but the manufacturer provides other cases for a great variety of mice, so check the ones available! The characteristics stated here concern the Apple Magic Mouse version.
The herringbone tweed makes it look serious and high quality. It features pockets to keep charger and cables in them. Mind that it's not waterproof!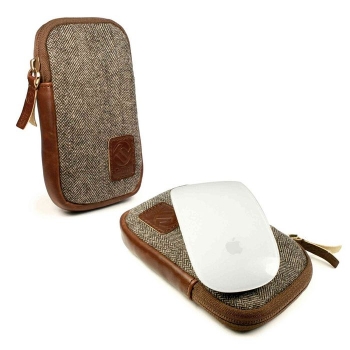 Technical details:
Feedback summary
The majority of those who don't like the case have a version that does not fit their mouse, so it's recommended to find information about the 'compatibility' of a particular case version and your mouse beforehand. Also, the small leather strap on the zipper seems to be quite easy to break off, and several people reported breaking the zipper within a short period after purchasing. Other than that, it's a good case which looks good and protects mice well, as the positive/negative review ratio is 132/6, which suggests most cases are not defect and work well.
It's another Hermitshell case made of soft neoprene. As you can see, it fits the mouse tightly, but it's designed to be so. It's for the following mice: MX M950t 910-001105. There's also a red version, which costs one pound less, so if you want to save some money, choose red instead of orange!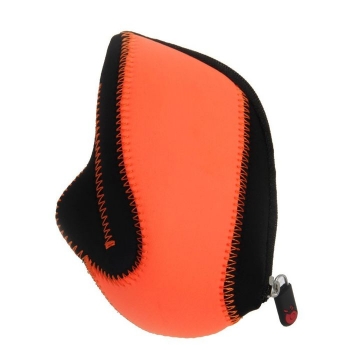 Technical details:
Weight: 9 g (0.3 ounces);
Dimensions: 15.2 cm (6") x 13.4 cm (5.3") x 2 cm (0.8");
Colour: orange.
Feedback summary
There's only one review of the model, so there's not much to say about the feedback. So, the only person who left a review claims it's hard to put the mouse into the case, but the material may stretch with time, so the process may get easier. It's kind of disproportional, yet it serves the purpose and is able to protect the MX mouse well.
VI. Conclusion
Even though computer mice do not seem to be able to be enhanced by accessories, there are still things that can improve your experience and aid you in their maintenance. Covers, bungees, cleaning products and other things can help you keep your mouse clean and have it operating perfectly.