Portable Scanners Buying Guide - Handheld, Battery Operated, Alternatives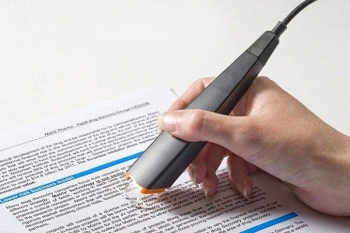 Your child has brought you a picture he has drawn during your vacation. How lovely would it be to look through such memorable items when he grows up and we grow old! But the chances this tiny sheet of paper will survive the decades are low.
Another case is when you are on a business trip and the need to send the documents you have just received in paper emerges.
These different cases and tasks have something in common. Guess what? That's right - a portable scanner is a right thing to solve both!
1. Drawbacks of portable scanners.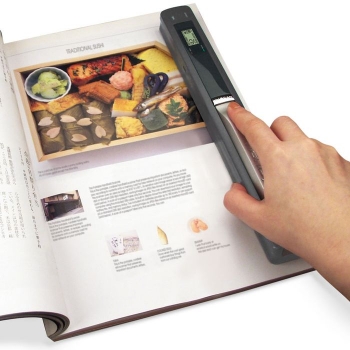 The drawbacks of portable scanners are somewhat related to their advantages and stem from them.
2. Types of portable scanners.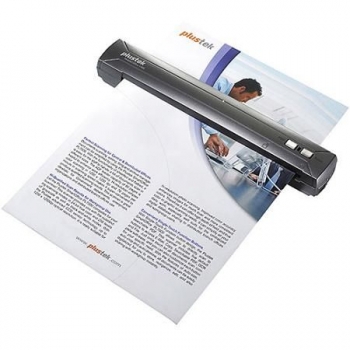 There is a great variety of portable scanners presented in the market. All of them differ in the number of features, power supply type, size of paper whey can process, etc. Let's try to figure out what is special about each type. Note that we are not going to consider, say, flatbed scanners, as they are not portable (or at least easily portable).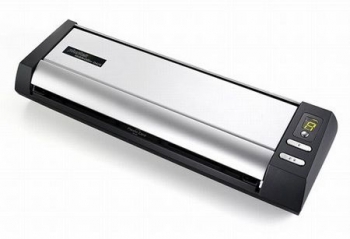 By features. While most scanners lack feeders, there are models which combine portability and this useful feature (for instance, Canon P-215II is equipped with a 20-sheet automatic feeder). Another feature worth mentioning is whether a scanner is capable of optical character recognition (OCR). If it is not, though, there are still third-party apps and software that can do the job for it. Some scanners are so clever they know how to scan both sides of a document at once! There are also scanners that can connect to the Wi-Fi network and send the data without any cords.
By speed. Most modern portable scanners have a speed of 5-8 pages per minute. It is a very good result, but mind that in case of wand-type scanners it is you who is responsible for the image quality and accuracy. In case of duplex scanning speed is also slowed;
By operation. There are two ways of operating portable scanners: either they are handheld (and in such a case you are to move it a lot) or they are just compact but still remain placed on some surface and do not require much involvement. This parameter is closely connected to the size. Small pocket scanners need your constant assistance.
3. How to choose a portable scanner.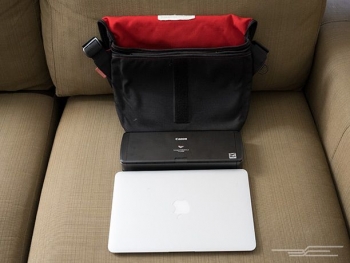 When choosing a portable scanner, stick to the following rules.
Consider the price. Once you set the budget for such a purchase, you can take a look at what you can afford within the determined range;
Think of what you are going to scan. If the only kind of papers you need to have digital copies of is text documents, models with low resolution (300 dpi) would fit best. If colour photos are your priority, consider buying a 600 or 1200 dpi color scanner. Photo scanners are commonly more expensive;
Estimate how often you are going to scan. Scared of document piles looking like the Leaning Tower of Pisa? Imagine how tedious would it be to scan all of them! Before buying a portable scanner, try to estimate how often you may need to use it. It is one of the crucial points of choosing a scanner.
Mind the frequency of moving. Your choice should depend on whether you need a portable scanner just to save space at home or your office, or you are working in the field of sales, insurance, etc., which means you are always on the go. The first ones may aim at compact models; the others are likely to enjoy handheld portable scanners;
Keep an eye on the features. Such features as OCR are also dependable on your daily needs. If you plan to find certain words in the documents later, do not forget to check whether the model you like features OCR. File format in which digital copies are made can also matter, as JPEG files cannot contain text like PDF does;
Check whether it is compatible with your OS. Some scanner drivers work only with Windows OS, so if you are a Mac owner, make sure to check whether it is compatible with all your devices. Some scanner drivers require monthly subscription, so be careful when choosing!
4. Top 5: portable scanner reviews.
Since there are plenty of scanners to choose from, it is rather difficult to make a list of the best. Nevertheless, we have made an attempt to compile a list of portable scanners you may enjoy using most.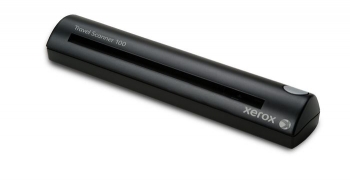 This is an example of how relatively low cost can be combined with efficiency.
USB-powered scanner;
Lightweight model - weighs less than 11 ounces (311 grams);
A wide range of scanner settings;
VRS technology implemented - it enhances the quality of scans;
Intelligent recognition of texts, the results of which can easily be sent to Outlook and other software;
Travel Scanner can save documents directly to PDF;
Works on Windows platform;
Optical resolution: 600 dpi;
Dimensions: 1.5" x 2" x 11.4" (3.8 x 5.0 x 28.9 cm);
Weight: 10.6 ounces (300 grams);
Customer reviews:
'Since I use it all the time and even though it is only one page at a time, it has been a life saver! It travels well, is powered by just the USB (no plug in power). I have dropped it and it still works fine' - Zen
'I use a flat bed scanner at the office but, since I have started traveling much more, I wanted a portable solution to scanning receipts while on the road. This one got some good reviews and I liked the form factor. It will scan full 8.5x11 documents (common at hotels) as well as the small register tapes (restaurants, etc...). It's fairly quick, the images are perfect for submitting to my client, and it fits in my computer bag right next to my 17" laptop. The fact that it's powered directly through the USB cable is perfect - no extra AC adapter to carry. The applications that come with it are great, too' - David J. Thompson
'This product is tricky, but once you make some software adjustments it will work just fine for you' - C. Houlroyd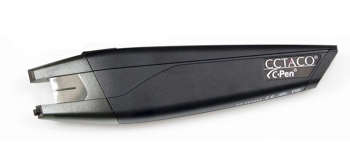 This one differs from all other kinds of scanners. This pen-like scanner is capable of working with curved, laminated or patterned surfaces and synchronizes with the software you are using.
Works with various surfaces;
Scans the exact lines you need and inserts them to the place in the document you need them to be;
Has OCR integrated;
Understands 238 languages and arranges translation for you;
USB 3.0;
Compatible with Windows and Android;
Weight: 2.9 ounces (82 grams);
Dimensions: 5.1 x 1.2 x 0.7 inches (13 x 3 x 1.7 cm);
Customer reviews:
'It's easy to use; you just press the pointer to the page and a light comes on to let you know that the sensor is active... The recognition rate is higher than I thought it would be; it's better than 99% on book-sized text... The character recognition is sometimes thrown off by underlining and other marks on the page... Even though it recognizes just about every major language written in Latin, Cyrillic, or Greek letters, it can't handle older typefaces (like German Fraktur)' - T. Bryan
'Not only does it create legible conversion (over 90%) but once you lift the pen it creates a space for you..(no need to hit a button on pen) This is probably the only one that should be invested in…' - M.T.S.
'It works great! Only one thing wrong--the cord needs to be longer so you can reach whatever you are scanning!!' - Patricia Bruton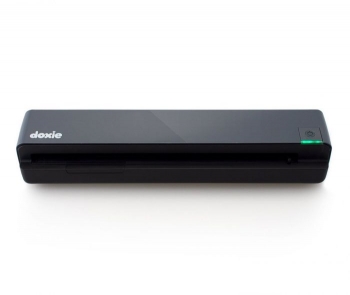 This is a portable photo and document scanner, which is perfect for scanning documents since it is characterized by 300 dpi resolution.
Scans color papers at 300 dpi within 8 seconds;
Comes with special software that is capable of OCR process;
Works with iPad via Apple SD Card Reader accessory (sold separately);
Comes with a power adapter and 2GB SD memory card for storing scans;
'The scanner runs on the A/C adapter or 4 AAA rechargeable batteries. Using regular, alkaline, batteries does not work' - Dan;
Does not require a computer to work;
Weight: 1.7 pounds (770 grams);
Dimensions: 10.5 x 2.2 x 1.7 inches (26.7 x 5.6 x 4.3 cm);
Customer reviews:
'Overall a neat little device. I am finding myself scanning everything now because it is so convenient. The only thing that would make this a five star product to me is the ability to scan directly from the device to my computer when connected via USB, but really the portability makes up for that limitation' - Edward Wilson
'This is one of the best purchases I've made in awhile! It has been difficult to find a picture scanner I could use with my Mac but not only did this work, it worked without having to download and fill space on my Mac!! And the pics are great!' - Lisa Sitze
'Pretty good scanner. I had an issue using batteries. Apparently I had tried the wrong kind of batteries and had some issues. I expressed that in a previous review. Doxie immediately contacted me and helped me to work through the issue. This is truly what customer service should be in this day and age and I am really impressed. I travel with the scanner and it is easy to use. It is great for archiving' - Andrew VanDewater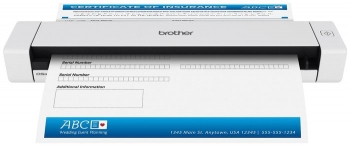 This is a mobile colour scanner that is distinguished by good characteristics.
Scans at up to 1200 x 1200 dpi resolution (interpolated) and 600 x 600 dpi (optical);
Speed: 8 pages per minute;
USB-powered;
Using software that comes with this scanner, you can send the images any way you like and share them within seconds;
Presto! software included;
No duplex scanning;
Scans documents of up to 8.5" x 32" (21.6 x 81.2 cm) in size;
Creates searchable PDFs;
No Wi-Fi;
Compatible with Windows, Mac OS and Linux;
Weight: 14.1 ounces (400 grams);
Dimensions: 2.1 x 11.4 x 1.4 inches (5.3 x 29 x 3.5 cm);
Customer reviews:
'While this little scanner is no substitute for a high-quality flatbed with all sorts of useful tweaks available, when your goal is to import as many photos as fast as possible, this works great' - SirWired
'Very easy setup. I like the fact that the right edge guide adjusts to any document letter size or less. Included PaperPort software from Nuance works real well. I especially like how you can create multipage PDF documents. I made the mistake of getting the BR-Receipts software which costs an additional $9.00. Bad mistake. The software is worthless' - H. Pritchard
'It's easy to use although when I first tried scanning my receipts for the business I didn't notice that apparently the default file path was to jpeg so I had to change that. Also, when scanning the first few receipts they came out unreadable until I changed the resolution from the main setup page. After doing those two things I haven't had any trouble. Another plus is I can rename some of the buttons to suit my purpose such as office expenses, supplies, car expenses, etc.' - Judy K. Jensen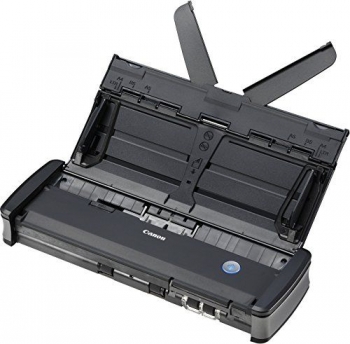 This is a compact portable document scanner that has an ADF, which is certainly a bonus for those who deal with lots of documents at a time.
Features a built-in card reader and an ADF!
Productive and convenient to use;
USB-powered;
Lightweight and functional;
Compatible only with Windows;
Weight: 2.2 pounds (1 kg);
Dimensions: 11 inches x 1.6 inches x 3.7 inches (27.9 x 4 x 9.4 cm);
Customer reviews:
'The Canon software is intuitive and customizable and I really like it. However, the software for document management isn't very good' - Ed
'Paper feed is still hit or miss. I expected as with other document feed scanners that you push the paper until it hits the stop and you should be done with it. This machine requires that once you hit the stop you have to push it in a bit more or it won't pull it in. Feeding a stack of paper also doesn't work very well unless you add each piece individually on top of the first. I've tried as many ways as I can conjure up to feed multiple sheets but this seems to work the best' - B. Langevin
'The scanner is great. The software could be a little bit better' - Kelly Speer
5. Alternatives to portable scanners.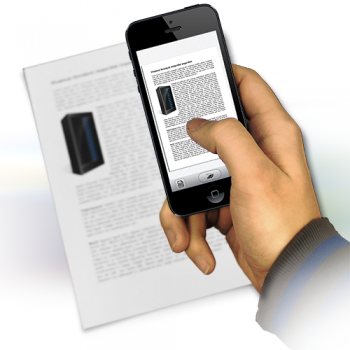 If you have no opportunity to buy a portable scanner, there is a good substitute for it, and it is closer than you think. Modern smartphones have decent cameras, and when combined with special apps that turn photos into scans, it works quite well. Of course, in such cases much depends on the quality of your camera, so it cannot be considered a full-scale substitute. You might be interested in apps like CamScanner, Tiny Scanner, Office Lens, etc.
6. Conclusion.
All in all, portable scanners are great if you need to scans documents, bills, receipts or something else often. Such scanners require less space than desktop ones and still can provide good efficiency, though many of them lack ADF. Whether you are a salesman or a student (or someone else who needs to scan papers on the go), consider buying a portable scanner.
P.S. As a bonus, less paper documents means less damage to forests.