Portable Irons For Travel - The Ultimate Buying Guide!
Perhaps, it's pretty hard to find a person who is fond of ironing: you either dislike it, or hate it. So admit it, that some of your clothes or bed linen in a cupboard are still awaiting their turn to be perfectly ironed. But what if you are on the road and need to look fresh and neat before the conference, for example, but all the clothes in a suitcase look like a pile of crumpled rags? Then the question becomes a vital issue and an iron – the most desirable thing in the world. Not to let such situations catch you napping, you should include a portable iron in the list of your essential and compact road gadgets. Believe it or not, but even small device can provide you with a high-quality ironing, and this article aims to help you choose the right one for your needs.
No iron is perfect, or drawbacks of using a portable iron
Due to low capacity that generally ranges from 800 watts to 1000 watts, portable irons may not be a suitable option if you are going to iron big and difficult fabrics like drapes or tablecloths;
Steam flow rate is, on average, between 20-30 g/min, which is considered low compared with more powerful standard models. Due to this parameter, alongside with the small soleplate size, the ironing process can take you up to 2-3 times longer;
Most of cheap portable irons have so called "non-stick" soleplates that scratches easily and don't glide as easily as irons with, for example, stainless steel or ceramic soleplate materials.
Be wise – take advice. Factors to consider when choosing a portable iron
Surface coating. Choose from stainless steel, anodized aluminum, ceramic, and non-stick. Non-stick type is widely spread among budget models, but according to statistics, the most popular among buyers are irons with stainless steel soleplate. Stainless steel is quite strong, and resistant to adverse external influences. In addition, these irons have a smooth glide and are easy to clean;
Power. A significant criteria when selecting a standard iron, while portable appliances have to sacrifice their power for compact size. So you will hardly find a portable iron with more than 1000 watts, but that's fine, you will get rid of wrinkles in you clothes effortlessly;
Steam availability. Figure out whether you need a dry iron or steam iron. A steam iron can always be used as a dry one, but not the other way around;
Parameters of iron water tank. If a portable iron has a steam system, pay attention to a water tank volume and position. It should be comfortable for water supply and its volume should be sufficient to ensure simple task ironing without frequent refueling;
Dual voltage capability. If you are traveling abroad, you will appreciate this feature. American appliances run on 110 volts, while European appliances are 220 volts. That's why it is important to ensure that your travel iron supports dual voltage, otherwise it could be fried. You'll definitely need an adapter, but those are easy to pick up anywhere;
Automatic switch off system. Automatic shut off allows you to save electricity and helps prevent fire, if it's left unused for too long. Also ensure that the iron has a temperature control system for different fabric types which is well marked and easy to see;
Power cord length. The longer the better because this thing is awesome for moving around and reaching those hard-to-reach outlets. Some travel irons skimp here so choose wisely. There are also cordless portable irons on the market, however, their performance is generally unimpressive according to buyers' reviews;
Warranty. Make sure that the model you picked includes a warranty, and even if the cost is slightly higher than those without a warranty, it gives you piece of mind.
Hot stuff. Reviews of popular portable irons
If you are reading this article, you hopefully are a person who plans ahead and don't need just any portable iron, you definitely want the best iron provided on the market, so to make your choice easier, the following are reviews on some top compact models:
Packed with convenient features in a sleek design, this model resembles a luxury full-size iron. Compact and lightweight, It can be glided and maneuver with ease in your hand with buttons and other controls right at your fingertip.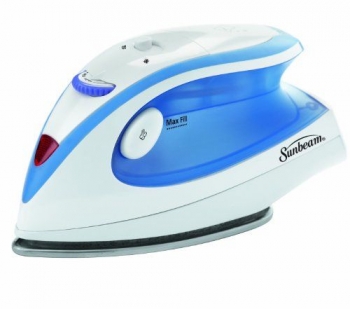 The main features include:
Non-stick soleplate;
Dual voltage to suit 120- and 240-volt outlets;
Weight: 1.2 lbs / 0.54 kg;
Dimensions: 8" x 3.5" x 4" / 20 x 9 x 10 cm;
Power: 420 watts;
Shot of Steam feature for tough wrinkles;
Variable temperature settings offer flexibility for various fabric types;
Soft touch handle and dial for extra comfort;
Pros:
Compact and lightweight design makes it great for bringing along when traveling;
The device does not spit or leave wet spots over your clothes while ironing;
Easy to use.
This extra-compact mini iron weighs just 1 lb / 0.45 kg and presents handling similar to a computer mouse, which allows it to fit easily into any traveling bag.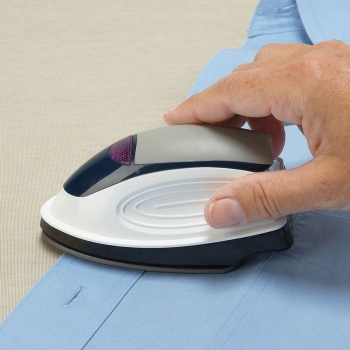 The main features include:
Dimensions: 5.8" x 9.8" x 2.5" / 14.7 x 25 x 6.3 cm;
300°F / 148°C average temperature;
Worldwide dual voltage system;
Durable ABS plastic material;
Power: 420 watts;
8-foot / 243 cm power cord for easy maneuvering;
Convenient storage pouch included;
Pros:
The consumers highlight its compact and lightweight design which makes ironing a really enjoyable process for them;
The Smart iron removes wrinkles from almost all types of clothes in a smooth and easy manner;
Heats up quickly.
Cons:
Due to the very small size of the iron, some users have had difficulty with handling the device.
The manufacturer boasts that it's the smallest steam iron and consumers give it a thumbs up. When ironing, it will help you get into places bigger irons can't reach.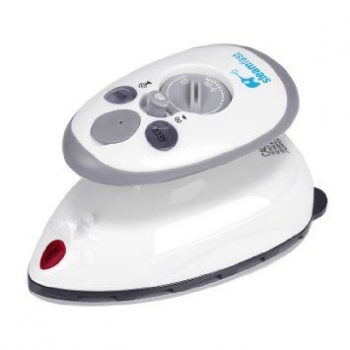 The main features include:
Non-stick soleplate;
Dimensions: 5.3" x 3" x 3" / 13.5 x 7.6 x 7.6 cm;
Three temperature settings;
Heats up in 1 minute; temperature range: 140-428°F / 60-220°C;
Water capacity: 42 ml;
Dual voltage: 100-127V; 220-240V;
Versatile – works on almost all fabrics;
Lightweight: 1 lb / 0.45 kg;
Power: 420 watts;
One-touch steam control;
Integrated 7.5-foot / 228 cm power cord;
Comes with a heat-resistant traveling bag;
Pros:
Easy-to-use and great portability;
Heats up quickly.
Cons:
When trying to get tough wrinkles out of certain fabrics, this steam iron can drip a little.
This portable iron is a nice option for those who prefer vertical steaming as this model combines two solutions in one: you can use it for touch-ups on cuffs and collars, and then switch it to vertical use to steam wrinkles out of your hanging travel-creased garments.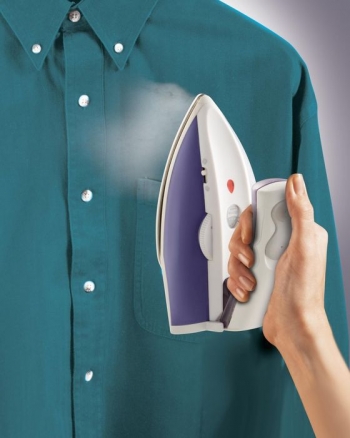 The main features include:
Dimensions: 5.36" x 3.64" x 7.8" / 13.6 x 9.3 x 19.8 cm;
Weight: 2.3 lbs / 1 kg;
Stainless steel soleplate;
800 watts of power;
Dual voltage 120v / 240v;
Water Capacity: 70 ml;
An impressive steam rate of 9 g/min;
Continuous steam function, ready to steam in one minute;
Fold-down handle for easy packing;
Comes with its own fabric brush and carrying pouch;
Pros:
Users enjoy the Hamilton Beach Travel Iron for its power performance in spite of the compact size;
The device heats up quickly and produces continuous flow of steam.
Cons:
Many reviewers claim that steam the iron produces is weak or uneven;
Have problems with occasional leaks.
Another portable model with a vertical steam option and great power performance for removing wrinkles and creases from nearly all types of fabrics. The compact design and fold-down handles let this iron be easily transformed into a travel-ready iron.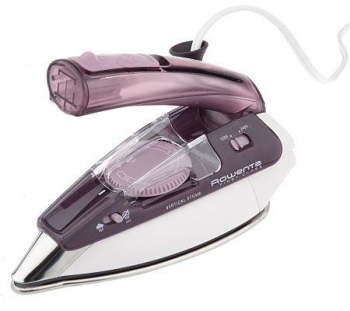 The main features include:
Dimensions: 8.6" x 3.9" x 4.9" / 22 x 10 x 12.4 cm;
Weight: 2.4 lbs / 1 kg;
Power: 1000 watts;
200-hole stainless steel soleplate;
Water tank capacity: 71 ml;
Vertical steam option, Continuous steam: 45 g/min;
Comes with dual voltage 120v / 240v;
Unique burst-of-steam feature;
Pros:
Majority of users are happy with the quality provided to them by this portable yet powerful iron;
Many reviewers are impressed with the Rowenta's quick heating and steaming power;
Compact size and original design are also highly estimated;
Cons:
Durability issues on steam, leaks and broken handles after a year of use.
Looking wider. Portable iron alternatives
While traveling, there's a high probability you won't have an ironing board ready at hand and won't have an appropriate flat surface instead, or maybe you are part of those who just don't like having to hassle with iron cords and ironing board – you'd rather need a method for steaming suitcase wrinkles out of your clothes or just refreshing it as quick and easy as possible. To avoid all these inconveniences, the best option for you is to find an alternative to a portable iron, such as handheld steamers and super compact pocket irons. In fact, these devices can hardly substitute an iron, then what's the benefit of using them? Let's examine these alternatives in detail.
Handheld portable steamers
These devices are a great choice for anyone who just needs to touch up their clothes, or for steaming hanging items. One of the key advantage vertical steamers give to the consumer is a complete disinfection of garments, linen, etc. through the steam processing. Below are two worthy representatives of these portable devices:
Enjoy ironing process with one of the top ranked portable steamer according to the consumers' reviews following the results of 2015.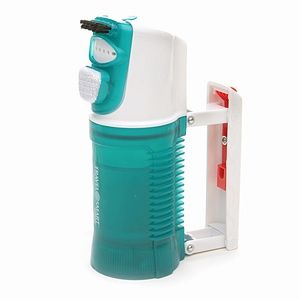 Key features:
Dimensions: 4.5" x 4.5" x 9.5" / 11.4 x 11.4 x 24.1 cm;
Weight: 1 lbs / 0.45 kg;
Power: 400 watts;
Dual voltage system (120v/240v);
Takes 10 minutes steam time;
Pros:
Designed to steam at any angle – doesn't spill or drip;
Worldwide dual voltage system;
Includes detachable bristle and lint brush for extra touch of perfection;
Economically priced.
Cons:
No on/off switch;
Some reviewers complain on insufficient power to do the job on cotton or heavier materials;
Housing gets hot, so you need to wait for a while until it gets cool before refilling.
Pure Enrichment manufacturer provides all the perks that make ironing a fun and pleasant experience. Their invention is compact, has a sleek look and is easy to operate.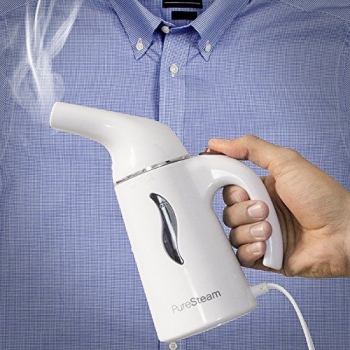 Key features:
Dimensions: 9" x 6.5" x 3.7" / 22.8 x 16.5 x 9.3 cm;
Weight: 1.4 lbs / 0.63 kg;
Power: 700 watts;
110V voltage (for North America use only);
8 foot / 243 cm integrated cord gives you freedom of moving around;
Heats quickly in 2 minutes and provides continuous steaming for 10 minutes;
Available in black and white colors;
Pros:
This garment steamer is suitable for all kind of fabrics such as drapery, furniture upholstery, and bedding;
One of the most powerful portable steamer on the market;
New nozzle design distributes steam powerfully and consistently to remove stubborn wrinkles;
auto shut-off safety protection if the unit gets too hot or too low on water.
Cons:
Not Dual voltage – international travelers will need a converter;
Some reviewers commended that the steamer soaks making clothing wet.
Compact pocket irons
There are two most popular models among pocket irons on the modern market. They are:
a) Pocket Travel Card Style Rechargeable Iron
This ultra-slim device doesn't look like an iron – it's more similar to a cell phone. Invented for business travelers and those who lead a busy lifestyle, this cute gadget allows ironing collars, ties, pockets, in-between buttons and pant creases right on-the-go, without taking off your clothes.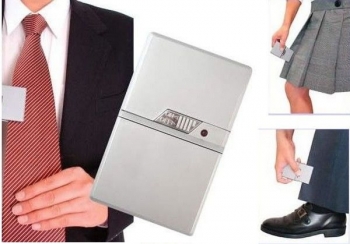 Key features:
Dimension: 2.4" x 0.7" x 3.9" / 6.2 x 1.8 x 10 cm;
Lightweight: 0,2 lbs / 0,1 kg;
Heat temperature: 194-203°F / 90-95°C;
Heat-resistant ABS plastic material;
Heat-up time: 5 min;
Powered by 3x AAA batteries (not included) or via USB charging cable;
Extremely affordable for as little as $10 per item on Amazon
b) Collar perfect Compact Touch-up Iron
Being a Kickstarter project of Brandon Dierker, this cute iron promises to put an end to traditional ironing frustration. The key difference between Collar Perfect and a traditional iron is its adjustable wings. They sit facing each other, which allows the user to place a garment between them to iron both sides. This is how it's able to reach collars, in-between buttons, skirt hems, pant creases and other hard-to-reach places that a regular iron would have difficulty with. The iron wings can also be flipped out and used flat, but be patient – this ironing option might be pretty time-consuming due to a very small soleplate area.
Watch the video review of how Collar Perfect can be used:
Key features:
Comfort grip design;
Five adjustable temperature settings;
Perfect for either 110V or 220V power requirements;
Dimensions: 5" x 3.5" x 1.5" / 12.7 x 8.9 x 3.8 cm; weight: 0.8 lbs / 0.36 kg;
Rotating power cord: Perfect to provide improved user ability in detailing and ironing scenarios;
Available for order on official website for $34.95.
8. Conclusion
They say we should never judge a book by its cover, however, we can't deny the fact that the way we look and the way we dress do matter when we want to make a first strong impression on other people. While traveling, it's harder to be put together, but once you are equipped with a portable iron or its alternative, you'll never miss a chance to look fresh, neat and classy. After having read this article, we hope you will definitely find an easy-going and convenient travel ironing device, which can be your reliable personal assistant wherever you go.