How to choose a Travel Iron or Get Dressed in Your Finest Everywhere?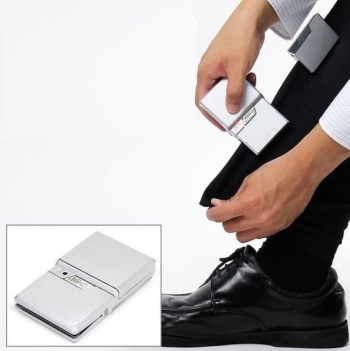 We get so used to finding our clothes crumpled up inside bags that we take it for granted. Of course, there are no means of transportation to protect them from the inevitable. It doesn't matter which vehicle you use: a car, a bus, a train or a plane, your stuff will be creased in any case.
Some travellers offer a dubious way out. To their minds, you should take only clothes made up from the fabric which doesn't crumple. Or if you can't do this or haven't got such items, rent an iron at the place of your arrival. For instance, every hotel's or apartment's staff might provide you with it. But is it really better to use third-party services instead of buying a portable travel iron once and for all?
Why is it "Must Have" and Which Kind of People Need It?
There are few kinds of tourists in the world and not every of them travels often. If you are going to live in the luxurious hotel on the seaside during one or two weeks or go for short 3-days trips only, you probably don't need such a thing. But if you like exploring new places and usually relocate to see more: the travel iron is for you. Even more indispensable it is for spontaneous travellers.
Stop reading for one minute and think to which group of tourists you belong to. If you find yourself an adventurous and/or active person who:
Prefers organizing the holiday by your own;
Loves deepening into the foreign culture and that is why usually lives among the locals;
Visits many places during the trip and change lots of residences;
Is Being Often away for business (where neat clothes are required);
Simply would have chosen rather have everything at hand,
..you would enjoy mini travel iron and its amazing features.
In all the above-mentioned cases you will apparently not have a free 24/7 access to the iron and your clothes are still not in their best shape. Moreover, take into consideration the common situation while the hotel's or others people's iron isn't working well. The poorly functioning device causes more troubles than benefits so the tourist wounds up with nothing.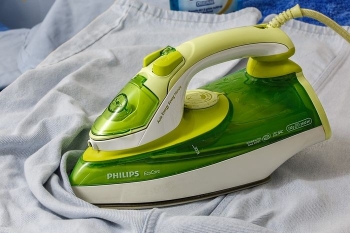 It is obvious that such circumstances affect your mood in far from the positive way. Instead of being satisfied with the pleasant vacation or successful business trip you end up nervous and disappointed. Why should you be concerned about your creasy clothes and your look in them at the moment of happiness?
There are also people who admire staying at the same hotel for a long time and haven't got any intentions to leave it. But most of them truly hate using local services at the insane prices. And they are right: there is no need to be overcharged when you have an opportunity to buy a device which allows you to iron the clothes for free. Double profit: you always feel relaxed about your look and your pocket is still full of money.
What is The Difference between a Big and a Small One?
The travel iron is a mobile device which allows you to get on with your appearance even after your clothes have been affected during carriage. The possible purpose of its usage is quick drying of wet stuff, which couldn't keep up with doing it naturally because of lack of time in the trip.
Even though this device is much smaller and lighter (weighs about 0.5-2 kg) than its big home brother, it deals with the duties very well. In fact, few models look like a toy but it may bother only until you will see it at work. The shortcomings of the travel iron if compare with the standard one: small size of the soleplate and slower steam supply. It means you need twice or thrice more time for the ironing issue, nothing more. The performance is lower but the quality remains the same.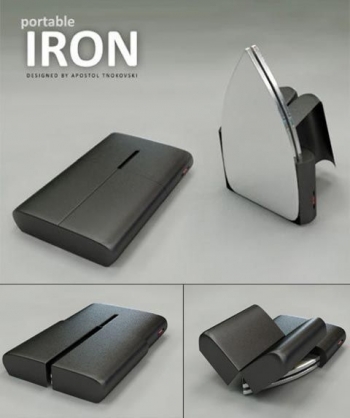 Average Characteristics of the Portable Travel Iron
The weight of the device can be within 0.5-2 kg but the most popular models on the market ranged from 0.5 to 0.7 kg.
The electrical power of this little helper varies from 800 to 1000 watt. For the record: the same parameter of the regular home iron is up to 2000-3000 watt. Nevertheless, your regular outfit doesn't require high-level capabilities. Everyday wear consumes as much energy as travel iron is able to provide.
A burst of steam pushes 20-30 g per one minute. Some systems used in devices are specially designed for steam ironing on the vertical surfaces.
A standard water tank in a steam travel iron may contain up to 50-60 ml. Not so many but still enough.
The kit usually includes a case or a pouch to simplify the transportation. Furthermore, to make the experience even more comfortable for the user, manufacturers decided to release experimental models with removable or flexible handles. This novelty allows placing it more efficiently in your suitcase or travelling bag.
The price for this useful thing is unlikely to be higher than 60-70 dollars. The majority of the most popular products are in the range from 15 to 40 dollars. Isn't it amusing while the ironing cost in hotels and other services reaches 20-30 dollars per hour and the price for one shirt is about 3 dollars?
When Steaming is Better than Ironing?
The majority of travel irons on the market equipped with steaming option. This procedure differs from the ironing and provides you with another visible result.
With steam's help, you can quickly and easily put in order the most capricious clothes made of silk, wool or knitwear. Steam ironing is perfect for smoothing out sleeves and collars. After this treatment, the garment remains "in shape" for a long time. The fabric doesn't become glossy and stretched. In addition, the steam eliminates unpleasant odors, as well as many types of stains. But steaming isn't suitable for all kinds of fabric, so it is better to buy the iron with a steaming function instead of the travel steamer.
Choosing the Suitable Device: 6 Substantial Little Things to Consider
1. Voltage
Travel irons are perfect to bring them along while travelling abroad. Therefore, you need to take into account that various countries use different voltage. If electrical appliances in the USA and Canada work on 110 V, in the neighbouring Mexico it is 127 V. The European standard which is accepted by the majority of the world states represents 220 V. Only a few countries use other voltage, you can get acquainted with that list below:
To avoid troubles, you must take care of it in advance and choose the iron with dual voltage option. Such device can be adjusted from 100 V to 200 V without a risk of being burnt. And it spares you from the need to buy special converters or voltage transformers.
Caution: before acquiring it is necessary to make sure whether this device is dual voltage or not. The point is, many products on the marked are declared as dual-voltage but actually, they haven't got this feature. Ask the shop consultant to show you how it works at the point of purchase. If you are going to buy it in the web store, read the customer reviews to ensure you are getting the right model for your purposes.
Also, pay very close attention to the instructions inside the box. Do not forget to push the necessary button or switch the flipping before usage.
2. Travel Adapter
The next thing connected to electricity's issues is a proper plugging into power outlets while being in the foreign country. That's why be sure that you have a travel adapter to solve this problem. There are a lot of different adapters from the simplest one to the most advanced which provides access to any power socket in the world. The price on them varies in the range from $1 to $20, respectively.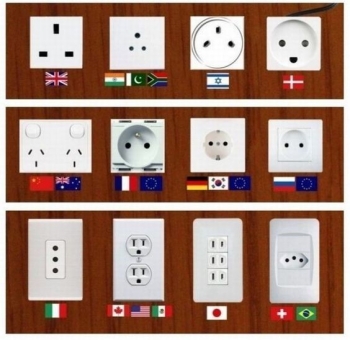 3. Weight and Dimensions
The lighter is the better. However, tiny irons may give in to the bigger ones when it comes up to the technical characteristics and performance. Some contemporary models combine portability and a large set of options but they would be more costly. Even though this choice is based on your budget, it is highly recommended to choose as small device as possible with the presence of core functions.
4. Steam Shot
Why choose an iron with this option? You will be convinced on a practice that you speed up the ironing process while using the device with the steam shot. Steam moistens fabric fibers and improves the quality of appliance's job: you don't need to take painstaking efforts to remove every wrinkle on your clothes. A higher vapor rate allows you to apply it quickly to the chosen area.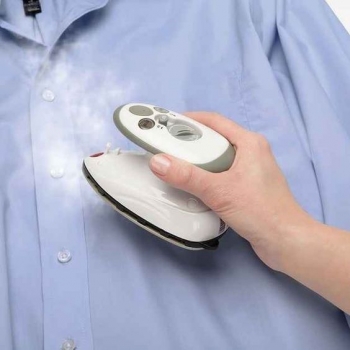 Most of the travel irons provide the customer with the amount of steam which is enough to make up to 5 shirts looking neat and shiny per at a time. This parameter may vary, though.
Some models also include the vertical steam feature which you can use when you don't have a horizontal surface for ironing. Hang your stuff or attach it to the wall, switch the power button on and don't forget to push the steam button repeatedly.
5. Variable Temperature
The simplest of the irons may be not equipped with such facility. In another case the range of temperature's variations isn't enough to work with any kind of fabric from silk (which demands ironing at the 104-140??F (40-60??C without applying steam) to linen (wrinkles smooth out under the 356-392??F (180-200??C) and powerful steam burst). So you must be careful and check if a device you are going to buy is compatible with the particular temperature requirement. Find out which one you need to adhere to according to this table: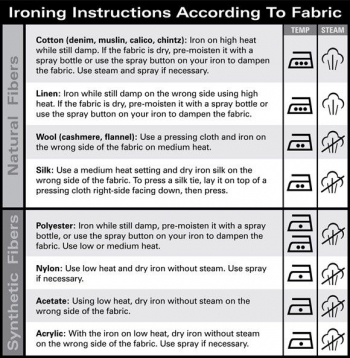 6. Warranty
The important step in acquiring any device is a warranty issuance. It serves as a safety net if something is going to happen during the exploitation by providing you with free maintenance and repair of a product in manufacturer's service. It is better to pay slightly more for an iron with a year or two's warranty than to be overcharged in the event of the breakdown.
And finally, our "icing on the cake": the review of the best 2017 travel irons in the industry. 8 detailed descriptions of each are waiting for you, including an overlook of customer's independent opinions. Concurrently some frequent asked questions about travel irons and ironing process, in general, will be answered.
The best 2017 travel irons
On the manufacturer's website, this device is claimed to be the smallest iron suitable not only for relatively undemanding travel issues but also for everyday use at home. This bestseller received more than 1200 customer's testimonials and is rated 4.3 out of 5 on the Amazon.com. Is 420-watt device able to cope with any garment as well as regular one does? That's what we're going to check.
Perfect Choice for On the Go Use
Not every similar product can boast of the ability to heat up in only 15 seconds regardless of temperature regime. This unique peculiarity saves your time which is very important while you're on holiday overseas.
The other advantage of it is an efficient steam shot feature which allows you to iron up to 4-5 shirts according to the customer's experience. Also, the tourist shouldn't worry about voltage standards: this model is dual voltage one and can be connected to any country's outlet by applying simple adapter.
Benefits do not end here: this device obtained nonstick ceramic soleplate for smooth ironing, three temperature settings appropriate for all kinds of fabric and 41 ml (1.4 ounces) water tank for steaming.

420 Watt: is It Enough or too Little?
An average regular home iron has power characteristics from 1000 to 2500 watt. Such output is considered to be optimal for daily household tasks. No matter how great Steamfast SF-717 may be, it can't fully replace his big brother, especially while ironing bed linen and curtains. Here it can be used as a supporting appliance. In contrast to the "main" one, it has a better handle on seams and small details ironing. And, without a doubt, it will be great for travelling due to its weight and dimensions.
Technical Specifications
Dimensions: 13 x 7 x 8 cm (5.2 x 3 x 3.1 inches), weight: 0.49 kg (1 pound);
The system works on 420 watts and is designed to on-the-go usage;
Dual Voltage Feature - 100-127V / 220-240V(50/60HZ), suitable for all countries' electric currents;
41 ml (1.4 ounces) water tank with one-touch steam control option;
Rapid heating up to 15 seconds;
3 temperature regimes for different fabric;
2.5 meters (7.5 feet) power cord;
Non-Stick Soleplate made of ceramics;
Kit includes also travel bag and plastic measuring cup for water;
Manufacturer provides you with the 1-year warranty.
Real Customer's Reviews
Travellers confirm its value in their journeys; housewives praise it as a great second iron for specific purposes; even sewers are totally satisfied with Steamfast SF-717. The majority of customers are amazed by quick heating, long cord and the amount of steam and find it very great for packing into a suitcase. The possible shortcomings for you might be a lack of an automatic shut off and fragility if compare with bigger devices.
Conclusion: Steamfast SF-717 Home-and-Away Mini Steam Iron is one of the greatest representatives of small irons' family which can be used both at home and during the trip. The cost of it is reasonable but not the lowest in the industry: $25 .
This model is very similar to a previous one and has almost the same features. However, customer's rating for this device is slightly higher. The idea and even the design of these two appliances aren't that different, so maybe here is some other reason.
An Inch is as Good as an Ell
Far from being powerful and covered with many necessary and useless options, this little guy may become a great companion of yours on a trip to anywhere you can find a socket. Although its capacity comprises 420 watts, we have clarified earlier that it is quite enough for travel devices. Dual voltage, extra-long cord (7.5 Feet) and compact size are much more important while travelling abroad.
Apart from its neat appearance and light weight, you will be surprised by how fast it is able to heat up. Ivation Mini Iron is equipped with Quick-Heat Technology which provides 15-seconds heating plus 3 possible temperature settings.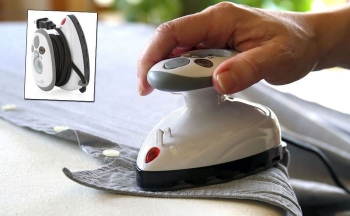 It shares the non-stick ceramic soleplate, 1-touch steam control and even dimensions 13 x 7 x 8 cm with the previous model. In addition, the Innovative Anti-Drip Design protects you from skin burns and minimizes the occurrence of water stains on your garments.
How to Use Properly: 3 steps
AT FIRST, adjust the voltage corresponding to the host country's standard by selector;
Plug a cord (with adapter where required) and choose the appropriate temperature regime;
For steam, ironing fills water tank with water BEFORE plugging into an outlet (measuring cup in a kit may help you gauge). Then lock the steam button and continue using it.
Technical Specifications
Dimensions: 13 x 7 x 8 cm (5.2 x 3 x 3.1 inches), weight: 0.49 kg (1 pound);
420-watt capacity which makes it great for tourists;
Dual Voltage Feature - 100-127V / 220-240V(50/60HZ);
32 ml (1.1 ounces) water reservoir with one-touch steam control option;
Rapid heating up to 15 seconds;
3 heat settings for different fabric (possible temperature ranged from 140??F to 428??F (60??C - 220??C);
2.5 meters (7.5 feet) power cord;
Ceramic non-stick soleplate;
Anti-Drip Design;
What's inside apart from the iron: manual, plastic measuring cup and 1-year warranty card.
Real Customer's Reviews
One person reported that people laugh while seeing this iron in the household. Despite "toy" look, its abilities make them have a lot of respect for it. It heats up really quickly, sometimes even faster than is stated. Apart from travelling, many customers also use it for quilting. 90% of reviews are positive, but some people complain about an insufficient amount of steam and say that this device is not for heavy use. It seems that these consumers expected too much from this portable iron.
Conclusion: A decent rival of Steamfast SF-717 and perfect decision for either short and long business or recreational trips. The price is also affordable: $24,99.
It is another appliance with a familiar set of available options. Notwithstanding, this device has strikingly different design and is painted into bright red color.
Light and Convenient
Like the majority of travel irons, this one can boast of its high portability and low weight. When it comes to capacity and volume of the water reservoir, the specs stay the same such as the first participant of our guide have. (420 Watt of power and 41 ml tank) Heat time is also similar: this model needs only 15 seconds to warm up.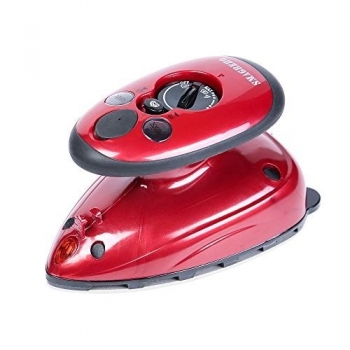 The baseplate is equipped with non-stick coating and great steam feature with a 1-touch control which is easy in use because of measuring cup presence. Dual Voltage is the most important option for travellers, so it is, of course, taken into account.
The unique thing about this device is the protective ironing scorch saving mesh pressing pad. Behind this enormously long name is a little piece of mesh which protects your garments from scorch and shine marks and the iron's soleplate from slaps and zippers. You are able to see your clothes though it because of the grid structure.
Does A Travel Bag Really Matter?
SMAGREHO Compact Iron will be delivered to you with the protective bag in a box. Why do we need the covering for device's transportation? The point is, 99% of your luggage can easily survive the carriage trial but not the delicate small electronic appliance. Even strong suitcases may probably be damaged when travelling by some kinds of vehicles, let alone this little thing. That is why many manufacturers of such products prudently put a durable bag or a case along with travel iron to extend its "life". If they don't, it is highly recommended to purchase it separately before you go somewhere.
Technical Specifications
Dimensions: 13 x 7 x 8 cm (5.2 x 3 x 3.1 inches), weight: 0.49 kg (1 pound);
420 watt is enough to get on with your garments;
Dual Voltage Feature - 100-127V / 220-240V(50/60HZ);
41 ml (1.4 ounces) water tank with one-touch steam control option;
Rapid heating up to 15 seconds;
3 temperature settings;
Ceramic non-stick soleplate;
1-year limited warranty is provided;
The package consists of iron itself, plastic measuring cup, protective mesh, travel bag and instructions.
Real Customer's Reviews
This model is another one which is very popular for hand-crafters and quilters. People praise qualitative travel bag, simplicity in use, heating temperature as well as grip convenience. Those who rated it 1 out of 5 note that device hadn't worked out of the box or some problems occurred after the first usage. However, there are only 5 such reviews on Amazon, and you always have an opportunity to replace a defective product with a good one.
Conclusion: Nice travel iron with recognizable design and all necessary options for on-the-go use. It by no aspects concedes to the first two models unless it is less popular. Price: $22 as to current moment, the old one is $45
4. Sandalwood Mini Travel Steam Iron
This amazingly compact and lightweight iron will be the most suitable one for those who find it difficult to provide space for the most of the travel irons. A little appliance with dimensions 2.2 x 3 x 3.2 inches is not as well-known as his bigger colleagues but still is rated 4.1 out of 5 by picky consumers from Amazon.
Baby Iron
Sandalwood Mini weighs only 15.2 ounces while the other popular models' same parameter usually starts from 17.5 0 ounces. For the record: the standard weight for a regular iron is from 35 to 60 ounces (1-1.5 kilograms). It's created for you if you are that kind of traveller who prefers small bags with lots of clothes or simply haven't got an opportunity to carry less.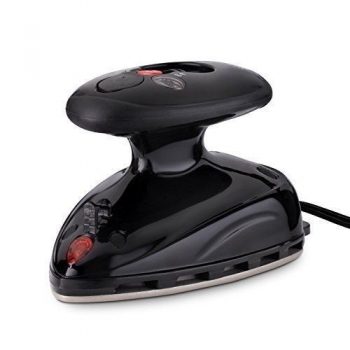 It is equipped with the standard kit of options like dual voltage (switches from 220-240 V to 100-127 V), three heat regimes – low, medium and high temperature is available and stainless steel soleplate with Teflon coating.
According to the people's testimonials, the device heating quickly, even though the manufacturer doesn't promise that it should do it within 15 seconds. Another distinctive feature is 60 ml water tank for steam ironing. It means that the iron should provide more steam than above-mentioned models.
May Small Soleplate Change Anything?
Sandalwood Mini Travel Steam Iron has very small 50 cm soleplate according to its compact dimensions. How can this detail affect the ironing process?
In fact, the quality remains the same, whereas the time needed to get the job done increases. But still, small size of soleplate is enough for a traveller to look nice and neat without making an ironing process time-consuming.
Technical Specifications
Dimensions: 5.5 x 7 x 8 cm (2.2 x 3 x 3.2 inches), weight: 0.44 kg (0.97 pound);
Dual Voltage Feature - 100-127V / 220-240V(50/60HZ);
60 ml (2 ounces) water tank;
3 temperature settings: low, medium, high;
50 cm stainless steel soleplate with Teflon coating;
Warranty: unknown, contact the seller for the further information;
Kit includes also plastic measuring cup.
Real Customer's Reviews
There are no detailed testimonials but still, most of the people consider Sandalwood as reliable iron for both craft and travelling. It is easy to pack and in use and dealing with most of the troubles tourists can face in their journeys. However, few guys reported about insufficient heating due to which they could barely iron cotton material. Beware of imitations.
Conclusion: One of the smallest irons on the market with the relatively voluminous water tank. Also, has soleplate which is made from stainless steel instead of ceramics. The shortcoming of this model: it is more expensive than previous models and hasn't got some features. Price is $40.
We gradually move towards to the "heavy artillery" among the travel irons. It's really hard to do with this word while talking about such thing, even though it looks more impressive than the first four. It weighs 1.5 pounds (0.68 kg): actually, the difference is not yet so visible. Hamilton Beach Travel Iron obtained 4.3 out of 5 agreed with 128 customers.
Dream Steam
The most substantial option for a traveler is the strong steam rate of 9 grams per minute with the continuous steam feature. Water tank capacity is 70 ml. When a device is on you should wait for about 1 minute and it will be ready to steam. Those characteristics make the model the most attractive for people who prefer steaming to simple ironing.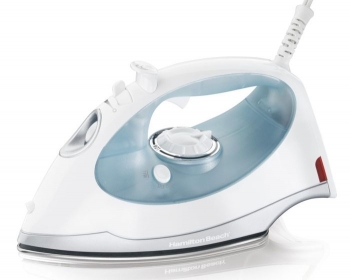 Hamilton Beach Travel Iron is designed for 800 watts of power. It is twice more than previous devices are able to provide. Dual voltage switch 120v/240v indented for overseas lovers is included.
Also, the device has fold-down handles which are great for easy packing and space saving. Stainless steel soleplate protects garments from shiny spots. Manufacturer well though upon maintenance and provide you with fabric brush for efficient caring for the device.
Technical Specifications
Dimensions: 5.5 x 7 x 8 cm (5.45 x 4.46 x 7.3 inches), weight: 0.68 kg (1.5 pounds);
800 watt make device commensurate with regular iron;
Dual Voltage Feature - 120V/ 240V(50/60HZ) – gives access to the various countries' outlets;
70 ml (2 ounces) water tank;
Steam rate: 9 grams per minute;
Continuous steaming;
Steam option activates in 1 minute;
Stainless steel soleplate with Teflon coating;
Warranty: 1 year from the date of original purchase;
Kit includes also carrying pouch & fabric brush attachment.
Real Customer's Reviews
According to the various customers' reviews, this little iron has non-stick soleplate, works as good as the big one and produces a lot of steam. One person recommended not using it as a steamer because you are facing a risk to soak your clothes in your bag if you leave shortly. Critical comments are mostly about a weight of the device (some people find it too heavy for travelling), the absence of vertical steaming and problems with a water reservoir (it spits water down all the time they say).
Conclusion: While being slightly heavier than the previous models, this travel iron is much more powerful and equipped with the spacious water tank. The total cost of this thing would be about $24 which makes it quite affordable.
Conair offers a great discount on this small helper: this multifunctional device is unlikely to fully replace your regular iron, but for travelling it is just perfect (neither are other models in this review). Still, this one is powerful and lightweight - 14.4 ounces or 0.4 kg.
The Best Power/Weight Ratio
The most notable feature of this device is that power capacity is 800 watt but it still will not burden your already heavy luggage. Some people don't need highly potent iron in the household too, that's why they can get along with this model instead of the ponderous standard machine.
EZ Press by Conair equipped with stainless steel easy-gliding soleplate for smooth ironing as well as with all necessary options for travelling: dual voltage and extremely long 8-foot power cord. This thing allows you to reach out to the power socket even when there is a lack of them.
Also, you can easily switch between few temperature options and steam or dry regime. It is quite convenient for a traveler who prefers clothes made of different kinds of fabric. Steaming is particularity effective while smoothing out tough wrinkles, so steam burst feature might definitely come in handy.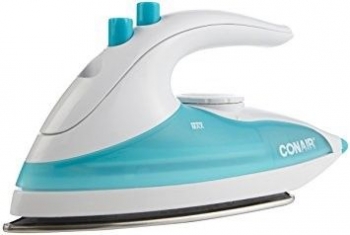 The Benefits of the Long Cord
Irons with short cords significantly limit your opportunities in the trip. Whereas rooms in luxurious hotels or comfortable apartments surely equipped with a couple of outlets, the accommodation in third world countries may be far from common civilization's facilities you get used to. In such a case, you need a long cord to get the socket located in a remote place. Those appliances are also great in houses with the irrational layout.
Technical Specifications
Dimensions: 5.5 x 7 x 8 cm (5.45 x 4.46 x 7.3 inches), weight: 0.68 kg (1.5 pounds);
800 watt make device commensurate with regular iron;
Dual Voltage Feature - 120V/ 240V(50/60HZ) – gives access to the various countries' outlets;
70 ml (2 ounces) water tank;
Steam rate: 9 grams per minute;
Continuous steaming;
Steam option activates in 1 minute;
Stainless steel soleplate with Teflon coating;
Warranty: 1 year from the date of original purchase;
Kit includes also carrying pouch & fabric brush attachment.
Real Customer's Reviews
Some people admit that this iron works even better than full-size devices and 800 watt is enough for their needs. The users speak well of appliance's handle and steaming system: the iron is able to take out most of the wrinkles with the powerful steam blast and holds lots of water in its reservoir. Few of them are dissatisfied with the heavy cord and find it not as convenient as it should be. The others complain about its non-durability and report about the malfunction in short terms.
Conclusion: The iron is lightweight and powerful at the same time and provides a great steaming option. Even though there are some cases of breakdown, the model is a good choice for trips. The price is also very affordable: it costs only $17 that makes it one of the cheapest travel irons in our review.
Those who are searching for a cheap (almost free) travelling solution will be very pleased by Sunbeam Hot-2-Trot Compact Iron. Compact size and humble dimension did not seem to have prevented it from acting as a traditional home appliance. The device weighs 1.4 pounds and has a resemblance to other models because of the similar set of functions. Customers assessed this iron 4.2 out of 5 – it is quite popular among travellers and got more than 1000 reviews, mostly positive.
The Handy Handle and More
The manufacturer is positioning its creature as a very convenient device in use because of soft touch handle and great location of all the necessary buttons which makes it easy to control the appliance with fingertips. An important feature is a non-stick soleplate with the pointed tip which turns ironing into fascinating pastime instead of daily routine: the device doesn't leave any stains and reaches inaccessible areas.
Steaming option for stubborn wrinkles includes an easy-fill water tank and Shot of Steam feature. Power burst of steam speeds up the process and makes it even more pleasant. Iron equipped with all the standard functions as variable temperature and dual voltage. Besides, the appliance has a light indicator that prevents you from accidents by showing whether iron is hot.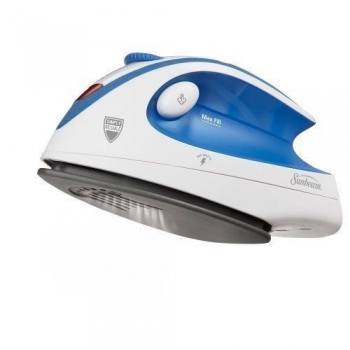 Why Comfort is Required?
The main peculiarity of this model is a full adjustment to the human hand. You don't need to make efforts to push necessary buttons or controllers: all of them situated within reach. Therefore, an ergonomic construction of the appliance enhances the efficiency of the ironing and turns the process into a pleasant one.
Technical Specifications
Dimensions: 9 x 20 x 10 cm (3.6 x 7.9 x 4 inches), weight: 0.63 kg (1.4 pounds);
800 watt make device commensurate with regular iron;
Dual Voltage Feature - 120V/ 240V(50/60HZ) is important for constant worldwide travellers;
The presence of easy-fill water reservoir;
Non-stick soleplate;
Shot of Steam Feature for the most stubborn wrinkles;
A few temperature regimes for various kinds of fabric;
Soft touch handle suits your hand;
Light Indicator.
Real Customer's Reviews
More than 1100 buyers are impressed with this device: it heats up quickly, copes with steaming very well and almost entirely replaces the regular size iron in the home, let alone trips. This product has lots of advantages but also some shortcomings including the fragility of non-stick coating, occasional spitting of water, and the absence of the auto-off feature.
Conclusion: Hot-2-Trot Compact Iron is a popular model among Amazon's customers and has established itself as s comfortable appliance for simple tasks. The inside of it represents a standard kit of options: steam shot, variable temperature, a dual voltage which makes it suitable for on-the-go usage. The cost is low and affordable for everyone: pay only $13 and get a fully-functioning iron.
If your see your little travel device as desperate one because it isn't helping anymore, you should consider the purchase of the heavy weapon on travel iron's market. Rowenta Travel-Ready possesses the characteristics of the big appliance while staying compact and easy to pack. It is much more powerful than any participant in our review and provides you with additional options. However, customers didn't appreciate such benefits and rated it only 3.8 out of 5. Let's find out why.
The Strongest One
The travel iron by Rowenta is the most powerful among so-called travel appliances. It has the 1000-watt capacity by which it can be deemed equivalent to your regular device. On this ground, the model's dimensions and weight slightly increased and constitute 8.6 x 3.9 x 4.9 inches and 2 pounds respectively. Besides, it is additionally equipped with the Vertical steam option which is absent from others.
The manufacturer offers you try various steaming option while using this device: vertical steam, burst-of-steam and consistent steam features are included. By the way of fuel for this procedure serves water in 2-ounce transparent water tank – much more capacious than the rivals.
The standard option's kit is also here: adjustable temperature, dual voltage switch and the soleplate made of stainless steel work well as always. Even though the iron is relatively big if compare with other models, it obtained fold-out handle which simplifies packing process and storage. For keeping it safe always use travel pouch shipping together with the iron.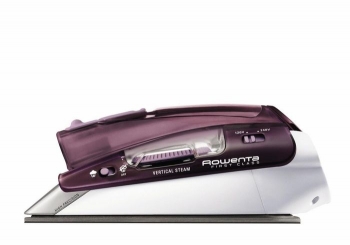 Fold-Out Handles or Compact Irons
Some travellers prefer to buy small devices sacrificing the functionality and power capacity of the model. The others choose appliances as close as possible to their home regular irons and suffer from the inappropriate dimensions. But here is the "golden mean": some companies release models with fold-out handles.
The construction of such iron allows decreasing its dimensions by changing the handle's position. Actually, there is no difference between this kind of devices and small sized because the purpose of them is common. So you are free to pick up that one which will fit in the bag or the case without any troubles. Both compact irons and irons with fold-out handles meet this challenge.
Technical Specifications
Dimensions: 22 x 10 x 12 cm (8.6 x 3.9 x 4.9 inches), weight: 0.9 kg (2 pounds);
1000 watt capacity catches up with the same parameter of regular home appliances and makes it one of the most powerful in the travel irons' industry;
Dual Voltage Feature - 120V/ 240V(50/60HZ) for travelling;
2 ounce (60 ml) water tank for long steaming;
Microsteam stainless steel soleplate distributes steam evenly because of its 200 holes;
Shot of Steam, Vertical Steaming and Consistent Steam Features
A few temperature regimes for various kinds of fabric;
Fold-out handle;
Comes with travel pouch inside;
1 Year limited warranty.
Real Customer's Reviews
People like the device because of its power, big amount of steam and light weight. One person admitted that it was good until it stopped working. There are a lot of reports about frequent breakdowns of this Rowenta's model. The other complaints connected with the short cord, weak handle and quality mismatch. While costing $40 and being one of the most expensive travel irons, it had fallen short of community's expectations.
Conclusion: The portable iron is great for those who spare no money and appreciate many watts capacity in appliances. Also, be careful and check the device's assembly before usage.