Chairmats, Cable Protectors, Footrests And Other 16 Office Floor Accessories: Comfort From The Ground Up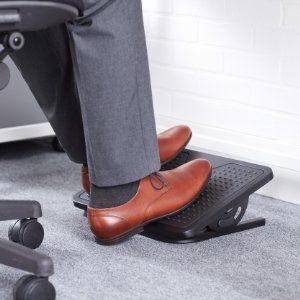 Enhancing your office space has quite a lot of aspects, but there's one which is often neglected: it's office floor management and accessories! There are many items which can help you alleviate your pain in the feet, add convenience and ensure you don't get cold. Read on to learn how to make your working place a little bit more comfortable and cozy!
This mat can help you save your floor from damage which can be done when rolling your office chair. It's made of vinyl, which means it's quite durable and convenient to use. The clear design makes it fit any interior, and the protruding lip serves as a good additional mat for feet. With such a shape of this mat, you can roll your chair in any direction, including the front side. The mat manufacturer takes pride in its anti-slip features: a scuff textured top and studded anchors on the back which ensure proper gripping.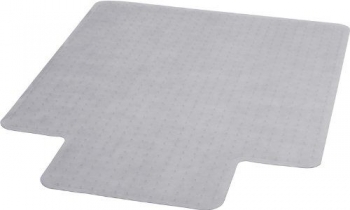 Technical details:
Weight: 7 pounds (3.18 kg);
Dimensions: 36" (91.4 cm) x 47.1" (120 cm) x 0.1" (0.25 cm);
Material: commercial grade vinyl;
Designed for low pile carpets;
Scuff and slip resistant textured top surface;
Studded gripper back;
Straight edge;
Lip size: 19" (48.3 cm) x 9.75" (24.8 cm);
Colour: clear.
Feedback summary
Since feedback summary is mostly interesting because of it may possibly reveal drawbacks, we'll cover them more than advantages. The first thing that must be mentioned here is that there's a version for hard floors which is not intended for soft floors (e.g. carpets), it's for hard floors only, because if you place it on a soft surface your chair will balance on the mat and "gravitate", as one of the users said. So be careful when choosing the right option. Besides, it's recommended to wear gloves when rolling out the mat. Also, some people report it may take a while until the mat flattens. The material is also a bit thin, but it still can be used if you have a light rolling chair. Plush carpets are not the best thing to combine with the mat, as it'll be difficult for you to roll the chair. All in all, if you do not intend to challenge this rather thin carpet with extreme loads, it can be quite a decent choice.
This mat is special because of its material: it's made of tempered glass and looks really stylish. The seller claims it's suitable for any kind of surfaces, both high or low pile carpet, hardwood, marble, etc. The scratch-resistant and antistatic tempered glass is durable enough to hold the lead of 1000 pounds (~453 kg). It ensures easy rolling and makes the product look and feel expensive and high quality (and it really seems to be so). As glass is easy to clean, it's another advantage of this item. To prevent movement issues, all mats come with clear adhesive rubber pads which make it stay in place. The rounded corners and polished edges match any interior and even enhance it.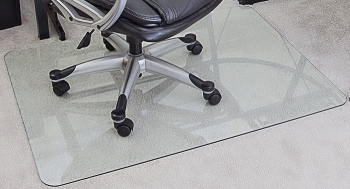 Technical details:
Material: tempered glass;
Weight: 35 pounds (15.9 kg);
Dimensions: 36" (91.4 cm) x 48" (122 cm) x 0.2" (0.5 cm);
Colour: clear;
Strength: 1000 pounds (~453 kg).
Feedback summary
The price is the only drawback which seems to affect the rating of the item. Other than that, it's fantastic, as the users claim, as it's really durable, non-slipping, stylish and does not crack like plastic mats. Besides, it really fits all kinds of surfaces, including high carpets which seem to be the kind of floor users find hard to find an appropriate mat for. Some regret buying a small version, so choose carefully when buying.
This rectangular chair mat is for hard floors only. The most distinctive feature is the design: the pattern can make your interior cozy and stylish. Wood, tile and vinyl floors are the primary types to be used with this mat. The harbour pointe design is just what makes a room as special as the mat's colours. The mat's made of 100% recyclable vinyl, so it can be considered an eco-friendly item: when you don't need the mat any more, you can recycle it without doing any harm to the nature.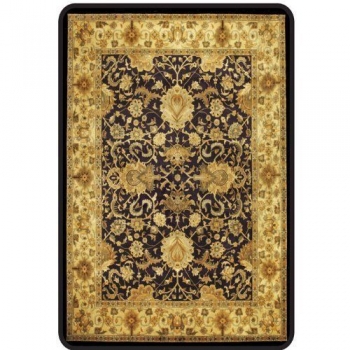 Technical details:
Material: 100% recyclable vinyl;
Weight: 15.7 pounds (7.12 kg);
Dimensions: 62.5" (159 cm) x 46.5" (118 cm) x 0.6" (1.52 cm).
Feedback summary
Its colours do not seem to fade with time, and it does protect hard floors, such as wood. It's a very nice product, but you must remember it's for hard floors only. Actually, this mat looks like a carpet, but it serves its purpose well and enhances the interior.
This office chair mat is a bamboo one, which makes it outstanding. Yet it does not have a lip, so it's not supposed to protect the floor when you roll the chair under the table. There are two size options available, namely 60" (152.4 cm) x 48" (122 cm) and 72" (183 cm) x 48" (122 cm), so choose the one which fits your room best. Besides, it comes in two colours: natural and dark cherry, so depending on your interior you can order the one matching your décor. The mat is designed for berber/loop carpets (which are no thicker than 3/8" (0.95 cm)) and hard floors. To enhance durability, the manufacturer made it 8 mm (0.3") thick. Among other features of this model are 4" (10.16 cm) wide slats, felt backing with non-slipping gripper dots and the UV-coated eco-friendly finish. The seller states the material used is a bamboo species called Moso which is gathered in the Anji Mountains of China.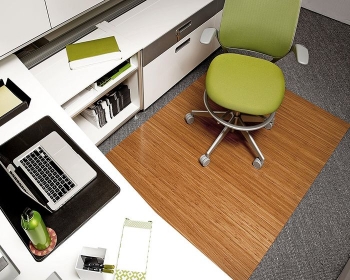 Technical details
Material: bamboo;
Dimensions: 60" (152.4 cm) x 0.3" (0.76 cm) x 48" (122 cm);
Weight: 24 pounds (10.9 kg);
Origin: China;
Colour: natural, dark cherry.
Feedback summary
With 19 customer reviews, this product can be considered a worth buying item, as most users seem to be satisfied with it. Yet there are drawbacks too: first, there's a user reporting the mat warps upwards, and the actual width of the bigger version is 71" (180.3 cm), not 72" (183 cm). Other purchasers claim it's an elegant and sturdy item which is good at protecting the floor. The look of it really makes it a good choice for a room furnished in the classic style.
Cable protectors:
This cord protector is designed as a channel where the cords are put to prevent tangling and damaging them. The ultra low profile ensures you won't stumble. The items are connected by means of T-connectors, and the whole system can easily be adjusted and assembled. There are various sizes and left/right turns, which means you can design your own cable protection systems. Actually, it seems to be one of the most interesting systems for floor cable management, as it allows you to roll your chair over it without damaging the cords. By the way, the product comes in different colours, and you can choose the one matching your interior.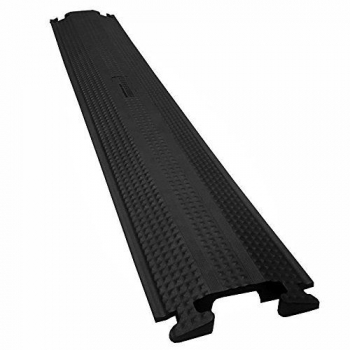 Technical details:
Weight: 3 pounds (1.36 kg);
Dimensions: 36" (91.4 cm) x 5.2" (13.2 cm) x 0.9" (2.3 cm);
Colours: black, yellow, grey, orange, brown.
Feedback summary
As the feedback suggests, this product is worth buying, but you must consider the following: be careful with the dimensions of the cords you want to put inside, as you may need some tape to hold thick and multiple cables in place. Second, it's kind of expensive. Nevertheless, it works as advertised and provided you have considered the size compatibility of the cords you intend to use and the section of the cover, it's a good item which can prevent damaging cords due to different types of traffic (feet, animals, light vehicles, etc.).
It's a simpler version of the previous cord protector, but it's also more flexible. The key feature is that you can cut the cord concealer to any length of your choice. Actually, it's a basic option which is quite affordable and easy to use, so there's not much to describe in terms of the features.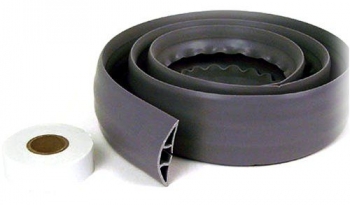 Technical details:
Length: 10.6" (27 cm);
Colour: black
Dimensions: 10.6" (27 cm) x 9" (23 cm) x 3.3" (8.3 cm);
Comes with a double-sided adhesive tape.
Feedback summary
Here's an important note: you may find it hard to make it lay flat, and here's the solution to the issue: put it for 30 minutes in a hot tub, and it'll be ok. That's the major drawback experienced by almost all users: it's quite difficult to prevent it from coiling, but once you manage to overcome the coiling challenge you are most likely to be satisfied with this basic cord cover.
It's another option which you can pick when choosing a carpet cord cover. It comes in a variety of colours and sizes, works on loop carpet, commercial grade rugs, and Berber carpet. However, you must be aware of the fact that it's not 'compatible' with cut pile carpet. It does not require adhesives to stay in place, so there's no residue. The item is washable and reusable, which means it can last long. The item can also be cut to any length, like the previous model. The attachment system features a hook and loop Velcro.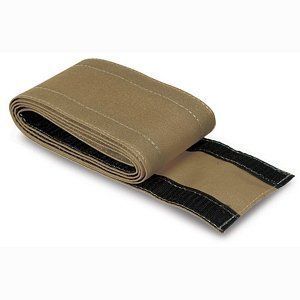 Technical details:
Colours: taupe, blue, grey, yellow, black;
Material: Condura Nylon;
Length: 6 ft (182.9 cm);
Dimensions: 72" (182.9 cm) x 6" (15.24 cm);
Weight: 0.2 ounces (5.7 g).
Feedback summary
Some users complain it does not stick to their carpets well, but it depends on the kind of carpet you have, so it's recommended to ask the seller in advance if you have doubts. Other than that, it's convenient to use and looks nice, so it's definitely one of the options most would recommend.
NonSlip:
To fix your carpet and make it stay in place, there's no easier way than using a good double sided tape, a fine example of which is represented by this model. It's easy to install and peel off by hand. As the seller claims, it leaves no residue thus not damaging the floor. The item provides good adhesion to both smooth and rough surfaces.
Note that the tape does not stick to carpets that have rubber pads on the bottom. By the way, the seller says it can stick to dry concrete too.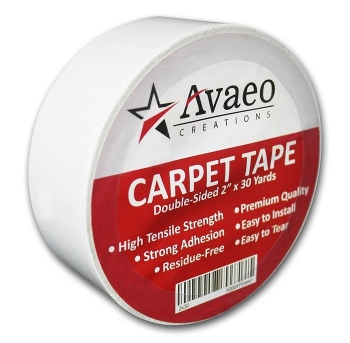 Technical details:
Weight: 12 ounces (340 g);
Dimensions: 5" (12.7 cm) x 2" (5 cm) x 2" (5 cm);
Colour: white.
Feedback summary
Negative reviews cover the following issues: they say it sticks to the floor but not to the rug, or the users didn't like the adhesive properties. Well, since 47 customers were satisfied with the item's performance, we can conclude that the characteristics of your carpet can affect the quality of the tape in rare cases, but most of the time it works fine.
This non-slip rug pad is designed to prevent rugs from slipping if placed on hard floors. The product is available in different sizes that must match your rug's size. The open weave design allows the item to breathe and makes it easier to use a vacuum cleaner when cleaning the rug. The pad's made of polymer coated polyester scrim, which is supposed to last 10 years. To wash the pad, you are to use a mild detergent, then rinse it and air dry - it's that easy.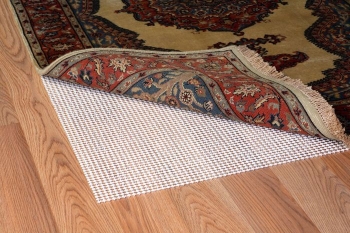 Technical details:
Material: polymer coated polyester scrim;
Colour: white;
Dimensions: 84" (213.4 cm) x 60" (152.4 cm) (there are other sizes available).
Feedback summary
Though most users say it does not leave marks on the floor, there are several people saying it did leave bits of foam of the floor and other markings. If you have a very expensive hard floor material, it might be better to look for another option. If all you want is to prevent your rug from slipping - it can help you do so. It seems to depend on the floor type, but it most cases it works fine and doesn't leave a grid mark. Another complaint considers the chemical smell, but it's not a common opinion. Yet if you take some precautions to prevent direct contact between your expensive wood and the pad, it may be a nice thing to use (otherwise there wouldn't have been so many (2200+) positive reviews.
Footrests:
The rubber mat you see lets you have your feet warmed even if it's cold in the room. There are two sizes available, and with such dimensions, which are quite large, the item draws only 90 watts. Using radiant and direct heat, it warms your shoes and feet and is perfect for an office worker who doesn't feel comfortable enough. The operational temperature is 130 oF (54.4 oC), so you won't get burned, but the heat will get to your feet through the shoes. Yet there's a restriction you must be aware of: it's not intended for use on wood, carpet, or other delicate surfaces. The heater is TUV-Listed to ensure fire safety. It's recommended for such floors as concrete, tile, stone, etc. The mat is waterproof, so it's not supposed to break due to spilling something on it.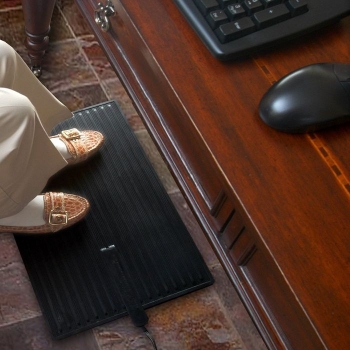 Technical details:
Temperature: up to 130 oF (54.4 oC);
Material: rubber;
Dimensions: 20.5" (52 cm) x 13.5" (34.3 cm) x 0.2" (0.5 cm);
Weight: 5 pounds (2.3 kg);
Colour: black.
Feedback summary
This item really helps you get warm if you're freezing in your office or at other workplace. Yet some complain it's too hot for them, and one person even said it nearly caused a fire, but the owner managed to eliminate it fast. The key to using this item is to use it in accordance with the instructions provided: use it for hard and cold floors (like cement and tiles) only and place some cardboard under the mat to prevent colour fading. Besides, you may need an extension cord if your outlet is far from the desk. Actually, the reviews are mixed: some say it's too hot, others claim it's not hot enough, so it really depends on your feelings. If your floor meets the requirements, it's a good option.
P.S. There may be some smell which fades with time, it's normal.
How many times have you wanted to have your feet resting on something under your desk? Your quest is over: here is a foot hammock which is designed to relieve feet pain and help you relax as you work at the desk. It's attached to the table by means of special clips. The item is compatible with any table that doesn't have drawers which may block the hammock ropes and that had appropriate thickness (up to 5.5 cm / 2.17"). The hammock is adjustable in two ways: you can set it to be high so that you could relax or just make it hang slightly above the floor (this mode is optimal for working time). The material used is non-abrasive, and it's really comfortable to use it, since your legs feel relaxed with no strain. It can support up to 85 pounds (38.5 kg) of weight, so consider it when putting something heavier on it!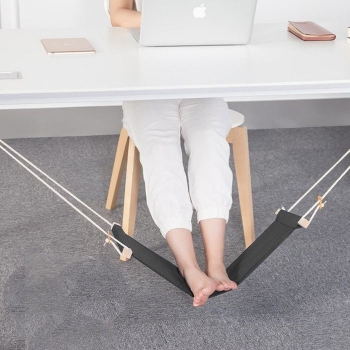 What's in the box?
100% cotton canvas;
2 powder coated steel clips;
Hanging ropes;
Support wood (Hinoki cyprus);
Instruction manual.
Technical details
Size: 64 cm (25.2") x 17 cm (6.7");
Rope size: 250 mm (9.8") - 450 mm (17.7");
Colour: pitch black;
Support weight: 85 pounds (38.5 kg);
Materials: cotton canvas, wood, steel, rope.
Table requirements
The table length must not exceed 1.4 meters (4.6 ft);
The table top thickness: 2.5 inches (6.3 cm);
The table should not have cabinets or side walls.
Feedback summary
The major drawback mentioned in the negative reviews is the poor seams which unstitch quite soon. Some also claim it's not very convenient to adjust it, yet the majority of users love the way it works, as it's comfy and looks nice. If you use it carefully without putting too much load on it (this includes not dropping your feet on it fast), it can serve you as a good hammock.
It's another foot warmer which is combined with a 105-watt heater. It can be adjusted and set into three different positions to ensure optimal height. There's an on/off LED light, as well as 2 heating modes which help you save energy. It's easy to operate: all you need is to switch it using a rotating mechanism at the top. The heater is ETL-Listed to ensure better fire safety. One of the key features of the product is that it combines the functions of a heater and of a foot rest, thus helping you save money and office space.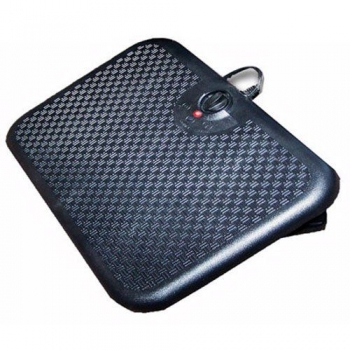 Technical details
Energy consumption: 90 watts;
Dimensions: 12" (30.5 cm) x 18" (45.7 cm) x 5" (12.7 cm);
Weight: 4.5 pounds (2 kg);
Colour: black.
Feedback summary
Well, it's worthy of note that it's first a foot warmer and then a heater, so it can make the air warm in the vicinity of your feet, but it definitely cannot warm a room, so keep it in mind when buying. If all you need is to make the air under your desk warm and put your feet in socks on this stand, it's a very good option. Also, it may also slip if put on bare wood floor, so it, perhaps, lacks some rubber pads, but it depends on the kind of floor you have. Besides, some people say the plastic smell is bad, but we guess it fades with time, as most users do not report such an issue.
Unlike the previous item, this one does not warm your feet - it's just a footrest which ensures comfortable sitting. The ergonomic design lets you keep your feet elevated to reduce pressure on lower back. The tilt angle can be adjusted to make it stand in the most convenient way. There are bumps on the footrest surface which stimulate blood circulation and massage your feet. The non-skid support is also listed by the seller as one of the advantages.

Technical details
Tilt angle: 0-20 degrees;
Colour: black
Weight: 9.4 pounds (4.26 kg);
Material: plastics;
Platform size: 17.5" (44.5 cm) x 13.5" (34.3 cm);
Dimensions: 24" (61 cm) x 15.2" (38.6 cm) x 4.5" (11.4 cm).
Feedback summary
There are several points which must be emphasized: first, the footrest stands properly only on carpeting (as least there's such information provided by one of the verified purchasers). Second, some find it flimsy and easy to break (especially if you like heels, as they say). It's hard plastic, and if it's ok with you, then you can opt for this product.
As usually, we put a 'natural' item in our list: it's a wood foot rest made of pine wood which stimulates blood circulation and adds some eco-accent to your room or office. To avoid tendron pains, you can use this foot rest while working or studying. There are no loose nails or splinters, so you won't hurt your feet. The wood can hold up to 265.5 lbs (120.4 kg).It's an eco-friendly, simple yet effective footrest which will look nice in a room furnished in a country or classical style.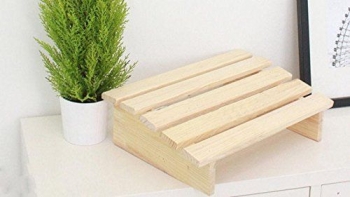 Technical details:
Material: pine wood;
Dimensions: 17.7" (45 cm) x 11.4" (29 cm) x 5.1" (13 cm) (high side) x 3.3" (8.4 cm) (short side);
Weight: 3.4 pounds (1.54 kg);
Colour: natural.
Feedback summary
Most users love the way it works and looks; as to the weak points, there's a complaint about the planks being unvarnished, but we think it's just a lemon. Besides, some users find it too pricey for a set of wooden planks. Well, since the price cannot be a major drawback (at least in most cases, because if you can afford it, it's not a disadvantage of the product itself), it's a simple and well built (again, in most cases) item which can serve you well if you want an eco version of a footrest.
And yet another foot warmer - it's different from the ones we mentioned above, so it's another option for you to consider. It's made of 100% polyester and provides warmth which can help in case of arthritis, poor blood circulation and other issues. The plush fleece fabric is soft to the touch and can accommodate two pairs of feet, so you can use it with your loved one simultaneously. It comes in three colours: beige, natural and sage. It's best to use it at home or if you are allowed to use such cozy items at your workplace. There's an LED light that shows the level of heating so you can control it with ease. The item has an auto shut-off feature: it takes about 4-8 hours till it switches off. The pad is washable, so you can clean it if needed.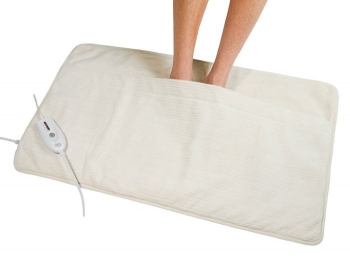 Technical details:
Size: 35" (89 cm) x 20" (50.8 cm);
Colours: beige, natural, sage;
Weight: 2.4 pounds (1 kg);
Material: 100% polyester, plush fleece;
4 heat settings;
Features a 8.5 ft (259 cm) power cord.
Feedback summary
The item is rated 4.1/5, which is very good, since there are over 300 reviews. As to the drawbacks, the verified purchasers report fast breaking, but it might be a rare case, since it does not happen to all users. Actually, it's the most frequently stated drawback, because other issues are hardly mentioned at all. You can return the item for a full refund if something gets wrong, so the product is definitely worth a try, as the product itself is fine.
If all the previous mats were for sitting, this one is for standing. Yet it doesn't mean you can use it while sitting - it's just named this way. The supported foam helps you stand comfortably, and the massage points stimulate blood flow. The center teardrop drives movement and the ankle range of motion. The design of the butterfly aims at providing you support, massage and comfortable standing. The seller claims you can use it on any surface.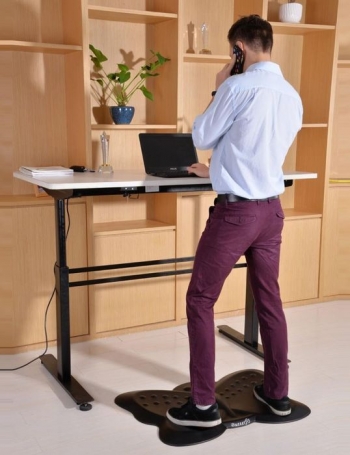 Technical details:
Dimensions: 36.8" (93.5 cm) x 24.8" (63 cm) x 1.8" (4.5 cm);
Weight: 6 pounds (2.72 kg);
Colour: black, purple or blue.
Feedback summary
There are nearly 200 reviews, and most of them are extremely positive: it seems to be a very good product worth buying, as it really matches standing desks well and is loved by most verified purchasers. The only mentioned major drawback is that you may find it too soft, but it depends on your preferences.
Conclusion
There are plenty of ways you can make your office floor better: hide cords (and protect them from tangling and traffic), warm your feet, protect the floor from scratches by placing a special mat or prevent a carpet from slipping with the help of a rug pad or a tape. It's that easy but brings good results and boosts your office comfort level!