Wrist Rests, Stands, Cleaning And Other 19 Keyboard Accessories Which Boost Its Capabilities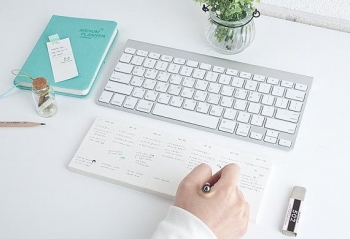 If you think that a keyboard for PC cannot be enhanced, read this guide thoroughly to discover that there are plenty of items that can make your experience of working with your notebook better. Cleaning tools, wrist rests, stands for desk space optimization, other devices for making your keyboard look and work well - all these can become great additions to your desk, since more optimization and added functionality means better convenience, and your things will always (well, at least most of the time) be in order.
Wrist Rests
All wrist rests serve one and the same purpose: they help you position your hands in such a way so that it would be convenient for you to use your keyboard as long as possible without any aches and pain in the wrists. They can vary in design, height, and features, so when choosing one make sure it fits the height of your keyboard. Try putting your wrist on it and typing a little bit. Does it feel comfortable? Or would you like it to be slightly higher/lower? Keep on experimenting in a store until you get the one that fits your hands. If you want to buy a wrist rest online, try taking some bar (it can be a piece of wood, a book or something of the shape of this kind) and using it as a wrist rest. As soon as you find the right object, measure its height and start looking for a wrist rests of this size.
This model features a gel cushion that shapes to fit the contours of your wrists, thus providing support and comfort. The GelFlex Comfort Zone and WareRest design are the key technologies used in the development of this item. The patented WareRest design makes it fit any hand, as it is rather flexible and can adjust the way you want. The product is a separate one, so it's not connected to some mouse pad, which means you can move it anywhere on your desk. The surface feels like neoprene, but it seems to be made of silky nylon and gel. The bottom part is flexible too, though it has rubber there. If needed, you can attach Velcro strips to the surface of the rest.
Warning: the product is said to contain latex, make sure you're not allergic to it!

Technical details:
Dimensions: 21" (53.3 cm) x 4.2" (10.7 cm) x 1" (2.5 cm);
Weight: 10.6 ounces (300.5 g);
Colour: black or gray;
Material: gel and (presumably) nylon;
Price: about $11.00 BUY NOW
Feedback summary
Many people claim it really helps them prevent the pain of typing or gaming using a keyboard. As to the drawbacks, some say it smells like new memory foam (actually, there several people reported they felt dizzy or had migraines because of it!), others got it broken, and several users said it makes strange sounds when using the rest. Also, there are statements that the dimensions mentioned in the official description are inaccurate (as one of the users said, "this wrist rest is only 18" wide, not 21". It's also less than 3" deep, not 4.2". It is pretty close to 1" high" (Darren D. Boyd)).
All it all, if you are not sensitive to chemicals, it may be a good product to try.
This another model of wrist rests that differs a lot from the previous one (we don't say one of them is better - at least they're different). The main aspect in which they differ is the material used. It's made of high quality PU and coated with leather, textured flexible polyurethane and spongy memory elastic material. As you can see, there is no gel like in the case of the previous rest. This one is also good at preventing wrist and joint issues, such as rheumatoid arthritis and carpal tunnel syndrome). It sits firmly in place due to non-skid backing. It does not lose its shape, but the wrist rests comfortably on it. It fits the majority of standard keyboard and has no curves, unlike the previous model. The double folding sewing design contributes to the item durability.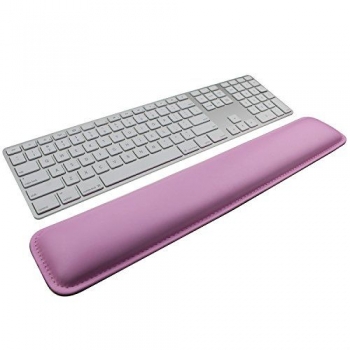 Technical details:
Materal: memory foam (inside), textured rigid PU leather (bottom), textured flexible PU leather (surface);
Dimensions: 465 x 82 x 25mm ( 18.3" x 3.2" x 1");
Weight: 8.5 ounces (241 g);
Colour: black, pink, white;
Feedback summary
There are no drawbacks mentioned (at least as of the beginning of February, 2017), with an exception of someone who complained that there are too few colours to choose from. Well, there are three colours, and it's more than many other products of this kind have, so it's quite a variety if compared to them.
Stands
Stands are an essential part of desk space optimization. Actually, stands can be considered an accessory not only for keyboards, but also for monitors (read more - 28 Monitor Accessories That Can Enhance Your Office Desk), and are a general means of space optimization. There are plenty of them available, and their designs and capabilities also vary. In the following list you will see stands that have a special compartment or space designed for keyboard storage. The idea is to put your keyboard there when it's not in use. Besides, you get bonuses, such as drawers, shelves, USB ports, etc.
It's one of the best stands you can have as your office desktop organizer. Well, it's an organizer, not a stand technically, but we'll put it into this section. Take a look at its design: it has almost all the compartments one can need if working or studying. It's made of ABS and metal and matches the iMac design. iPhone users can connect iStick USB to their PC USB port to charge/sync their iPhones. As to the features of this product, the manufacturer claims it has a photo slot, a cup holder, 3 USB ports, a Multi card reader (Micro SD, SD/MMC, XD, MS/MS PRO DUO), a pen holder, a memo pad box, a business card box, a storage box for miscellaneous items, a letter opener, and a paper holder. Impressive, isn't it?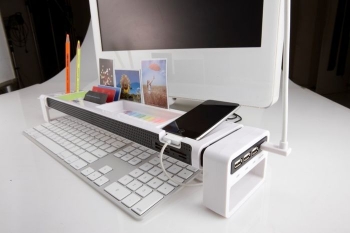 Technical details:
Size: 21.3" (54.1 cm) x 4" (10.1 cm) x 3" (7.6 cm);
Weight: 1.54 lbs (0.7 kg);
Material: ABS and metal;
Feedback summary
The feedback helps you find out some peculiarities of this model. First, the phone holder fits only a regular iPhone 6 and lower (not iPhone 6+). Second, the USB connection can charge your Android phones (so it's compatible not only with iPhones - at least it's said to be so). This item plugs into an outlet and does not need batteries. As to the negative aspects, there are several of them.
Some say the USB ports stop working after several months of usage;
The phone compartment is too small for some models;
The phone compartment is rather poorly designed, but you can fix it by extending: attach a large binder clip to it with a strapping tape, and here you go.
The cup holder is too small.
Despite the list of drawbacks, it's a good organizer provided your iPhone fits the slot, your cup is not large, and the USB ports don't let you down for longer than a couple of months.
It is a classical monitor stand that fits almost all interiors. It is made of 5mm high density fiberboard. The eco-friendly material is paint free, so there are no artificial smells. The manufacturer claims it's loading capacity it really large: it can hold an adult of up to 50 kg (110.2 pounds). Besides providing storage space for your keyboard, this stand raises the monitor by 4 inches (10.1 cm), making it more comfortable to look at. The stand has slots for cups and pens, as well as two shelves to store your items. This compact product is easy to assemble, so you can do it yourself. The surface is to be cleaned with wet cloths.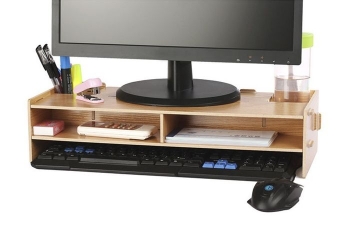 What's in the box:
Wood boards of monitor stand;
Rubber rings;
Instruction.
Technical details:
Size after assembly: 18.9" (48 cm) x 7.9" (20 cm) x 3.9" (9.9 cm);
Colour: teak;
Material type: fiberboard;
Weight: 2.8 pounds (1.27 kg).
Feedback summary
Well, there are not that many reviews, but the only drawback seems to be that the fiberboard it's made of looks rather cheap. Some also say it's a challenge to assemble it (contrary to what the manufacturer says), though others claimed it was a breeze. All in all, it's a functional stand with a plain look.
The design of this stand looks really nice. It's made of bamboo board, but here we have more rounded corners and a two-tier desk organizer where you can put your notebooks, pens and other small items. Since the upper tier has no limit, you can place there some figurines or plants. There is also a slot for wires in the back part of the stand. It can hold up to 35 lbs (15.9 kg). Besides, the directions imply the structure can be altered so that the storage could be on the right side! It comes with all the tools you need for assembly (which is easy), so you won't need some other equipment.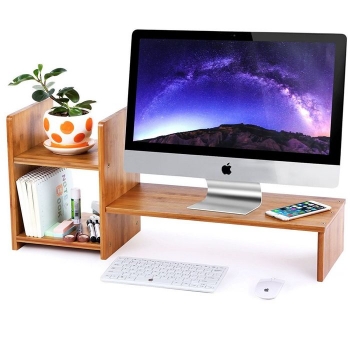 What's in the box:
1 bamboo monitor stand;
1 instruction;
1 tool.
Technical details:
Color: Natural bamboo
Material: Bamboo
Overall measure: 32 7/8"L X 9 11/16"W X 13 13/16"D (80.8 x 24.3 x 35.1cm)
Dimension of the monitor stand: 21 9/16"L X 9 9/16"W X 4 13/16"D (54.4 x 24.3 x 12.1cm)
Dimension of the desktop organizer: 9 1/8"L X 9 11/16"W X 13 13/16"D (22.9 x 24.6 x 35.1cm)
Product weight: 9.4Lbs (4.25Kg)
Feedback summary
It has excellent reviews: the assembly is easy, it's sturdy and works well, and the quality is high. It's a good product worth buying.
Decoration/Stickers/Covers
It is a large section of our keyboard review, because there are so many covers and stickers to decorate and protect your keyboard that it's not easy to show you some of the most popular products. Yet we'll make a try.
The section is named "Decoration/Stickers/Covers", so this part will include items that decorate or protect your keyboard or enhance its functionality. How? Read on to learn.
Warning: this item fits only the following keyboards: MacBook keyboard Pro 13", Pro 13" Retina, Pro 15", Pro 15" Retina, Pro 17", MacBook Air 13"and iMac Wireless Keyboard. The product is only 0.3 mm (0.01") thick with the soft touch effect. All keys are printed so that it would be convenient for you to use it. The typing feeling remains comfortable, while the silicon layer protects your keyboard from dust, grease, and whatever else you tend to drop between the keys. Even spilt coffee and other liquids are not supposed to harm your keyboard anymore, as this cover provides protection on all sides of the keys and between them. The silicone is washable, so if it gets dirty, you can clean it with water, wipes or some other tool. The silicon used is certified by RoHS, so it's eco-friendly. Each is individually molded, so it really fits the original keyboard. The item is available in different colours, so you can choose the one you like more than others.
Warning: the product is NOT compatible with the following computers: Macbook Air 11-Inch, Macbook 12-Inch Retina Display,- Macbook with Silver Keyboard, New Macbook Pro 13-Inch, 2016 Released, New Macbook Pro 15-Inch, 2016 Released, European Keyboard Layout MacBook and keyboard.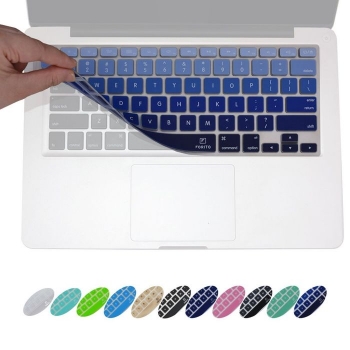 What's in the box:
1 FORITO keyboard cover;
1 micro fiber cleaning cloth.
Technical details:
Dimensions: 13" (33 cm) x 5.2" (13.2 cm) x 0.2" (0.5 cm);
Weight: 1.6 ounces (45.3 g).
Feedback summary
The feedback suggests the feeling does change, and keys get slightly less responsive. Some also claim their cover wore off within a couple of months. Though, the majority of users are happy with their purchase. Make sure your keyboard is in the list of the compatible devices before buying!
P.S. In case you don't have a Macbook, try using covers that fit common computers. Take a look at this one for Dell keyboards, for instance. Actually, it's quite easy to find a cover that fits your keyboard, unless you have a very rare one.
This is a set of stickers for your keyboard that made them neon, thus reducing eye fatigue and making them easier to look at. The manufacturer claims the stickers are durable and long-lasting, but leave no residue if removed. The letters are large, so it can be an advantage for those who have poor sight. The surface is matte, and the corners are rounded. Having large neon letters is good when you have to type at night, so students and other user categories may find this one really useful.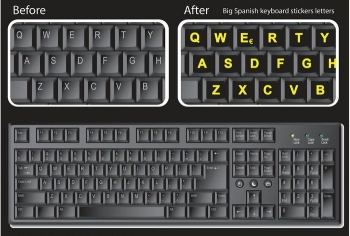 Technical details:
Feedback summary
We may suppose that it's just stickers, so the only drawback that can be with them is wearing off or having poor glue.
Here we would like to show you a set of products that are made by one and the same manufacturer and serve the same purpose. These stickers are attached to your keys to mark to which ones the letters that are not featured in the standard alphabet are assigned. There are stickers for several languages, such as Arabic (see the pic below), Hebrew, Punjabi, etc. The stickers have a transparent background, and the additional letters are printed in yellow. Mind that if you already have a second row of letters, it may be difficult for you to make out what's written on a particular key. Also, these stickers are good for dark keyboards and will work poorly if attached to a white keyboard.
It's a useful item to have if you are learning a language or need a set of "foreign" keys for some reason.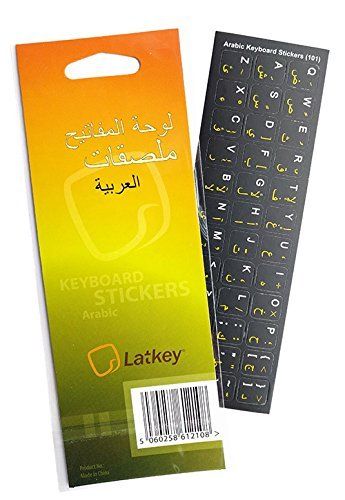 For other languages, see the Punjabi version, the Hebrew version or other products offered by Latkey.
Technical details:
Feedback summary
The stickers are a little bit large for the Mac, and the second row of the letters may overlap the English letters. Some say it would not stick to their keyboard, while an owner of a black Macbook Pro said it's almost invisible on his keyboard. Also, if your fingers are moist, you may move the stickers, as they tend to come out quite easily. The majority of users are satisfied with how this product works.
This set of stickers will be valued by those who use Photoshop. It marks the hotkeys and makes the process of learning and working with this software easier. The stickers have both the English letters and the hotkey descriptions. The stickers are made of high-quality non-transparent matte vinyl. The assigned keys correspond to the default settings of the following Adobe Photoshop versions: Adobe Photoshop 5, 5.5, 6, 7, CS, CS 2, CS 3 + all versions of Adobe Photoshop Elements.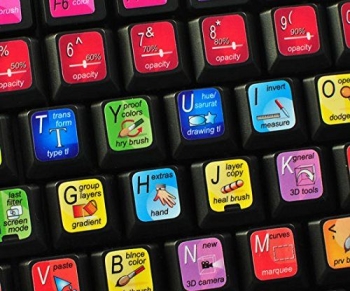 Technical details:
Feedback summary
All the ones who purchased the product like the way it works. The rate's only 4/5, because one of the verified purchasers had not received the stickers yet, so he did not have an opportunity to try them. All the rest say it's a good thing that helps learning PS and remembering the hotkeys.
Cleaning
Cleaning your keyboard is a routine for those who tend to spill coffee on it, eat sandwiches above it and do other things that do not benefit the cleanness of the keys. The items listed below are designed for making the process of cleaning easier and faster. It's often the case that getting to the debris between the keys is a challenge, and these products can help you do this.
This set of tools can help you clean not only your keyboard, but also other mechanisms and equipment. It includes a cleaning brush, a keycap puller, and a rubber blower. The latter is made of TPE material.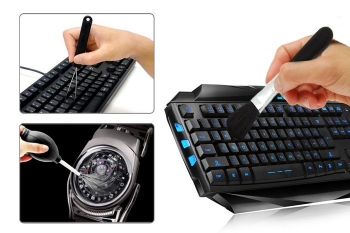 Feedback summary
Most users are satisfied, yet some say the brush leaves bristles, and the air flow of the rubber pump is insufficient. Yet it's only one of the opinions: other purchasers do not report such issues.
This compressed gas duster can help you remove dust. These come as a set of 4. Besides keyboards, you can clean figurines and different kinds of equipment with it. It contains no cfcs, huffs, propane or butane and features a bitterant to discourage inhalant abuse.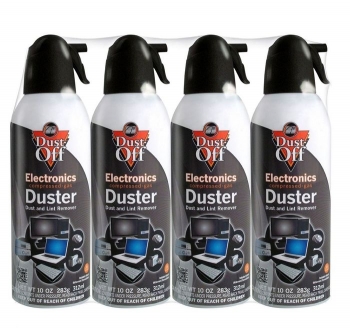 Technical details:
Feedback summary
The overwhelming majority of users like how it works and remove dust with the help of this product successfully. Some of them, though, say it does not have enough force to blow away all the dust or have the caps broken (the positive/negative review rate is 1050/191, so these cases are quite rare).
This keyboard cleaner is characterized by an interesting look. It looks like an alien (or some jelly-like substance, you decide) and helps remove crumbs, dust and other debris from your keyboard or other equipment, such as air vents. Though the picture below may seem to be rather weird, the coloured cleaner does not leave residue. The manufacturer claims it can remove 99.99% of harmful particles. The item is non-toxic and biodegradable.
You can store it in an air-tight zippered bag that comes with it. It's very easy to use it: just put it onto the object you want to clean, press it a couple of times and then remove - all the particles will be left on the gel. The product can be used several times until it gets non-transparent.
Warning: do not leave the gel on the surface you're cleaning for a long time, otherwise it may leave residue.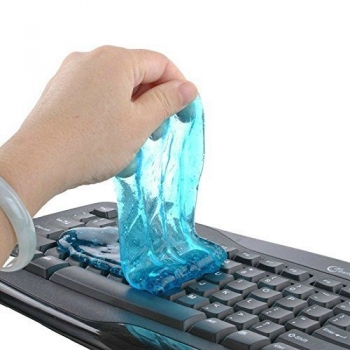 Technical details:
Dimensions: 4.3" (10.9 cm) x 1" (2.5) x 7.1" (18 cm);
Weight: 12 ounces (340 g).
Feedback summary
It's one of the best products listed in this articles. As to the drawbacks, Users say it takes a while to clean a keyboard with it, but it DOES remove junk, which is its purpose. Mind that nearly all the people who left positive reviews were not verified purchasers, so there's a chance some of the reviews are fake (though there is at least one proved positive review in which it is stated the thing works).
This box of wipes for keys contains 18 wipes. They are pre-moistened, antibacterial and have a fresh clean scent. As the ad says, they remove oil, dust and dirt. Each wipe is individually sealed.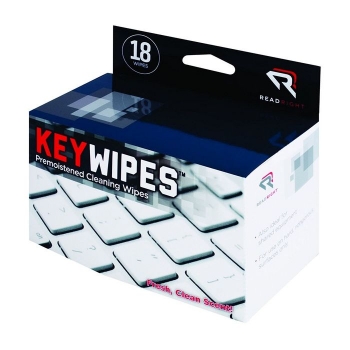 Technical details:
Feedback summary
One of the users said they smell like baby wipes and alcohol, but the smell is not strong. According to most verified users, these wipes really remove a lot of grease and dust. Yet some doubt it and say they're: a) no better than other wipes; b) aren't moist enough; c) seemingly good at disinfecting, but not cleaning, d) no better than a wet cloth. So, the opinions vary, but as the majority of users are satisfied with them, we still can say it's a good product.
This portable vacuum cleaner is made of steel. It's a green alternative to canner air that you can use to clean your keyboard. The set of tools features a vacuum cleaner with a flexible hose, an air pin-pointer, a crevice tool, a soft bristle brush, a shoulder strap, 5 disposable paper bags and a cleaning kit of 4 tools. It does not require batteries.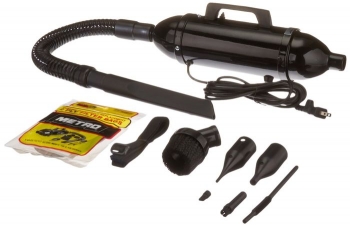 What's in the box:
vacuum cleaner,
crevice tool,
air pin-pointer,
soft bristle brush,
shoulder strap,
5 disposable paper bags,
4-Piece micro cleaning tool kit
Technical details:
120 (110? figures differ) volt .75 PHP, 4.5 amps, CFM 70;
Hose length: 19" (48.26 cm);
2 year motor guarantee;
Made in the USA;
Dimensions: 16.4" (41.66 cm) x 7.3" (18.5 cm) x 8" (20.3 cm);
Weight: 4.6 pounds (2 kg);
Model number: MDV-1BA.
Feedback review
It proves to be a very good multi-purpose product that can be used for cleaning various kinds of equipment, including keyboards. Some do not like the suction and say it cannot replace canned air, though others reported good job. The attachments tend to come off sometimes, and the unit may become hot. Actually, it's not a bad product, but you must realize its performance may not meet your requirements, so try using it in a store to be informed.
Other
In case you don't have a numeric keypad, it's a good solution for you. Accounting gets easier and faster, and no wires are needed: the wireless technology does the job instead of them. The Plug and Play system is easy to use, and all you have to do to start using it is to plug the adaptor, and here you go. If the battery gets less than 1.1V, you will see an indicator turn on. The keycaps are supposed to last for more than 10 million times of pressing them.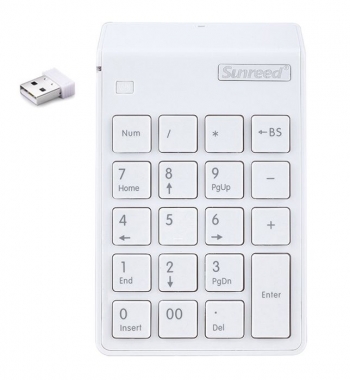 Technical details:
System Requirements: IOS, Windows XP, Windows Vista or Windows 7;
Environment Temperature: operation: 5 oC ~ 50 oC (41 - 122 oF); storage: -20 oC ~ 65 oC (-4 - 149 oF);
Relative Humidity: operation: 10% ~ 85% RH 25 oC (77 oF); storage: 5% ~ 95% RH 25 oC (77 oF);
Operating frequency: 2.4G technology;
Modulation: GFSK;
Power supply: AAA battery (not included);
Operating current: 5mA (MAX);
Sleep current: 0.5mA;
Effective distance: approximately 32.9 ft (10 m);
Dimensions: 4.9" (12.45 cm) x 0.8" (2 cm) x 3.4" (8.64 cm);
Weight: 3.4 ounces (96 g);
Color: White.
Feedback summary
The build quality is good, and many enjoy this wireless item. Yet it does not come with the English instructions, but most people don't need them anyway. One person wishes it had a tab key, but that's a minor issue. Almost all reviews are positive, so it's a good product worth recommending.
It's a backpack for gamers who value their keyboards and want to take it anywhere comfortably. The spider design is liked by many males, so its brutal look corresponds to the gaming industry style. It features double mouse pockets, so you can take both your keyboard and your mouse with you. The backpack protects your keyboard from dust and scratches.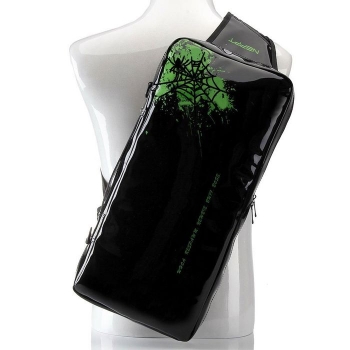 Technical details:
Internal dimensions: 18.1 x 8.7 inches (46 cm x 22 cm);
Weight: 1.1 pounds (0.5 kg);
Shell material: PU;
Lining material: polyester;
Colour: black and green.
Feedback summary
The built quality is really good, and so is the general feedback. The high quality materials used make it a good purchase if you're a gamer, travelling writer or some other person who uses a keyboard often. One person said the backpack strap is a little small, but, as they say, it depends. Also, the shining outer material may get damaged in the course of use. The glossy plastic and too "geeky", as one of the verified users said, are the two main drawbacks of this good product.
An item that's not necessary, but having a good look. Actually, you can try googling the Deng On products - they offer a variety of such message slips that are creative, nice and plain. Write your notes on it and place it between the keys of your keyboard.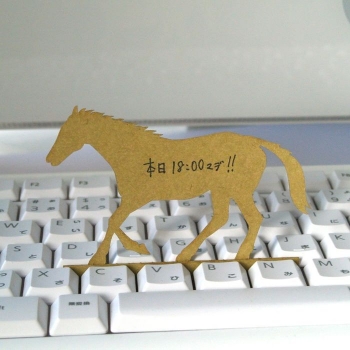 Technical details:
Dimensions of the pack: 4.7" (12 cm) x 3.5" (8.9 cm) x 0.1" (0.25 cm);
Brightness rating: 50;
Paper finish: texture laid;
Weight: 0.5 ounces (14.2 g);
Number of sheets per pack: 20;
Feedback summary
Unfortunately, there's no feedback yet. We can assume it's a good product since there is nothing to break, and the design is really good. The only drawback can be the price - it's a little bit too high.
It's a 50 sheet pad which you can use to write down notes for a certain day. The pad is divided into days, so each pad can be useful for a week or more. The length of the pad is almost equal to the length of most keyboards. Mind that it's not sticky. The week there starts with Monday, not with Sunday.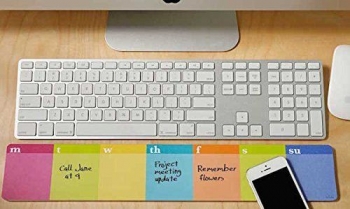 Technical details:
Number of sheets: 50;
Dimensions: 3" (7.6 cm) x 17.5" (44.45 cm) x 0.2" (0.5 cm);
Weight: 0.3 ounces (8.5 g);
Paper finish: uncoated;
Feedback summary
Well, there are no complaints concerning this item, except for two persons who said they'd prefer to have a week that starts with Sunday (one of them also added she liked the idea of working days preceding the weekend anyway).
It's a memo pad that is similar to the previous one, but it is not divided into days of week. It's just a sheet of paper of a single colour for your notes.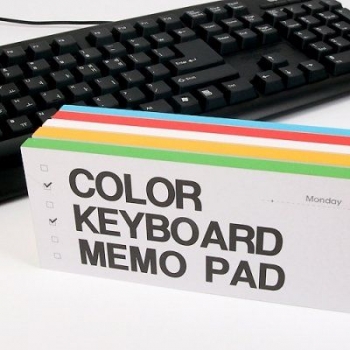 Technical details:
Number of sheets: 50;
Dimensions: 15" (38.1 cm) x 2.75" (7 cm);
Weight: 6.4 ounces (181.4 g).
Feedback summary
Unfortunately, there's no feedback about this item, but since there's nothing to break, we can assume it's a good product (it's 50 sheets of paper for your work process optimization and notes, so it's just an item that adds convenience).
Conclusion
With such a variety of accessories for your keyboard, you can turn it into a workstation! Take notes, store the keyboard or carry it in a back pack, decorate it and clean it - there are many ways to enhance your keyboard and maintain its work. Read this article to learn what accessories there are that can add convenience to your work space.