43 Bathroom Accessories You Didn't Know You Need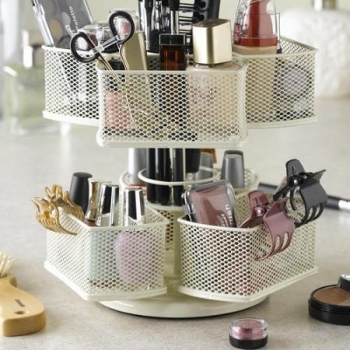 What is the messiest room in your house? Where there is often the clutter left in a rush nearly every morning? The majority would say that this chaotic place is a bathroom, normally the smallest but the most cluttered room. If your reality is nearly the same as described but you want to fight that disarray effectively, then this article is a good tool to help you restore order in your bathroom.
I. Minimize mess, maximize storage!
Being of a small size, a bathroom is meant to keep lots of things including items you use daily, occasionally, weekly or only when you get sick. In this regard, it is quite complicated to get them organized in a way to be easily grabbed anytime you need them. But if you follow these simple tips, you are likely to enjoy the result and your cleaned bathroom: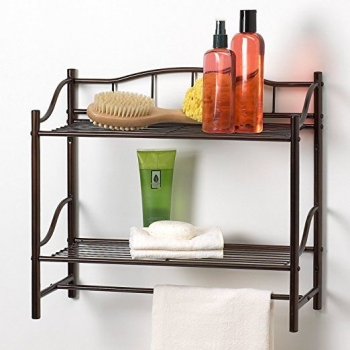 –
Downsize your toiletries – it is unlikely that a family of three would need 10 bath towels, 5 hair conditioners, 7 shampoo bottles and even more ointments. So the rule number one for a clutter fighter is to get rid of excessive things in a bathroom. Check the shelf life expiry date and throw expired toiletries out. Take away good stuff in a cabinet and use only when needed.
– Add some shelves – in a place with little space even a corner or a wall niche matter. Make use of it by attaching some shelves there, which are good for storing towels or other supplies.
– Use racks – racks are efficient space savers. They are small but can be nailed or stuck to any surface including a door. Apart from towels, use it for hanging the hair dryer, styler, hair brush, etc. If you want to add some extravagance to your bathroom, stand a coat rack there! There is no a more useful piece to store much hanging stuff.
II. How to
You shouldn't necessarily be a hoarder to have your bathroom cluttered. The majority suffer the same problem – piles of towels and toiletries in a shower room. Entering a bathroom and seeing all stuff messed up is really upsetting, especially if you know that cleaning won't help. What indeed helps is a good organization. The last is easier than you think, especially if you get some really handy bathroom accessories and organization solutions.
Organize Your Towels
Towels can make a problem when they are many and cluttered. You can find a good deal of interior solutions on how to stack them delicately but it may exceed your budget. We have found some bathroom accessories that are efficient, beautiful and inexpensive.
When the family is large and the towels are numerous you will need enough racks and hangs to keep them in order. This set of bathroom accessories is practical, stylish and consists of 4 functional yet different items. When the last screw is stuck, enjoy organized towels in your bathroom!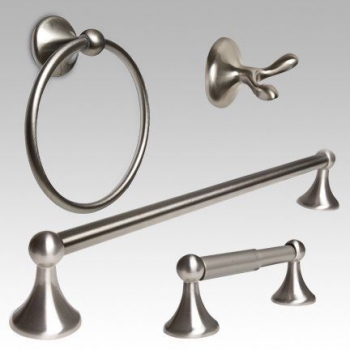 Pros: sturdy, stylish, consists of 4 items, functional, practical, high-quality, concealed screws, nice looking.
Cons: short screws, low-quality screws.
If you are a fan of a minimalistic style with no gimmickry, then you may like this simple 4 in 1 bars. They are only 13.8 inches long but can safely hold 4 small to large towels. Due to being compact, this bar set can be mounted in any place in a bathroom and easily solve the problem of scattered towels.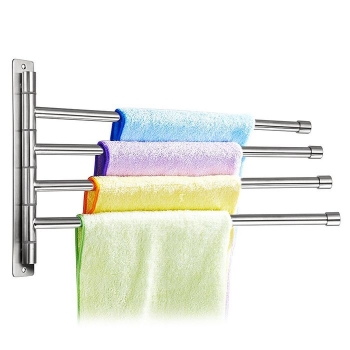 Pros: solid, nice finish, multipurpose, compact but functional, mounting hardware included.
Cons: short bars, can't hold much weight.
In case you are looking for bathroom accessories that don't demand wall drilling, this is the one to meet your demands. It is perfect for a small bathroom where space is limited. This set of hooks allows to take advantage of using the door if for some reason you can't mount anything on the walls. The no-time installation makes is a perfect tool!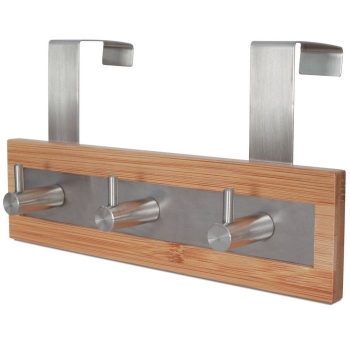 Pros: looks great, stylish, solid, sturdy, perfect size, great idea for a present, well built.
Cons: small for large towels.
The best solution for small room optimization is to exploit unused space. One of it is behind the door. If you have a small bathroom and you can't decide on an accessory for your towels, think no more! This rack is compact but extremely capacious. This is a great choice for a family.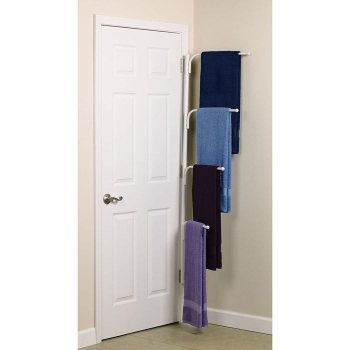 Pros: inexpensive, towels prevent door smacking, save space, nice quality.
Cons: lightweight, sloppy fitment, hard to assemble, sticks out.
If you can't choose between a towel bar of a shelf, then choose both at once. This towel rack is good for storing folded linens as well as for hanging them up. It looks stylish and gives your bathroom a hotel feel. You can mount it closer to a radiator to make the towels dry faster.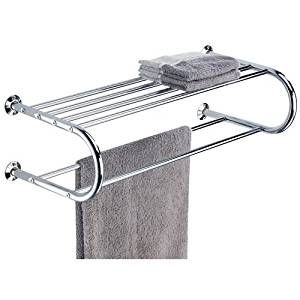 Pros: inexpensive, it extends from the wall, sturdy, stainless, easy to install, can be reinstalled.
Cons: susceptible to rusting.
If you are a lucky owner of a large washroom but still face the issue of bunched up towels, you have a chance to add some charm and organization to your bathroom with the help of a towel stand shelf. It also provides some extra storage for towels and other stuff. And you can easily take it with you anytime you decide to move.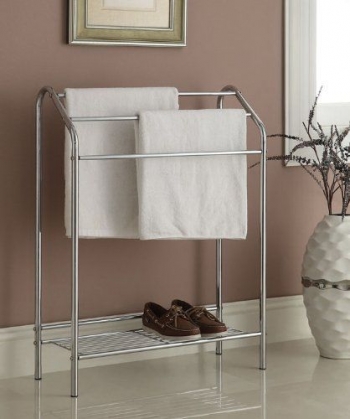 Pros: beautiful, easy to assemble, no nailing or mounting is required, movable, strong enough.
Cons: unusable low shelf, expensive, smaller than expected.
Often even small items can add some extra charm to a whole room. If you are looking for one of such bathroom accessories to brighten up a washroom, have a look at this towel rack. This is a staple! Apart from being lovely, it is also functional, allowing you to turn towels into a decor item. This is an eye candy!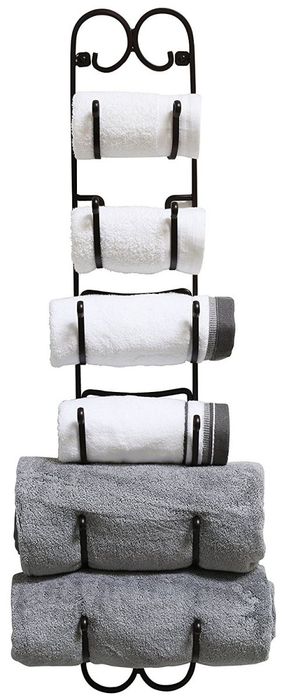 Pros: good looking, multipurpose, good quality, bronze finish, handy, space-saver.
Cons: holds only rolled towels.
There is a perpetual problem with hooks and towels: when the last lack a loop they risk to slip down. But you will never find your towel on a floor if you opt for such an up-to-date towel holder. Say no to the fallen towels, alternatively stack each one to its hole and enjoy how nice they look.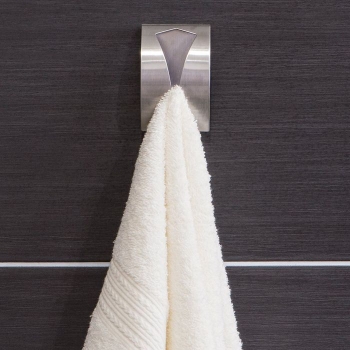 Pros: self-adhesive, unique, attractive design, works great, sleek.
Cons: don't stick to painted walls.
Organize Your Medicine Cabinet
Many people store medicine in a bathroom regardless recommendations not to do that. One of the reasons is that a washroom cabinet is out of reach of kids' hands. A kitchen is also a good place but there is always a risk of someone taking a wrong bottle and adding medicine to a meal. Moreover, a bathroom is an area where people spend much time when they are sick and since the containers are safely sealed, the moisture can't contaminate medications. Thus the issue of organizing rather than relocating a bathroom cabinet makes sense. Here are some handy organizers below to help you add some order to your drug cabinet:
When a medicine cabinet is a mess with tons of drug containers and you can't find what you need on time, sooner or later you will need to put your pills in order. This storage organizer is absolutely helpful allowing you to spy with your little eye every single drug you have in a cabinet. You can take a container out and put it back in place without dropping.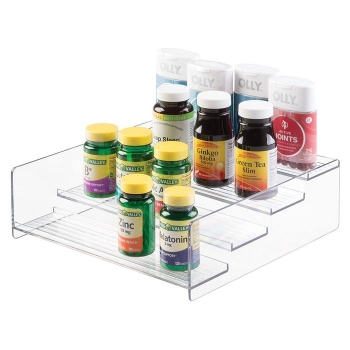 Pros: high-quality clear plastic, good size, nice, organizes effectively, functional, holds many containers.
Cons: does not fit large bottles.
If alongside classic health supplement containers you have a variety of pill blisters, packages, and other weird form drug bottles that can't stand, then lie them down in a convenient clear box. This is a great alternative to scattered stuff. These stackable boxes are designed to keep your cabinet well-organized and clean.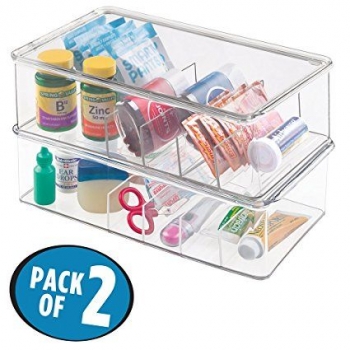 Pros: 2 in a set, roomy, durable, clear plastic, stackable, functional, holds many items, lids and compartments included.
Cons: No.
Are you in need of some extra room in your medication cabinet? Organize your containers using this simple 3-layer shelf. It adds some drugstore look and provides harmony to your health products. It is easy to install and works decently. It can also be used in a kitchen for spice storage.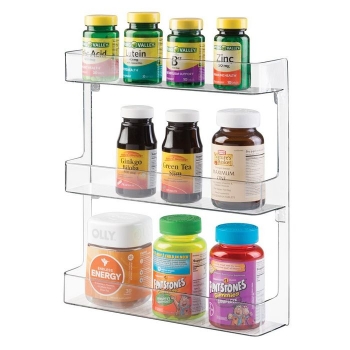 Pros: 3 roomy shelves, clear plastic, can be wall or door mounted, functional, convenient, multipurpose.
Cons: does not hold large items.
If you face the problem of lack of space in a medicine cabinet, then you need some bathroom accessories to optimize drug storage. One of the most effective is a high-rise shelf that makes the most of the cabinet space. It provides an excellent solution for over-the-bottles space zone. Two side holders are good for slim items like thermometers, scissors or nail nippers.
Pros: convenient, high-quality clear plastic, easy to assemble, space saver.
Cons: No.
When standard medicine organizers aren't enough roomy, then this one is certainly what you are looking for. Being extremely spacious, it holds up to 31 pill holders, but what is more important provides an easy access to any of it. Perfect for a family with several members taking different medications on a daily basis. Also a good solution for medical offices.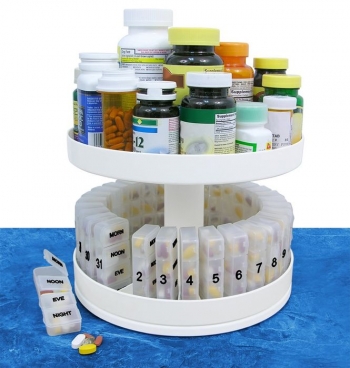 Pros: convenient, excellent turn table, commodious.
Cons: letters wipe off over time, pill holders can break.
Even small items can be life-saving, not to speak of a first aid kit. For a family with kids, this is a must have. When a grazed knee has to be cured fast, there is no time for finding the necessary drugs in a cluttered cabinet. It's better to be prepared for such situation beforehand and the first aid box is a handy thing to have.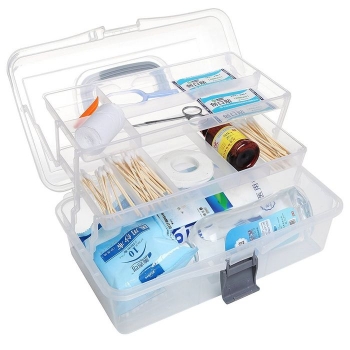 Pros: convenient, clear plastic, 3-layered, compact, easy to store, multipurpose.
Cons: not a heavy-duty case.
Organize Your Hair Product
Don't let your hair care products overflow your bathroom counter! Women tend to have tons of makeup and haircare products that should be properly organized, otherwise they soon turn into a chaotic pile. The methods to arrange them are numerous, just like bathroom accessories to place them all. Once you get everything grouped properly, finding what you need won't take much time when you get ready for an outing.
Hair styling items like a dryer, curling tongs or a flatting iron are bulky, therefore difficult to be stored neatly. Once you decide on this beautiful chest, your bathroom will be instantly spruced up. There are special slots for a large hair dryer and two slots for hair stylers or brushes. A small drawer is good for hair pins while a tier is perfect for hair-care products.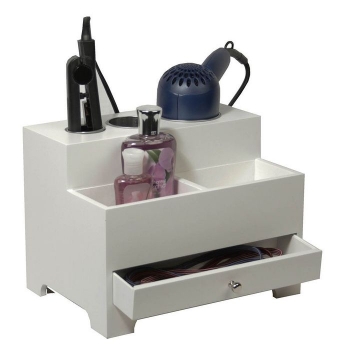 Pros: color options, variety of sizes, beautiful, pleasant for touching, excellent size, high-quality wooden material, sturdy, roomy.
Cons: a bit expensive.
A bathroom size doesn't determine the amount of hairstyle products. They are always numerous and various! And they are quirky to be arranged in a proper order, especially a blow dryer and stylers. But you won't have problems with them anymore once you get a handy style station! You can put it down, hang or hide in a drawer.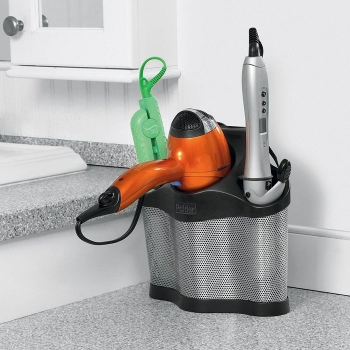 Pros: color options, 2 sizes, stylish design, variety of installation options, rear bin for cords, high-quality stainless steel mesh.
Cons: plastic instead of metal caps, so you can't put hot devices.
Sometimes very simple device can save your marriage. If cluttered hair styling products are the apple of discord for you and your sweetheart, it's time to get them organized. This wall mount holder is a space saver and peace bringer. Made of aluminum, it is designed for keeping even hot devices, what is very convenient when you are in a hurry.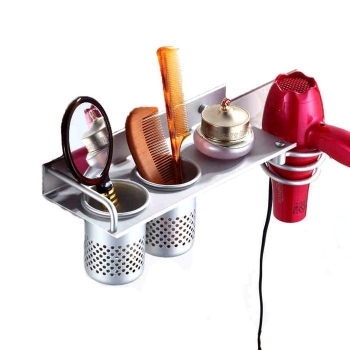 Pros: high-quality aluminum material, multiple storage functions.
Cons: needs stronger hardware.
If for some reason a wall mounting organizer is not an option, then decide on this over-the-door station. It should be hung on an inside of a cabinet door or on a railing. It is very roomy to keep the blow dryer, stylers and brushes all together. This bathroom accessory is a great solution how to clean up under the sink.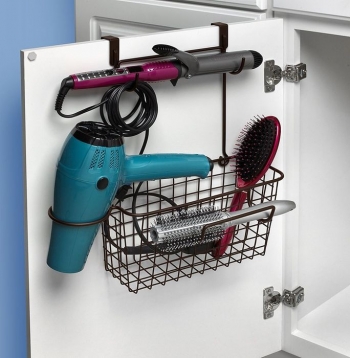 Pros: spacious, no drilling or nailing is required, easy installation, sturdy, aesthetically pleasing.
Cons: does not fit for medium wide cabinets.
How many hair pins, clips, elastics and other little things you have? Often it's impossible to count them all because some are on the counter, while others are under the sink, but definitely not in one place. Unless you have a stackable plastic organizer that can grow together with the number of your hair accessories.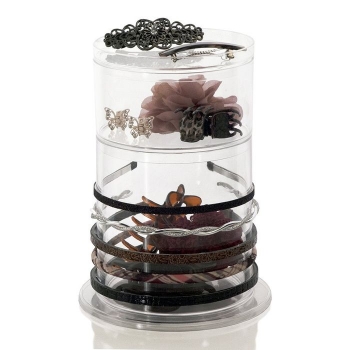 Pros: great size, clear plastic, aesthetically pleasing, stackable, hard to scratch.
Cons: top part comes off easily.
The lego is not the only tool for building stations, the last can be erected with the help of holders, too. These stackable bathroom accessories help to put hairbrushes and headbands in order in an aesthetically beautiful way. It keeps all hair stuff in an easy access, thus doing your hair is not a search-for-it routine anymore.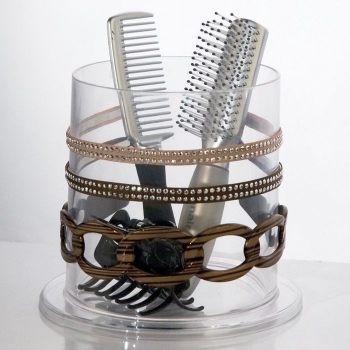 Pros: perfect size for headbands, clear plastic, stackable, sleek design, not scratchable.
Cons: might be too big for girl size bands.
The headbands are wonderful additions to any style from hippie to vintage but they are quite uneasy to store. That is why a headband display was created. This is a stand that adds a touch of style to either a bathroom or vanity. The hollow inside a tube provides some extra space for hairbrush storage.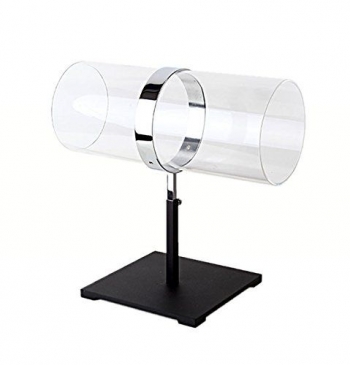 Pros: perfect size for headbands, clear plastic, sleek design, not scratchable.
Cons: flimsy.
Not so many people can boast a vanity in a bathroom since the size of the last leaves much to be desired. But you need not necessarily have a large washroom to keep your hair accessories organized. This stackable organizer is not bulky to take up much space in a sink counter but rather spacious for many hair bows and ties.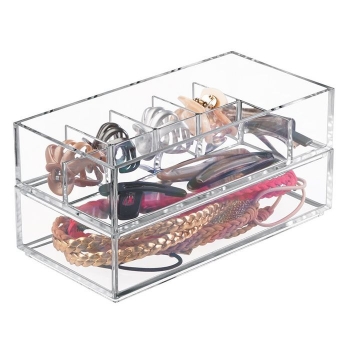 Pros: clear plastic, inexpensive, compact, stackable, great size, good quality.
Cons: does not fit large hair things.
Organize Your Makeup
How would you describe your makeup storage? If it is kind of chaotic pile here and there, then you have to make use of bathroom accessories below to arrange it properly. Moreover, with your classified and arranged makeup, you get a chance to develop a reputation of a truly disciplined person. Isn't it worth that?
A chest of drawers is a very convenient piece of furniture that can store tons of clothes. Probably with that in mind an idea of designing drawers for makeup was born. A 3-tier clear organizer is a perfect solution for your disorganized beauty products. From this now enjoy good reforms in your bathroom!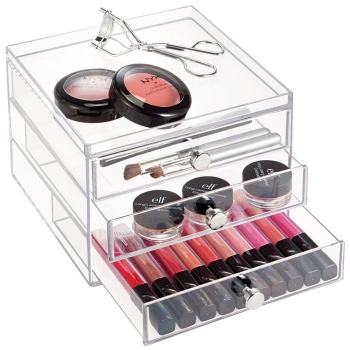 Pros: clear plastic, high quality, stackable, great size, excellent space saver.
Cons: may appear smaller than expected.
Beauty products such as nail polish, eyeshadows, mascara, rouge, etc. are quite small but extremely difficult to store especially when they are numerous. If you have the same problem of keeping cosmetics in order, you should buy this 2-pack organizer or even a couple of them and assemble your own beauty station in a bathroom.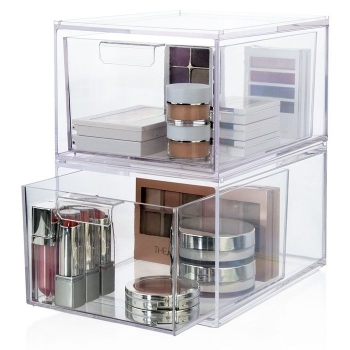 Pros: clear plastic, excellent quality, stackable, spacious, effective space saver, multipurpose, sturdy.
Cons: scratchable.
The bathroom accessories for makeup organization are probably the most popular among women because even a small amount of makeup can easily turn a washroom or vanity into a cluttered place. A palette organizer won't let that happen ever. At last, your eyeshadows and lipsticks will find their place and give your sink countertop a chick update.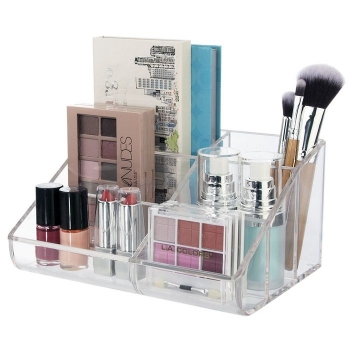 Pros: clear solid plastic, great quality, large, has many slots, sturdy, simple design.
Cons: not very convenient for small items.
26) Rotating Makeup Storage Case
If you want to add a touch of glamor of a beauty store to your bathroom or vanity, a rotating cosmetics case is a must have. With only a subtle motion of your finger, you can easily reach any product stored there. Now preparing for your outing seems an easy and pleasant routine with no haste at all.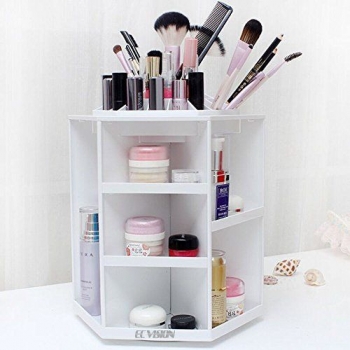 Pros: large, has very many slots, easy to use, looks pleasant, keeps things organized.
Cons: bulky, a top piece goes off.
If you are not a makeup fanatic, a compact storage item like this flower-shaped organizer might work for your cosmetics. It has 7 slots and is good for keeping mascara, lipsticks, lip gloss and some small brushes in their places. As soon as you pack it with your makeup, a neat order will reign in your bathroom kingdom.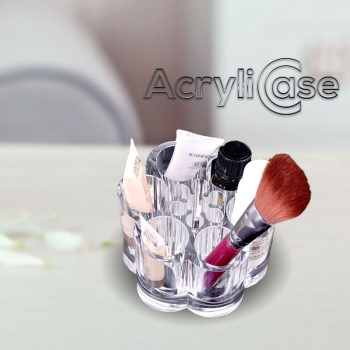 Pros: inexpensive, has 7 slots, clear plastic, solid and sturdy, convenient.
Cons: bulky, a top piece goes off.
Don't wait so long to invest in a brush organizer! Once you get it, you won't need to look for your brushes in random places around a bathroom, instead, you will have them beautifully showcased in a glamorous holder. This small bathroom accessory makes it super easy to keep your eye pencils and brushes.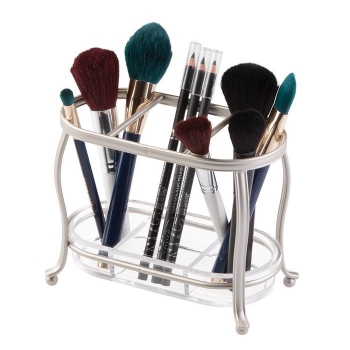 Pros: attractive, large, practical, great organizer, convenient.
Cons: small brushes fall out.
If you are looking for the way to add some flair to your vanity or bathroom, this is the item you need. An organizer tray is an extremely convenient accessory that double-stacks your cosmetics so you don't need to shove it all over the bathroom.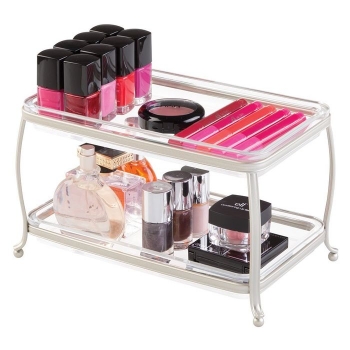 Pros: looks beautiful, large, space saver, easy to assemble, functional.
Cons: little space between the top and the bottom.
A ton of space for makeup is often an exception. But when there are tons of cosmetics, you risk cluttering your washroom counter or vanity. There is only a roomy wooden chest of drawers to stop you from that. It's very spacious, aesthetically beautiful and compact.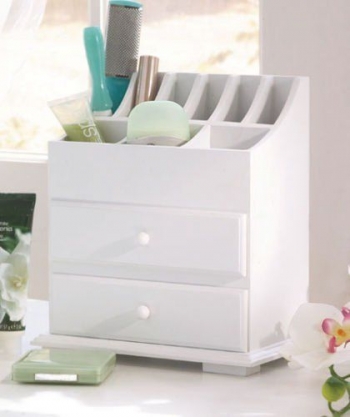 Pros: wooden material, large, variety of storage options, keeps things neatly organized, easy to reach a needed item.
Cons: holes on the top are small.
Want to see a small thing with a large capacity? Here it is – a silicone brush organizer! Regardless of brush size and form, it will accommodate any of them. The secret is in a cute flower pattern that gets larger for bulky beauty products. Say no to scattered brushes!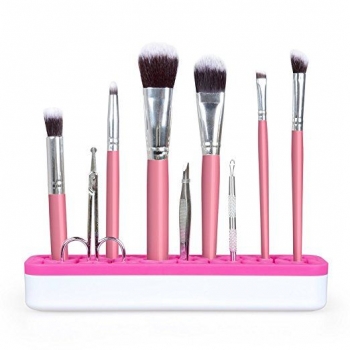 Pros: skinny, compact, works great for any size of brushes, holds a lot, inexpensive
Cons: small brushes might fall out.
Organize Shower Accessories
The owners of small bathrooms need to be skillful designers to organize a shower zone fitting a lot of stuff into a little space. It is not so easy to make most of the space around a shower or tub. The shower items you would need while taking a tub is numerous and it is desirable to get them at hand. Find the solutions below on how you can organize that space efficiently with the help of bathroom accessories:
Often simple things make your daily life much easier. The same with this shower caddy. If you have scarce space in a shower zone and don't know where to place the bottle of lotion, shampoo, and conditioners, grab this space saver. It can hold a lot of weight with no screwing demanded. Suction cups are very strong!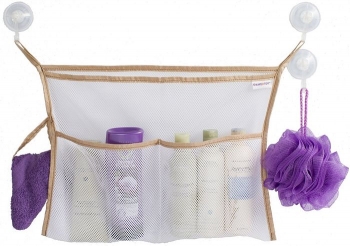 Pros: holds a lot, great suction, multipurpose, excellent organizer, easy to use, clear net.
Cons: don't stay on the wall.
A shower corner space can be easily turned into a storage zone with the help of this pole caddy. A shower area is normally the wettest but there is no need to worry about the device since it is not subject to rusting. The wire baskets are big enough to organize tons of body care accessories.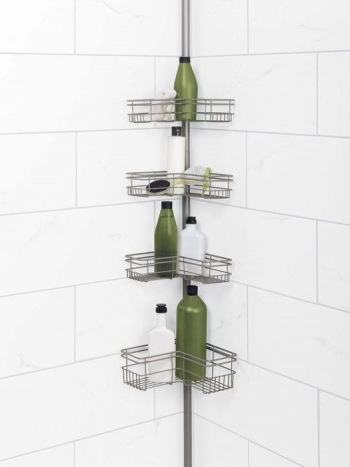 Pros: easy to assemble, excellent quality, rust resistant, roomy, holds a lot of stuff, nice design.
Cons: may rust over time, a bit flimsy.
There is nothing simpler but at the same more genius than a suction holder! Unless these are 3 different suction hooks. This set is perfect for storing a razor, loofah, and other items. The hooks look nice while the things on them look organized.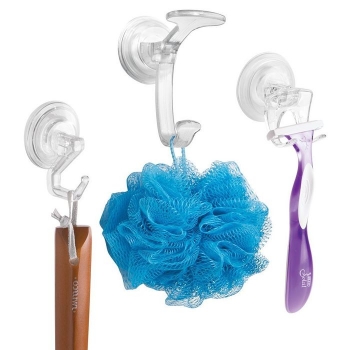 Pros: variety of storage combinations, solid suction cups, durable plastic.
Cons: do not stick on a porous surface.
When nailing bathroom accessories in a shower area is not an option, then hanging them would work perfectly. Once you decide on this 2-shelves bathroom organizer, you will have any needed shower item at hand while washing. It is not bulky but it is indeed roomy, so there is enough space for a set of bottles of body care products.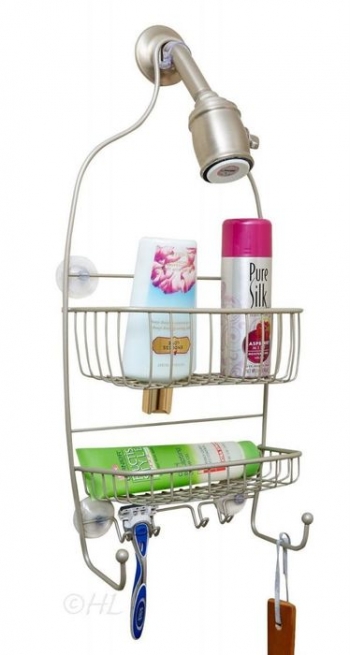 Pros: durable steel materials, rust-resistant coating, solid suction cups, spacious, 2 self-draining shelves, does not demand screwing or nailing.
Cons: may rust over time.
Looking for a great but affordable storage for your bathroom? The hanging pockets are to your rescue! The rows of spacious pockets can be easily hung on shower curtain hooks. Made of 100% nylon, they won't get moldy or damp. It is convenient to take the organizer in travel and always keep your favorite products with you.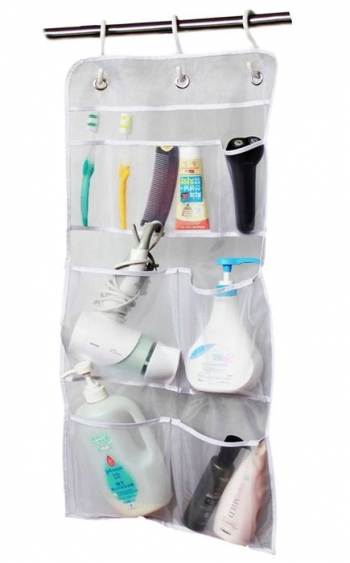 Pros: durable, easy to reinstall, does not demand screwing, very large, clean 100% nylon material, good quality, inexpensive.
Cons: can rip under heavy items.
Being the smallest room in a house, a bathroom is usually covered with lots of small items which, if not properly arranged, tend to turn it into the most cluttered place. That is why neat management is a demand. See how you can organize them in a beautiful and convenient way.
If you can't make your kids brush their teeth, turn that routine in a funny game! One of the ways to do that is to buy a 'house' to their toothbrushes aka an organizer for dental supplies. It is made of clear plastic and can hold up to 4 toothbrushes and 2 toothpaste tubes.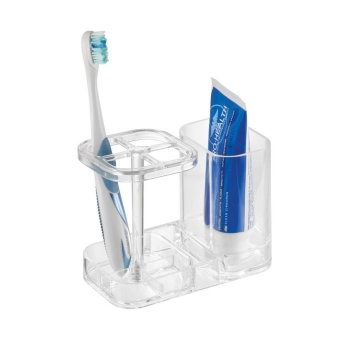 Pros: durable, nice organizer, large, good quality, inexpensive, clear plastic.
Cons: cannot hold electric toothbrushes.
Add some flower charm to your bathroom with the help of this little lovely holder. This lotus container helps to organize cotton buds in a pretty way as well as to always have them at an easy grab. Just decide on a color and enjoy this storage.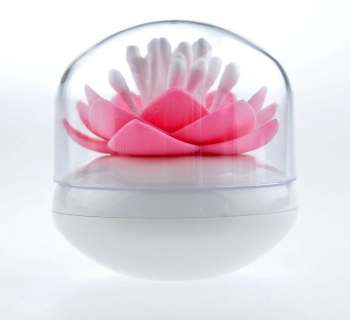 Pros: looks lovely, easy to use, convenient, keeps everything clean, good quality.
Cons: not very large.
If your buying activity depends on a number of reviews about the product, then you can't help purchasing this touchless soap dispenser. It looks sleek and stylish, especially on a stainless sink. An easy set-up makes it an excellent bathroom accessory. It's time to start loving evenly dispensed soap!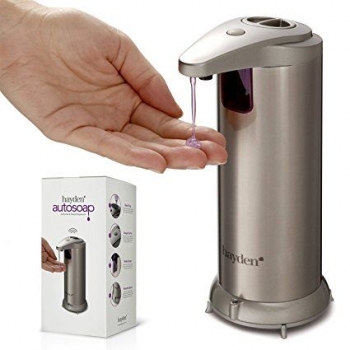 Pros: waterproof base, excellent customer service, modern design, easy to set up.
Cons: batteries rust in a base.
If you have been in the situations when toilet paper was over when it was much needed, then you realize how helpful this roll stand might be. There will always be some spare rolls of paper at the ready! The stand doesn't require drilling. This is a great solution for toilet paper organization in a restroom.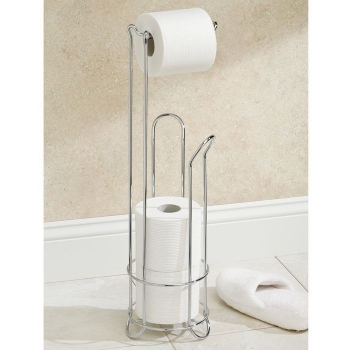 Pros: stainless steel, no drilling required, modern design, convenient, snappy.
Cons: too light, might rust.
Cotton buds and balls, hair pins and many other small items – all of them should be stored somewhere, otherwise they turn your bathroom in a messy place. The acrylic clear boxes are very popular storage solutions for small items. They are joined together and have lids to protect from moisture.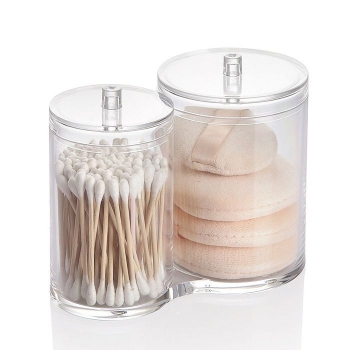 Pros: aesthetically beautiful, sturdy, clear plastic, unscratchable, have lids, multipurpose, functional.
Cons: No.
Even such face care accessories as cotton pads can be stored in a lovely way. Stack them in a clear round holder with a slot for an easy grab. This holder keeps the pads organized and the place around neat and clean.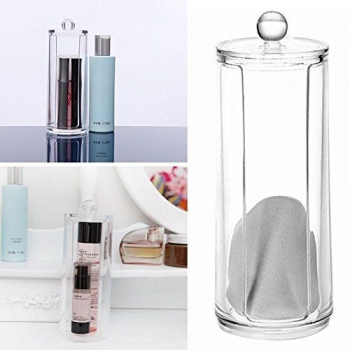 Pros: looks pretty, sturdy, clear plastic, has a lid, functional.
Cons: lid doesn't stay.
The second greatest invention after toilet paper was a toilet paper holder. Now there is a range of various designs and forms yet the most popular one is a simple hanger. This holder is self-adhesive meaning no drilling and wall damaging is required. It is rust resistant and durable. It rolls freely so don't let you cat in a restroom.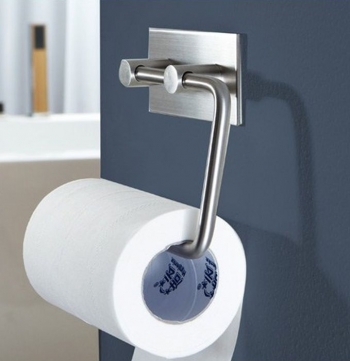 Pros: stainless steel, self-adhesive, no drilling required, rust resistant, easy to install.
Cons: No.
III. Things not recommended for storing in your bathroom
There is a tradition to store some things that we mistakenly think are better to be kept in the bathroom. However, they should never be there. If the tendency of accumulating too much stuff in the bathroom does not make you happy, then get rid of some extra items. First, it allows to have more space for essential toiletries used daily. Second, it helps to keep all the things organized smarter. Finally, this turns cleaning the bathroom into a much easier routine. But to make that happen you should first remove the following items out:
Bar soap – if you want to make cleaning an easier process, then get rid of a bar soap. It gets sluggish in the humid environment especially when the water is splashed onto it. Then from an odorous thing it quickly turns into a slimy one. Use liquid soap instead.
Jewelry – you might take off your jewelry before you step into a shower, but don't make it a tradition to store it in a bathroom. The reason is that humidity cause oxidation and the jewelry may tarnish over time.
Makeup - the temp in a bathroom is unstable the same as humidity level, while the makeup should be stored in a dry place at room temperature. Bathroom environment does not correspond with those recommended for storage.
Non-waterproof electronics – needless to say how damaging the water is for electronics that is susceptible to moisture. Even if you like singing in the shower you should give up the idea of taking a radio with you unless it is waterproof.
Linens – even though it is convenient to have linens closer to the place where they are used, a bathroom is a bad choice. Primarily because of the risk of growing them damp and moldy. Since this is a small room, it may not be aired properly. In order to help air out the room run an exhaust fan each time after taking shower.