Solar Candles Buying Guide - For Outdoor Or Special Occasions - Model Reviews, Additional Features, Alternatives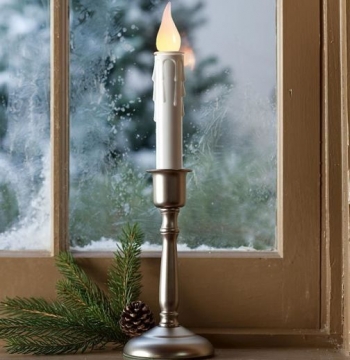 Forget to worry about a candle being tipped, spilling hot wax on a tablecloth or tempting a tiny child (or your pet) to get an injury. Solar candles are an amazing replacement to their traditional flame counterparts. They can provide a house with the aura and comfort of a candle without the safety concerns that can come along with a normal burning candle. Nevertheless, with so many settings accessible on the market, what is the best for you? This guide will provide an insight into the different kinds of solar candles on the market to make your shopping practice simpler.
In this guide, we will review the benefits of flameless solar candles, how they work, few of the specific issues to consider when purchasing them and give few practical pieces of advice.
Solar candles FAQs and essential characteristics
How to charge solar candles? Solar candles need direct sunlight to receive a full charge during the day. At night, a solar candle will need the darkest location of the yard, away from any light source such as a street light or outdoor wall light. The more sunlight a solar candle receives during the day, the longer the run time at night. As most operating times may vary, the average solar candle will stay illuminated for up to 15 hours.
What affects the run time of solar candles? Usually, solar candles will perform better during the summer months that is why the days are longer, that gives the light more electricity.
Does the weather affect solar candles? Since solar candles require direct sunlight to charge cloudy days will inhibit the solar light from taking a full charge. Most of the casings on solar candle are designed to be weather-resistant.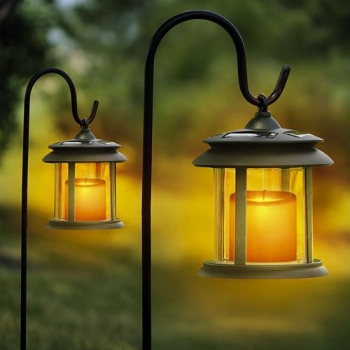 Why is there an on/off switch on solar candles? Solar candles come with an on/off switch so you can control when you want your solar light to turn on. If you want the solar candle to continue to work all day every day, you can easily leave the on/off switch in the on position. When the switch is in the off position, the light will continue to receive electricity from the sun and store it for later use.
What is the life span of solar candles? The lifespan of a solar candle depends on what design you purchase, but we say generally 2-3 years. It'll really depend on how you take care of it and how they are treated in your environment.
What is the battery life of solar candles? Battery life on solar candles varies by type of candle, brightness of the light and type and amount of batteries used. Most of the solar candles require four (4) AA batteries (usually not included) with a total battery life of approximately 450 hours.
Do solar candles produce heat? While the candle glow and pulsating flicker create the warm and relaxing environment, the wattage of the LED bulb itself is too low to produce any heat and the bulb will remain cool to the touch even after hours of use.
How long does the fragrance from solar candles last? Many modern solar candles are scented that is why fragrance oils are included in the wax. Since solar candles product no heat, the fragrance is cold released from the wax and will not be a strong or room-filling fragrance.
Are solar candles waterproof? Most solar candles are water resistant, not waterproof.
Do solar candles work on a remote? Many will work with a remote to turn solar candles on and off.
Where to use solar candles?
Where can you apply solar candles with so many different characteristics? Solar LED candles to be used in locations where you would use real candles but likewise in places where you would not ordinarily be able to place conventional candles. Mostly they are suitable for use in: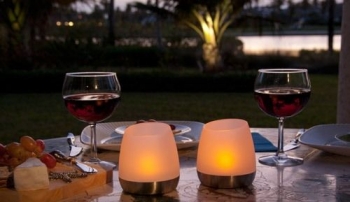 Residential areas(child and pet cheerful);
Residential care homes for the elderly;
Hotels(e.g. create a safe ambiance at weddings);
Restaurants (romantic candlelight without risk);
Gardens and cemeteries(the wind won't blow them out during memorial services);
Spas(relaxing and hypnotic effects without the risk of fire);
Theatres;
Film locations;
Boats.
Pros of solar candles
Why have you to pick up solar candles? The biggest positive thing about solar lighting is that it doesn't require hardwiring so it's easy to set up without the help of an electrician, and very few features are needed. There are no electricity costs associated with solar lighting, you'll only incur the upfront price of the lighting itself, and in few cases the occasional solar battery. Such fixtures are safe to use near water and can be used to accent areas such as ponds, pools, and hot tubs. Solar candles will continue to work during electrical power outages.
What are the main advantages of solar candles:
Safe;
Economical;
Beautiful;
Will not cause a mess;
Convenient;
Don't start fires;
Clean;
Don't emit black smoke;
Save money;
Healthy.
Durability. The high-end lithium battery of one solar candle denotes that after charging in sunlight for up to six hours, it'll emit five times candle-power white light for up to seven hours. The solar candle has a durable plastic body and it's likewise water resistant (although not waterproof).
Long life span. A solar candle has a lifespan of just over four years when charged once daily and uses Light Emitting Diodes (LEDs), what have a 12 000 to 15 000 hrs of life span.
Value. To produce the equivalent light emitted by a solar candle, at least five candles would have to burn simultaneously, equating to 1825 candles annually.
Safety. Open flames from candles or paraffin lamps are one of the biggest cause of shack fires. A solar candle poses no fire hazard.
Environmentally friendly. A typical candle produces 10-16 g of carbon dioxide for every hour it burns. Burning one wax candle daily for a year produces about 25 kg of carbon dioxide, while a single paraffin lamp burning for four hours daily emits the equivalent of 100 kg of carbon dioxide annually. Solar candles do not emit any carbon dioxide wastes in the air.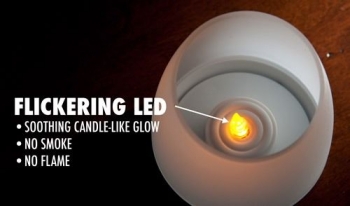 Scented. Many solar candles are not naturally scented; the pleasing smell is barely noticeable or goes away fairly quickly. Using another way to create an attractive scent in the room is a terrific idea.
Waterproof. A few brands offer flameless candles that are waterproof. The waterproof feature isn't always described as such, and it's possible that the base containing the battery must leak. Therefore, use candles in this manner at your discretion. Waterproof solar candles are really rare, most are water-resistant.
Sets of solar candles. Ordering a box or set of candles is a terrific idea as most customers find that they use more of them than expected to create a special event with attractive lighting.
No risk of blowouts. Unlike with wax candles, there's no risk of blowouts of the flame and no need to re-ignite the wick on a regular basis. For homeowners with their attentions elsewhere, this is an amazing feature to have.
Safe, clean and practical... All solar battery candles are safe as they don't generate any heat. The lighting is powered by batteries - disposable or rechargeable. there's likewise no messy wax to obvious up. With thousands of fires caused by candles, such candles allow those with pets or children to enjoy candlelight in safety.
Cost effectual... Burning for up to 1,000 hours on a few batteries such really do save us a whole load of money. Restaurants and hoteliers likewise benefit from mass savings. Just think - no awkward lighting with matches or a lighter, no carrying through frequented busy areas, no cleaning of glasses or holders when the candle dies.
Watch the video that demonstrates the pros of solar candles: https://www.youtube.com/watch?v=MJ4smBa3s30
Disadvantages of solar candles:
Hazardous chemicals. Despite the fact that LEDs contain no mercury, unlike the new energy saving bulbs, they do, in fact, contain other hazardous heavy poisons, such as tiny numbers of lead and arsenic. such materials, nevertheless, are contained deep within the LED casing and are hard to extract.
Cost. Although it's true that today LED solar candles to cost more per lumen produced than the older style of bulbs, for a tiny LED candle this will be of little consequence.
Solar candles: myths vs. truth
Myth: If I have a traditional candle in a candleholder, it cannot possibly start a fire. Truth: A container can assist you to burn candles more safely, but it won't avert all risk of fires. In compliance with the U.S. Fire Administration, more than a half of all home candle fires start when something flammable (like curtains) gets too close to the candle. That's why flameless solar candles are the safest way to go.
Myth: Solar candles don't look like real candles. They're not even made out of wax. Truth: Solar candles are handcrafted out of the same wax of traditional flamed candles. Plus, few styles give the illusion of dripping wax. No one will be able to tell the contrast.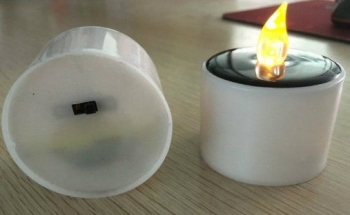 Myth: But solar candles don't have a scent and I like my home to smell like a fancy day spa. Truth: New solar candles come in a variety of light and relaxing scents infused into the candle with natural substances. Pick up from vanilla, cinnamon, mandarin spice, honeysuckle or breeze.
Myth: Solar candles can get too hot and might be risky if accidentally left on for too long. Truth: Solar candles don't get hot! Go ahead and touch the "flame,"—the tiny LED light stays amazing and cool. Plus, they can be set on a timer for anywhere from four to eight hours. Use them to light a campsite or set a romantic mood in the bedroom and you won't have to worry that you didn't turn them off before going to sleep.
Multiple types of solar candles
Solar candles have finally become more than a way to have candles and be safe too. The latest flame and scent innovations make it possible to really enjoy candles and be safe too. Today's solar candles are accessible in every size, from votive to the largest pillar and in the same decorative shapes and scents that people expect when they light candles to celebrate special moments. let us take a closer look at the most widespread parameters of solar candle types:
I. By candle material
wax candles – that can be made of paraffin wax or vegetable palm wax;
silicone;
plastic.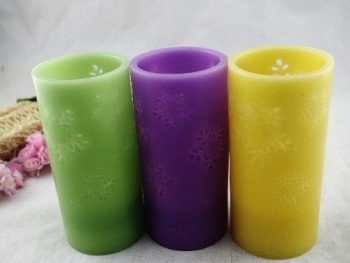 Most flameless solar candles now are made with real wax, what is often scented and molded to appear as if the top has begun to melt during use. But a solar candle will not melt when it's lit.
II. By purpose
Tealights - LED 'flame' have to be obviously visible in this type of candle;
Dinner candles- long, thin dinner candles are the item of choice for placement on a dinner table while entertaining or having a special family/romantic meal;
Party candles are accessible in few forms, but usually they are bright with different colors and scents;
Window or memorial candles– tiny thin candles for windows in guest houses or cemeteries;
Outdoor candles for outdoor events or as a decoration of a patio/garden.
III. By size and shape
Pillars. These are thick candles (usually at least 2 or 3 inches wide). They're shaped like round columns, but they come in many other shapes, featuring squares and rectangles.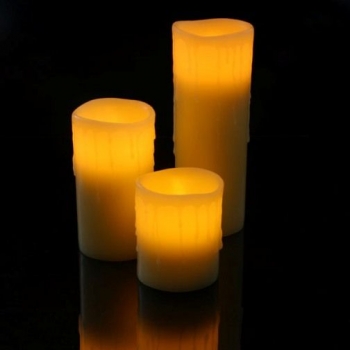 Tapers. These are the tall candles you'll see in candlesticks on a formal dinner table. Tapers are usually thinner at the top than the bottom. Sizes range from 1.2-inch to 1-inch in diameter and from 6- to 18-inches tall.
Votives. Shorter candles(usually between 2- and 3-inches tall), that are wider than tapers, but narrower than pillars (between 1 and 2 inches wide). Votives are great for decorations and making a place feel comfortable and cozy.
Tea lights. These are the short, disc-shaped candles that go in chafing dishes and few other specialty holders.
Jar candles. Any candle that's poured into a vessel made of glass or few other material, and comes as a single item. The bigger sizes are accessible in jars and can be placed outside in any weather condition without worrying about whether the flame will blow out. Many jar candles are offered and holiday candles in special shapes are easy to find, as are candles in the shapes of roses and lotuses for bridal events.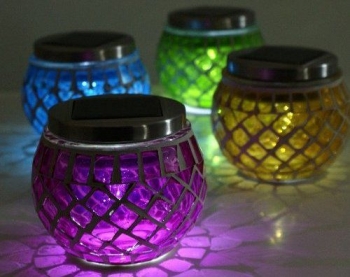 IV. By candle holders:
Holders or candlesticks;
Containers– jars, DYI lamps;
Stands.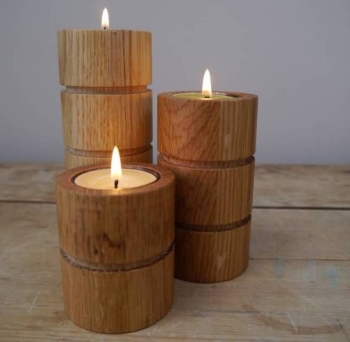 In addition to such traditional solar candle holders, there are candelabra with sentiments with designs painted on a pillar, or jar, or hurricane lamps and pierced ginger jars decorated for weddings or other special events.
V. By flavor:
Scented. Scented candles are a great opportunity to create ambiance. Traditional scented candles release scent from oils used to scent their wax. Scented solar candles may use scented wax, but they likewise are probably to have a fragrance control among their electronics that uses a fan to blow scented oil into the room. Depending on the candle's design, the fragrance may be released at regular intervals or only when the candle is turned on. Few models even have timers, which allow even more control. Such scented solar candles are perfect to put out when having company over, without having to worry about leaving them unattended.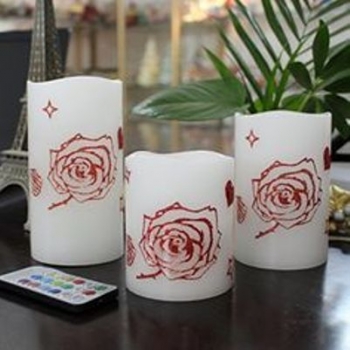 Unscented. Unscented solar candles are perfect for use where traditional flame candles are prohibited, featuring offices, schools, churches and event venues. If you don't like the scent of melting wax or have an allergy for fragrance oil then such unscented candles can be a real life savior.
VI. By color
single flickering color– whether traditional white/yellow colors or few unusual ones;
color-changing flames- the color of the flame you pick up can assist add to the ambiance of the room and the desired mood.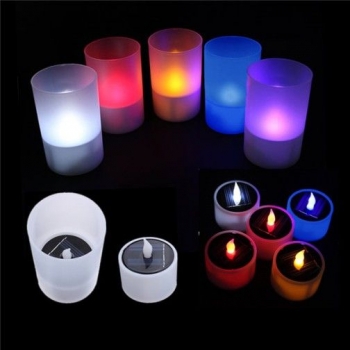 Depending on the particular candle's programming, this may automatically shift at a particular speed through a certain color cycle.
VII. By timer settings
Blow on/Turn on by timer candles. The blow on battery candles has a tiny electronic device, what usually appears as a tiny hole following to or near the flame of the candle. The candles usually have a switch underneath to operate the same function manually. This function can be turned on/turned off by timer automatically.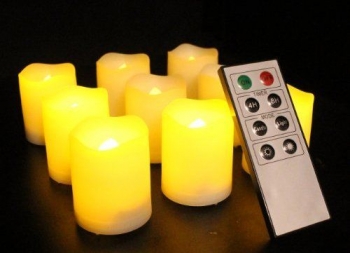 Blow off candles without a timer setting. These are the usual solar candles that cannot be turned off automatically by a timer. Only manually and by human's hand.
VIII. By control technology
Motion sensor candles that start to light brighter when you pass by and start to dim darker;
Remote control– solar candles often give the setting of being lit and turned off by remote. few even offer a dimmer to manage the level of brightness. Some modern models even include Bluetooth control and smartphone control.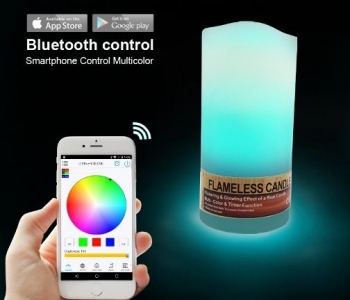 IX. By texture
Textured – few solar candles are designed to look like they are melting and have a distressed texture just like conventional wax candles;
Non-textured ones– smooth and clean candles.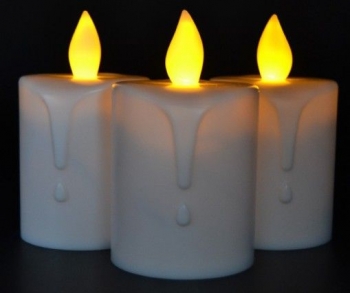 Some supplementary features of solar candles:
Flickering effect;
Flame-shaped bulb to simulate the flame effect;
Hue stabilizing control;
For the outdoors use solar candles with insect repellent may be obtained;
Floating flame effect- created for lake and pool illumination during summer parties and to light fountain ponds in spas;
Liquid tea candles made of 100% paraffin oil and combine all the advantages of tea lights (shape and size) and catalytic lamp (long lasting and safe to touch);
Sold in joined sets charged from one big solar panel- to illuminate the entire entertainment area. Votives and tea lights come in packages up to 100 while pillars are packaged in sets from 2 to 50.
Reviews of solar candles:
I. For Outdoor Uses: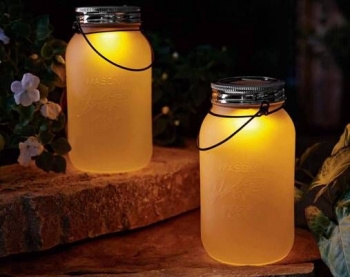 This is a classic frosted mason jar solar-powered decorative candle made by Mainstays. The Wal-Mart includes a flickering warm white LED candle and provides up to 8 hours of light.
Pros:
classic All-American design of a frosted jar with "the sun within";
solid glass construction and metal base;
terrific for outdoor use.
Cons:
Not waterproof;
it's better not to use indoors.
Specifications:
Glass construction with frosted finish;
Metal cover;
A jar comes with a handle;
The set includes one flickering warm white LED;
One 250 MAH AAA NI-CD battery;
Amorphous solar panel;
95MM diameter.
Random reviews left by Wal-Mart users:
Shiney changed the broken porch light with this jar candle. The user bought 6 pieces to place on the porch and was satisfied with how quickly they charged from the solar power during daytime. The user is likewise going to buy more of such jar candles to place them in the garden for making flowers looking prettier.
UNCfan said in the review that the jar can be hung under the pergola outside. The jar isn't waterproof but resists the rain drops if they fall from the roof. in compliance with this review, the rain has not interfered with the way the candle functions.
Bigboyz62 likes that this tiny jar adds a warm glow at night. He said that he's had them for 3 weeks and they have worked flawlessly without any issues.
Most users left satisfied with warm white LED light, tiny size, outdoor use, and quick battery charge. There were no any drawbacks pointed except the fact that such jar candles are not very terrific for applying indoors.
Watch the video with this particular solar candle:https://www.youtube.com/watch?v=1TxO_CgbXvY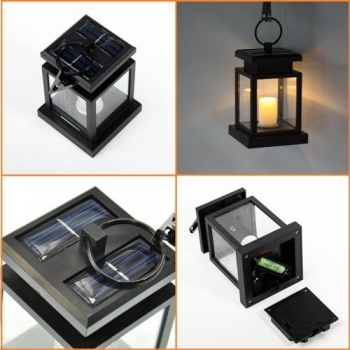 LEAGY manufactured this solar lantern in a vintage style. One of the best qualities of these candles is that this product is waterproof.
Pros:
adds romantic and mysterious ambiance to any space;
solar cell works in all light conditions even on overcast days;
candles will run up to 6 hours on a full charge;
with the steel hand, it can be easily fixed or moved;
this candle light is suitable for beach pavilion, garden, road, lawn, pool etc. Great for outdoor uses.
Cons:
not convenient design;
it is hard to replace a battery.
Specifications:
Output is 10 Lumen;
Very high waterproof rating is IP44;
1 LED solar powered light source;
Dimensions are 5" x 3.5" x 3.5" inches;
Includes hanging clip and loop;
A built-in light sensor ensures the lights automatically come on at dark and turn off with ambient light;
Special internal frosted casing and lens casing for maximum dispersion of LED.
Random reviews left by users:
K. Groh said that these candles are a great and inexpensive way to have outdoor lighting without electricity. These candles work even with the very little sunshine during a snowy season. The light has three settings, on low, on high hue and off;
Doug Robinson bought two of these and is going to buy another one. The user said that they are nice and bright and can keep some light on in the backyard at night. The only problem, according to this review, is that it's not easy to change the battery after it wears out;
Suzie Q ordered four of these and two of them quit working in few weeks even after replacing the rechargeable battery. The user felt disappointed and didn't recommend to buy this solar lantern.
Among the pros, the users liked that they are waterproof, can stay lit up all night even after being charged on a day with little sunshine and have few light modes. Among the cons, there are critics about the way of changing the battery.
II. With Multiple Additional Features: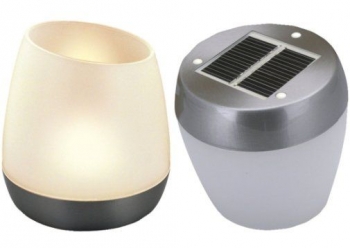 This is tiny solar power candles based on Flip 'N Charge-Solar Panel technology. The solar panel is located at the bottom of the candle and to recharge it you have to flip the candle. This candle was designed specifically for indoor and outdoor use with a flameless flickering candlelight glow.
Pros:
Flip to recharge;
Can be used in equal parts terrific in outdoor and indoor places;
Unscented candle without any scent that can cause allergy.
Cons:
Unreliable plastic material;
For few users, this type of charge isn't convenient.
Specifications:
Solar panel is located on bottom of candle;
Flameless, flickering amber candlelight glow;
Indoor/outdoor use;
Product dimensions are 7.6 x 6.1 x 3.9 inches;
Item's weight is 12 ounces;
The special setting is a dimmable mode;
Color is red and the finish is matte;
The material is plastic.
Random reviews from users:
KW reviewed this product with positive emotions. The user said that gladly used such candle for the patio and near the pool at night. in compliance with this review, the candles can be applied in winter and in summer;
Anonymous Customer wasn't satisfied at all and said that such candles didn't work as promised. that is why the material wasn't reliable;
Wendy Sue was satisfied with such amazing candles and their tiny size.
Overall review of this product is quite modest that is why the candle is on sale for a short period of time. The users counted the pros of such candles that include the quick way of charge, flameless flickering glow, the possibility of indoor/outdoor use and among the cons pointed out at they are unreliable (material).
Watch the video of this solar candle model:https://www.youtube.com/watch?v=K5fW3JwdB1k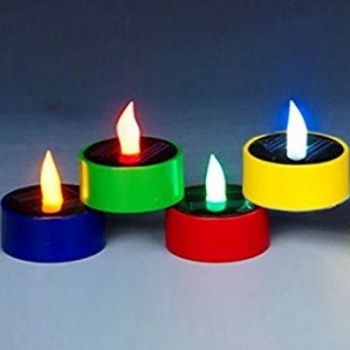 This is the colorful set of solar candles made by Mr. Light. The main feature is that each of these candles turns the light on automatically at night. The design is a classic tea solar light.
Pros:
Set of different colorful candles for various occasions;
Cheap and practical in use;
Few lighting modes.
Cons:
Can be used only indoors, though the manufacturer offers to use them outdoors as well;
Specifications:
The set contains 4 candles of different colors: red, green, blue and yellow;
1.2V 300mAh 2/3 AAA Ni-MH battery per each candle;
Dimensions are 7.7 x 2.3 x 1.9 inches;
Flickering light mode.
Random reviews of users:
Anonymous Customers liked these candles because of their solar powered source and no need to change batteries. But in his case, only three of the four worked for a long time;
M. Beckham said in the review that these candles are better to be used indoors because they lost the light during the rain outdoors. The user wasn't satisfied that this product has a flickering light mode broken when the solar energy battery is not charged properly;
James Cannata said that loved these solar candles and they worked perfectly even when there were a bad weather and not enough sun to charge them. He pointed out that solar candles work better when they are placed at the distance from each other.
Most of the reviewers pointed out that these colorful candles are very small, do not need many batteries to change and liked their affordable price. As for the negative reviews, many users didn't like their short life span and that they can be used only indoors.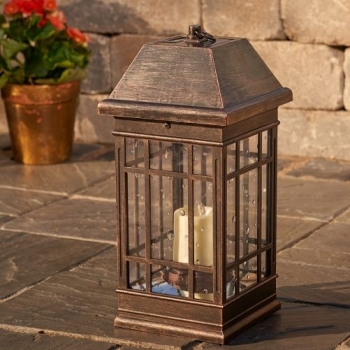 This is an elegant solar lantern in a classic mission light design made from all weatherproof poly material with seeded glass effect. STI Group is the manufacturer of this product.
Pros:
can be placed on any surface or hung using the integrated hanging loop;
automatically turns on at dusk and off at dawn;
a solid build;
give off a moderate amount of useful light;
give off full light nearly all night long;
great strong quality batteries;
the switch is of high quality and built to last for a long time.
Cons:
need to be hung with the top's below eye level and this is not very convenient;
not waterproof because the solar cell is on the top and after a light rain water got inside the lantern;
on average work for 6 months in a row.
Specifications:
the lantern is lit by 2 warm white LEDs in the top;
the pillar candle inside lantern contains 1 amber LED for a warm glowing effect;
dimensions are 6.8 x 6.8 x 14.9 inches;
weight is 3 lbs.
Random reviews left by users:
Elaloha wrote that ordered three for the patio and was very happy with the brightness, a bit more than expected, as well as with the length of the charge. They stay lit up on all night. The only downside is the little plastic circles inside the lanterns that are supposed to look like condensation. The user had to turn them upside down to drain the water out after a summer rain;
Josh Hoffer thought few lanterns and said that these actually look pretty good in the evening and night. They have a nice warm light unlike many "blue-ish" LED solar lights;
Wink b said in the review that this is a great looking lantern, nicely built with a very bright light having a flicker. Unfortunately, both lanterns are not reliable and both of them were dead after 5 months. The user replaced the batteries in them and got one to come back partially, but it's a real disappointment.
Most users found that this lantern is not very good for outdoor use during raining because it is not water-tight, but it is the best for warm glowing at summer nights on the patio. Others praised its solid frame and great batteries that gather solar power without any hassle.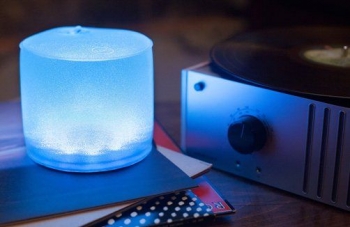 This bright and colorful solar LED light that is completely powered by the sun, without additional batteries needed. This popular Luci Color solar candle lasts up to 6 hours on a single charge.
Pros:
color-changing light has a glittery finish;
perfect for parties, pool & patio lighting, dorm rooms, bath time, mood lighting, weddings, holidays and as a cool gift for kids & adults
inflatable;
lightweight;
fully waterproof;
extremely durable;
collapse-proof;
compact;
place it in direct sunlight for 7 hours and the candle will last up to 6 hours on a single charge.
Cons:
some users said that the quality was poor, but the overall impression about quality seems to be good.
Specifications:
assorted 8 colors;
dimensions are 5.25 x 1 x 5.25 inches;
weight is 3.8 pounds;
toggle through color settings by pushing the power button on the bottom of the lantern.
Random reviews from users:
Matthew Hengst said in his review that it is great for adding a little bit of ambiance to camp. It is also good for hiking at night – you can light this device and hang it off the pack to make for easy identification at a distance. According to this review, charging / battery time is enough but can be longer;
Frank wasn't satisfied with the product because of the poor build quality. He said that the finish wasn't good and it seemed that the product was made from the leftovers;
James liked this small lantern and uses it for showering in the dark with this lantern on the "cycle" setting for a very relaxing mood. It can also be used outdoors. He likes that it is protected from water exposure. According to this review, the charge time of a solar battery is 6 hours in the daytime. James also recommends it as a perfect gift.
The pros include the waterproof frame, outdoor use, multiple colors of lighting. As for the drawbacks, they are not numerous and mostly are related to poor quality of the frame and the poor lifespan of the battery.
III. For Special Occasions: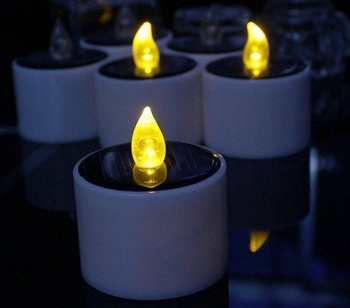 The Best Way is the manufacturer of this solar energy candle/lamp. To start applying you've to turn on the lamp when it charges in the sun. This lamp or large candle only lights at dark places. Users have to turn on the candle when it charges in the sun.
Pros:
Solar candles charge at day and light at night;
Low carbon and environmental protection;
Low energy consumption;
Fit for room and wedding decoration.
Cons:
Not very meaningful for indoor purposes;
Short lifetime;
Not waterproof;
have to be charged in the sunny weather.
Specifications:
6 pieces in one set for a very reasonable price;
The lamp automatically charges in the sun;
The size is 2 inches x 2.3 inches;
The material is plastic;
Usually charges for 5 hours and can be used up to 10 hours;
Amber color of the flame.
Random reviews left by users:
Debi_M said in her review that such solar candles are awesome and she uses them during daylight in her outdoor patio. She likes to place them in glass mason jars and that they do not give the bright light but their amber flame makes the patio space more welcoming.
Burwells wasn't satisfied with this product that is why none of 6 pieces from this set were lighting and charging after few days of use. He supposes that the batteries within are not of high high-quality. And he mustn't open them to change solar batteries.
William says that he liked a yellow light more than conventional orange flames from waxy candles. He uses this product for outdoor purposes during camping. The only drawback he established is that such candles are not bright enough, but they are charging quick and have a solid frame.
Among the pros of this product are safety, environment-friendly design, quick solar charge and suitable size for camping, among the cons, the users point out at that they are not solid, not waterproof, not enough brightness.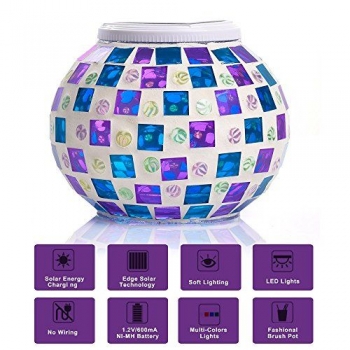 This is the solar powered table candle made by Myfashionera. This product automatically gets fully charged within 6-8 hours under the direct sunlight, without wiring or any installation. Bright and colorful design for those needs a great solar-based light for home parties.
Price: $17.99 on sale ($79.99) BUY NOW
Pros:
waterproof and weatherproof, function well even if in the rainy days;
automatically turns on at dusk and off at dawn;
perfect for parties, deck, garden, patio, yard, lawn, balcony, pools, indoor/outdoor decors.
in winter when there is dull weather, you can enjoy this candle by replacing the solar light with a standard tea light or candle.
Cons:
It can be used outdoors with caution – some users said that waterproof qualities are not very good;
The foil is peeling on some of the tiles with uneven finishes – some products, according to the reviews, are done poorly.
Specifications:
The replaceable/rechargeable Ni-MH battery gives up to 8 hours of light each night when fully charged.
There are 2 modes, color-changing (RGB) and single mode;
Dimensions are 5.12 inches in diameter and 4.13 inches in height;
The switch between modes of color and single light modes is located on the back side of the solar panel . Can be switched off automatically during night;
The high-quality solar panel that gets fully charged about 8 hours and lights up 8 hours at night;
It's made of the crystal glass and all glass fragments are posted by hand;
Dimensions are 5.12 inches in diameter and 4.13 inches in height;
Weight is 0.86 lb;
The battery is 2V/600ma Ni-MH.
Random reviews left by users:
Christina Ralston bought 5 of these lights for the front porch rail and they were magnificent, according to her review. These solar lights shine brilliantly at night with the ability to change lights. She was completely satisfied with this product's quality.
Mike Tarrani said that he loved this garden light, which seems to be a blend of Asian and Tiffany-inspired looks. He claims that this is a gorgeous glass globe with an open top and bottom. It's pretty heavy for its size, and the light fixture sits on the top part. It's conceivable that the light could blow away in a strong wind. He likes that the globe part is attractive as a static display, even without the light on.
Julie Heal was disappointed with the product since it flickered on and off a few times and that was it. The part with the solar panel was not attached to the actual mosaic ball. Very poorly made is her verdict.
Justmytwocents said that remained very disappointed because with a poor quality of this solar garden candle. According to this review, it looked like a kids craft project in a bad way because of the unsold frame and peeling foil from mosaic tiles.
Among the pros, the users name a colorful party design that makes this solar candle a great accessory even without lighting, an ability to work up to 8 hours at night. The cons are mostly related to poor quality and short lifespan of this device.
Alternatives to solar candles
Have not find any useful recommendations and still have doubts about using solar candles? Well, there are few alternatives to solar candles that you may find useful:
1. Flameless LED candles
Flameless LED candles use a tiny, energy-efficient bulb to create the realistic flicker of candlelight without any of the fire risks. Initially, they were available as plain white pillar candles, battery-powered LED candles can now be found in a wide variety of colors and sizes, from tea lights to massive pillars and elegant tapers. They even are purchased with realistic-looking leaves and flowers pressed into the "wax" imitating plastic.
Pros:
A good choice for use in jack-o-lanterns and other outdoor decorations;
Perfect for the areas where children might want to touch or play with flameless LED candles;
Tiny LED bulbs usually last for about 10,000 hrs. Instead of replacing a real candle every time the wax burns out, use LED candles and only replace the batteries occasionally.
The example of flameless LED candles: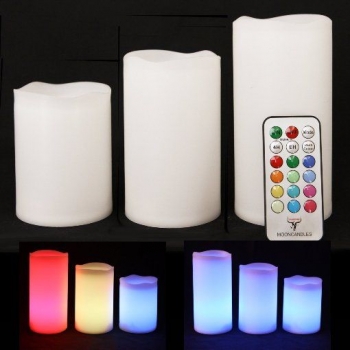 This is the set of 3 weatherproof flameless candles made by Frostfire. These are the environmentally friendly candles that burn with the help of the sun's energy. It does not burst nor rust and creates flame without fire or smoke. Each candle burns up to 1.5 years without a necessity to change a battery.
Pros:
Perfect for outdoors and indoors with no wax to melt;
Eco-friendly;
A light is constantly "burning";
Economic viability;
Designed to withstand light rain and not heavy rain or standing water;
Safe near the home, children and pets.
Cons:
Quick battery drain;
Not very bright light.
Specifications:
The set includes three 4'', 5'' and 6'' candles;
Weatherproof resin material;
A timer with 2
Remote control has a 20-foot range;
You can set the candles to flickering or light mode;
Seeks 2 x AA batteries per candle (sold separately);
Product dimensions are 9.5 x 6.4 x 3.2 inches.
Random reviews left by users:
Cub C said that such candles have a switch at the base to turn them on/off. The remote control functions flawlessly, in compliance with her review, and she liked the timer modes of 4 and 8 hours. She must likewise pick up between a lower/higher light in flicker or steady light modes. But only with the remote you can perform most operations. Without the remote, you can only turn the candles on or off. And this is a drawback.
L.G. only discovered fake candles with this set. in compliance with him, they don't look as realistic as few other fake candles, but they still look pretty. He likes that such candles are resin, so they won't melt in the sun. in compliance with his review, they don't get hot, so they can be placed anywhere: on shelves, near curtains, near plants.
The user Honest Opinions said such candles were not terrific for him and served only 6 months before he had to change the batteries. But he likewise said that can safely leave this candle in a room where his 6-month son sleeps.
Among the most positive features of this candle were named weatherproof material, two lighting modes, long lifespan, no wax. As for the cons, they were not numerous and included – the quick drain of batteries and not very bright light.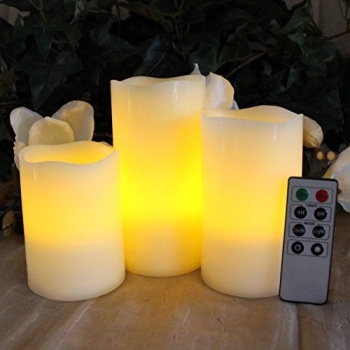 It is good for flame decorations and Halloween parties because of its simple design that can fit any pumpkin. The set includes three wax LED candles with 4", 5", 6 inches tall and 3 inches wide.
Price: $16.99 on sale ($29.79) BUY NOW
Pros:
these top-notch flameless candles are manufactured by LED Lytes – a very popular and trustworthy brand;
hand carved edge gives it a very natural look;
gives you the option to control the flicker with a 4-or-8 hour timer;
the flame sits deep inside the wax-like candle without the smoke or messy dripping wax;
Cons:
the users say that the battery life is very poor;
the flickering flame is obviously not good for everyone.
Specifications:
dimensions are 10.9 x 7 x 3.4 inches;
the multi-purpose remote control;
weight is 1.4 pounds.
2. Oil warmers
Oil warmers are an excellent alternative for those who love scented candles but don't feel comfortable with an open flame. Users add a few drops of essential oil or fragrance oil to a shallow dish at the top of the oil warmer. The device warms the dish gently - enough to release the scent of the oil into the air, but not enough to pose a fire hazard. Users add a few drops of oil to the groove in the ring, and when the ring is heated by the bulb it releases the scent into the air.
Pros:
Oil warmers are plugged straight into the wall socket and have a small reservoir for holding the oil;
They can be powered by batteries or via a short electrical cord.
The example of an oil warmer: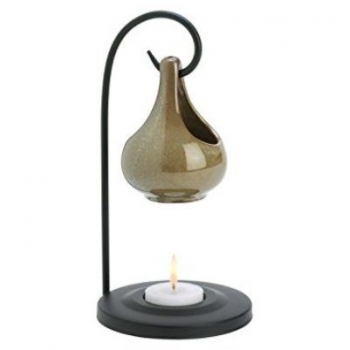 This is a popular oil warmer with a moss-green ceramic teardrop that holds a generous dollop of scented oil. Offers a quaint art style that fits any folk interior.
Pros:
excellent decor item for any shelf;
perfect gift idea for any occasion.
Cons:
some users didn't like that scent remains for a long time after the use. The scent seems too strong and synthetic;
can't be used by allergic people.
Specifications:
Materials are porcelain and metal;
Fill with oil to provide a pleasant aroma for any occasion;
Weight is very small - 0.5 lb;
4-Inch diameter by 7-5/8-inch high;
Candle and fragrant oil not included.
The price options for solar candle buyers
You get what you pay for. The brightness of a solar candle depends on the brightness of the sun and the number of daylight it's exposed to — but it likewise depends on the high-quality of the photovoltaic cells and the size of the LED bulb. Higher-high-quality photovoltaic cells and bigger LED bulbs tend to cost more, so to a certain extent, the higher-priced solar lights do tend to shine more brightly.
The average price for a LED solar candle without any supplementary settings is about $12 -13. Nevertheless, if there's a scented model that can likewise change the colors on a remote control then prepare to pay up to $30 per scented solar candle piece. Seems rough? Well, such candles can serve up to 3 years in a row easily on solar power, so it's a very smart investment.
General tips
In a case you're trying to select the best solar candles for you, it's essential to consider why you need them for and what settings you are looking for. Here's a guide of the essential factors to consider:
Style. With a decorative item like a flickering flameless candle, your most essential consideration is whether it has the proper style. Are you looking for a LED votive candle or flameless Halloween candles? What color is right for you? Do you want a more contemporary or old-fashioned appearance? Is your decor urban or rustic? Many LED solar candles come in a variety of colors so you can find just the right one for your home.
Size. Is the electric candle the right height for where you plan to demonstrate it? Is it narrow enough to sit on the ledge of windowsill? Answer such questions when choosing a size for solar candles.
High-quality of appearance. It is essential to consider the high-quality of the appearance. Does the LED candle look like a wax candle, or does it look too plastic? What about the simulation metal, glass, or wood of the base? Is the flickering effect realistic?
Scents. In a case you're a fan of scented candles and are purchasing a solar candle for its scent dispersing function - make sure that it's compatible with whatever form your favorite scent comes in, whether it's an essential oil or scented cones.
Purpose. When considering LED solar candles, it's essential to keep in mind what it's intended for. If you're looking for a battery operated window candle, it's not going to be seen from as close up as a candle that's intended to sit on the table during dinner. Light hue matters more than the appearance of the base.
Placement. Are you going to place your solar LED candle within or outside? Many solar candles are intended only for indoor use. If they are applied outside, it must only be for short periods and applied in during bad weather. They must not be left outside unattended. Other solar candles are intended for outdoor use and can be left outside for extended periods.
Battery life. Not all solar candles do as well on conserving battery power. This can dramatically impact the cost benefit of applying a battery candle correlated to a flaming candle.
Bulb type. Some candles are built with replaceable bulbs, and so it's essential to investigate what of the widespread bulb fittings are used in the candle before purchasing replacements. Another point to consider is how many LEDs are contained within the candle's bulb. Many solar candles contain just one LED that can be made to flicker, but some may have two or more LEDs within.
Hue. Pay attention to the hue. Since most solar-powered lights today use LED bulbs, the light they emit's bright white. If you want the look of incandescent bulbs, look for solar lights with tinted covers — they may be labeled "amber" or "soft white".
Reputation. Only a few U.S. brands have been producing solar candles for a long time and have built a reputation for high-quality products. Others may be trying to put out cheap products to make a quick sale and don't care if they get a bad reputation.
Cost. Solar candles are usually more expensive than wax candles, but they come in a variety of costs. In general, the cost of the solar candle will tell you the high-quality, but if you read reviews you can sometimes find a terrific bargain. The cost likewise depends on style, so if you're flexible on style, but you can find bargains.
Features. Many solar candles come with a light sensor so that they only come on when it's dark. Or with timers to set when they turn on/off. Others may even have remote powers or built-in speakers to serve as music players. Such features come with a cost that might not be worth it if they're not what you want.
Necessary accessories you have to buy with solar candles:
AA NiCad or NiMH batteries;
Remote control device.
Remote control devices are sometimes included into sets with solar candles but in the most cases, they have to be bought separately.
But mostly rechargeable solar candles basically require from you buying only one accessory – batteries. Batteries are the essential cause of failure in solar candles. Rechargeable solar batteries will self-discharge only for a long but limited time period. Over time even the self-discharged solar batteries come to a point where they do not longer work.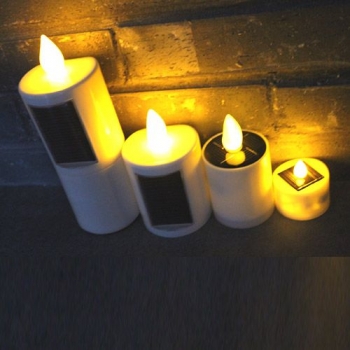 In the new solar power lights, there are used NiCAD (Nickel Cadmium) or NiMH (Nickel Metal Hydride) rechargeable batteries to power solar batteries. Under normal conditions, such batteries can last for one year. After that year you can replace them when needed.
The top for the initial time users: If you store your solar candles for long periods of time, take the batteries out!