Stands, Multi Work Table, Cases, Vacuum Fan And Other 30 Laptop Accessories Which Make It A Superhero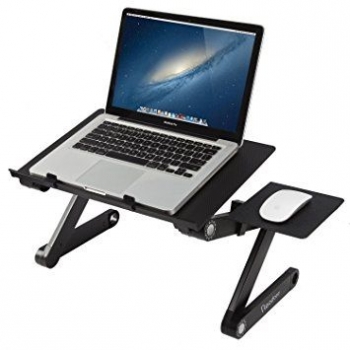 Nowadays the market's full of goods of any kind, and notebook accessories are no exception. From stands to batteries, from covers to lamps: here we've got 30 reviews about the items which may complement your laptop to boost its performance, enhance its capabilities and turn it into a superhero!
I. Stands and Tables
This riser stand can hold both laptops and monitors. It's designed to be able to hold up to 16" (40.6 cm) laptops and most common monitors, so it's very likely that it will fit your appliance. The adjustable tilt enables you to fix it in a position which is most comfortable: say, you can have it at the eye level or set it into the best working position, so you can use your laptop as a TV set or work in a convenient way. You can keep your laptop ventilated, as there are plenty of holes in the plate so heat is not retained. The item is made of high grade steel and aluminum. The assembly process does not take much time and can be easily done by anyone.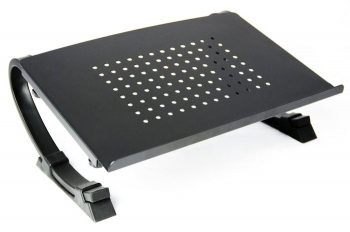 Technical details:
Dimensions: 10" (25.4 cm) x 14.5" (36.8 cm) x 6" (15.24 cm);
Weight: 4.6 pounds (2 kg);
Colour: black;
Material: high grade steel, aluminum;
Feedback summary
It's a pretty good monitor/laptop stand. Except for some negative reviews (most of which are due to defective items), the feedback suggests it's a solid model which has nice ventilation holes, but still it's recommended to use it with monitors of 15" (38.1 cm) or less, otherwise you may find yourself really short of space (or the device will keep falling).
For those MacBook lovers (and other laptops too), here is a laptop stand which is unique in its design. It's ultra-portable and foldable, yet sturdy and stylish. As it's made of aluminum, it's also lightweight and easy to carry. The sand-blasted and metallic silver anodized finish looks especially nice with MacBook laptops, yet it can be a nice accessory for any laptop of the appropriate size. The legs of the foldable stand are extendable, so you can adjust it the way you want. You can set it at a level which is most convenient for you to look at the screen or type.
Mind that the stand is NOT compatible with MacBook Air 11" and laptops less than 12" (30.5 cm).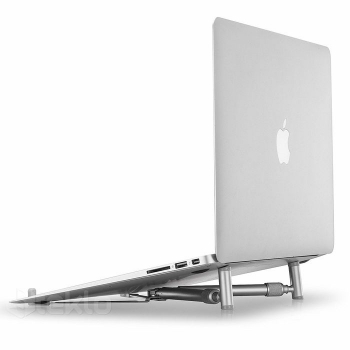 Technical details:
Fits laptops of 12" (30.5 cm) - 17" (43.2 cm);
Material: aluminum;
Weight: 5.8 oz (165 g);
Size (folded): 6.3" (16 cm) x 1.5" (3.8 cm);
Colour: silver.
Feedback summary
The product is terrific, as many users claim. It's well-designed, easy to use, sturdy and stylish. The ergonomically correct angle fits most customers. We can recommend this product as a really good and high quality item worth buying.
As the name suggests, it's a basic laptop stand is simple yet good. It stands 6.1" off the desk (15.5 cm) so that you could look at the screen at a better angle. The black powder coated finish makes the item look good, and it's made of a solid piece of metal. The integrated cable organizer helps you keep the wires in order. It's tilted towards to ensure better ventilation and easier typing. You can use this item with laptops which are less than 9.4" (23.9 cm) deep. There's also a white version which is cheaper (you can save a couple of dollars if you buy it instead of a black one).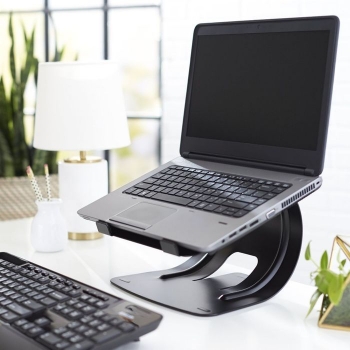 Technical details:
Fits laptops of up to 9.4" (23.9 cm) deep and most 14" (35.5 cm) laptops;
Raises laptops 6.1" (15.5 cm) off the desk;
Colours: black, white;
Dimensions: 9.33" (23.7 cm) x 10.06" (25.55 cm) x 6.1" (15.5 cm);
Weight: 4.4 pounds (2 kg).
Feedback summary
As the feedback suggests, this stand is good if you are an owner of a laptop which is 14" (35.5 cm) or smaller. If it's 15" (38.1 cm), the balance will be poor, so it won't be convenient to use it. Yet since the manufacturer warns it's for 14" (35.5 cm) or less, he is not to blame. All in all, the design is fine, and it's well-built, so if you have a device which fits it, this product is a good option.
Unlike common stands, this one is vertical. Note that it's designed specifically for MacBook laptops and similar models. It's made of aluminum and thus lightweight, so you can carry it wherever you want. Actually, it fits any laptop which is 0.55" (1.4 cm) - 0.74" (1.88 cm) thick. What is special about this product is that it comes with two rubber adaptors that can help you make the stand fit your laptop. Note that the model may not work if there's a laptop case.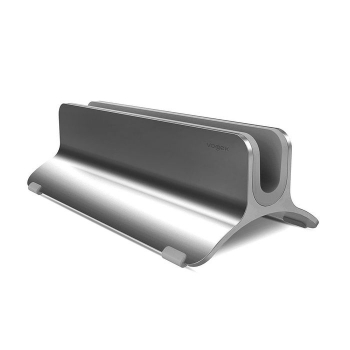 Technical details:
Compatible with MacBook Air, MacBook Pro, and MacBook Pro with Retina display models; Dell XPS series; HP ENVY Series; Samsung Notebook 9 Series; Lenovo YOGA 4 Pro Series; Acer Aspire S / Aspire V Nitro; Asus Zenbook U series (according to the manufacturer);
Comes with 2 rubber adaptors;
Colour: grey;
Dimensions: 9.5" (24.1 cm) x 4.9" (12.45 cm) x 3.1" (7.9 cm);
Weight: 13.6 oz (385.5 g) (as stated by the manufacturer).
Feedback summary
The only major drawback which is reported in several critical reviews is that the stand doesn't fit the 15" (38.1 cm) MacBook Pro. Since there are many cases of this, it seems to be true, so check whether this stand fits your laptop in advance.
This laptop stand looks luxurious and stylish. Yet if you prefer other colours, there's the black one and the space grey one. It elevates the laptop 5.5" (14 cm) off the desk, so it gets more comfortable to work with your pc. Besides, you can store your mouse and other accessories beneath the stand when the laptop's not in use. The design of the stand ensures 360 degree air circulation. If you want to take it while travelling, it can be disassembled easily.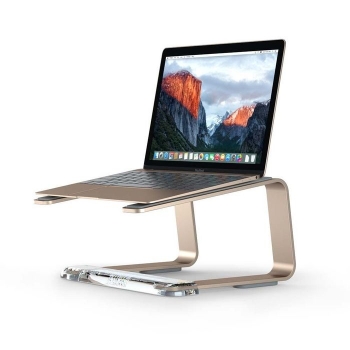 Technical details:
Dimensions: 13.9" (35.3 cm) x 7.4" (18.8 cm) x 2.1" (5.3 cm);
Colour: gold, black, space grey.
Feedback summary
It's a good product worth buying. The quality is nice, and the general look is expensive. The only thing mentioned in the critical reviews is the damage done to the items they receive, so it's just cases of getting scratched or greased products. Other than that, the stand itself is nice, sturdy and well-made.
A portable laptop table is a nice thing to have if you have to take your laptop everywhere (for instance, when delivering lectures). It enables you to position it at the right angle. One of the advantages of the model is that it has a small table for a mouse. There's a version of another colour and without a mouse pad: it cost 2 dollars less, but here we focus on the full version (with a pad). The legs are easily adjustable, and aluminum tray ensures durability and lightweight design. You can even use it in your bed if you want it this way. There's no need for assembly: it's foldable and portable. To reposition the item, hold the button on a joint, set it appropriately and release the button. It also features 2 silent fans which are powered by a USB cord (which is included, by the way).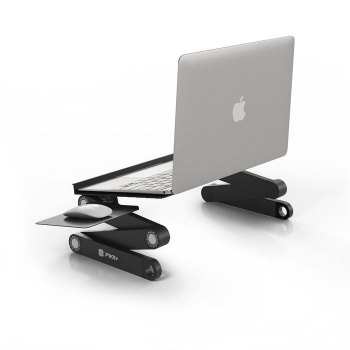 Technical details:
Dimensions: 19.5" (49.5 cm) x 2.5" (6.3 cm) x 11.5" (29.2 cm);
Weight: 3.9 pounds (1.77 kg);
Fits notebooks of up to 17" (43.2 cm).
Feedback summary
Versatility, solid construction, good design are what this item is characterized by. All in all, it's a very good and useful item, yet we feel that we must cover the few critical reviews there are. Some say the fans are poor, others don't find it really stable, and there are users who claim the metal is slippery, and the laptop may fall. We guess that careful usage is the key to using this item successfully, and even if it's not 100% stable, it's a thing which definitely adds flexibility.
This desk is useful in a variety of ways: you can use it for your laptop, papers, food, etc. Just remove it and store it in the back seat pocket when it's not in use. It's quite sturdy to type on, so you can work while waiting in a car. It hooks on the steering wheel and takes seconds to attach it. It's quite a unique item, since there aren't many car tables for laptops out there.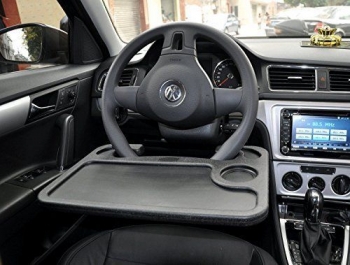 Technical details:
Dimensions: 28 cm * 42 cm * 2 cm / 11 inch * 16.5 inch * 0.79 inch;
Color: black;
Weight: 1.2 pounds (540 g);
Material: plastic.
Feedback summary
There are not many reviews, but all negative reviews are due to the desk not fitting the steering wheel, so please check the dimensions before buying it! Other than that, it's reported to be sturdy and not flexible, so you can use it safely.
This laptop desk features everything you need to use a notebook in the most convenient way. It fits laptops of up to 17" (43.2 cm), has enough space for a mouse (both for the left-handed and right-handed users), a wrist pad to relieve strain and reduce pain in the joints, dual-bolster pillows that correspond in shape to your laptop, thus making it stand well, an air channel for better circulation, and even side pockets.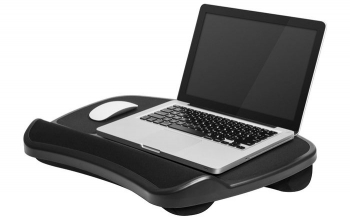 Technical details:
Supports laptops of up to 17" (43.2 cm);
Weight: 2.2 pounds (1 kg);
Dimensions: 22.5" (57.15 cm) x 15.81" (40.16 cm) x 2.5" (6.35 cm);
Colour: black.
Feedback summary
All in all, it's a nice product which is functional and comfortable except for the wrist pad, which may not fit all the users, as some find it uncomfortable (say, too hard) and not convenient since it's not removable. Also, some say it doesn't fit 17" (43.2 cm) laptops, while others report successful usage, so we assume it depends on a model depth. Besides, the material of the cushions may wear, and white balls will be all over the place in this case. So if you do not intend to use it in bed for under extreme conditions, it's still a nice thing to use.
Since all wooden accessories look so natural and stylish, we wouldn't help placing this item here. It's a bamboo table for a laptop which is equipped with a mouse pad, an ultra-quiet fan, and an integrated storage drawer. It can be folded and adjusted in terms of height, so it's both stylish and convenient. It can also be used as a breakfast serving tray! Besides, there's no need to assemble it. The table comes with a safe stopper. The legs of the table can be extended and locked.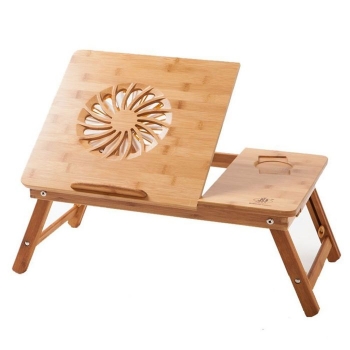 Technical details:
Material: natural bamboo;
Dimensions: 21.5" (54.6 cm) x 13.8" (35 cm) x 14.1" (35.8 cm);
Weight: 5.8 pounds (2.63 kg).
Feedback summary
The customers who've bought it report it's well made, has no smells and works fine. Out of 132 reviewers, only 6 were disappointed by issues which seem to be caused by fault items (one person got a table without an angle adjustability element which is supposed to be attached to the underside of the desk; another one got a damaged product; the third one found the legs didn't lock properly, etc.). Though, these cases seem to be exceptions, since most users love the bamboo table because of its look, natural materials and convenience.
II. Cases and Bags
It's one of the best laptop cases. It's made of neoprene and water-resistant. While fitting most 15" (38.1 cm) or 15.5" (40 cm) laptops, it's too big for a Macbook, so please consider it if you're looking for a Macbook cover. Actually, there are three different sizes available (namely 13.3" (33.8 cm), 15.6" (13.3 cm) and 17" (43.2 cm)), but here we consider only the 15.6" version. With such great quality, you can protect your laptop from scratches, bumps, dust and other things which can damage your device. It's literally one of the best options available.
For those who feel that black is not the colour they want, there are quite a lot of options: black, dark blue, grey, light green and wine red.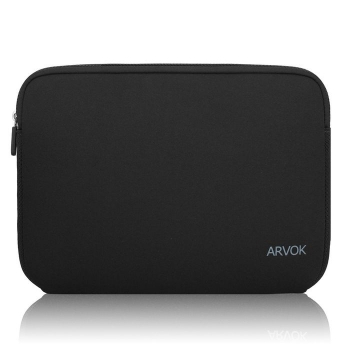 Technical details:
Thickness: 0.25 inch/0.6 cm;
Internal Dimensions: 15.5" x 1.2" x 11" / 39.3 cm x 3 cm x 27.9 cm;
External Dimensions: 16.25" x 1.25" x 12" / 41.2 cm x 3.1 cm x 30.5 cm;
Compatible with: Acer Aspire E1/E5/E15/ Acer Chromebook 15 CB5/ ASUS X551MA//X550/K501/F555 ASUS ROG / Dell 5555/Dell Inspiron i3531/i3543/i3542/i3541/i5547/ i5558/i7559/Lenovo Thinkpad E550/Lenovo G50/HP Pavilion 15/Samsung ATIV Book 2 NP270E5E/RV510/Toshiba Satellite C55 (the list is not comprehensive: for the full list of compatible models check the item page);
Material: thick water-resistant neoprene.
Feedback summary
The overwhelming majority of users 'have no words but compliments' ©, since the quality of the case is very nice, it fits most laptops and does its job well. The variety of colours available is another advantage of this model. The few negative reviews (836 positive vs 70 critical) are due to the case being oversize, but since all the details (including the internal dimensions) are specified, it cannot be considered the manufacturer's fault, so please compare the internal dimensions of the case with the dimensions of your laptop before buying!
The leader of the case category, this bag is one of the best you can find. Style, convenience, quality, good materials: everything in this model is wonderful.
It comes in three sizes (12-12.9" (32.77 cm); 13-13.5" (34.3 cm); 14-15.6" (39.6 cm)), but here we'll cover only the third version. It's slim, portable and lightweight and can fit any laptop of an appropriate size. The variety of colours is also nice, since there are 4 kinds of this bag: the teal, the light grey, the dark grey and the black one. The bag can be opened at 180°. The product looks expensive and elegant, and one of the advantages of this item is the front pocket where you can keep pens, mobile phones, papers, etc. It's the best choice for work, studying and other purposes.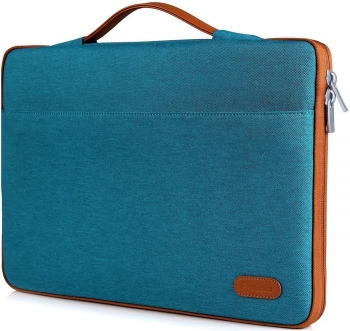 Technical details:
External dimensions: 16" (40.64 cm) x 11.5" (29.2 cm) x 1.5" (3.8 cm);
Internal dimensions: 15.6" (39.6 cm) x 11" (28 cm) x 1.1" (2.8 cm);
Feedback summary
There's not much to say about it besides that it's loved by nearly all who use it. The pocket, the materials, the zipper, the size - everything is done to a tee.
This laptop backpack is kind of multipurpose, but still it's designed to keep your laptop and many accessories for it. The minimalistic design and shades of grey make it a good option for everyone who likes such a serious and elegant look. Yet there are other colour options: grey, coffee, black, purple and dark indigo. Note that backpacks of different colours have different costs! Here we describe the grey one. The backpack can hold laptops of up to 17" (43.18 cm). There's a convenient compartment for other devices and accessories. The item is made of eco-friendly nylon fabric and has two S curve padded shoulder straps. The best thing about this backpack is the abundance of pockets and compartments: there are 3 main pockets, 9 inner small pockets and 2 sealed side pockets. That's a lot of pockets! Yet it's not all it has: the metal zippers are durable, and there's a combination lock so that no one could steal your belongings easily! Still, the list of advantages is not limited to it: there's an external USB to charge your smartphone. As you can see, it's a well-thought and quality backpack that meets all users' expectations and offers a variety of convenient features.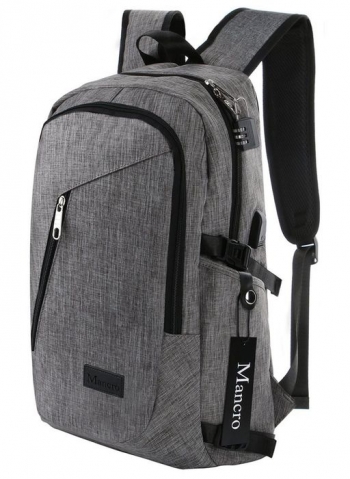 Technical details:
Dimensions: 20" (50.8 cm) x 12.2" (31 cm) x 5.7" (14.5 cm);
Number of pockets: 3 main pockets, 9 inner pockets, 2 sealed side pockets;
Material: nylon fabric;
Weight: 1.5 pounds (0.7 kg);
Features zippers and a combination lock.
Feedback summary
Since most customers love the backpack and find its features useful, there are ones who got easily breaking zippers or USB ports that do not work. We guess it's just fault items, but there's a possibility that the quality of material may vary. If you feel that you don't like the material, you can return it, and handle the zippers accurately. Other than that, it's a good and well-designed backpack.
This serious notebook case fits any style and is good for taking it while working or studying. It comes in two colours: grey and blue. Besides, there are different sizes available, so you can pick the one which fits your laptop best. The shoulder strap you see is removable and adjustable. There's a large exterior pocket with a zipper in which you can carry accessories for the laptop, a smartphone or whatever else you may need. The case is made of quality suit fabric-like material (the exterior part) and of bubble neoprene (the interior part). The bubble foam padding helps you protect your notebook from damage. Note that there are two pockets: the front one and the back one, though on most photos you can see only one of them.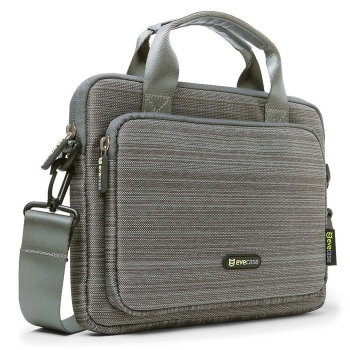 Technical details:
Exterior Dimensions - 360 x 275 x 40 mm (14.15 x 10.75 x 1.75 inch );
Interior Dimensions - 340 x 245 x 25 mm (13.25 x 9.5 x 1.00 inch );
Max interior diagonal: 425 mm (16.5 inch );
Weight: 1.1 pound (500 g);
Colours: blue, grey.
Feedback summary
It's one of the best cases for laptops you can find. As simple as that. Just make sure you pick the right size, and you get a good case which does its job very well.
III. Cooling Pads
This laptop cooler pad fits laptops of up to 19" (48.3 cm). The three height levels in has enable you to set the pad in the most convenient way. There are 5 fans with violet LED lighting which are both efficient and stylish. The pad looks especially good in the dark. While the cooler is powered, you can connect a smartphone or a mouse to it, as it's equipped with two USB ports.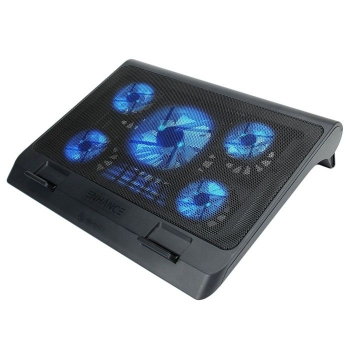 Technical details:
Fits laptops of up to 19" (48.3 cm);
Number of fans: 5;
LED colour: blue;
Dimensions: 13.5" (34.3 cm) x 3" (7.62 cm) x 17.5" (44.45 cm);
Weight: 3 pounds (1.36 kg).
Feedback summary
While the ones pleased with the item claim it's robust and silent, the ones who are not satisfied report noise and not enough cooling capabilities, but it can depend on the kind of a laptop you use (the laptops which have poor cooling systems sometimes cannot be saved by means of a cooling stand). It's a high quality product which is liked by most users, who if you're looking for a gaming cooling stand, it's definitely an option.
This cooling pad is a high-tech one. It fits laptops of 10" (25.4 cm) - 16" (40.6 cm). It features four fans of different sizes and LED lighting, as well as an LCD display. It's made of plastic and metal mesh to provide better air ventilation. The item is easy to install; you don't need any adapter: it's powered by means of a 5V DC USB. The display shows the mode in which the pad is running (from 1 to 6), and the three buttons on the panel are for turning the device on/off and switching modes.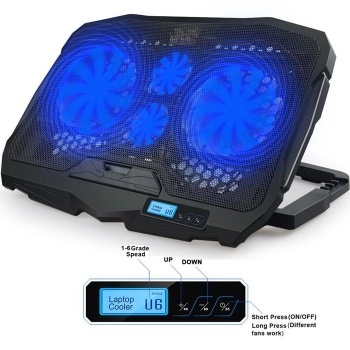 Technical details:
Material: plastic, metal mesh;
LCD display;
Blue LED lighting;
Dimensions: 15.7" (39.9 cm) x 11.4" (29 cm) x 1.4" (11.4 cm);
Weight: 1.8 pounds (0.8 kg).
Feedback summary
It's a cooling pad worth buying due to its efficiency, design and features (such as lighting and display). As to the drawbacks, some say the pad is not wide enough, and even 16" (40.6 cm) laptops do not feel comfortable with it. Yet others find it OK and use it successfully. Some people complain the display doesn't show the temperature and the device doesn't detect when to turn on automatically, but there are no such features specified, so these complaints do not count. All in all, it's a good and stylish cooling pad which is especially convenient to use if your laptop is not large, so check the specifications of your laptops and this pad before buying one.
IV. Other
A wireless keypad is a nice accessory if you need to use the numeric part of the keyboard often. Most laptops lack it, so this device may come in handy. There are white and black numeric keypads, so you can choose the one matching your laptop. The 18 keys include num lock, back space and numbers (see the pic). The 2.4 GHz wireless micro receiver enables to maintain stable connection with the laptop. Rubber non-slip pads are supposed to prevent slipping. Besides, there's the hibernation mode which turns on automatically. The unit needs 1 AAA alkaline battery (note that no batteries are included!).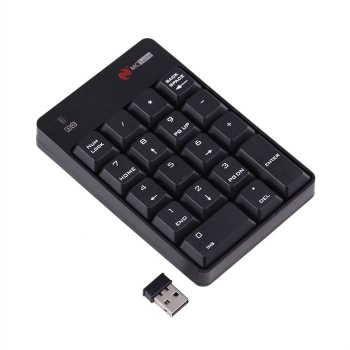 What's in the box?
1 x 18-key Wireless Numeric Keypad (1 AAA battery is needed, but it's not included);
1 x 2.4G USB Receiver;
1 x User Manual.
Technical details:
Number of keys: 18;
Colours: black or white;
Connection type: wireless;
Effective Range: 10 meters / 33 feet;
Weight: 95g / 3.35oz;
Size: 124 x 82 x 18 mm / 4.9 x 3.2 x 0.7 inch;
Operating frequency: 2.4GHz technology.
Feedback summary
We can conclude that the installation process is easy, it works fine and simply does its job. The working range is quite long, which is convenient. Besides, they say it's compatible with any PC, and it's another advantage.
2. PortPlugs - 13 Piece Set of Anti-Dust Silicone Plugs
It is a product which is designed to protect computer ports from dust, coffee splashes and other things which can damage them. They're white and opaque. The soft silicone material it's made of is durable and good to the touch. There are various plugs for different kinds of ports, so you'll get all the necessary plugs which fit most laptops. It's easy to insert them and remove, so you won't have to spend much time trying to get them out.
By the way, if you don't like the white set version, there's a blue one and a black one.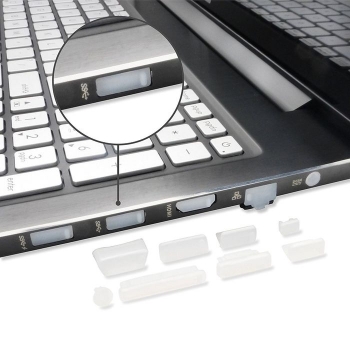 What's in the box?
4x USB Plug
2x 3.5mm Headphone/MicPlug
2x eSATA
1x SD Card Slot Plug
1x VGA Plug
1x RJ45 Plug
1x 1394 Plug
1x HDMI Plug
Technical details:
The set of plugs consists of 13 pcs;
Colour: white, blue, black;
Product dimensions: 4" (10.1 cm) x 3" (7.6 cm) x 0.3" (0.76 cm);
Weight: 0.3 ounces (8.5 g) (as stated by the manufacturer).
Feedback summary
Reviews vary, and not all customers report that it fits well. In some cases, the pieces are either hard to remove or tend to fall out. That's the only disadvantage of the set, so it's recommended that you check your ports before buying the set. Some prefer to trim the plugs with cuticle trimmers.
This notebook arm can help you position your notebook the way you want it. Good for working and using your laptop as a TV set, this arm fits laptops of up to 18" (45.7 cm) and of 17.6 lbs (8 kg) (which means you can use it not only for laptops, but for other screens and objects). The set includes all mounting hardware you need to install it.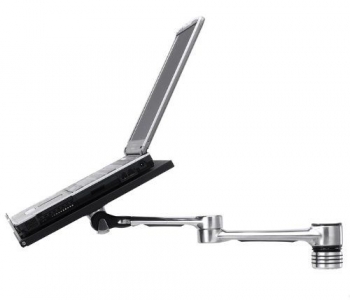 Technical details:
Compatible with the VF-AT, VF-M, VF-AT-NP;
Warranty: 10 years;
Allows 360 degree rotation around pole;
Provides 10 degree to 35 degree of adjustable tilt;
Adjustable pan: +/-90 degree;
Three pivot points;
Material: aluminum/polymer;
Maximum load: 8 kg (17.5 lbs);
Colour: polished silver;
340 mm (13.37 inch) height adjustment range;
360 degree articulation of arms;
180 degree pan adjustment;
25 degree tilt adjustment range;
+/-5 degree horizontal adjustment.
Feedback summary
Well, as there aren't that many reviews (only 15 of them), we cannot determine all its drawbacks and advantages, but here are some of them. First, it's pricey. Second, the joins are not that good, as one customer reported, and it isn't as sturdy as it might be. Also, one person said the notebook is tilted to one side if placed on the stand. Yet others claim it can be adjusted, so we can deduce from the reviews that this thing can work properly but needs adjustment.
Spilling coffee or other liquids is not beneficial for your laptop's health, so it's a good idea to protect it, and this keyboard cover is dedicated to it. There are really many colour options available (green, blue, rainbow, multicolour, etc.), so you can get the one you like most or the one which matches your laptop design. It's waterproof and dustproof, needs no glue and washable. This product is very convenient to use. For the full list of compatible notebooks, visit the corresponding page. We will just mention here that it's for HP laptops.
Before buying, check the position of your Enter key and other keys to avoid buying things that do not fit your laptop!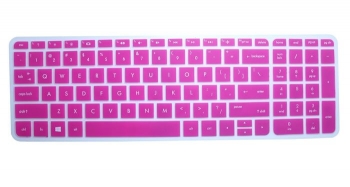 Technical details:
Dimensions: 9.8" (24.9 cm) x 6.3" (16 cm) x 0.4" (1 cm);
Weight: 0.3 ounces (8.5 g).
Feedback summary
The general impression of this item is good: it fits what it's supposed to fit and protects the device well. Yet it may not stay in place properly, as some people report, though the majority of users love it. Besides, if you use it often, the paint may wear. Other than that, it's a very good thing to buy: just make sure it's compatible with your laptop!
Since a notebook is a portable PC, the need to recharge it may arise, and here is when portable chargers come in handy. It can be used with other devices too, but its capacity (50000 mAh/185Wh) allows you to work using your notebook for a long time. There are 6 output ports for charging several devices at once. The K2 battery pack can be recharged within 6-8 hours. It's said to be capable of enduring 1000+ recharge cycles.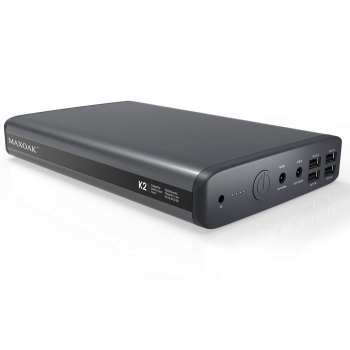 What's in the box?
1 x Laptop power bank (K2);
1 x Home charger;
1 x DC cable;
14 x Laptop charge connectors;
1 x Multifunction bag;
1 x Manual.
Technical details:
6 output ports: one 20V/3A for laptops, one 12V/2.5A for digital cameras, two 5V/2.1A and Two 5V/1A for most smartphones, iPads, tablets, etc.;
Capacity: 50000 mAh / 185 Wh;
DC input: 16.8V / 2.5A;
For the full description of connectors, see the corresponding item page;
Weight: 2.77 lbs (1.26 kg);
Dimensions: 8.1" x 5.3" x 1.3" / 20.6cm x 13.5cm x 3.3 cm (LxWxH).
Feedback summary
The general opinion is that it's an amazing powerbank with great capacity and flexibility in charging. Several people experienced technical issues with it. And yes - it seems like if you travel with this thing to Japan, it may be confiscated due to storing too much energy. So, the overwhelming majority of users love the products, and it's worth buying it.
A reading lamp is a must when you have to study in the evening using your laptop, work with scripts and just need a little bit more light. Just plug it in using USB, and you get a source of light which does not require much energy and can provide you with enough light to read books while typing. Besides, the gooseneck can be used for repositioning the lamp in such a way so that it becomes a kind of a backlight, which means it can help reduce eye fatigue caused by looking at the screen when it's dark. The item can be either black or white. The 2 LED lights it has are enough for typing. The lamp can work in two brightness modes.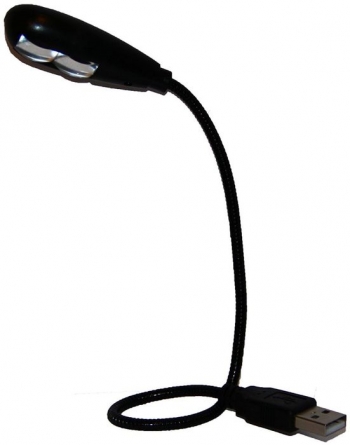 Technical details:
2 LEDs;
Gooseneck;
Colours: black, white;
Weight: 0.5 ounces (14.2 g);
Dimensions: 12" (30.5 cm) x 0.5" (1.3 cm) x 0.2" (0.5 cm);
Compatible with USB 2.0 and USB 3.0.
Feedback summary
It's a lamp worth buying, as it's lightweight and provide decent lighting. As to the negative reviews, most of those who've left them seem to have got a lemon, since the overwhelming majority of users find it good and efficient. Some say the gooseneck is not okay, others claim the on/off switch breaks easily, but these cases are rare. It's an item which is offered at a low price and does what it's supposed to do: what else might be wanted from a lamp?
Unlike the previous lamp model, this one is equipped with 8 LED bulbs. The manufacturer claims they ensure up to 80.000 of illumination. It also features a gooseneck for precise adjustment. The item is characterized by low power consumption and powered by means of USB.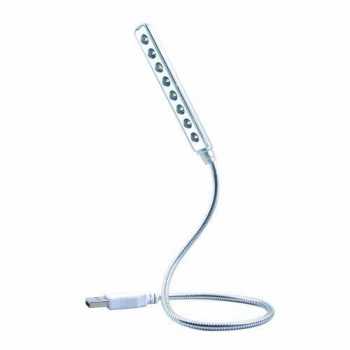 Technical details:
Number of LED bulbs: 8;
Colour: silver, black;
Dimensions: 17.7" (45 cm) x 3.9" (9.9 cm) x 9.1" (23.1 cm);
Weight: 2.2 ounces (62.4 g).
Feedback summary
The gooseneck is long and bends well, so fixing it is a breeze. The bulbs provide decent illumination and are good for reading and typing when it's dark. The rating of this item is almost perfect, and it's definitely worth buying. As to the minor drawbacks mentioned, it's too bright to be a bedside light, as one person mentioned, and the durability is also disputed by some of the users. Other than that, it's a quality item which serves well as a lamp for reading and typing.
One of the leading products in the USB hub market, this hub is a good example of what a USB hub must be like. With this item, you can connect four USB 2.0 or 1.1 devices to any computer which has a USB 2.0 port. It is capable of transferring the data at the speed of up to 480 Mbps. There are four blue LED indicators (one LED per port) for power switches. With this item, you can have all your peripherals, such as tablets, smartphones and other accessories, working and charging simultaneously. For those who need more ports, you can make a chain thus getting 127 ports for devices.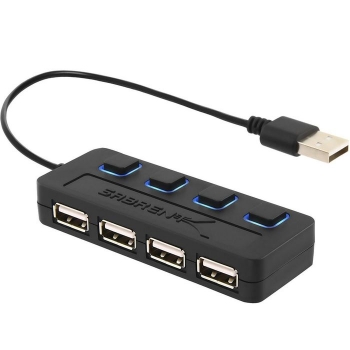 Technical details:
Number of USB 2.0 extension ports: 4;
Weight: 3 ounces (85 g);
Dimensions: 1.2" (3 cm) x 0.5" (1.27 cm) x 3.2" (8.13 cm);
Computer memory type: WRAM;
High-speed (480Mbps), full-speed (12Mbps), and low-speed (1.5Mbps) data transfer.
Feedback summary
The unit is characterized by amazing quality. Most negative reviews are due to getting lemons, which aren't common. The only drawback is that if you intend to use it with four flash drives, they must be small, as the spacing between the ports is limited. Other than that, it's a thing definitely worth buying if you need to connect more devices to your laptop!
It's quite a unique item - it's a device designed to cool your laptop, but it's not a pad: it's a vacuum pad which is attached to the exhaust vent by means of an appropriate silicone cap. Here's how to use it: choose the silicone cap which fits the size of the exhaust vent (so that it would cover it), tear the reusable tape and attach the cooler to the laptop. Then you switch the power on and set the right wind speed, thus making your laptop cooler.
It's recommended to use it with side vents, not rear vents. The item has brutal gaming design with blue LED lighting. Using the rotary switch, you can adjust wind speed according to your needs.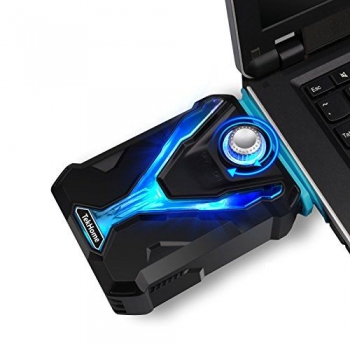 What's in the box?
Laptop Cooler x 1;
Silicone Shroud x 4;
USB Power Cable x 1;
Rubber Pad x 4.
Technical details:
5200±10% R/Min, multi-blade turbine fan, 100% copper coil, permanent magnet;
Comes with 4 silicone shrouds (0.6" (1.52 cm) - 1" (2.54 cm) high, up to 3.6" (9.14 cm) wide);
Weight: 6.9 ounces (195 g);
Dimensions: 9.5" (24.13 cm) x 3.8" (9.65 cm) x 2.4" (6.1 cm);
Made in China.
Feedback summary
The rating could have been better, yet it's still a good product which can serve you well (especially since the price is quite low). As to the drawbacks, it seems to be too bulky (some people find it inconvenient to carry), others say it does not attach appropriately and needs some kind of adjustable legs. Besides, there's an opinion that it's too loud. These are the major complaints, and none of them prevent the item from cooling your notebook, so if you can overcome these issues (if you happen to feel the same way about this thing), then it's a good product for cooling your hot laptop.
Another innovation is the laser projection virtual keyboard. Instead of carrying a real keyboard for your laptop, smartphone, tablet or other device, you can have thing little box which will create a keyboard on a flat surface (such as a table). It shows a standard English QWERTY keyboard (with major keys, such as ctrl, alt, etc.). There's a rechargeable lithium ion battery which comes with the product. By the way, it even makes a clicking noise when you hit a virtual button!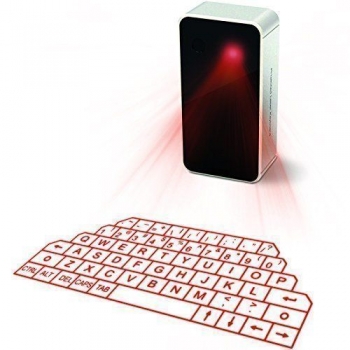 Technical details:
Connectivity technology: Bluetooth;
Dimensions: 4.72" (12 cm) x 1.97" (5 cm) x 2.76" (2 cm);
Weight: 4.96 ounces (140 g);
Virtual keyboard colour: red.
Feedback summary
The reviews are mixed, and major complaints cover the following: it takes time to get used to tying with this keyboard, because the response time is different, as well as the accuracy level, and it takes you two motions to use the shift key or similar ones (as you can't press several keys simultaneously). As they report, the faster you type, the worse the accuracy of detection, so if you type fast, you'll have to correct what you've written very often. It's not for games such as shooters, for instance (we means the games where you have to hit the buttons fast). Actually, it's a good toy with which you can type rather slowly, but still it may come in handy in some situations.
It's a network adapter which can help you connect portable wireless devices to your laptop. It utilizes 2x2 MIMO technology, but mind that it does not provide the Internet connection unless you have an existing service plan! The data rate is up to 300 Mbps, and the connection is stable. the design of the item enables it not to protrude too much, so it doesn't stay in the way. With this item, you can add high-speed Wireless-N (draft 802.11n) Internet access to any USB enabled laptop.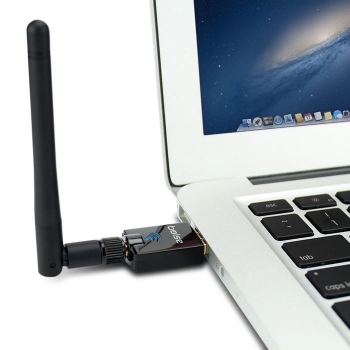 What's in the box?
1 Wireless USB Adapter;
1 Driver Software CD;
1 User guide.
Technical details:
Compatible with Windows 7, 8, vista, XP; MAC OS X 10.5 Greater;
2x2 MIMO technology;
Data rate: up to 300 Mbps;
Plug and Play USB 2.0 interface;
As stated by the manufacturer, it works with older Wireless-G and Wireless-B networks;
Operating distance: 300 feet (91.4 m) indoor, up to 900 feet (274.3 m) in open places;
Utilizes enhanced WEP and WPA wireless security technologies;
Supports Mac OS X 10.5 Greater; does not support Mac OSX 10.10 Yosemite;
The device won't work with Xbox 360, PS3, Blu-Ray, Roku, devices without operating systems (OS), or dual band routers only broadcasting N-speeds on 5GHz wavelength;
Dimensions: 5.5" (14 cm) x 5.5" (14 cm) x 1.3" (3.3 cm);
Weight: 3.5 ounces (99.2 g).
Feedback summary
The critical review authors report low speed, unstable connection and incompatibility with some devices, but as these cases are not common (there are many satisfied users), we believe these cases are due to getting fault items or operating them under unusual conditions. 399 out of 564 users claim it's a good product which ensures stable connection within quite long ranges. So it really seems to depend on the conditions under which it's used.
This blue star cover fits 15.6" (39.62 cm) laptops and makes them look gorgeous. Yet if you have a smaller notebook, you can trim the skin so that it would fit your laptop. The leather effect finish makes it good to the touch. The skin leaves no residue if removed.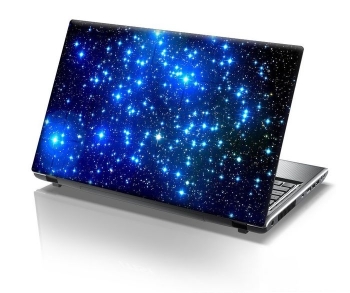 Technical details:
Dimensions: 38 cm x 25.5 cm (15" x 10") (fits 15.6" laptops);
Printed and laminated in the UK;
Printer: HP Latex L25500;
Finish: leather effect.
Feedback summary
Some people report the image is fuzzy, and the colours are oversaturated. Besides, the skin doesn't work well in the corners. Yet most people love the look of it, and poor sticking in the corners seems to be the worst issue experienced in the course of using the item. Other than that, it's a product worth buying if you want to decorate your laptop.
It's a black privacy filter for widescreen laptops which can help you protect your privacy from the ones trying to make out what you're googling while at work, studying and in other places. There's also a gold version in case you don't like black. There are different sizes available, so please check you've picked the right size before buying. The product is reversible, and the matte side reduces glares and reflections. Besides, in helps you protect the screen from dust, debris, scratches, etc. You can easily clean it with a soft cloth and some water. With this filter, one can see the information displayed on the screen only if looking at it from in front of the screen: it blocks side views outside the 60 degree viewing angle. There are 2 ways to attach it: either by means of optically clear adhesive strips, or with the help of easily removable slide mount tabs.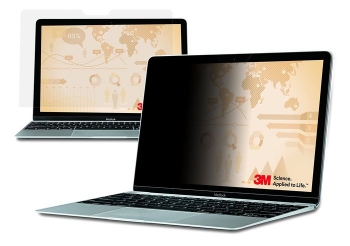 Technical details:
Size: 14" (35.56 cm) (there are other sizes available);
Aspect ratio: 16:9;
Colour: black, gold;
Dimensions: 12.2" (31 cm) x 6.9" (17.53 cm) x 0.02" (0.05 cm);
Weight: 1.4 ounces (39.7 g).
Feedback summary
There's an important review that says the black version may alter the screen image thus causing headache, while the gold one does not have such an effect. Some people don't like plastic tabs, others think it does not provide much privacy, but at least there's a way to attach it using adhesives, and it does help reduce the angle at which one can look at the screen. Still, the viewing angle may be too wide for protecting your information, say, if you're travelling by plane, so if you need a product which has a 10 degree viewing angle, you may find yourself looking for another option. If the characteristics of this item are ok for you, it'll serve you well.
These AmazonBasics laptop speakers are a must if you need portable speakers you can carry anywhere. The low price, the quality, the design: everything in them makes them one of the bestsellers. They are USB powered, and all you need is to plug in the speakers to enjoy good quality sounds.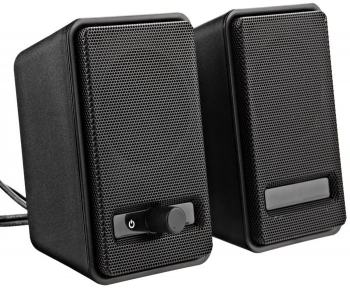 What's in the box?
Speaker x 2;
User manual x 1;
USB cable x 1;
3.5 mm stereo audio cable x 1.
Technical details:
Power Supply: 5V;
LED indicator;
Total RMS Power: 3W (1.5 per speaker);
Colour: black;
Requires a 3.5 mm jack;
Dimensions: 3.1" (7.87 cm) x 3.1" (7.87 cm) x 4.9" (12.45 cm);
Weight: 1.3 pounds (0.6 kg).
Feedback summary
This item is one of the best options if you need small but quality speakers for your laptop. Among the drawbacks mentioned in the reviews are the high pitch buzz they emit, 'basic' quality sound and breaking after several months. Well, these speakers are basic, as the name suggests, and the sound is not supposed to be pure. Since the overwhelming majority of users find it good, we can recommend these speakers as reliable ones.
This professional microphone for laptops is great when common small microphones are not enough. Following the plug-and-play principle, all you need is to connect the microphone to your laptop, and it's ready for recording. It features a desktop tripod for stable installation. It's portable, so you can take it anywhere. The manufacturer claims the device is characterized by low distortion, high fidelity, balanced frequency response and exceptional HD audio.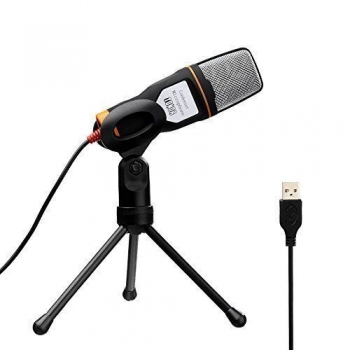 What's in the box?
1 x USB Audio Condenser Microphone;
1 x Mini desktop tripod;
1 x 2 m cable.
Technical details:
Effective recording distance: 10 ft (3 m);
Sensitivity: - 55 dB 2dB;
Impedance: <= 2.2 K;
Operation voltage: 1.5V;
Frequency response: 50Hz-16KHz;
Sensitivity reduction: within -3dB at 1V;
S/N ratio: more than 36 dB;
Cord length: approx. 2 m;
Weight: 10.6 ounces (300 g);
Dimensions: 10.9" (27.7 cm) x 5.9" (15 cm) x 1.7" (4.32 cm).
Feedback summary
They say it's good for making audio podcasts and similar purposes, yet there are drawbacks too: it's a little quiet and needs some (+10dB) amplification, short lifespan and fault items are also mentioned in the critical reviews. Still, slightly more than 50% of users find the quality of sound enough for podcasts, Skype and similar purposes, so it seems to depend on what you expect from it. It doesn't seem to be a high-grade professional microphone, as we can see from the reviews, but it's acceptable for ordinary tasks. As the users say, for 20$, the sound is pretty good.
V. Conclusion
So, to make the most of your laptop, you can:
Improve its performance by adding cooling pads to it;
Position it in the most convenient way to reduce neck strain and eye fatigue;
Decorate it using covers;
Protect it using cases, backpacks and filter screens;
Add new features such as a numeric pad.
And do much more! As you can see, with such a great variety of tools and accessories, a mere laptop can be turned into a portable station for working, studying, watching movies, etc.