RacknRoll: 10 Monitor Mounting Kits For Convenience And Flexibility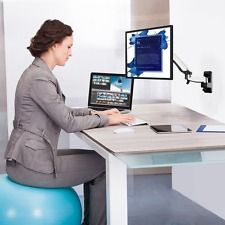 Working with monitors (especially if you need two of them) can be challenging if you experience lack of space and use it both when standing and sitting. To facilitate such things, monitor mounting kits are available. Below you'll find descriptions of 10 mounts, some of which can accommodate not only your display, but also your keyboard, mouse and even CPU. Add some flexibility to your office and desk!
Having two monitors connected is useful in a number of ways: you can watch TV using the screens to see a wider picture, combining the data streamed by the two monitors; you can monitor two cameras for surveillance, etc. This kit is designed for mounting two monitors together. The kit features a handle for easy screen repositioning. It fits various screens of sizes 17" (43.2 cm) - 24" (61 cm). The item can be attached to various mounts of a 50 mm x 50 mm (2" x 2") or 100 mm x 100 mm (4" x 4") hole pattern. One of the distinctive features of this model is the opportunity to conceal cords, as you can route them behind the displays. You can combine the item with another Ergotron product, namely an MX arm.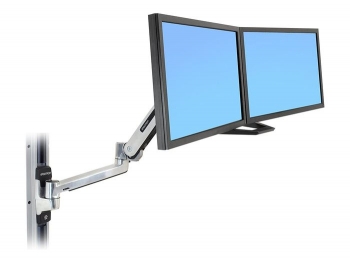 Technical details:
Screen size compatibility: 17" (43.2 cm) - 24" (61 cm);
Can be used with mounts of a 50 mm x 50 mm (2" x 2") or 100 mm x 100 mm (4" x 4") hole pattern;
Dimensions: 3.9" (9.9 cm) x 29.1" (74 cm) x 15" (38.1 cm);
Weight: 8.4 pounds (3.8 kg).
Feedback summary
According to the feedback, this model is really solid and sturdy, so monitors are not likely to fall, which is definitely an advantage, since durability is one of the key characteristics of this kind of products. Yet some users may find the adjustment handle rather short. Many of those who bought it find it a nice addition to a second monitor. It's especially good when combined with an Ergotron MX arm. With the help of the kit, you can rotate tour displays, slide them from side o side and have them staying in place using a set of thumbscrew locks. Mind that it's no good to combine the product with a single-monitor Ergotron unit: it's supposed to be used with a double-monitor unit, otherwise the weight of two monitors will be too much for a single-monitor unit. Please pay attention to it when buying - the info about it is stated in the specifications!
While the previous model is for wall mounting only, this mount is designed to hold two monitors on your desk. It fits monitors of up to 27" (68.6 cm). Whatever desk you have, the V-base will fit it. There's also an optional Grommet base, but there's a restriction of 4" (10.2 cm) max. The kit will enable you to adjust your monitor the right way, as the construction helps you rotate displays appropriately, which means you can switch between portrait and landscape modes. The arms of the product can be extended and retracted, and the design also makes it possible to tilt monitors to set the right reading angle. With such an easy-to-install kit, you can turn your desk into a 2-monitor station which you can adjust depending on your current needs. The kit features the mount itself, hardware for mounting and instructions for installation.
P.S. The item looks like Walle the Robot; perhaps, it can be the reason it's called WALI!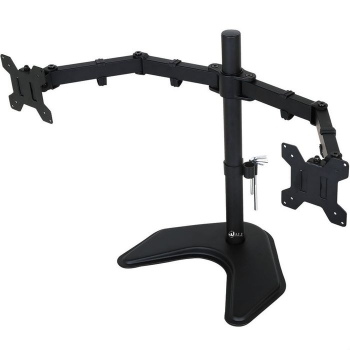 Technical details:
Monitor compatibility: up to 27" (68.6 cm);
Grommet base desk compatibility: 4" (10.2 cm);
Colour: black;
Max weight per arm: 22 lbs (10 kg);
VESA plates: 75 mm (3") x 75 mm (3"); 100 mm (4") x 100 mm (4") (attachable with the help of 4 screws);
+-0.8 inch (2 cm) monitor height adjustable by twisting screws;
Switch between V-base and Grommet base modes;
Weight: 11 pounds (5 kg);
Dimensions: 18.8" (47.7 cm) x 11.6" (29.5 cm) x 4.6" (11.7 cm).
Feedback summary
Good adjustment capabilities, easy assembly and convenience are among its features mentioned in the reviews most often. As to the drawbacks, some claim the base is not as stable as it might be, the tilt feature requires that you torque it down, so it may lack some stability (from the point of view of those who rated the product as average). Also, there's a person reporting that the cable clips are very weak. Besides, the screws are rather long. Other than that, the quality of the item is good (if not wonderful), so you are unlikely to be disappointed if you buy it: lots of positive reviews suggest it's an item worth buying!
You may be wondering what you can use if you need only one display, not two. Here's the solution which can help you install and adjust your monitor if there's only one. This gas spring assisted full-motion desktop mount is an elegant item which can help you reduce eye strain, since using it enables you to position the monitor you use in such a way so that it gets more convenient and comfortable to look at. The VESA plates can be rotated, which means you can position your display horizontally and vertically (e.g. landscape and portrait modes are both available). The arm is foldable, its total length makes up 22" (55.9 cm), so with such an extension you can free quite a lot of useful desk space. Be careful when buying the item, as it's compatible only with desks which are 0.8" (2 cm) to 3" (7.6 cm) thick. The construction features a Grommet mount, which means the installation is flexible and easy. It's a nice product for a single monitor.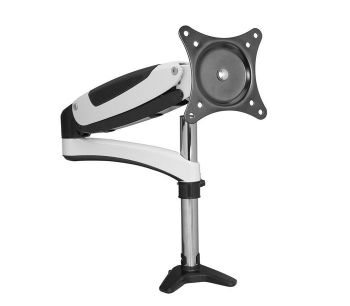 Technical details:
Grommet mount fits surface holes of 3/8" (1 cm) to 2.25" (5.7 cm) wide and up to 3" (7.6 cm) thick;
Extends up to 22" (55.9 cm);
Compatible only with desks which are 0.8" (2 cm) to 3" (7.6 cm) thick;
VESA plates;
Weight: 8.8 pounds (4 kg);
Dimensions: 5.3" (13.5 cm) x 18.8" (47.7 cm) x 9.9" (25.1 cm).
Feedback summary
It's difficult to say whether the reviews are mostly positive or negative, since there's only one review (as of the beginning of June, 2017). Well, technically one 5* review makes the overall statistics positive, so let's take a look at it. As the user claims, the item is easy to install and characterized by great maneuverability and adjust capability. It really helps clear some space on your desk. All in all, despite the lack of reviews, it seems to be a good product which is sturdy and convenient, so it's definitely worth a try.
Mounting can vary, and it's not always the case that you need an extendable arm to rotate your monitor and move it. This mounting kit aims at a different positioning: it holds monitors less than 1" (2 cm) from the wall, so it's an appropriate solution for bedrooms, kitchens and office rooms where moving monitors is not needed. To insure better durability, the item is made of steel. The low profile of the item is the design feature which makes it one of the best options to choose when all you need is to have a monitor mounted on the wall without standing in everyone's way. It can hold monitors of up to 30 lbs (13.6 kg), so there are quite many models which fit the requirement.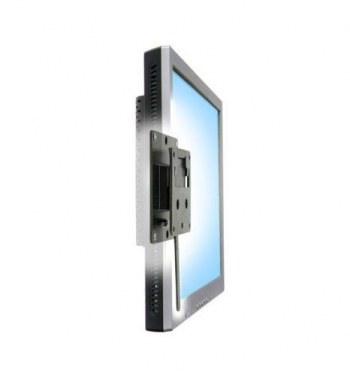 Technical details:
Holds monitors of up to 30 lbs (13.6 kg);
Weight: 2.1 pounds (1 kg);
Dimensions: 6.7" (17 cm) x 6.7" (17 cm) x 2.1" (5.3 cm);
For a single monitor;
Colour: black,
Feedback summary
The number of the reviews published by the verified purchasers is not great: there are only 9 of them, but most of them suggest it's an excellent item. The only reported drawback is its locking mechanism, as it's a little hard to reach. Other than that, it's a heavy duty mount without screws and you can use it on a regular basis.
Another solution for mounting a single monitor, it's a nice model that looks sleek and stylish. 360º rotation enables you to position the monitor in any way, and tilting/adjustment capabilities are also impressive. The arm adds flexibility and helps you save space while having your working place more convenient. It can be attached to any standard desk, so it fits most office tables (though it's actually for wall mounting, some users prefer to install it on desks). The arm is compatible with monitors which are less than 27" (68.6 cm), so keep it in mind when choosing. The VESA plate, aluminum arm and desk clamp base make a nice combination. The max extension range is 26.7" (67.8 cm).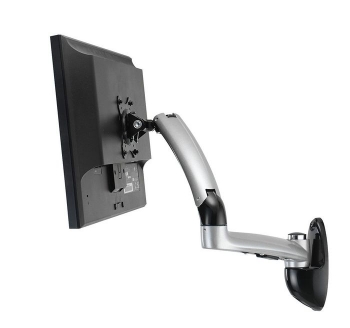 Technical details:
Monitor weight capacity: 8.4 lbs (3.8 kg) - 17.8 lbs (8 kg);
Monitor size: any size within weight range;
VESA Compatibility: 75 mm (3") & 100 mm (4");
Height adjustment: 14" (35.5 cm);
Extension range: 24" (61 cm);
Tilt: +90º / -45º; pan: 180º;
Rotation: 360º;
Warranty: 3 years;
Weight: 8 pounds (3.6 kg);
Dimensions: 5.5" (14 cm) x 16.5" (42 cm) x 18" (45.7 cm).
Feedback summary
Though, the overall rating is fine, there are drawbacks which are stated in the feedback. So, the instructions are confusing as to whether you need an anchor for a particular type of walls. Besides, there's a minimum weight requirement of 8 lbs (3.6 kg) (as stated by one of the users) which is needed to position a monitor, otherwise it will be all the way up. Since these drawbacks can be called minor, and one of the three negative (or so-so) reviews is unmotivated, it's still a good product that will be a decent choice.
Mounting your monitor on your desk can be tricky, and the better variety of solutions designed to free your desk space you have, the better. It's another product for attaching a single monitor and making it possible to tilt it and adjust it in order to look at the display at the right angle. With this item, you can work with the monitor both when sitting and standing, as you can move and position it with ease. The CF motion technology, a patented feature, makes adjustment a breeze, so you won't need dozens of minutes to reposition your monitor. Reducing eye, neck and back strain is the key purpose of the product.
The class of the item is different from the ones mentioned above, which affects the cost, so this product can be considered a premium one.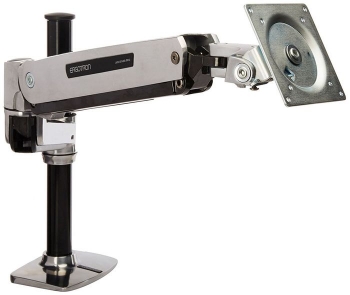 Technical details:
Height range: 20" (51 cm);
Extends up to 33" (84 cm);
Patented CF motion technology;
Max monitor weight: 30 pounds (13.6 kg);
Min monitor weight: 6.3 kg (14 pounds);
Colour: polished aluminum;
Weight: 17.6 pounds (8 kg);
Dimensions: 25" (63.5 cm) x 14.75" (37.5 cm) x 7.5" (19 cm).
Feedback summary
There's not much to say about it apart from the fact that there's a minimum weight requirement. Also, there's a minor drawback mentioned in the reviews: it's pricey. If you're looking for a more affordable solution, try the model listed above. Another interesting note: the hinge will let you tilt the monitor upwards, but they say you can disassemble the item and reverse the hinge so that you could tilt it downwards. Except for the price, there are no major flaws stated.
As you can see in the picture, the key feature of the model is that it's not an ordinary arm: it's a combo arm which you can use with a monitor and a keyboard simultaneously. The kit includes a handle, wall bracket, articulating arm, support tray, and wrist rest. The 3-point telescopic motion system helps you position the monitor appropriately and place it just where it's needed. It helps free much more space, since the keyboard and wrist pad can now also be held in the air instead of taking space on the desk.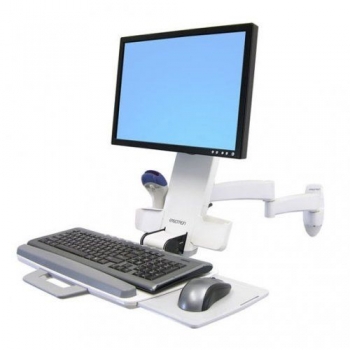 Technical details:
Materials: plastic, aluminum, steel;
Compatible with monitors of up to 24" (61 cm);
Mounting interface: 100 x 100 mm (4" x 4"), 75 x 75 mm (3" x 3");
Weight: 22.7 pounds (10.3 kg).
Feedback summary
Unfortunately, there are no reviews yet, but we can assume that such a famous brand as Ergotron wouldn't sell a product that costs so much if it wasn't at least decent.
An analogue of the previous model, this product enhances its capabilities and adds even more features, saving even more space. If the previous item could hold a monitor, a keyboard and a wrist pad, this one also helps you attach you CPU to the wall. The elements of the system are amazing: there are the cable duct, mouse holder, CPU holder, wall mount, keyboard arm, 2 wall tracks, mouse shelf, and a wrist rest. With such a kit, you can turn your ordinary computer into a wall-integrated system. You can fold the arms to move your computer closer to the wall when it's not in use. Rotating a monitor is also possible.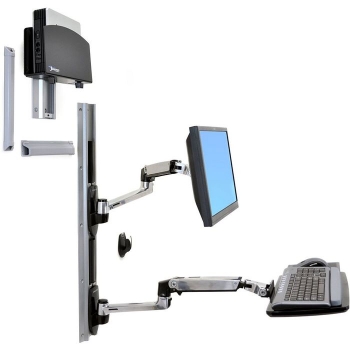 Technical details:
Material: aluminum;
Max monitor size: up to 24" (61 cm);
Mounting interface: 100 x 100 mm (4" x 4"), 75 x 75 mm (3" x 3");
Warranty: 5 years;
Weight: 35.7 pounds (16.2 kg);
Dimensions: 18.3" (46.5 cm) x 8.6" (21.8 cm) x 8.5" (21.6 cm).
Feedback summary
We couldn't miss the product because of its, so to say, comprehensive approach and the ability to accommodate quite a lot of equipment, yet there are no reviews as of the beginning of June, 2017. Perhaps it can be explained by the high price.
This model is different from others because it offers a stand on which you can position your monitor, laptop or other things. There's also a platform for a keyboard. The desk height can be adjusted, so it's more like a flexible stand than a conventional arm. It takes one touch of the level to reposition the platform. You can also remove the keyboard tray in cause you need more space. The back tilt keyboard tray makes typing easier. The soft wrist rest helps you reduce wrist strain, as the posture will be more natural.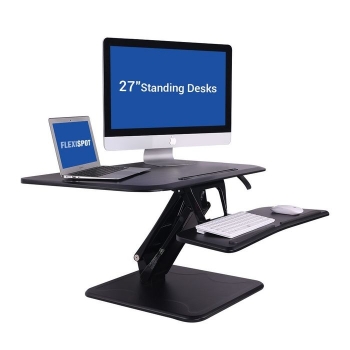 Technical details:
Product weight: 50.6 lbs (23 kg);
Max.loading weight capacity : 33 lbs (15 kg);
Dimensions (Weighted Base): 15.7" (40 cm) x 19.3" (49 cm);
Dimensions (Flat): 6.5" (16.5 cm) x 26.8" (68 cm) x 20.5" (52 cm);
Dimensions (Extended): 16.7" (42.4 cm) x 26.8" (68 cm) x 28.9" (73.4 cm);
Extension Height: 16.7" (42.4 cm) (Footprint Surface) & 11.3" (28.7 cm) (Keyboard Tray);
Work surface measures: 26.8" (68 cm) x 28.9" (73.4 cm) (Display Surface & Keyboard Tray);
Keyboard tray measures: 26.8" (68 cm) x 8.46" (21.5 cm).
Feedback summary
There are 34 reviews in total, and only 4 of them are critical. Among the flaws mentioned are threading wearing out soon, poor keyboard stabilization, the need to prop up the display if it's too heavy and poor quality screws. Perhaps these are lemons, since the majority of reviews suggest it's a nice (though quite pricey) model that is able to make your office experience better. In short, it's "well worth the cost" ©.
If you have ever wanted to be hugged by monitors, well, now you can! These dual arms are good at both hugging their owner and positioning monitors! One of the few non-Ergotron items, this AmazonBasics solution lets you mount two monitors and reposition them independently. Tilting, rotating, adjusting: making your displays stand the right way is very easy. Strain reduction is what this item servers for, and if you prefer dual arms, then it's an item worth buying.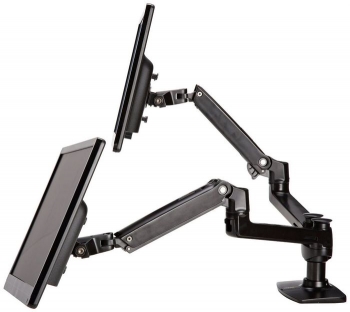 What's in the box?
Upper Arm (2 arms);
Lower Arm;
Base;
Grommet Bracket;
Bracket Cover (2 pieces);
Wing Nut;
10mm Knobs to attach monitor arms to your monitor (8 pieces);
10mm screw (4);
6mm screw;
4mm Allen Wrench;
2.5 mm Allen Wrench;
Cable ties (4 pieces);
Instruction Manual.
Technical details:
Tilt range: 70° back and 5° forward;
Desk clamp fits desks between 0.4" (1 cm) up to 2.4" (6.1 cm);
Max monitor weight: 20 lbs (9 kg);
VESA compatible;
Warranty: 1 year;
Max desk thickness: up to 2.6 inches (66 mm) thick;
Grommet mount: through a hole 5/16 to 2 inches (7 to 51 mm) wide and up to 3 inches (80 mm) thick;
Monitor compatibility: up to 27" (68.6 cm);
Weight: 7.8 pounds (3.5 kg);
Dimensions: 25.6" (65 cm) x 6.9" (17.5 cm) x 16.2" (41.1 cm).
Feedback summary
The item is durable, flexible and convenient, as the majority of purchasers claim, but there are also 29 critical reviews, from which we can learn that according to some clients' opinion, the product screws are stripped (perhaps it's a lemon); also, 2 customers said the item could not hold their 12 lb (5.4 kg) monitor (so they assumed it's designed for smaller models); besides, some parts for installation may be missing. We recommend choosing this item for lighter and smaller monitors to avoid such issues, as there are several people reporting it's not very good at holding heavy items. Be ready to return the item and have it replaced because there are cases when there is not enough parts to assemble it: it does not actually concern the quality of the product itself, but such a thing can happen. All in all, it's a decent and well-built model that is good to choose when your monitors aren't heavy.
As you can see, Ergotron dominates the list, since there are always market leaders who offer the best variety of products. There are mounting solutions for any kind of buyers: from basic products costing the price of a piece of cheese to advanced models that you'll need to pay hundreds of dollars for. Choose the one fitting your needs, and don't forget to start choosing by determining whether you want to mount your monitor on a wall or on your desk. Of course, pick the model that fits the amount of displays you need to be adjusted. Check the specifications of your monitor to ensure its weight and dimensions are within the range stated in the mounting kit details. Install a mount and enjoy the flexibility of moving your display!