Best Portable Solar Chargers: A Comprehensive Buying Guide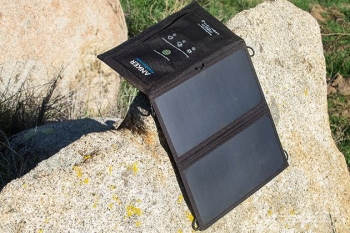 Stuck in the wilderness with no one to help? Cannot share a photo of your child playing on the beach? Or GPS app is unavailable as your cell phone needs some power? All these issues (and many others) can be solved if you have a portable solar charger - a small, yet useful device letting the Sun help you out if you need to get your cell phone, laptop or some other device working.
1. Drawbacks of portable solar chargers;
While certainly providing their owners with some electricity, portable solar charges have several drawbacks that cannot be ignored.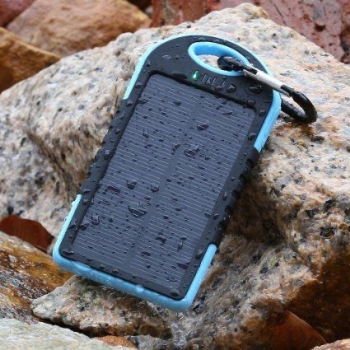 Expensiveness. Solar chargers are generally way more expensive than common chargers (say, 75$ compared to 20$ for a normal battery charger);
Limited reliability. As portable solar chargers work only during the daytime, they are not that reliable in terms of stable supply. If it's a cloudy day, you may find yourself wondering why this gizmo won't work. Also, the device won't store the energy accumulated during the day forever, so make sure you start charging your cell phone in the evening;
Specialization. Some versions of portable solar chargers are designed to work only with laptops, others are for cell phones, so it may so happen that you will carry a number of chargers for different devices;
Long charging process. It takes quite a lot of time to charge a device with solar energy. In case of emergency such pattern may not be the best choice;
Relatively low efficiency. Science is certainly developing, but it's still not possible to use a pocket solar charger for a laptop, cell phone, portable coffee maker and fan at the same time. So think wisely what you need this device for;
2. Types of portable solar chargers;
There are different types of portable solar charges with special characteristics.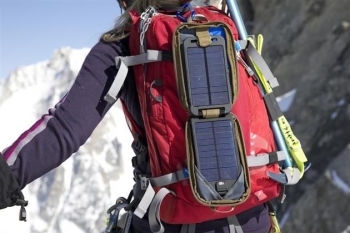 CIGS. CIGS stands for copper, indium, gallium and selenide. These are flexible panels reminding of Salvador Dali's clock. This kind of solar chargers is made of thin film solar cells, it's lightweight, but not durable, so it isn't recommended to use them outdoors often. Integrated flexible fabric or plastic (or some other material) is easily damaged and generally not long lasting. CIGS panels are less efficient than monocrystalline panels, except for cloudy weather, as CISG has better characteristics in terms of performance in conditions when there's not much light. Some models have the efficiency of 16%;
Monocrystalline. Good old rigid monocrystalline panels are heavier that CIGS panels, but will serve you longer. If the weather is not cloudy, they also have better efficiency than CIGS panels. Monocrystalline panels also can be folded and are manufactured in various shapes. These are generally black. The efficiency is about 22%;
3. How to choose a portable solar charger;
For a person who does not have much experience using such devices, it is quite easy to get lost in all these watts, voltages, and other terms that may look scary. Let's try to think about what things to consider when buying a portable solar charger.
But before we start doing so, let's consider whether you need a solar charger at all. Yes, that's a weird question, but all you need a solar charger for is a 1-day trip, then it's better to take a power bank that will be enough to charge your cell phone (or whatever else you may need) 3 to 4 times.
If you intend to go on long journeys where no other sources of electricity will be available, then a portable solar charger is really the best (or only) option. So, getting back to the criteria to stick to while choosing, let's take a look at them.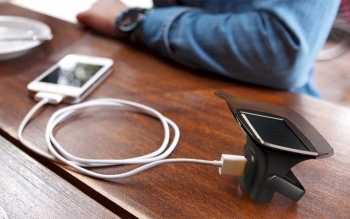 Wattage, or what to charge. This parameter affects what you will be able to charge with the solar panel. Think of what you will need to charge. If that's a simple smartphone (not the latest models), then a 4-5 watt charger will work fine. Though, products made by Apple can be called iHunger, since they require a lot of energy, and to 'feed' an iPhone, you will need a 7 watt panel; 15 watts of power are needed for iPads, and if you intend to charge laptops, you will also need a battery and DC-to-AC inverter. Keep in mind that devices with lower wattage (say, 4-6) charge way slower than chargers with higher wattage! For instance, it generally takes 3-4 hours to charge a cell phone with a 4-6 watt charger instead of 1-2 hours if using a higher wattage portable solar charger for cell phone;
Output power, or where you are going to use it. Think of where you intend to use the charger, since in many regions weather is rainy most of the time, which means you will want to use rare sunny minutes with maximum efficiency. When choosing a portable small solar battery charger, pay attention to output power, but read the specs carefully, as the manufacturer may state the max amperage for one port or all of them;
Check connections, or what to charge 2.0. The majority of portable solar panel chargers come with a USB port (or several ones), though there are devices that cannot be charged with them without a special adapter (for instance, photo cameras). So think what you will need to charge and what adapters you may need. Devices using a 12 volt cigarette charging port rarely work with solar chargers;
Integrated batteries. This feature is very useful if you want to leave your solar charger sunbathing and do your business while it is busy accumulating power for your cell phone. It's very convenient if you want to store energy received from the Sun rays;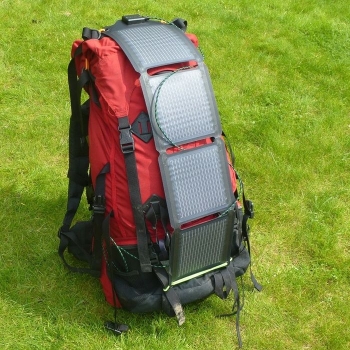 Convenience. There's no sense taking a sophisticated solar station to a picnic. That would be funny, yet inconvenient. It's recommended to choose a model that will be easy to use and not require much time installing. Also pay attention to special grommets or other design elements to attach the panels to a backpack or somewhere else;
Weight. Weight matters when you go on a long trip with a backpack. If you are not going to carry your portable solar charger all way long, weight is not that crucial, so think of when you may need such a device;
Price. Consider your budget, since solar powered devices are rather expensive. Sometimes it's cheaper to buy a solar charger without a battery and a separate external battery. It may also be more efficient to use it this way.
4. Reviews of popular models;
In this section we would like to present some of the best portable solar chargers.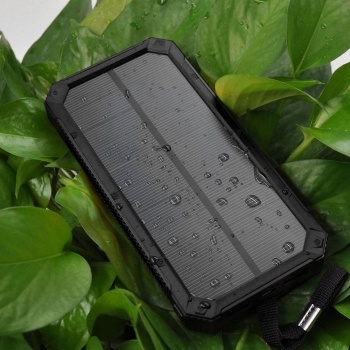 This item is sold on Amazon.com. This portable solar cell phone charger is one of the most popular models, though it charges very slowly if using only the Sun rays.
12000 mAh capacity;
Compact solar panel that charges the built-in battery for emergency use;
Dual USB ports: 2.1 A (for iPads and other tablets) and 1.0 A for smatphones and other devices;
Two ports can be used simultaneously;
Compatible with devices with 5V/1A-2.1A input;
LED flashlight;
Highly portable: lightweight and convenient to use, as it coves with a hook to hang it on the backpack;
As the manufacturer claims, the efficiency of energy transformation from solar to electric energy is really low (about 30%), so it is recommended to recharge it using a wall charger to make the power battery fully activated;
4 LED indicators of charging status;
Rainproof, shock-resistant and dust proof;
Lifespan with more than 500 recharging times;
Dimensions: 6.3 x 0.8 x 3.1 inches (16 x 7.9 x 2 cm);
Weight: 9.6 ounces (220 grams);
Customer reviews suggest that it takes a while to charge up the battery, but it is capable of charging an iPhone 6 three or four times and an iPad at least twice. Almost everyone claims that it takes more than a day to charge the battery using the Sun rays, so it is recommended (even by the manufacturer) to use the solar battery only in case of emergency. The average rate is 4 starts, but the majority of customers use it as a mere power bank.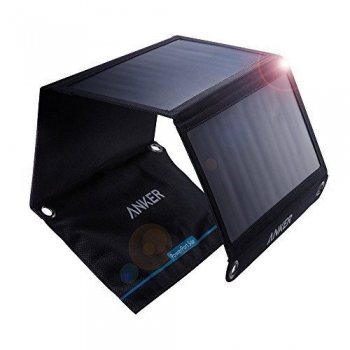 This product has a ~4.5 star rate on Amazon.com.
PowerIQ charging technology: 2.4 amps per port or 3 amps overall under direct sunlight;
21 watt;
21.5-23.5% efficient;
Can charge two devices simultaneously;
Highly durable and weather-resistant;
Highly portable due to its compact design;
Features stainless-steel eye-holes on each corner for easy attachment to backpack, etc.;
Advanced safety;
Monocrystalline panels;
Dimensions: 11.1 x 6.3 x 1.1 inches (28.2 x 16 x 2.8 cm);
Weight: 14.7 ounces (~416 grams);
The feedback suggests that it's more likely to be 14-15 watts instead of 21 watts claimed. Nevertheless, these panels prove to work (though do not expect them to charge instantly!).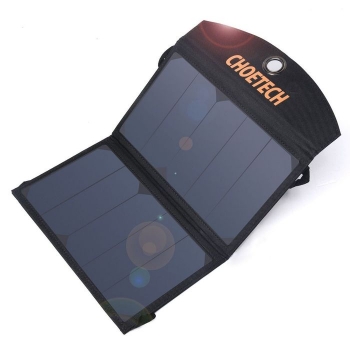 This device is rated ~4 on Amazon.com.
22-25% efficiency;
Charge speed up to 1.8 amps under direct sunlight;
12 watts;
2 USB ports;
Can charge two devices simultaneously;
Weather-resistant durability;
Eye-holes for easy attachment to backpacks, etc.;
Monocrystalline panels;
Does not work well on cloudy days;
Weight: 10.58 oz (300 grams);
Dimensions: opened size: 15 x 9 inches (38.1 x 22.86 cm), closed size: 9 x 6.1 x 0.5 inches (22.86 x 15.5 x 1.27 cm);
The feedback shows that this device works well, the main drawback is there are some items that are defect, but these can be replaced by the company selling it.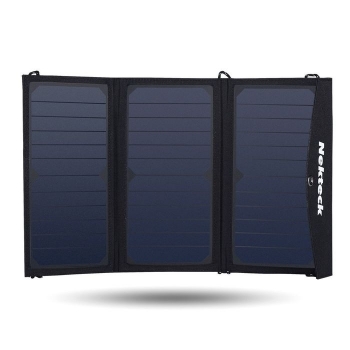 This model is among those few ones that received ~5 on Amazon.com.
20 watts;
21-24% efficiency power conversion rate;
Can charge two devices simultaneously;
Built-in IC chip for fast charging: up to 2.0A max per port or 3.0 A max overall;
Lightweight and compact;
Highly durable: exposure to damp conditions does not damage the device;
Broad compatibility: iPhones, cameras, GPS, tablets, etc.;
Dimensions: 11.8 x 6.5 inches (30 x 16.5 cm)(folded) or 22.8 x 11.8 inches (57.9 x 30 cm) (opened);
Weight: 20 oz (567 grams);
The feedback is awesome, but there is some confusion of feedback regarding some other product which makes it hard to make out what this device is really like. All in all, it charges devices and does it quite well.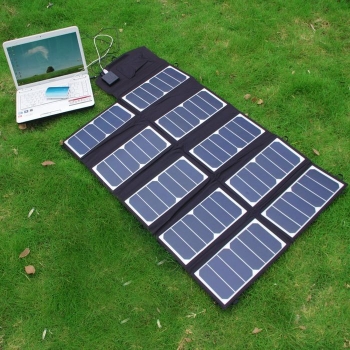 This one is rated ~4.5.
PowermaxIQ Technology ensures 23.5 efficiency;
Dual port: USB 5V/2.1A and DC:15V/4.06A output;
Scratch-resistant;
Waterproof;
Environmental protection;
Wide compatibility: iPhones, Samsung smartphones, PDA, MP4, digital cameras, GPS, Bluetooth headset and any 5V USB device;
Dimensions: folding size: 22.05 x 16.54 x 1.18 inches (56 x 42 x 3 cm), unfolding size: 82.68 x 22.05 x0.2 inches (210 x 56 x 0.5 cm);
Weight: 8.36 lb (3.8 kg);
This device is one of the biggest (and thus most efficient) models presented on Amazon.com. The feedback suggests that it charges well, is lightweight and rather flexible. Yet there are minor drawbacks, like white printed instruction on the mylon case rubbing off when the panels are closed, etc.
5. Making a DIY portable solar charger;
If you do not want to buy a portable solar charger or have an engineering itch, here is one of the ways to make a DIY portable solar powered charger.
ASCAS, or Angelo, contributed an instruction on the instructables.com website that shows how anyone can make a portable solar charger that costs less than 20$.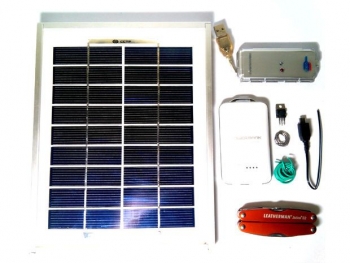 Parts list:
USB power bank (for instance, 2800 mAh with battery indicator);
4 port USB hub;
7805 regulator chip;
micro USB cable (A stripped end);
wire;
multitool;
superglue.
Step 1. Choose a cheap powerbank. The author of the instruction suggests getting one from dealextreme.com. It's really possible to find a powerbank that costs 6-15$.
Step 2. To have the device working, we need to get a regulator. Solder the micro USB plug first, to the 7805 regulator.
Step 3. Solder two wires on your 7805, to be connected to your solar panel (+ & - ).
Step 4. Use glue to mount the regulator in the solar panel's terminal block.
Step 5. Trim the heat-sink mount of your 7805 chip if necessary.
Step 6. Solder the two wires of your 7805 to the solar panel. Mind polarity (+ & - ).
Step 7. Mount the powerbank and the USB hub behind the solar panel using heavy double-side adhesive.
Step 8. Connect the charging cable of the solar panel to the powerbank's charge-input.
Step 9. Plug-in your USB Hub/Port to your powerbank's output.
Step 10. Here we go - the device is ready for charging!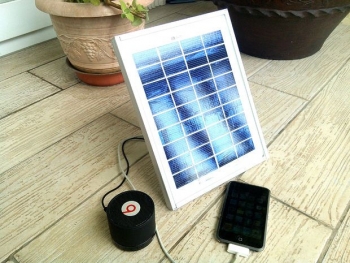 Here is a video that shows how to make a DIY portable solar charger for even a smaller amount of money - 10$.
6. Conclusion.
Portable solar chargers are a good means of charging small appliances if you like camping, spending time outdoors or need an independent source of electricity when working far from the grid. Such devices provide an eco-friendly opportunity to have your devices working, but don't expect to run a car engine with them! They are good for charging cell phones, GPS, cameras and other equipment that does not require much power.