Gym For A Car - Portable Fitness Equipment Handy To Have During Your Trip

Characteristics:
Dimensions: 30 x 17 x 5 in
Shipping Weight: 33.5 pounds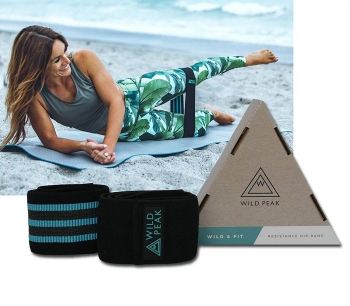 Characteristics:
Dimensions: 5 x 4 x 2 in
Color: Black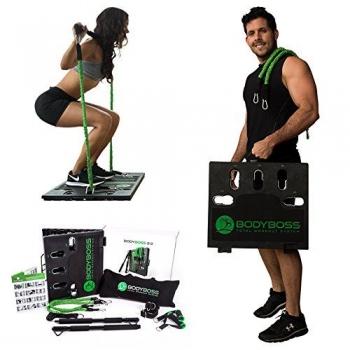 Characteristics:
Dimensions: 22.5 x 18.8 x 4.5 in
Shipping Weight: 16.9 pounds
Color: Pink,Green
The Fold Up Platform allows you to increase or decrease the exercise difficulty based on shortening or lengthening the bands
Easily attach the cloth covered resistance bands to the fold up platform and then either the handles, the collapsable workout bar or the wrist/ankle straps and perform 300+ exercises that you can make easier or harder.
You can make your exercises even harder by adding more than 1 band on either side of you.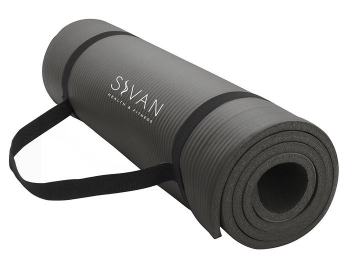 Characteristics:
Dimensions: 24 x 0.4 x 71 in
Shipping Weight: 1.75 pounds
Color: Black, Blue, Gray, Green, Teal, Pink, PurpleRed
Thicker for support and comfort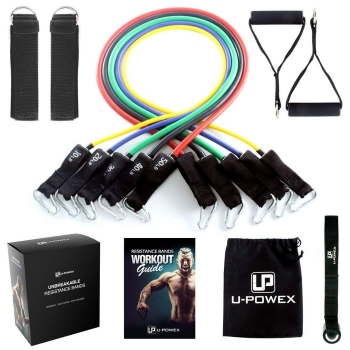 Characteristics:
Set includes:
Yellow band = 10 lbs
Blue band = 20 lbs
Green band = 30 lbs
Black band = 40 lbs
Red band = 50 lbs
1 x Waterproof carry bag
1 x Door anchor
2 x cushioned handles
2 x ankle straps
Each band is 1.2m long and is clearly marked with its equivalent weight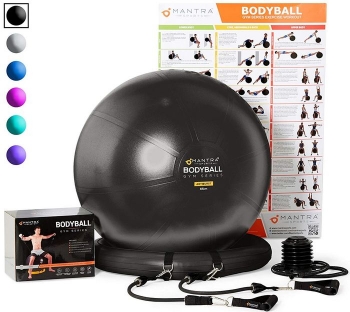 Characteristics:
Select: 65 cm, 75 cm
Shipping Weight: 5.6 pounds
Color: Black,Gray
Made of multi-layer heavy duty PVC, our core ball has been independently quality tested to bear loads up to 750lbs & is anti-burst & anti-slip.
The stability base ensures reduced movement of the ball, crucial for perfect form when working out.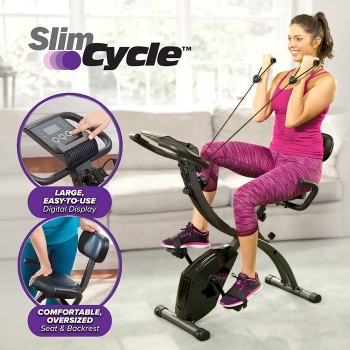 Characteristics:
Shipping Weight: 45 pounds
Features:
UPRIGHT EXERCISE BIKE: gives you a high-intensity workout that you can easily work into your cardio training workout.

RECUMBENT EXERCISE BIKE: offers a low-impact sit and cycle workout that burns calories in a more relaxed position.

STRENGTH TRAINING: built-in strength training allows you to sculpt and tone arm muscles while you cycle.

MAGNETIC RESISTANCE: turn up your workout and work your way through 8 levels of magnetic resistance to challenge muscles.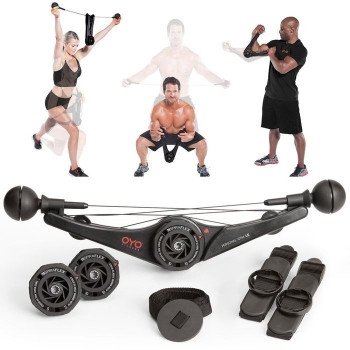 Characteristics:
Shipping Weight: 3.8 pounds
Includes: (1) 5 lb. and (2) 10 lb. FlexPacks (25 lbs. of resistance), Leg & Door Anchors, Nutrition Guide, Exercise Wall Chart & Free Video Downloads. Free OYO Coaching App for Apple iPhone users. Full 3 year warranty.
Full Body Workout, Build Muscle, Increase Flexibility, Burn Fat, Strengthen Chest, Back, Arms, Core and Legs, while increasing Cardio Endurance.SpiraFlex builds lean muscle, which continues to burn fat even at rest.
Patented DoubleFlex (push/pull) activation provides resistance to opposite sides of muscle groups with each repetition, so you build a balanced body in less time
Characteristics:
Color: Black
Material Type: Flannel
Product Dimensions: 10 x 8 x 2 in
Shipping Weight: 6.4 ounces
This jump rope is not only fast but also creates a very stable rope swing so you can easily recover from inaccurate swings.
After customizing this speed jumpe rope with a quick snip of a wire cutter you will be on your way to stringing together multiple double unders.
Characteristics:
Color: Black
Shipping Weight: 10 pounds - 50 pounds
Using these weighted workout balls in place of dumbbells or kettlebells can improve your training significantly and burn more calories by adding extra weight to your sit ups, push ups, squats, and plyo jumps.
Comprised of a strong outer shell and a sand-filled core, the dead weight provides challenging resistance, but won't damage or hurt walls, floors, or your personal trainer's hands.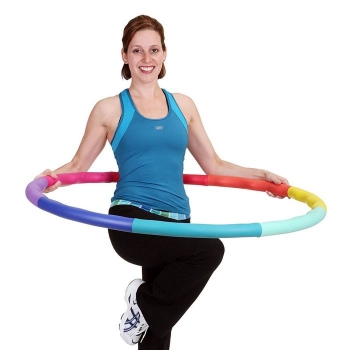 Characteristics:
Product Dimensions: 41.5 x 41.5 x 1.8 in
Shipping Weight: 5 pounds
The Acu Hoop 5L is a larger and heavier Acu Hoop specifically designed for burning fat and trimming waistlines.
Adults 120lb (54kg) and over can use the Acu Hoop 5L for effective exercises and toning
The foam padding and high-quality, durable plastic make it both easy and comfortable to hoop for a longer time.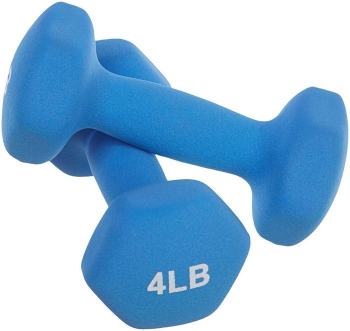 Characteristics:
Product Dimensions: 6.7 x 3.1 x 2.8 in
Each dumbbell weighs 4 pounds
Shipping Weight: 8 pounds
Easy-grip neoprene coating for a secure hold
Printed weight number on each end cap and color-coded for quick identification
Characteristics:
Shipping Weight: 14.9 pounds
Color: Green
8 workouts in 1: Machine imitates key features from 8 common resistance gym equipment plus cardio; fat burning exercises included in product manual.
.Specially formulated structure designed to support exercises that target upper abs, middle abs and that stubborn lower pooch, obliques, thighs, glutes, calves, forearms, triceps and biceps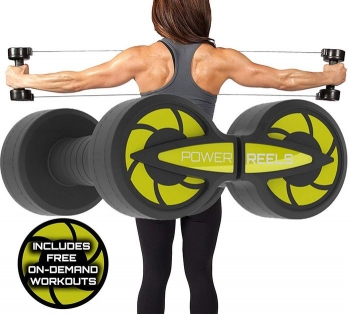 Characteristics:
Product Dimensions: 7.9 x 3.2 x 7.1 in
Color: Yellow(3 LBS Resistance), Blue (5 LBS Resistance), Red(8 LBS Resistance)
Shipping Weight: 2.4 pounds
Weighing only 2 pounds
More effective than boring resistance bands and dumbbells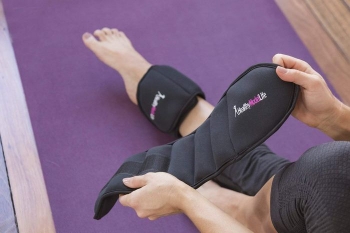 Characteristics:
Product Dimensions: 6.1 x 3 x 3 in
Healthy Model Life - 1lb, 2lb, 5lb and 8lb Sets
It doesn't have to just be your ankles either. These weights are super comfortable, and can be used on your wrist as well.
Stylish