Top 10 Smallest Microwaves Ever - From the Largest to the Smallest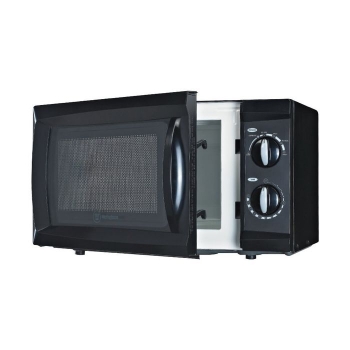 First designs of most home appliance were bulky and awkward. If you don't remember how the first HDD looked like, you could have seen the picture of it. Huge! An absolute monster! But in less than a half of a century, it can be easily lost in a pocket being small and portable. Many devices underwent such transformation from immense to compact size and microwave is also in the list of those.
Currently the trend for ''small and functional'' concerns microwave ovens, too. No one wants an enormous apparatus like biggest microwaves to steal much space on the counter. That is why manufacturers try to offer the line of compact ovens that can be used for both home and travel needs. Say you spend lots of time on the go and hot food is not what you can count on. But with the help of a small microwave that issue can be easily solved. So we surfed through the net to find the most portable and mini microwaves to fit your need and still save some space. Let's start with the largest ones:
Handy and compact Microwaves for day-to-day operation
… with convection, roasting, baking, auto and defrosting functions. Here comes small yet absolutely crammed Sharp microwave to satisfy all your culinary needs! Anything else to add? Probably a compact size which is great for small kitchens but sufficient for a regular dinner plate; lower wattage which is still good for baking, heating, roasting, grilling, etc.; 4 mixed convection and microwave modes for the advanced cooking experience. This nice unit is of lighter weight than full-size microwaves, so you can easily carry it if you need, say to your RV or boat.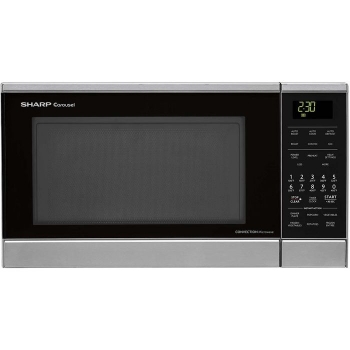 Pros: has a wide range of modes, convenient interface, not so heavy, compact, nice for small apartments, simple to use.
Cons: a turntable is not very convenient for cleaning.
Item Weight: 42 lbs (19 kg)
Item Dimensions: 14.5" x 13.9" x 7.5" (37 x 35.3 x 19 cm)
Wattage: 900 W
Price: Currently unavailable
If there is a lack of counter space and you are in a search of a really small microwave, consider Whirlpool solved your problem by creating a compact countertop microwave to fit your needs and scarce space. This little thing has a rounded back which is perfect for nestling in the corner. Even without a corner, it will still take a small footprint on the countertop. This microwave might not be good for big dinner plates as well as for roasting the chicken, but it is worth buying if you need a small microwave for heating leftovers, reheating drinks, melting butter, etc.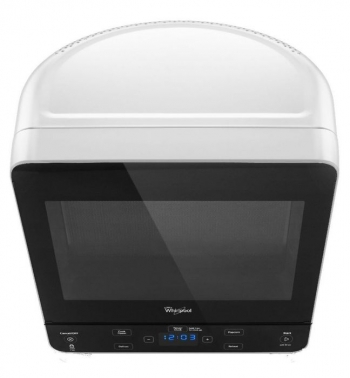 Pros: small, saves space, excellent for small kitchens, well constructed, easy to operate, portable, performs as good as a full-size microwave.
Cons: does not fit large dinner plates, expensive.
Item Weight: 33 lbs (15 kg)
Item Dimensions: 14.1" x 15.4" x 13.8" (36 x 39 x 35 cm)
Wattage: 750 W
A small kitchen and a limited countertop space is not a good combination especially for home appliance such as a bulky microwave. But if you opt for Sharp Half Pint Microwave you will save much room and still have an oven that is excellent for heating up meals. If you are not about to practice your cooking skills with the help of a microwave, then this little appliance is of a good size to satisfy your needs. Compact, stylish and well-designed – a perfect combination for a small microwave.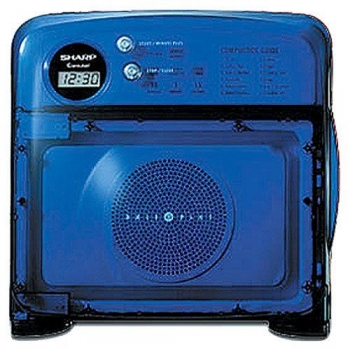 Pros: small, simple to use, saves space on a countertop, well constructed, portable, good for heating a regular plate.
Cons: no.
Item Weight: 29.4 lbs (13.3 kg)
Item Dimensions: 12" x 14" x 14" (30.5 x 35.5 x 35.5 cm)
Wattage: 600 W
Price: currently unavailable
Small but functional – these are the best words that describe Microonde Daewoo oven. It is very simple, no extra functions that bring extra expectations. The retro design is very appealing, so when on a countertop, this small appliance will draw maximum attention with little space used. It is beautiful. One thing to add is that Microonde is quite powerful (800 W), it means it is fast for reheating leftovers. So if the style matters as much as functionality, you know what oven to choose.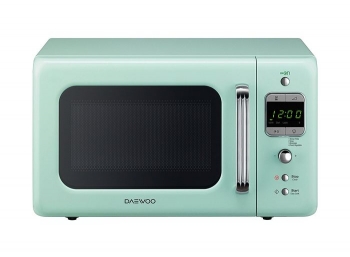 Pros: compact, space-saving, very beautiful, powerful, heats up quickly, easy to operate, sturdy.
Cons: no English instructions.
Item Weight: 24.2 lbs (11 kg)
Item Dimensions: 17.5" x 12.7" x 10.6" (44.6 x 32.3 x 27 cm)
Wattage: 800 W
Any ideas on how to save space on your countertop? A tiny kitchen is a hard place to cook & eat without being irritated with a lack of space. A small microwave can be a life-saver. Westinghouse company took the problem of space economy personally and designed a tiny but functional microwave oven. It has 6 cooking modes, a 30 min. timer, mechanical control, and any other functions typical for a full-size microwave but sealed in a compact body. It is a good choice for dormitories, studios and other small apartments.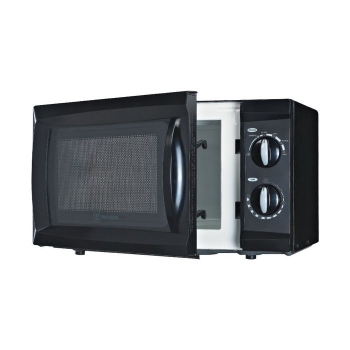 Pros: compact, nice for small apartments, easy to operate, enough for small families and kitchens, safe and simple.
Cons: slower in heating meals than a full-size oven.
Item Weight: 23.1 lbs (10.5 kg)
Item Dimensions: 17.8" x 13.6" x 10.3" (45.2 x 34.5 x 26 cm)
Wattage: 600 W
6. Maplin In-car Microwave
The hot meal is life changing when a long trip is concerned, especially when this is a cold winter trip. If you are looking for a small microwave that sucks energy from the car, Maplin has designed just the one to meet your needs. This is a small 12-volt item, that can be either attached to 175W cigarette socket or directly to a car battery for cooking. It takes about 3 minutes to turn a cold saggy snack into an appetizing hot lunch. The microwave has a neat LED user-friendly interface.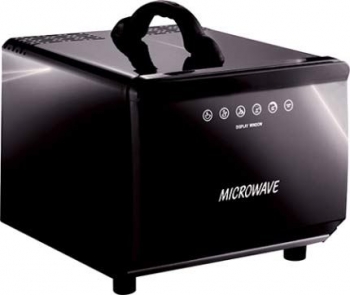 Pros: quite small, can work from the cigarette socket, nice for traveling, sleek design, easy to operate, pleasant and intuitive interface, has a convenient handle.
Cons: no.
Item Weight: not specified
Item Dimensions: 12.2" x 14" x 10.4" (31 x 35.5 x 26.5 cm)
Wattage: 175 W / 660 W
Price: $136.00
7. WaveBox Microwave
Our list of the smallest microwaves won't be complete without this case-like oven known as WaveBox. Being of a bright color, it looks like a stylish accessory rather than an oven. With a convenient handle, you can easily carry it whenever you wish. There are three power options you can use: plug it into a socket, connect directly to a car battery, or plug it into a vehicle power outlet. It is not as fast in heating as a conventional microwave but it is great for camping or other on-the-go situations.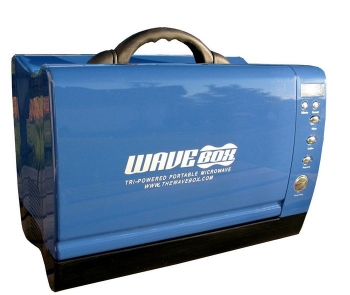 Pros: compact, has a handle, simple to use, great for camping, well constructed, portable.
Cons: slow heating.
Item Weight: 20 lbs (9 kg)
Item Dimensions: 10" x 15" x 11" (25.5 x 38 x 28 cm)
Wattage: 660 W
Price: currently unavailable
Now when you have an iPhone, most likely an iPad too, you can complete your i-collection with a compact iWaveCube microwave. A 'Cube' word in the name means the oven is literally of a cubic shape, which is perfect for small spaces like moving houses, RVs, dormitory rooms, etc. There is a handle for easier transportation in case you would like to reheat your meals during your trip. Being quite small, this microwave has a lower wattage (600 W) than a full-size oven, that is why it takes a while to heat foods or boil water but considering space it saves, this is not a downside at all.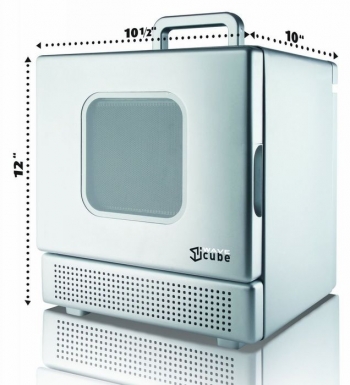 Pros: compact, takes less than a square foot space, perfect for small kitchens, fits small dinner plate, well constructed, works quietly, portable, has a handle.
Cons: takes a little longer to heat up meals.
Item Weight: 15.1 lbs (6.85 kg)
Item Dimensions: 10" x 10.5" x 12" (25.4 x 26.6 x 30.5 cm)
Wattage: 600 W
Price: -
Too busy at your workplace to find time for heating up your meals? No need to leave your place to do that if you have the Beanzawave by your side, so far the smallest microwave in the world. Well, it does not look like an oven at all, more like a big mug. It is specifically designed for workers who can't leave their workplace even for a minute. This small appliance sucks the energy through the USB port and heats up your snack next to your computer! As the developers claim, it will take a minute to warm your meal. But keep in mind, some physical exercise is good for your digestion!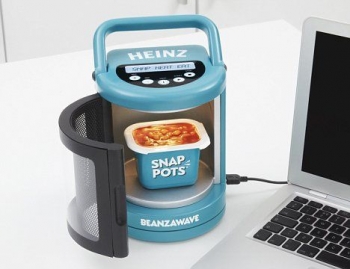 Pros: tiny, simple to use, USB powered, excellent for busy office workers, well constructed, portable, lightweight, excellent for traveling.
Cons: too expensive.
Item Weight: not specified
Item Dimensions: 7.4" x 6.2" x 5.9" (19 x 15.7 x 15 cm)
Wattage: 2.5 W
Price: $160.00
Have you seen a microwave for lazy camping? You are seeing one right now. Though it looks like a thermos cup, this is a microwave oven in fact. Forget about setting a fire for the sake of heating your leftovers or boiling water, now that problem is solved by Wayv. The greatest advantage is that it works from the batteries and takes little space in a backpack. It heats by using frequency ratio to make anything you place inside hot. The lift-up lid is equipped with a number of buttons for easier management. Overall, this is a device of excellent style and great performance.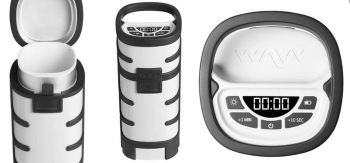 Pros: compact, easy to operate, great for camping, lightweight, excellent for backpack travels, well constructed, portable, made of quality material.
Cons: small but expensive.
Item Weight: 2.6 lbs (1.2 kg)
Item Dimensions: 12" x 5" (30.5 x 12.8 cm), 16 oz (500 ml)
Wattage: not specified
Price: $199
Alternatives to Mini Microwaves
The initial goal of a microwave is to heat up meals. Even though some ovens have grills and convection for easier cooking, they are often used for reheating leftovers. It is really convenient to place food in an oven and get it hot in a minute, right? But if for some reason you don't have a mini microwave or you want to have a kinda personal appliance because you don't like using one in an office breakroom. We've found some microwave alternatives that are functional and portable to always keep them at hand. So here are some really good food warmers for your consideration:
How about a bowl of hot soup? Or vegetable stew fresh out of the oven? You can afford it even when you are on the go, you just need to have Crock Pot with you, meals and a free socket or a cigarette outlet to plug the unit in. So these are benefits you are going to have on buying this food warmer: really stylish accessory, lightweight and an easy-to-carry device, and of course hot meals! By the way, there is no smell of food until you open the lid, what is very convenient when you are in the office.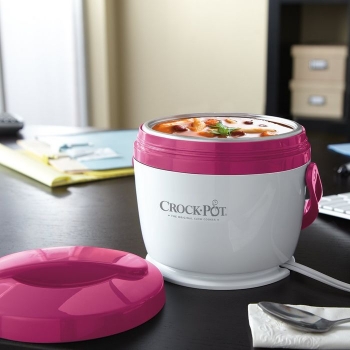 Pros: very small and convenient, easy to transport, nice for traveling, can be plugged into a cigarette outlet, excellent for office workers, well designed, lightweight, comes in 4 colors.
Cons: the inner lid is not secure.
Item Weight: 1 lb (453 gr)
Item Dimensions: 8.1" x 8" x 7.7" (20.5 x 20 x 19,5)
Wattage: 50 W
Price: $19.89 - $26.34 (depends on the color) BUY NOW
It looks like a toolbox, so make sure you take the right one to your trip :). Road Pro is a portable food warmer that is good for campers or people on the road. You can throw some meals inside, plug the stove in, head the road and then enjoy a hot lunch somewhere in nature. It takes about 10 minutes to make a bottom plate hot and it saves much money compared to price tag you would pay for hot meals in the restaurants. It is quite roomy to place two large bagel sandwiches or an aluminum loaf pan. It is so good that it would be nice to have a switch on/off button to always keep it plugged in.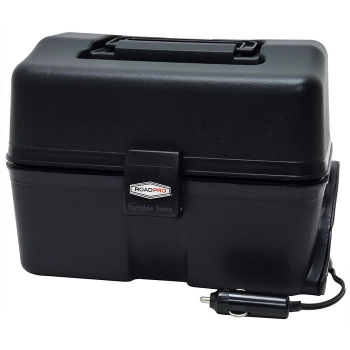 Pros: simple, easy to carry, has a collapsible handle, simple to use, convenient, great for traveling needs, can be plugged in a cigarette outlet, well designed, lightweight.
Cons: no.
Item Weight: 3.2 lb (1.5 kg)
Item Dimensions: 10.5" x 7" x 7.8" (26.6 x 18 x 20)
Wattage: 144 W
Some jobs require being on the go too often, meaning you have little time to spend on eating in restaurants. Moreover, sometimes there are no restaurants close by so the only place you can eat is your car or office. But this is not a problem at all if you have Max Burton Oven. It is compact to be safely bundled on a car seat or trunk, it is lightweight and sturdy for everyday use. It also has a collapsible handle for a compact storage. To make it work, just plug it into a cigarette socket. Well, this oven changes the concept of eating on the go from cold and saggy to hot and healthy.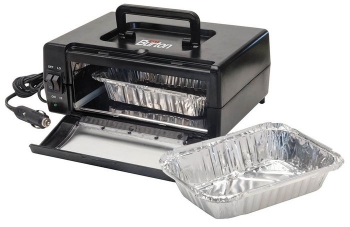 Pros: very small, convenient size, can work from the cigarette socket, nice for traveling, easy to operate, has a collapsible handle.
Cons: not long lasting.
Item Weight: 4.3 lbs (2 kg)
Item Dimensions: 11" x 8" x 4.75" (28 x 20.3 x 12 cm)
Wattage: not specified
Concepts
Have you ever seen any microwave from the list below? Probably on pictures because all of them are concepts aka not existing ovens. Concept appliance normally raises lots of buzz for the prospects of future production but the truth is they are rarely translated into real devices. Why? Because concept goods, be it cars or microwaves, are usually created to literally represent the concept and display new technologies. There is always a chance that if the technology is efficient, affordable and functional it will come to life one day. The concepts of mini microwaves below are really great, so let's hope to see them in practice one day or another.
Soggy and cold sandwich at a workplace sounds really sad unless you have BrainWave microwave to cheer that up. Designed by Steve Gates (do not mix with Bill Gates or Steve Jobs), this small appliance is a life-saving device for snacks and leftovers at the workplace. Literally! You do not need to leave it to warm up your meals, just plug the USB port into your computer and wait for about a minute. This is a simple yet well-designed appliance aimed to assist the busy office workers during their breaks. If you were an office worker, would you buy one? Mind, that approximate price is about $160.00.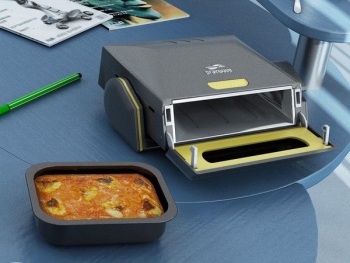 Shutter door saves much space, the garage is a great example of how they do that. The designer Yahui Gu was probably impressed with that fact that he decided to use the similar concept for a microwave. As a result, he hopes to get a 110 degree opening instead of 45, which is crucial for small kitchens. It is hard to speak about the performance of the oven but the design is definitely eye-catching and futuristic. If one day Grand View appears on the market, it is a chance to complement a modern kitchen with such a cutting-edge appliance.

Do you know how a vase looks like? Please, answer the same question concerning a microwave oven. And now try to visualize how a combination of both would look like. Don't worry if you fail, Woo Seokmoon, the designer has the answer. In his strive for a compact microwave, he came to the idea of the device that is lighter than a usual microwave but equally functional. It works by covering the meals and heating it up under the dome. When not in use, this microwave acts as a pretty kitchen accessory.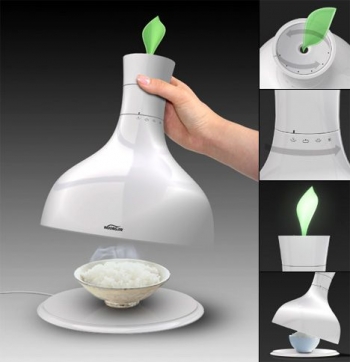 Using a microwave is an easy routine, isn't it? But can you imagine a microwave with the only button for all the functions? Probably one day you will succeed to exploit it – Dot Matrix Microwave. This is going to be a small but chic oven with a pixel LCD screen. There is nothing so special about it but for compact size and fancy design. As for the rest – this is a microwave oven that solves the problem of cold meals, probably, in a more beautiful way than expected.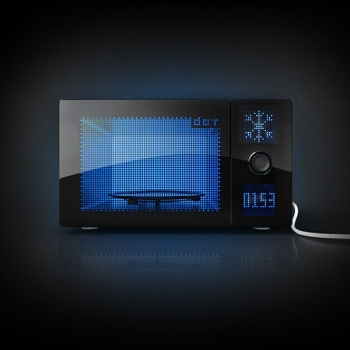 Now when you've faced the whole picture of small microwave ovens starting from existing ones, to food warmer and the ideas that probably one day come true, what mini microwave would you choose? What needs to you have that you want it to satisfy?