Cable Sleeves, Ties, Clips And Other 10 Items To Overcome The Cable Management Challenge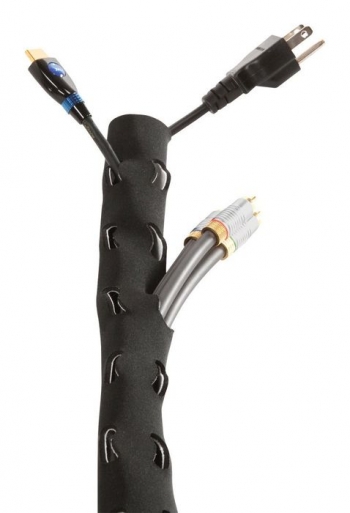 How many times a day do you wish you had all this wiring mess hidden in some sleeve or elsewhere? Do you have your cables staying in the way of your mouse and hanging, thus spoiling the look of your office desk? Hesitate no longer - the market's full of things which can alleviate your situation and help you get rid of the net that catches you every time you want to take your cup of coffee standing on your desk. And how tedious it is to unplug a device that's connected to the same set of sockets with other pieces of equipment!.. Well, it's time to have your wires arranged properly. Read on to learn how.
Cable organizers are the easiest way to manage your cables and wires. The Homga organizer sleeve is one of the most popular goods in the corresponding It's made of durable flexible neoprene and can protect your cables from being damaged by feet or pet chewing, while having enough space for several cables. Cables do not tangle any more, as they're hidden inside this elegant sleeve. One of the features is that it can be used with both sides: one of them is white, and the other is black, so you can pick the one fitting your interior most. The length of the sleeve makes up 60" (152.4 cm), and you can cut it into several pieces if it's more convenient to you. To make exits for cables, simply make holes at the appropriate points. There are two different sizes available: 1.2" (3 cm) and 1.5" (3.8 cm) in diameter, which can be chosen depending on how many cables you need to hide. You get both in the same package!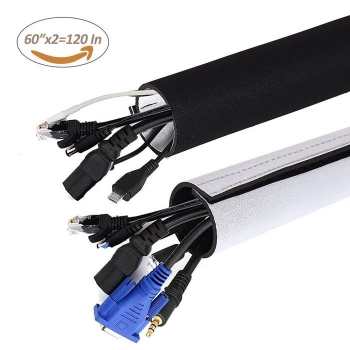 Technical details:
Number of sleeves: 2;
Length: 60" (152.4 cm) x 5.3" (13.5 cm) and 60" (152.4 cm) x 4" (10.2 cm);
Material: neoprene;
Colours: white, black;
Features velcro;
Weight: 9.8 ounces (278 g).
Feedback summary
As seen from the rating, the product is of very high quality. The overwhelming majority of users love its look, adjustability and the way it can be cut. As to the drawbacks, some (though, very few) people wish it was bigger, as they have too many wires, but you should really plan in advance whether it'd meet your requirements. Also, it's really good for grouping cables, but one person also said that if you experience cable slack and tangling, it won't be of much help (though it's not clear why - you can simply wrap your slack wires in it, and it's done).
Well, there do not seem to be major disadvantages of this model, so it's definitely worth recommending if you're looking for an item to hide your cables and prevent them from tangling (and no stumbling!).
It's an eco-friendly, long-lasting and space saving cable management system which is easy to attach and remove if needed. It is capable of holding wires of up to 0.25" (6.35 mm) in diameter in each channel. The system can be installed on most types of clean flat surfaces, including plastic, wood, glass, metal, etc. Each item has 5 channels for cords and is attached with the help of an adhesive which, as the manufacturer claims, leaves no residue if removed. The clips come in a set of 6, so you can adjust them the way you want.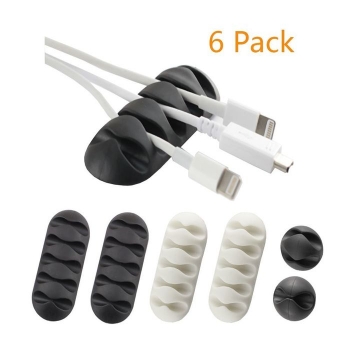 What's in the box:
5 slot cable clips: 2 black, 2 white;
Single slot: 1 piece;
Double slot: 1 piece;
Spare stickers.
Technical details:
Dimensions: 5.5" (14 cm) x 3.7" (5.5 cm) x 0.6" (1.5 cm);
Weight: 1.6 ounces (45.4 g).
Feedback summary
Actually, most reviews are positive, but owners of Kindle, Lightning and Apple Watch have to tape paper around the cord to have it stay in place in the clip, because the cord is too thin. Some people complain the stickers leave residue if removed, and the opinions about the holding capabilities differ: some say it holds in place so firmly they couldn't remove it, while others claim it keeps falling apart. Yet such reviews aren't numerous, and most users love the way it holds the cords they need.
This one is similar to the first position in the list, but has holes for cables in it, so you don't have to cut them yourself. It's also made of neoprene and has double-sided adhesive at the top which sticks to desks, walls, A/V units, etc. The cutouts are made every 2" (5 cm), so there are a number of exits for cables and cords. Just like the first item, it's reversible and has the white side and the black side. It doesn't require any tools to install - simply wrap it around the cords. The difference between this one and the first one is in the design: this item has cutouts for cords, whereas the first system is more like a half-DIY system (though OmniMount can also be trimmed!).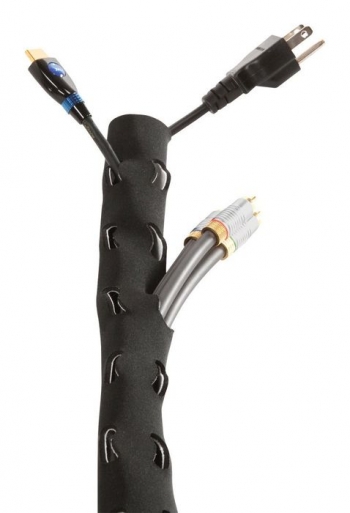 Technical details:
Length: 40" (101.6 cm);
Width: 4.38" (11.1 cm);
Diameter: 1.25" (3.2 cm);
Colour: black/white;
Material: neoprene;
Gap between cutouts: 2" (5 cm);
Weight: 4.8 ounces (136 g).
Feedback summary
The overall rating is really fine, so it's a good product, but there are minor drawbacks which do not prevent users from using the item successfully. The holes make the product look contrasting, as white holes and the black sleeve (or vice versa) are not so nice. The Velcro is along the item, so it does not bend as well as it might. Some find it difficult to put the wires in. All in all, the claim seen most often is that it doesn't look good, but it depends. After all, it's a sleeve that really helps hide cords inside it, and you can decide not to use the cutouts if you don't like the way they're made.
It's a pack of 20 cable ties which come in three different sizes (see the technical details section) and serve for tying cables and cords. The straps are reusable and made of fabric and have Velcro. The items are characterized by durability and bright colours, namely black, white, blue, pink, and yellow. There's another option: to choose the 50 pcs pack, but in most cases 20 pcs are enough.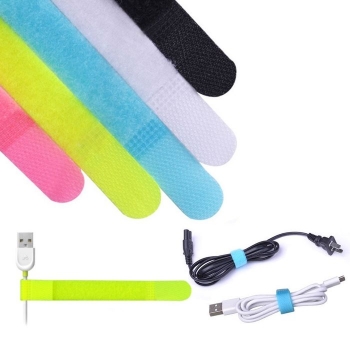 Technical details:
Number of ties: 20;
3 pcs: 10'' x 0.8'' (28cm x 2cm);
7 pcs: 6'' x 0.6'' (16.5cm x1.6cm);
10 pcs: 5'' x 0.5'' (14.5cm x1.2cm);
Colours: black, white, blue, pink, yellow;
Weight: 0.8 ounces (22.7 g).
Feedback summary
Negative reviews are really few and dominated by positive ones. It's a good product which does what it's supposed to do. Some reported that they do not tie well, but these cases are rare, as most people do not experience such issues. One person said they fit most if you do not intend to readjust them often, as the Velcro may wear. Some also say they do not hold much weight, but it's not designed to do so.
It's an under-desk organizer for wires which features a top flip door and side openings which allow easy adjustment. It can be used to hide surge protectors, wires and cords. As you can see, it's more of a 'monumental' solution than mere ties, and it also looks heavier, but it's capable of hiding way more cords and sockets too. This model is available in either black or white, but for some reason the black version costs $51.99, whereas the white one being discussed is offered at the price of $33.67. The item fits most standard 6-12 outlet power strips.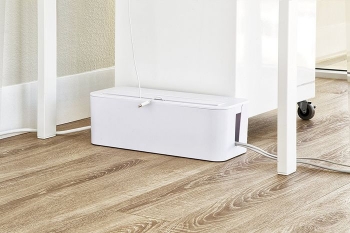 Technical details:
Made in China;
Weight: 1.6 pounds (0.73 kg);
Dimensions: 16.4" (41.7 cm) x 6.5" (16.5 cm) x 5.4" (13.7 cm);
Colour: white;
No sockets or wires included!
Feedback summary
What is special of the reviews concerning this item is that there are only a few of them (8, to be exact), and there are no 1 and 3 rates. So, there's only one critical review, and it says that it has flimsy plastic, the top lid doesn't sit properly in the bottom box, and the top cord slot is touch to open and close. All other customers love the item and say it's big enough to hide all cords that may be in the way and looks nice. The sleek design make it a fave among the majority of those who've bought it.
This clip reminds of those mentioned in #2 of the list, but this one is attached to the desk side. It fits desks of up to 6 cm (2.36") thick and doesn't stand in the way. You can put up to three cords in it simultaneously. The product's made of silicon and is durable and hard to damage, so it is not supposed to break if it falls on the floor.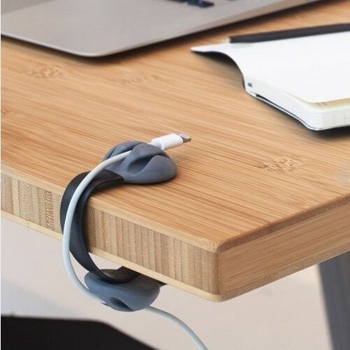 Technical details:
Dimensions: 3.7" (9.4 cm) x 3.4" (8.6 cm) x 2.4" (6.1 cm);
Weight: 1.6 ounces (45.4 g);
Colour: black.
Feedback summary
There aren't that many reviews, but still one can conclude that the clips work well and do what they're supposed to do. The two critical reviews imply it doesn't allow cords to slide easily when, say, charging, and the contrary opinion is that the wires tend to come out of the slots, which makes us think it really depends on how to use the clips. If you handle it carefully and use it with cords that fit the size of the channels in the clips, it's nice.
These clamps come in a set of 25, so you'll get plenty of them. It's adjustable, so you can use it with a number of cords. It has an adhesive, but mind that it's not very strong, so it's not for holding cups of coffee. Also, note that it's still rather small (the diameter is 0.4"/10 mm), so plan your cable management in advance. It's made of black nylon, features a locking clip and can hold wires and cords so they'd not create a mess.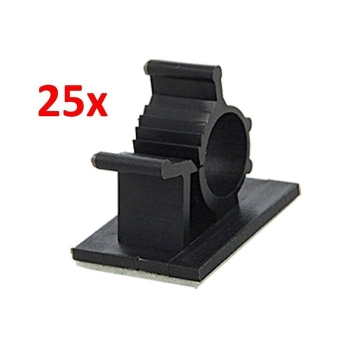 Technical details:
Base size: 25 x 19 x 2mm / 1" x 0.7" x 0.07";
Fit for cable diameter (max): 10 mm/ 0.4";
Colour: black;
Weight: 56 g (2 ounces).
Feedback summary
Though the rating is good, some people say the adhesive is poor and really dependable on a surface (it's difficult for it to hold on smooth surfaces). The set is cheap, so it won't be a major loss if you buy it to try it out. To sum up the reviews, the clip is nice, and the adhesive leaves much to be desired. Still, you get lots of them in one package, so you can use them in a row. Still, they work well for most people.
It's another sleeve (yes, the third one), but it's really great: it's stylish, convenient and made of high quality materials. The sleeves come in a set of four, and the beige colour is pleasant to the eye (though there's a black version which costs 2$ less). It's made of neoprene and has a zipper, so it's nice and easy to use it. Each sleeve can hold up to 8-10 cords depending on their thickness (1.2" / 3 cm in diameter). This simple, yet sleek sleeve is a nice option to manage cords with style and convenience.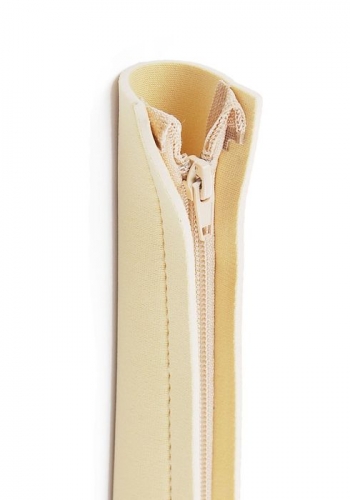 Technical details:
Dimensions: 9" () x 4" () x 0.3" ();
Weight: 2.9 ounces;
A set of 4;
Diameter: 1.2" (3 cm);
Colour: beige;
Features a zipper;
Holds up to 8-10 cords.
Feedback summary
The first thing that must be said about the feedback is that the rating is not due to lack of reviews: there are over a thousand, so it's one of the best products offered on the market. If you're interested in details, here they are: it is EXTREMELY (quote) useful and looks expensive. The zipper is well-made, and so is the material. It's good in all its aspects, except for one: several people (though there are only a few of them compared to the army of over a thousand of satisfied users) say the zipper is worse than Velcro, because the zipper makes the diameter fixed, and Velcro can be adjusted. Well, it really depends on how many cords you put in it, so try to think beforehand whether it'll be good in your case.
Well, as you see from the picture, this item differs from the ones discussed before. It's more of a rack than a sleeve and can be used to feed the cords through the hooks so that they'd stay in place. It's not cheap (as it costs more than $30) and is not as convenient as sleeves, but just in case you have always wanted an item like this, we put it in the list too. It can be installed underneath your desk or on a wall. All tools needed for installation come in the package. The aluminum channel is equipped with 15 ABS plastic hooks. It's long enough to store quite long cords.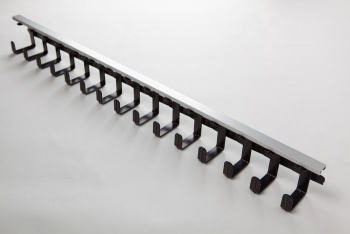 What's in the box:
The cable management system (1 anodized aluminum channel with 15 ABS plastic hooks);
2 end caps;
4 screws.
Technical details:
Material: anodized aluminum;
Dimensions: 35" (88.9 cm) x 2 ¾" (7 cm) x 3 ½" (8.9 cm);
Number of hooks: 15;
Hook material: ABS;
Colour: black.
Feedback summary
The reviews are mixed: some report getting incomplete sets (missing screws, etc.), others say it's very difficult to install (especially if you're in the US - due to the screws), several people claim the plastic is flimsy. There are no directions, and the cases when only a part of the screws or other things comes are not rare. So, to sum it up: 1. The product itself is nice and works well. 2. The plastic is still rather flimsy. 3. The design is nice - cords can exit at many points. 4. Quite often you can get a poorly packaged product (missing screws, etc.). 5. No instructions - may be difficult to install. Many people have to use their own screws (either due to aesthetical reasons or because there are not enough of them in the box).
This item is added to the list because of its design. The wood it's made of makes it cozy and stylish, though it's actually another organizer similar to the ones we've discussed above, so it has the same functions. By the way, the manufacturer says it's handmade! The eco-friendly approach really appeals. It features strong double-sided tape to attach it and 6 easy-slide slots (2 of them are Lightning Cable friendly). The pine-oil finish makes it antistatic, and it's supposed to attract less dust than raw wood. The material is natural oak - it's really a very nice product!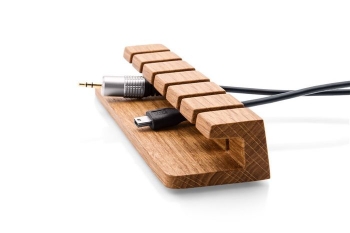 Technical details:
Material: natural oak, pine oil finish;
Dimensions: 17 cm (6.7") x 5 cm (2") x 3 cm (1.2");
4 slots 0.5 cm (0.2");
2 slots 0.3 cm (0.12");
Handmade in Poland.
Feedback summary
Well, there's only one review, which says it's better made than expected and nicely done. We can suppose it's really good, since it's made of wood and handcrafted, so unless you use the cords which don't fit it, it must be a very good accessory for your desk - it's stylish and useful.
Conclusion
The accessories for cable management aren't numerous in terms of accessory types, but within these types there are a number of items to analyze. Sleeves, clips, boxes - all of them can help you get rid of the cable mess most people have behind monitors and tangling underneath desks.