Office Chair Accessories - Feet Hammock, Arm Rest, Special Cushions - 14 Accessories To Boost Your Office Chair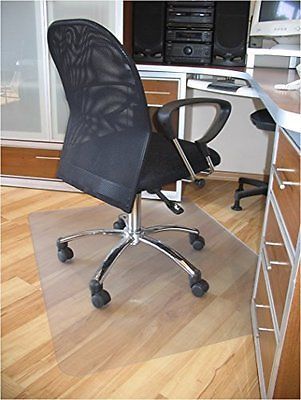 Just as the name suggests, office chairs are common in offices. It means the employee occupying it is supposed to spend a lot of time using it, so a number of issues may arise. Back pain is one of them, so having a good cushion is a must. Yet there are other things which can boost your office chair's capabilities. Not only do they make sitting on it more comfortable - they also add special features to your chair, so it becomes more functional and convenient.
It's a hammock for your feet to feel comfortable when sitting on your office chair. It's attached to a table with the help of two metallic clips. The rope length can be adjusted from 200 mm (7.8") to 450 mm (17.7"), which means it can fit almost any table. It serves as an additional chair and helps you relax while sitting. The canvas is painted orange, and the durable ropes are supposed to be able to hold quite a significant weight. As a bonus, you can try placing some lightweight objects there when the hammock is not in use. It's easy to install and does not damage your table.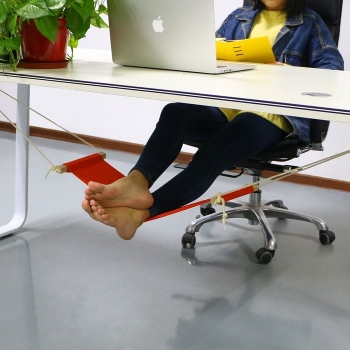 What's in the box?
Canvas;
2 cotton ropes;
2 clips;
2 wooden parts;
Stoppers.
Technical details:
Material: canvas, cotton, steel, wood;
Dimensions: 25.8 in x 6.1 in / 66 cm x 17 cm;
Adjustable rope length: from 200 mm (7.8") to 450 mm (17.7");
Weight: 14.4 ounces (408 g);
Colour: orange.
Feedback summary
The first thing that must be mentioned in this section is that the hammock does not fit L-shaped desks or cubicle ones, as the feedback suggests, so take it into account when ordering one. It also doesn't fit desks which have drawers on both sides. Though there are many people who are satisfied with the product and find it useful, some say it's really flimsy, the stoppers keep sliding, and it does not fit all kinds of tables. Besides, you are supposed to place your legs right in the centre of the hammock, otherwise it may twist. Purchasers report good quality of the fabric and how comfortable it is to use it, but adjusting can be a challenge, since finding the right position is not that easy. All in all, it's a good item which works as advertised if used appropriately and carefully.
One of the bestsellers having over 10 thousand reviews, this cushion is designed to relieve back pain and help those suffering from sciatica. It can be used regardless of seat type, be it an office chair or a driver seat. It takes pressure off the lower back, coccyx and hip bones. In case you suffer from hemorrhoids, it can also help alleviate the issue. The soft velour cover has a zipper and can be removed if you want to wash the cover (the cover is machine washable). The inside is filled with orthopedic foam. Reducing tailbone pressure, it makes sitting more comfortable. Another thing it benefits is proper spine alignment. Your posture gets better, and symptoms of a number of conditions can be relieved with the help of the cushion. Besides, pregnant women may also find it useful.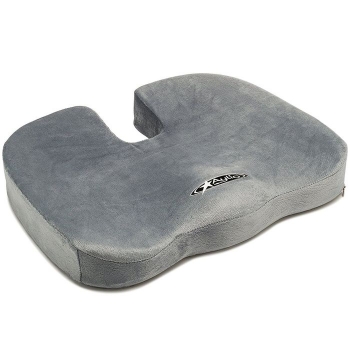 Technical details:
Feedback summary
It seems to be one of the vest cushions around - with thousands of positive reviews, it really does seem to help in most cases. Though, some say it's not good when used in a car if your driver seat already has some contours. Also, if a person is obese, it may not be very comfortable (yet it depends). Several people reported that the cushion lasted less long than they had expected, as the foam got compressed within several months of everyday usage, and that it's rather small. But these appear to be exceptions, as the majority of people who have bought it like the quality and the way it works.
This item provides arm support and helps you keep the right posture, as the manufacturer claims. It's attached to an office chair arm, and the assembly process is easy. You don't need any tools to assembly it. The seller emphasizes that it's for chair use only, so it's designed to be attached and not used separately.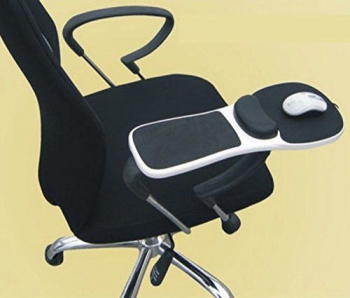 Technical details:
Colour: black and white;
Dimensions: 45 cm (17.7") x 18 cm-12.8 cm (7" - 5");
Weight: 1 pound (0.45 kg);
Material: ABS plastic.
Feedback summary
The key issue is that the velcro straps of this item are worthless, as they're way too short. Perhaps, it just doesn't fit some chairs, but it seems to be it doesn't fit most chairs as any arm rest should. However, people manage to attach it using zip ties, and it works fine (though there are ones who use the straps provided by the manufacturer). Several people find the plastic flimsy, and one of the purchasers reported the wrist support putting pressure on the wrist, but still many think it's a good product that really helps you improve your posture once you manage to install it appropriately.
Unlike common foam models, this one is a mesh back support, so it provides better ventilation and does not retain heat. The ergonomic support system grants comfort and helps relieve back pain. Besides, it helps you correct your posture for lower back. The mesh is made of high quality materials, and the quality/price ratio is nice. It can also be used in a wheelchair. Mind that the wider side must be at the bottom, not vice versa. The item is attached to the chair by means of an elastic strap, not the belt.
Note that the chair is not included!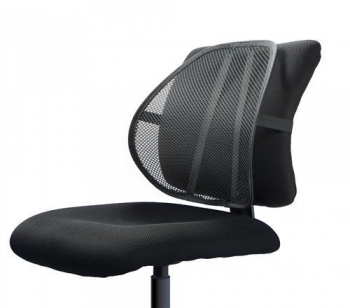 Technical details:
Dimensions: 15.3" (38.9 cm) x 13.9" (35.5 cm) x 6.1" (15.5 cm);
Weight: 4.8 ounces (136 g);
Colour: black;
Made in China.
Feedback summary
As almost all people who've left reviews note, the major drawback is the elastic strap. It breaks easily, it's not long enough, and the support tends to fall into the hole between the horizontal and vertical parts of the chair, but it seems to depend on a chair model: some manage to use it successfully with the straps it comes with, while others modify it and attach longer ones. The conclusion is the following: it's a good support that does help relieve back pain (as many purchasers report), but it can be a challenge to make it stay in place. All in all, it's a good item for the price.
It's a lumbar support cushion that's designed to relieve back pain. The manufacturer it has no chemical odour, does not get flat after hours of using and can be taken anywhere - be in a car or an airplane. It's filled with therapeutic memory foam which is firmer than in the previous version of this cushion.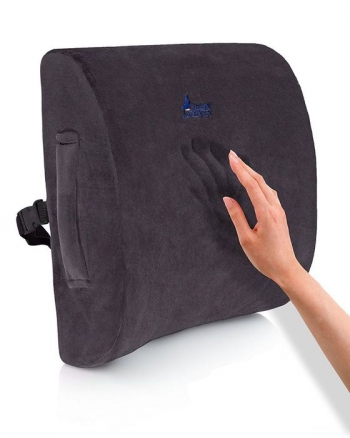 Technical details:
Dimensions: 13" (33 cm) x 3.9" (9.9 cm) x 11.8" (30 cm);
Weight: 1.3 pounds (0.6 kg);
Made in China.
Feedback summary
It's a high quality cushion which does help relieve lower back pain. It can also slide a little but, but it does not occur that often. Some say it's too hard, but there's a softer version offered by the same manufacturer. Most people love it both when using at home and in a car. There are several people reporting it makes you move forward too much, but it depends on a chair model. Yet it must be noted that the cushion works fine for most chairs. As to other drawbacks, a couple of persons said it retains heat, and the memory foam inside loses its shape. It seems to work well for most people, so it's an item worth giving a try.
The covers are filled with ¾" (1.9 cm) memory foam to provide better cushioning and relieve arm pain. They fit almost any chair and armrests from 7" (17.8 cm) to 11" (28 cm) long and up to 4" (10.16 cm) wide. The covers come in a set of two, so your both hands will feel comfortable. They can be removed easily and washed if needed. The covers are attached to the chair by means of the elastic on the bottom.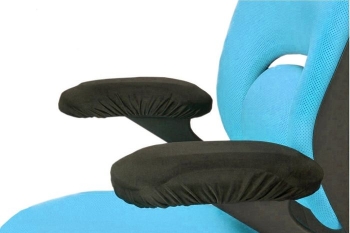 Technical details:
Dimensions: 10.8" (27.4 cm) x 5.5" (14 cm) x 3" (7.62 cm);
Weight: 4.8 ounces (136 g).
Feedback summary
The covering seems to be a soft black fleece type material (one person compared it to microfiber). All buyers love the product as it makes your arms feel better, and the covers also hide the scratches and other damage which may be visible on worn armrests. It fits most chairs and is well-built, so the product is definitely worth a try.
It's another back support which looks high-tech. It is a mid-spinal support filled with memory foam which helps you keep neutral posture. The other section, the lower lumbar support, is also filled with memory foam and helps relieve back pain. Take a look at the attachment system - it differs from other models and is designed in such a way so as to eliminate the issue of readjusting. Just position it appropriately and clip the straps - voila, it's installed!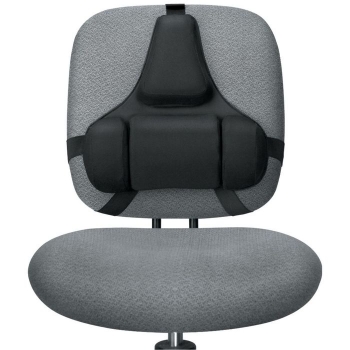 Technical details:
Material inside: memory foam;
Dimensions: 2" (5 cm) x 15" (38.1 cm) x 14.5" (36.83 cm);
Colour: black.
Feedback summary
Some people use it in cars (in case of bucket seats only!). Though some report slippage, it does not make the item unusable. Several users also claim it aggravated their back pain and do not recommend it. Actually, it seems to depend on each individual - there are lots of people who say it does its job well. It's a thing worth giving a try due to its quality and construction, because few models have such attachment system.
An office chair can easily scratch or damage in some other way your floor surface. To avoid it, special mats are used - here you can see one of them. It is half-transparent and large enough for you to move while sitting on your office chair. It is odorless and contains no BPA, phthalate, PVC and volatile toxins. The mat is made of polypropylene and pliable, so it's not supposed to crack. It can be used on a variety of surfaces, including tile, hardwood, stone, vinyl, laminate and others; the underside is slightly coated, so it does not slip. There are two versions of two sizes (namely 30" (76.2 cm) x 48" (122 cm) and 36" (91.44 cm) x 48" (122 cm)), and the text below concerns the bigger one. The product has opaque/frosted finish and is only half-transparent. Besides, the manufacturer claims it's sound absorbent. You can also use it if your floor is equipped with underfloor heating system.
Put it on the floor with the smooth side down. It's flexible, not hard. It comes rolled but lies flat when unpacked. By the way, it's thin (though no exact number is mentioned), so you can open the door over it without any troubles.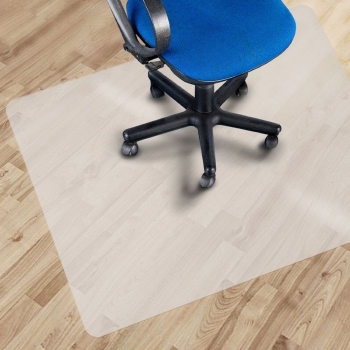 Technical details:
Material: polypropylene;
Dimensions: 36" (91.44 cm) x 48" (122 cm);
Weight: 3.3 pounds (1.5 kg);
Colour: opaque.
Feedback summary
Well, the major drawback is that is DOES slide. People report sliding on hardwood, tiles, and carpets. Yet it seems to depend on the surface, because there are users with the same kind of floor who do not experience such issues. One person even assumed that people put the item the wrong side down. Also, it comes rolled and needs some time to lie flat. Several the negative reviews imply damage during delivery, so the reasons why people leave negative reviews vary. However, the majority love the product, it does not slip in their cases, and they are satisfied with the quality. Mind that it's opaque, not transparent, and rectangular - read the description carefully before buying! Provided you have read the details about it, it's a good product.
This cup holder can be used in a variety of ways: attach it to your office chair, your car seat armrest, wheelchair, etc. Using straps, you can easily install it on any fitting armrest. Mind that you can use it only with a certain type of chairs which has straight armrests or at least the ones that allow attaching an item like this to them. The product is made of recycled plastic (which is liked by those who support the eco-ideas) and is 100% recyclable. It is lightweight, so you can carry it if you want to use it in different places. It has Velcro straps and foam pads.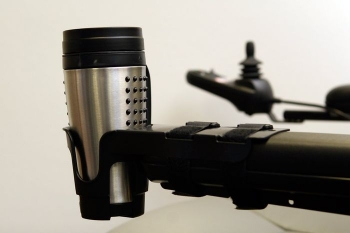 Technical details:
Colour: black;
Dimensions: 8.2" (20.8 cm) x 3.5" (8.9 cm) x 3" (7.6 cm);
Weight: 3.2 ounces (90.7 g).
Feedback support
As seen from the manufacturer's reply to the users' reviews, the product fits armrests of 3" (7.62 cm) wide or less, so be careful when choosing it if you intend to use it with a chair different from the above stated measures. As to the reviews themselves, it is a good product, but don't forget to check whether it will fit your mug/glass/other container. It may slip sometimes, but it does not happen often and not in any case, since the majority of purchasers love the way it works and recommend buying it.
It's a cushion, but not an ordinary one - it's made of gel which is advertised as Wondergel (or Intelli-gel) and made of a modern copolymer. The manufacturer claims it's not heat sensitive, so it does not charge its characteristics when the temperature changes. The material is soft, solid and rubber-like. It is rather large (see the dimensions below), so it fits most people and provides good seat coverage. It comes with a black zipper cover which is washable.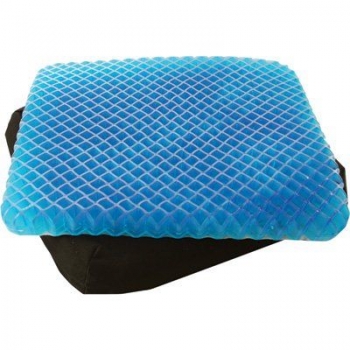 Technical details:
Dimensions: 16" (40.6 cm) x 18" (45.7 cm) x 1.25" (3.2 cm);
Weight: 3 pounds (1.36 kg);
Colour: blue;
Material: copolymer.
Feedback summary
They say it does not make noise, so the strange sounds heard when someone seats on such cushions are not expected. Some even want to use it in a bath, because the gel is waterproof, but the cover is not - it's washable. It also works well with wheelchairs. Also, there are ones who decide to cut it to make it of the needed size, and the manufacturer says it's OK, but such a thing makes the item unreturnable, for course. As to the feedback, the problems mentioned in the negative reviews are mostly minor, though some said it didn't work for them, since they didn't feel comfortable. Also, they say if left in a cold place, say, in a car in winter, your bottom may also feel cold. Another drawback is that several people reported receiving it without a cover for some reason. Yet it seems to be one of the best cushions around, as the feedback is really good.
It's a stretchable chair cover which comes in different patterns. This one is called 'red tendrils', for instance. It can be used to protect an office chair from grease and dust or make your old chair look new. It fits chairs of the following dimensions:
back height: 45-55 cm (17.72-21.65 inches);
back width: 36-50 cm (14.17-19.69 inches);
seat width: 36-48 cm (14.17-18.9 inches);
seat length: 38-55 cm (14.96-21.65 inches).
It's easy to install and machine washable, so you can remove it when it gets dirty and clean with ease.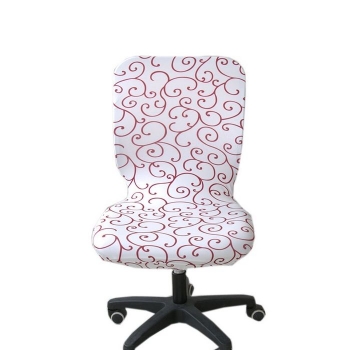 Technical details:
Product dimensions: 9.8" (24.9 cm) x 5.1" (13 cm) x 2.8" (7.1 cm);
Weight: 5.6 ounces (158 g);
Colour: varies: red tendril, blue tendril, green, green tendril, purple tendril, red with black tendrils, star, wine tendril, yellow tendril.
Feedback summary
There are only 12 customer reviews, and most of them love it. 4 users said it's too small (one also mentioned returning with no problems), another one received an item with a stain, and no other drawbacks were mentioned. Most purchasers like the quality, the material and the look of the cover. Well, it's just a cover which does what it's supposed to do. Some (including the manufacturer) even say it helps protect your chair from cat scratching!
That's a chair mount with a tray for keyboards or laptops. It's ergonomic, made of stainless steel and looks solid. The support is of aluminum alloy, and the board is adjustable, so you can position it the way you want. NOTE that it fits only the chairs which have a chair cylinder pole of 28 mm (1.1") in diameter!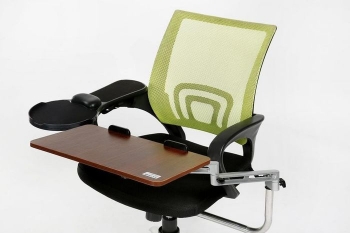 Technical details:
Materials: stainless steel, aluminum alloy.
Board dimensions: 18" x 9" (450 mm x 250 mm);
Needed chair cylinder pole diameter: 28 mm (1.1");
Feedback summary
1. Person A says the idea is good, but it doesn't work. The arm is flimsy and oscillates when the person using it is trying to type. Besides, the screws that are designed to hold the joints from rotating are rusted and useless which affects the quality of assembly.
2. Person B reports the item being not as sturdy. Still, it seems to be usable, yet need modification - the user had to get Velcro zipties for mouse armrest.
3. Person C is satisfied with the product and says it's really convenient and easy to assemble and use.
It's another laptop desk for chairs, which is rather expensive. Also, the table is for the right arm only - you cannot place is on the left side! The table can be adjusted so that it could be convenient for you to use a laptop, tablet or other device. No chair included!
Another important note - it works only with "all wood-based Perfect Chairs (excluding the PC-300) and does not work with PC-085, PC-086 and other fully upholstered models", as the manufacturer says. So if you happen to be an owner of one of the chairs that are compatible with the item, it's an option for you to consider.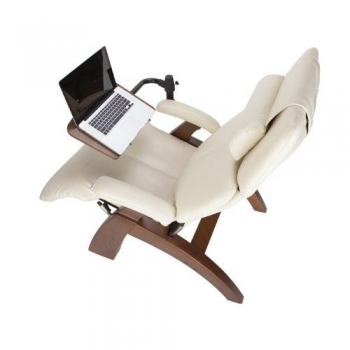 Technical details:
Feedback summary
This product is not very popular, so there are only 6 reviews. The rather low rating is explained by the fact that most users who are not satisfied thought they would get a chair along with the table, so the description may be (or was) misleading. Again - NO CHAIR COMES WITH THE TABLE. As to the table itself, it seems to work well as it can be folded and adjusted properly (users especially like the tilting and the angles at which they can look at their laptops, as well as the leveling option), but the item is really overpriced. Well, so is the chair it is compatible with, as one of the users said, so it's up to you to decide whether you want to spend so much money on a good table which is still just a table.
It's a convenient pouch with is attached to a chair armrest. It features pockets for phones and other small gadgets and large compartments for papers, magazines, etc. There's also a zippered pocket. The item is made of nylon fabric which is likely to be durable. Though it looks as if it's sewed to the chair, it's portable and can be easily attached and re-attached. To install it, wrap it over the arm of the air and use the Velcro to lock the two parts together.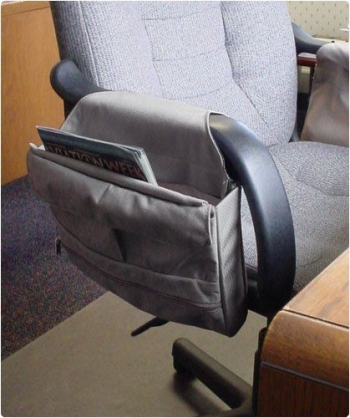 Technical details:
Material: nylon fabric;
Colour: neutral tan or medium gray;
Over the arm width: 9" (~23 cm);
From the top of the arm to the bottom length: 15" (38.1 cm).
Feedback summary
Most users love it and say they find it very handy to keep their things organized. There are only 2 critical reviews (out of 15): according to them, one person found it too small, and the other one didn't like the colour - it seemed not gray, but deep green to him. Well, these are not the things that can make such a thing unusable, so it's a product which is very likely to be loved by almost any purchaser.
P.S. If used on a wheelchair, it may touch the wheels depending on a model.
Conclusion
There is quite a variety of things that may come in handy when using an office chair. Before buying an office chair accessory, make sure it fits the size and dimensions of your chair. Also, take into account the surroundings (the floor type, etc.) if this accessory performance can be affected by it.