Portable Coffee Makers Buying Guide - Best Coffee Makers, Accessories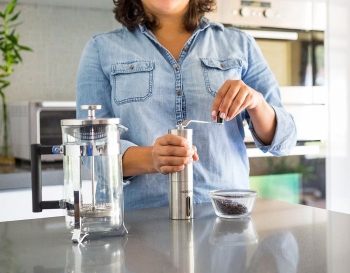 It's quite late, and you watch how shine in the sky as you drive to a petrol station in a rural area. There's a long way to the town you're going to visit, and a cup of coffee would not hurt. As your car is drinking its own 'beverage', you head to a small store that is located right here, at the station. You order a cup of coffee and go out. The are so bright, the air is so pleasant, and… what's that?! Yuk! You call that coffee?!
To avoid such confusion, many manufacturers of coffee machines, both startups and established brands, have developed portable coffee makers - and it is just the kind of thing we are going to discuss!
Types of portable coffee makers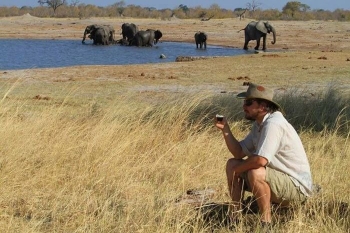 There is such a great variety of portable devices for making coffee that it's rather difficult to classify them. Well, in terms of design they can be grouped like this: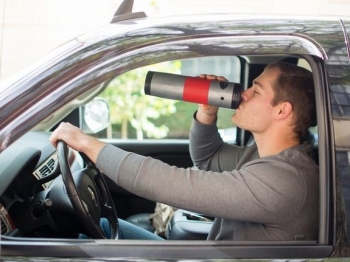 In terms of source of power, portable coffee makers fall into the following types:
Manually powered. Such coffee makers are press-style and require no power supply, except for your hands;
How to choose a portable coffee maker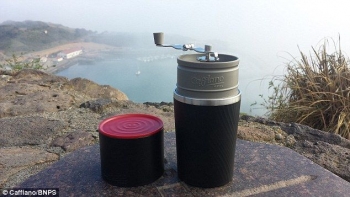 Just take a look at what great variety of portable coffee makers there is in the market! Embarrassment of riches. Here are a few tips on how to choose an appropriate coffee maker that will last and make coffee of good quality without taking much space.
Think of where you are going to use it. Do you want to have a compact coffee maker for meetings? Or a compact travel coffee maker? Or a coffee maker that needs no electricity to brew coffee? The conditions of operation matter a lot when choosing the right model. If you are planning to travel a lot or keen on camping, then your pick is a coffee maker that is hand-operated. If hotels are your primary aim, then electricity (and hot water) will not be an issue;
Consider the price. The price may vary from 10$ for simple hand-operated units to 150-200$ (actually, to any number, since there are no limits for trendy products);
Choose the one you like. Appearance is not that important to quality of coffee being brewed, but it can matter for some, so take your time to find the model you will enjoy looking at;
Additional appliance factor. Do you have a separate water heater and grinder to accompany your portable coffee machine? If it is ok for you to have to carry additional appliances, you can choose a model other than all-in-one machine type. In all other cases an integrated water heater is a must;
Convenience and dimensions. A portable device should be easy to carry and not take much space. Think of where you're going to carry it - will it be a suitcase or a backpack or something else?
Reviews of portable coffee makers
Since the models are so different, it's better to pick models of various types. Here is the list of the best devices around - keep in mind that this list is not comprehensive, as there are many more high quality compact coffee makers.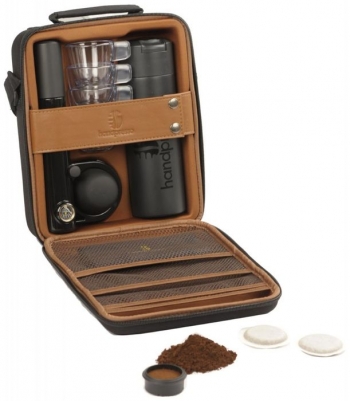 This is a portable espresso machine that has attractive design and is capable of making wonderful espresso.
Comes in a durable case that includes everything for brewing and serving coffee;
Requires hot water and grind;
No need for electricity or batteries;
Based on pressure;
Great for meetings, as it includes 4 unbreakable cups;
Made of thermo-formed EVA plastic;
You can use fresh-ground coffee or pods;
Comes with an insulated flask;
Dimensions: 10.2 x 8.5 x 3.1 inches (25.9 x 21.6 x 7.87 cm);
Weight: 3.8 pounds (1.7 kg);
Customer feedback:
The feedback suggests that this coffee maker seems to have no drawbacks - the thermos keeps the drink hot for several hours, the taste is great (provided you use coffee beans of high quality), and it's the best model in terms of taste among other devices of this price range. The only drawback is a small thermos - it's only for 330 ml. Also, some customers who have bought it suggest using pods instead of beans, as it's rather difficult to clean the device if beans are used.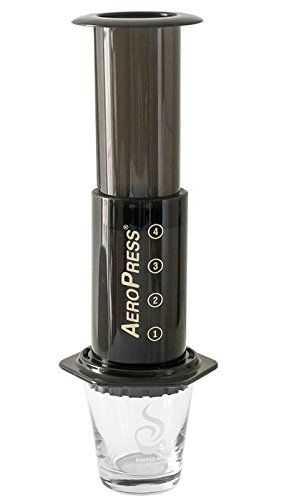 Here is a high quality coffee maker that looks more like a syringe.
Makes American style coffee or espresso-like shots;
Lower acid level of the brew compared to other machines;
Multiple filters make pure coffee;
You can even make pure concentrate to store it for several days;
Makes 1-4 cups of coffee (~1-2 mugs);
It takes 1 minute to make coffee (pressing lasts for 20 seconds);
Comes with a year's supply of microfilters;
Requires hot water and coffee;
Does not require electricity;
Dimensions: 5 x 5 x 11.5 inches (12.7 x 12.7 x 29.2 cm);
Weight: 14.4 ounces (408 grams);
Customer feedback:
Feedback on this product suggests that it's a great coffee maker capable of adjusting strength of the drink, some call it 'the best drip coffee maker in the world'. It makes several cups within minutes, and the coffee tastes great. Some claim that plastic is not durable and begins to break after four months or so. Others claim that plastic used in this coffee maker is toxic, though people do not know for sure.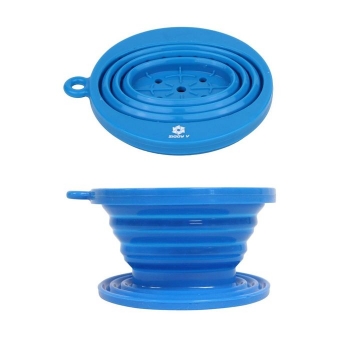 Looks like an ice-cream? No. It's a silicone over the cup infuser that is extremely cheap and easy to use.
Brews 1 cup of coffee or tea;
Silicone retains heat but is cool to the touch;
Made of high quality silicone;
Does not break like some plastic coffee drippers;
Easy to clean;
Can be washed in a dishwasher;
It is recommended to use a No. 2 or No. 4 paper filter;
Dimensions: 4.8 x 4 x 0.1 inches (12.2 x 10.16 x 0.25 cm);
Weight: 2.4 ounces (68 grams);
Customer feedback:
General feedback is more than just good - people claim this little dripper is awesome both in terms of coffee taste and its convenience in cleaning. You can simply throw it into a dishwasher. Some say that it's not clear how to use it, since there're no instructions, others do not like that it's too shallow. A person claimed that it fell down a few times when pouring hot water into the cup.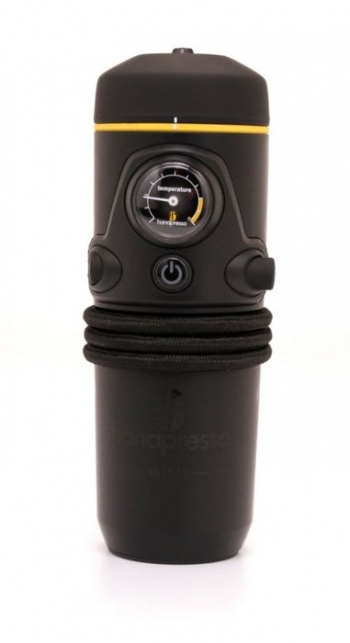 This is a unique model that is very popular among car owners since it uses a 12V cigarette lighter.
Compatible with cigarette light socket;
You can plug the device into the car's power outlet, but in such a case you will need a connector;
Uses pressure (and has an internal pump implemented) for brewing coffee;
Uses ESE pods;
Capacity: 1.79 fl oz. (53 ml);
It takes 2 minutes to brew;
Dimensions: 3.5 x 3.5 x 8.5 inches (8.9 x 8.9 x 21.6 cm);
Weight: 2 pounds (900 grams);
Customer reviews:
The feedback shows that this device is good at making espresso and made of durable materials. The main drawback is its capacity - they say, it makes only 2/3 of a normal cup. Also, some people claim that the voltage of the car at idle may be insufficient for the device to work, thus resulting in repeated shutting off. It means, the engine has to be running. The user manual also lacks useful information.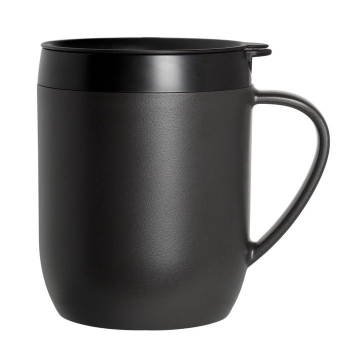 This may be one of the most convenient ways to brew coffee - not only does it brew, it also provides a mug!
Features double-wall to keep the drink hot for longer periods of time;
Suitable for tea and hot chocolate too;
Easy operation;
Requires hot water and ground coffee;
Can be washed in a dishwasher;
Features a lid;
BPA free;
Dimensions: 4.8 x 3.5 x 4.5 inches (12.2 x 8.9 x 11.4 cm);
Weight: 0.3 ounces (8.5 grams);
Customer feedback:
People are more than satisfied with this coffee maker. Some find it wonderful that they don't need filters and other accessories. Some people complain that some coffee grinds blow back over the plunger. Another customer recommends washing the mug by hand, as the plastic isn't durable and bleaches in the dishwasher.
Accessories you may need
Most portable coffee makers require hot water and ground coffee, so before setting out on a trip, consider taking the following items with you: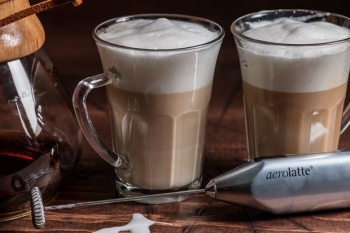 Coffee recipes you might like
Coffee is a kind of thing that may let one's imagination flow. There are hundreds of recipes that help make coffee that is delicious and warming. You can add some ingredients even if you are using a portable coffee maker, so here are a few tips on how to make a cup of coffee your family or friends will adore!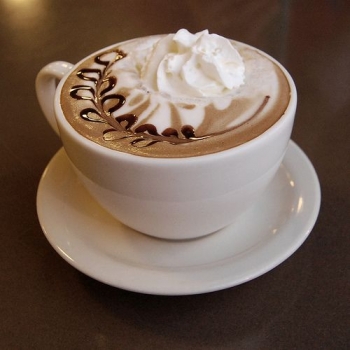 Peanut butter wonder. Brew coffee. Add milk, yoghurt, peanut butter (2 tablespoonfuls), and some ice and process the coffee for 45 seconds until it gets smooth and frosty;
Raspberry coffee. Brew coffee. Add raspberry preserves and ice cream and blend the coffee;
Caramel latte. Brew coffee. Microwave milk for a minute and a half until it gets warm (but not boils), whisk it until foamy. Heat caramel syrup and add it into coffee. Pour milk into the coffee, add whipped cream, caramel and toffee bits.
Conclusion
A portable coffee maker is a must for everyone who cannot imagine his morning without a cup of fresh coffee wherever he is. There are plenty of models designed specifically for different situations. Be it a camp in the wilderness or a car (or something else), you can always find a device that will meet your requirements.