Portable Toasters for a Car: The Fullest Online Guide And Tips - Is There Exist Any 12 Volt Toaster?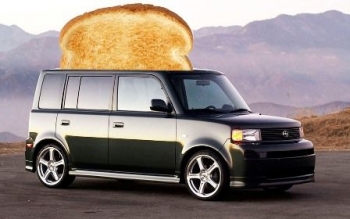 Can you imagine a perfect morning without a golden slice of toast smothered in butter or jam? Add into this picture a cup of hot coffee and you get a recipe of the perfect day's start. But what if your morning starts not in your house but on the road? Forget about your favorite breakfast with a toast? Absolutely not. Just use a portable toaster for a car. Simple as that.
Are there portable car toasters?
Another question – are there portable toasters you can use in a car? If you search "car toaster" you won't get a clear picture. Because 12 volt toasters or battery powered toasters do not exist as separate devices. You won't find such label in a store or online – despite some fraud companies claiming to invent a universal USB toaster suitable for the car. However, there are multiple portable appliances working as a charm, when you need to toast a slice of bread on the road without leaving your car or right on a camping spot in the woods.
Multiple options for portable car toasters (including alternative solutions)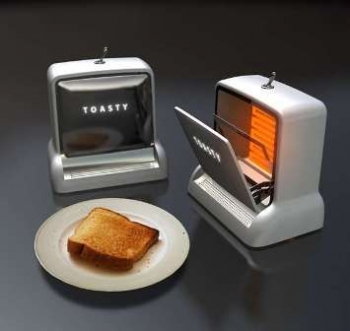 A toaster car owners want is essential for getting a quick and delicious toast. Just drop in a slice of your favorite bread, then wait for it to pop up. The smart appliance does everything instead of you. Home and portable toasters range in price and quality. You can buy a cheap one for 20 dollars at a local store or spend over $300 for a specialty model. It's easy to assume that cheap and expensive toasters are practically the same – after all, they both toast bread. However, the superior performance, the design, and features of a mobile toaster make the difference. As well as the features of different devices serving as car toasters on a road. There are so many options for those who love toast and drive a car at the same time, you will be surprised. Let's take a look at the most popular options of portable car toasters:
I. An electric toaster + 110V-to-12V inverter = a portable car toaster
Let's begin with the simplest solution. You can use a small 2-slice toaster that needs only 110V and a cheap inverter for your car that can invert 12V into 110V with a help of a car battery. Only the inverter must be more powerful than a toaster.
For example, if a toaster is 600 W than an inverter must be 800-1000 W. Let's count a little bit. If the slices of bread are toasting during 4 minutes in the toaster with the power of 600 W, then one such cooking session will take about 40 W from your car battery. A standard fully charged car battery (60 A/h) can keep the power during 60*12=720 W. It means that you can safely deal with few toast sessions via your inverter and accumulator during a day.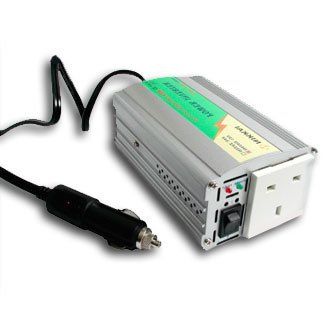 Such inverters work flawlessly but drain a car battery. Besides, you need to know how to set up such appliance to make it work.
Pros of such method:
You won't need to buy a special appliance – the cheapest low-voltage toaster will do just fine;
An inverter that you buy for a toaster will do for other home appliances – since inverters normally have one or more standard outlets to toasters, coffee makers, power laptops, small-screen TVs, video game players or portable DVD players, etc.;
A DC to AC power inverter is great for camping at parks that do not provide electricity.
Cons of such method:
An inverter can easily drain your car's accumulator very quickly;
With some old car models,

such method can be quite dangerous

.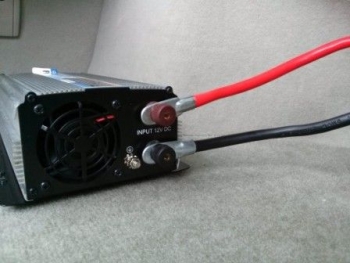 To make a car battery powered toaster from a two-slice toaster you need to buy an inverter like this that takes DC voltage and turns it into AC voltage. You can order such inverter on Amazon or at the local car supply store. With the help of this device, you can plug the110V toaster to the car battery. But remember to charge your battery often. But never plug a toaster to a power jack/cigarette lighter because you can burn the automotive fuses. And it will be the best scenario.
There is also the video showing in practice how to plug a toaster into a power jack of a car:
https://www.youtube.com/watch?v=xrJfvv9-QIQ
II. Electric sandwich press/maker
A sandwich maker or press is not the most complicated of devices. It works like a waffle iron, only with a different texture on its plates. But a sandwich press can toast bread evenly and apply just the right amount of pressure to melt the cheese on it. Also, a sandwich maker can warm all other ingredients to make a sandwich even more delicious.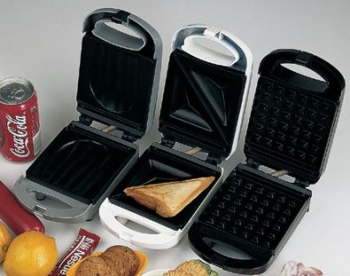 Pros of a sandwich maker:
Simplicity – it doesn't have complicated function buttons. Anybody can make and prepare a hot, toastie with egg in five minutes with this sandwich maker;
Space saver – any breakfast sandwich maker is small in size and can be placed in any part of your trunk or backseat;
Easy to clean – an easy to clean feature is important and most sandwich makers meet the easy to clean standard.
Cons of a sandwich maker for making a toast:
They are good for making sandwiches, while only bread toasts appear to be too crispy in them;
Some models are hard to clean and you need to buy special chemical agents for cleaning.
Rumor has it, that there are 24V sandwich makers offered at the website of RoadTrucker. However, it is probably better to use a standard 110V sandwich press with an inverter instead of this cheap device for your car or RV.
III. Portable gas ovens
A portable gas stove is the cheapest in the roundup among double convection units. Such appliances offer expanded cooking capacity without digging too deeply into the pockets. Most portable gas ovens have temperature control knobs to establish separate heat levels. It can be easily installed on any horizontal surface.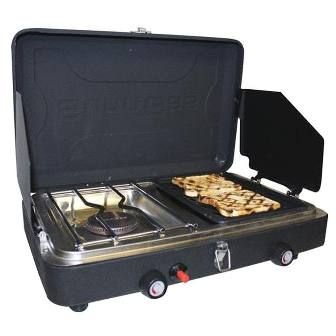 The power source is butane charger so it is better to avoid using such stoves near open fire or flammable objects. Some portable gas ovens work from white gas, kerosene, propane or medical alcohol. But butane is the most popular gas source for such devices. Butane is usually sold in sealed cartridges. Using a portable gas oven is the best idea for cooking a full-time meal on the road. You can warm a toast taken from home or fry a slice of bread with oil.
Pros of this method:
Great for outdoor/indoor use;
You can warm/cook a full-time meal as well as quickly make a toast;
Good for campers and RV owners.
Cons of this method:
Gas ovens like any gas appliances

can be dangerous

;
A necessity to change butane cartridges.
IV. Camping options for toast lovers
1. Camp gas ovens with automatic butane caused ignition
Basically, they work in the same way that the previously described category. The difference is that a camping toaster oven usually has an open cooking surface and should be used outdoors or in RV. You even can use it on a camping table.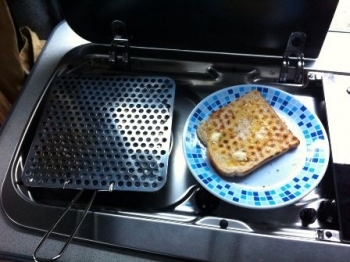 Pros of these ovens:
Simplicity – most modern models have a piezo ignition, disposable gas cartridges, without hassles with gas bottles;
Compact – easy to throw in the back of the 4WD or RV;
Adjustability – they have a pretty adjustable flame, especially for low heat applications;
Low cost – usually they are sold under $20.
Cons of such stoves:
Great

only for outdoor use

;
Easy flammability and safety issues;
Not environment-friendly – you would dispose of around 36 cartridges for the equivalent of a 8.5kg gas bottle which can be refilled. Lots of waste.
2. Backpacking stoves for campers
These are the most portable camp stoves out there. Because you can literally fold them and put in your backpack. The popular choice of camping fanatics. All backpacking stoves are divided into: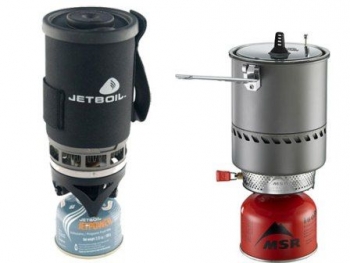 Liquid fuel stoves - versatile stoves connected to refillable gas bottles. Most liquid-fuel stoves run on white gas, though there are some greener options at higher price;
Canister stoves - easy-to-use and low-maintenance stoves. They are screwed to self-sealing fuel canisters containing 2 pre-pressurized gases - isobutane and propane;
Alternative-fuel stoves - stoves that run on fuel pellets or wood.
Pros of backpack stoves:
Easy to use;
Compact and lightweight;
Use different kinds of fuel;
Great for cooking a canned soup or frying a bread slice.
Cons of backpack stoves:
You need to unfold such stove each time that you want to get a toast;
Not long life-span.
3. Pie iron
This is the camping fire accessory that works from an open fire or gas stove with an open cooking surface. In other words, it is a great option for everyone who likes to toast a bread or sandwiches while camping. Pie irons are also extremely portable and easy to use.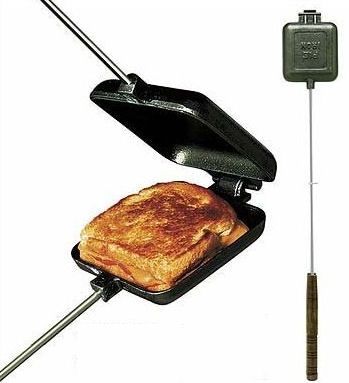 Pros of pie iron:
Non-stick surface;
Retain heat for a long time;
Leach iron into your food and help provide the 18 mg of iron of daily dose;
Long-lasting;
Cheap.
Cons of pie iron:
Easier to burn yourself;
Heavy;
Susceptible to rust.
4. Battery operated marshmallow/bread toaster
Do you like marshmallows? Who doesn't, especially if you have a friend or family to share tasty marshmallow together over the camp fire. But you may expand your options with a special battery operated marshmallow toaster for making a bread toast.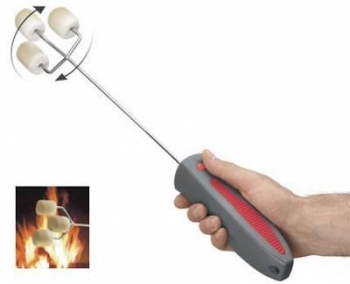 Pros of such method:
Compact size;
An ability to make few small toasts at the same time;
Ideal for outdoor camping or indoor fireplace.
Cons of such method:
You

still need to use a gas stove, fireplace or open fire

for making a toast with this device;
The slices of bread will be smaller than a standard toast.
VI. 12-volt portable cooking appliances
There are 3 top brands that officially manufacture truck and auto 12V cooking appliances:
Road Pro;
Max Burton;
Koolatron.
All their devices have been successfully tested and top-rated by multiple users all over the USA and Europe. You can use 12V appliances made by these 3 manufacturers in a truck, car, RV or boat. Whether it's your work or your weekends that take you out on the road, whether you're alone, with your friends, co-workers or your family - on-the-go lifestyle will be much easier with these professional portable cooking appliances. For over few decades Road Pro, Koolatron and Max Burton have been bringing hundreds of products to your mobile lifestyle.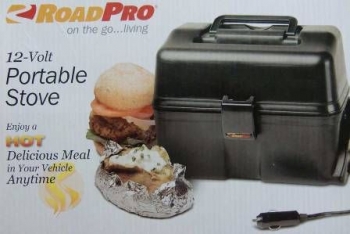 What Road Pro, Max Burton and Koolatron 12V in-auto appliances you can use for making a toast in car:
oven – where you can cook pretty much everything, including a hot sandwich/toast;
lunch box stove – mostly for warming your food;
frying pan – you can fry bread or eggs without leaving your car.
Pros of 12V cooking appliances:
Instantly ready to use – simply plug into your auto's power jack, without an inverter or leaving your car;
Great for use indoors and outdoors;
Compact;
Multifunctional;

Many positive users' reviews

all over the Internet.
Cons of 12V cooking appliances:
Most 12V devices are available on sale only online

;
Not a long life-span;

Can't be used without a 12V power jack/cigarette lighter

.
Reviews of portable toaster-like appliances for a car:
I. 12 Volt cooking appliances working without a converter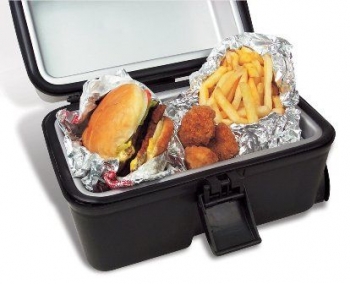 This 12-volt portable stove will make sure you are not hungry on the road. This "little one" can warm food up to 300 degrees and at the same time will occupy minimum space. It can be used to heat most kinds of pre-cooked food and it is also perfect for stews, chops, rice meals, hot dishes and more, including your favorite toasts.
Pros:
Doesn't consume a lot of power but heats a good-sized portion in approximately 30-60 minutes;
Plugs into most 12V lighter type sockets of modern car models;
Great for cold conditions, even works perfectly on Alaska!
Cons:
Some users claim that their portable stoves by Road Pro were made cheaply and flimsy but still managed to heat food;
The main critics were about an inability to heat anything with this device. Others say that it worked flawlessly but only for few weeks.
Specifications:
Weight is 3.2 lbs;
Dimensions are 10.5 x 7 x 7.8 inches;
Warms food to 300 degrees;
It draws 12 amps and uses 144 watts;
Plugs into most 12V lighter type sockets.
Users liked portability, a variety of foods that can be prepared with this Road Pro cooker and affordable price. Negative reviews focused on cheap materials, bad durability and non-working heating element.
Video review: https://www.youtube.com/watch?v=2-vvq8K0sn4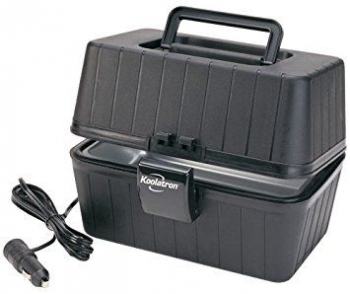 The Koolatron 12-volt lunch box can be easily plugged into your car's cigarette lighter and cooks/warms your food to 300 degrees Fahrenheit straight in your car.
Pros:
Can heat baby bottles & food jars, soups, stews and pizza slices in few minutes;
Cooks from scratch hot dogs, rice, grilled sandwiches and frozen leftovers;
Unlike many 12V cooking appliances

this one can plug it into any household outlet with the Koolatron AC adapter

;
Durability up to 6 years.
Cons:
Size inside a box is smaller than promised 11x8x8 inches;
Not very solid construction, especially a handle.
Specifications:
Powers from any 12V outlet;
The power is 150-175 watts;
Cooks and warm foods to 300 degrees Fahrenheit;
Weight is 2.5 pounds;
Dimensions are 11 x 8 x 8 inches.
Users compliment the device's durability, tasty foods, low cost and conveniences in using on the go. Negative reviews mostly focused on slow heating of the device – 1 hour vs. Road Pro stove's 30 minutes.
This and other lunch stoves are compared and reviewed here: https://www.youtube.com/watch?v=_grdjoZzUS8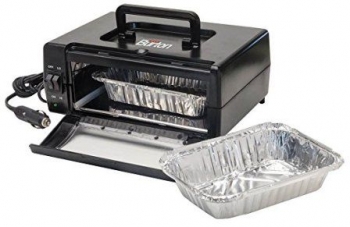 Max Burton 06910 Oven To Go portable cooking appliance can heat, warm and even bake foods from the convenience of your car. For easy meal preparation, there are 2 cooking containers included. With this you can prepare simple, home-style meals while you're camping or on the go. It's also perfect for long distance drives, hunting and fishing trips.
Pros:
Compact, lightweight and fully portable oven;
The unique heating elements

cook from the top and bottom

and allow cooking/baking from scratch;
Just plug it into a lighter socket or 12-volt power supply and you're ready to cook.
Cons:
Some users claim that the device doesn't bake like promised;
Low durability – lasts up to 8 months according to some reviews, the bottom melts after burning unexpectedly;
Flimsy construction.
Specifications:
The stove measures 11 by 8 by 4.75 inches;
2 cooking/storage containers are included;
The power is 112 W;
A collapsible handle provides compact storage;
The stove features an on/off switch and hi/lo settings for built-in temperature control;
A five-foot power cord gives you some flexibility in positioning it (you need to buy an extension cord for Road Pro separately).
Positive aspects pointed out in the reviews – small size is appreciated, keeps food warm for a long time, 2 convenient storage containers. Negative aspects – very slow heating (2 hours for 150F) and works well only on 12 volts.
Price: from $49.95 (used) to $60.27 (new) BUY NOW
Video review: https://www.youtube.com/watch?v=BsAmbQYOhaQ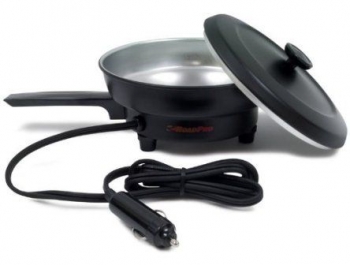 Road Pro 12-Volt Portable Frying Pan is manufactured from aluminum to cook and heat warm in your car. Little maintenance is the main aspect for this durable cooking appliance.
Pros:
You can fry sandwiches, toasts, meat, eggs – any home meals or cook from scratch;
Constructed with durable materials;
Easy installation;
Low price.
Cons:
No temperature regulator like in the previous devices;
The

food sticks to the frying pan

so you will definitely need to clean up this device.
Specifications:
Weight is 1.1 pounds;
Dimensions are 6 x 3 x 3 inches;
Draws 13 amps with 150 watts;
Manufactured to cook inside the vehicle;
Can be powered from vehicle's cigarette lighter socket without an inverter.
Positive reviews focus on such aspects – small size and ability to fry everything that a standard frying pan, heats fast and needs a small amount of oil. Among cons – 5' extension cord (you will have to buy an additional extension cord) and sticking food so you have to use a non-stick spray for the best results.
Price: $27.36 (with discount – standard cost $34.99) BUY NOW
Video review: https://www.youtube.com/watch?v=K01fkq39ASQ
II. Mini-toasters working via a car 12V to 110 V converter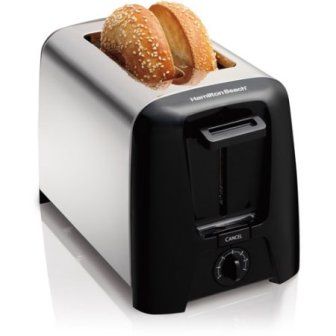 The Hamilton Beach Cool Wall 2-Slice toaster has the style that you will instantly love to add to your road bag or kitchen countertop. This particular model has an extra-wide slot that fits thick slices of bread or even bagels. The Hamilton Beach Cool Wall 2-Slice toaster includes a crumb tray and toast boost for more convenience.
Pros:
Comes with a cool chrome exterior that will not burn hands if the sides are touched;

Handy cord storage

so that the electric cord can be hidden when the device is not used;
You can easily toast bagels and big bread slices with this device.
Cons:
Very short cord

despite a cord storage feature;
Works about a year before burning.
Specifications:
Dimensions are 11.26 x 7.00 x 6.34 inches;
11.26 x 7.00 x 6.34 Inches
A toast shade selector;
The power is 750W;
Cancel button;
Automatic shut-off feature.
Among positive features users named – smart design, cord storage and an ability to cook bagels. Among negative points - the slow heating process, toasts are made too light, no pop tarts and quick "death".
Video review: https://www.youtube.com/watch?v=vwhfZS-XGYI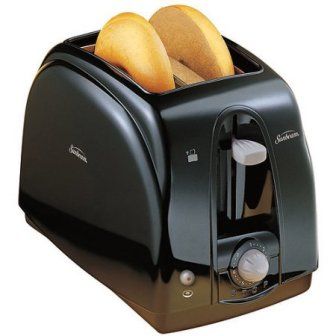 Enjoy the convenience of a fast breakfast with this Sunbeam 2-Slice Cool Touch Toaster. You can use it to toast bread or heat them for a quick breakfast on the go. Extra-wide slots allow it to accommodate large bread, pancakes, and even waffles.
Pros:
7 toast-shade settings from very light to very brown;
Extra-wide slots for a variety of bread;
A special toast lift elevates the bread to make it easier to grab when you are in a hurry;

Shuts off automatically

if the bread gets jammed inside for safety;

A cancel button

allows you to shut it down before it finishes when required;
This toaster stays cool to the touch to help prevent burned fingers.
Cons:
A holding knob jams;
Plastic material is not solid;
Bagel feature also jams sometimes.
Specifications:
The black 2-slice toaster is a stylish addition to any countertop and complements any decor;
Material is plastic;
Black finish;
The power is 750W;
Container type is box;
Dishwasher-safe crumb tray.
Positive points from reviews – lightweight slots are good for toasting bagels and big bread slices, long durability, automatic stop button and great price for such multifunctional toaster. Negative points – some reviewers said that the model lasted only 2 days before being broken, plastic case of the toaster is not very durable and has cracks, bagel feature doesn't always work.
III. Portable gas/butane stoves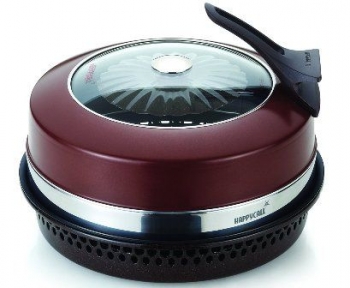 A smart portable stovetop oven is great for BBQ ribs, roasted chicken, baked potatoes, sausages, grilled seafood, casseroles, cupcakes and of course sandwiches/toasts. There is a convection system that allows heating food without turning it.
Pros:
Special feature - Turbo Safety Dome – that directs heat from below to the top of cooked food;
Removes the need to flip food when cooking;
There is no need to add water;
Non-stick slotted grill to easily cook and melt grease away;
Easy assembly and cleaning.
Cons:
Expensive device

due to multiple features;
To some taste, the food is dry.
Specifications:
Dimensions are 13.1 x 13.1 x 10.5 inches;
Weight is 1 pound;
Round bake-tray included for casseroles and baking;
Convection system - no need to turn food over.
Among positive features – high quality, great cooking features thanks to direct gas heating, juicy and crispy food. Among negative sides – very expensive and no additional features as promised by the manufacturer.
Video review: https://www.youtube.com/watch?v=954AkNoL2-s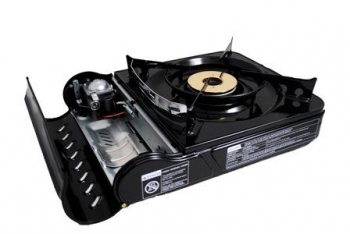 This is the most powerful portable stove on the market since it boils water twice as fast compared to standard portable stoves. The stove also has a dual flame system (with the features of inner & outer flame) in a spiral shape for a stronger output.
Pros:
The highest safety standard

: CSA (US & Canadian standards association) approved this portable, easy to use, reliable for camping, outdoor cooking home emergency kit;
Thermal plate - prevents butane canister from getting cold and freezing;
Automatic starter - piezo-type electric starter with safety shut-off system;
No matches or lighters required.
Cons:
Flimsy case;
Needs to come with a stand;
The plastic-made case of the stove can easily crack.
Specifications:
Dimensions are 10.9 x 4 x 12.9 inches;
Weight is 3.78 pounds;
The heat output is up to 11,000 BTU/hr;
Comes with carrying case/complete with user manual.
Positive points – users name this device a great for using during power's outage, for camping and that the grill pan is included. The only drawback is the necessity to use changeable butane canisters.
Video review: https://www.youtube.com/watch?v=ijM8deJgon0
IV. Camping options

for car

toasters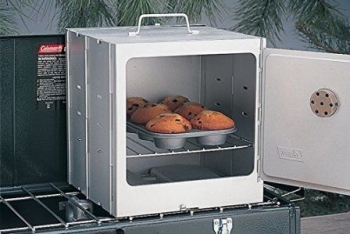 This highly popular portable camp oven can bake up rolls, cinnamon rolls, corn bread and toast the best-grilled toasts & sandwiches. This camp oven doesn't require electric/gas power to work. Instead, campers simply place the oven on top of a Coleman two- or three-burner stove.
Pros:
Doesn't require gas/electric power

;
Keeps your cooking warm until you are camping;
Folds flat for convenient & space-saving storage;
Easy-to-read thermometer;
Smooth and easy to clean;
Corrosion-resistant aluminized steel finish resists scuffs.
Cons:
Many users say that the oven can melt the cheap grill underneath;
Windy weather and this oven is a bad combo.
Specifications:
Dimensions are 14 x 14 x 3 inches;
Weight is 8 pounds;
10 sq. in. (64.52 sq. cm) rack adjusts to three cooking heights;
Aluminum finish.
What is good - little aluminum box works as a full-time oven only for campers, many users apply this device with Coleman Road Trip grill, works well only with one of 2 burners, cheap stove with many functions. What is bad – one user complained that the stove melted the grill, works badly during windy weather, low durability.
Video review: https://www.youtube.com/watch?v=LfVRDhTqDeE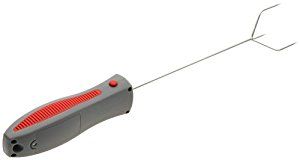 This is a great marshmallow stick that toasts 3 marshmallows at the same time. It is also good for toasting small slices of bread on the open fire while camping as well. Made by the popular brand Perfect Solutions.
Pros:
Perfect for campfire/outdoor grill/indoor fireplace

;
Great gag gift;
Automatic, push-button rotation for easy & even toasting;
Sure-grip ergonomic handle.
Cons:
Fragile frame;
Can toast only 1 or 2 slices of bread per time, unlike promised 3 slices.
Specifications:
Dimensions are 2.5 x 18.8 x 2.5 inches;
Weight is 12.8 ounces;
Stainless steel construction;
3 revolving prongs.
Among positive features –makes toasting marshmallows fun for little kids because it automatically turns while on. Among negative ones – very fragile frame and can be easily snapped off by a kid who is too eager when changing batteries, a necessity to buy batteries is also a drawback to some users.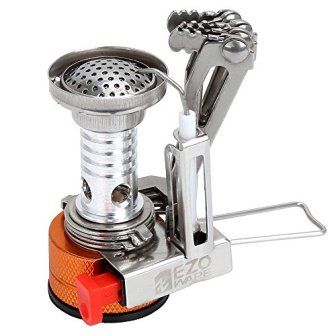 This device is a small palm-size camp stove that can fit in your pocket. EZO Ware commercial toaster oven is perfect for basic backpacking, camping and survival kits. It also comes with a bright emergency orange carrying case making it easy to find.
Pros:
Portable design;
Maximum durability;
Solid frame that can withstand high temperature and weight;
Easy to set up and use;
Piezo ignition system - to light you need to push button spark ignition that will always light up regardless of windy/cold weather conditions;
Solid connection with rubber gasket to ensure minimum gas leakage;
Cons:
Good only for one person;

Does not fit standard propane canister

.
Specifications:
Dimensions are 1.8 x 3.3 x 4.4 inches;
Weight is 0.25 lbs;
Made of aluminum alloy and stainless steel;
Adjustable flame control valve;
Compatible with 7/16" thread single butane/butane-propane/isobutane mixed fuel canisters.
Among named positive features are the excellent design for survival kits, great work under windy or cold weather conditions, good beginner's camp stove for one person, sturdy body. Also, users recommend using this stove with Stanley cook set and GSI20 oz cup. Among negative sides – needs special small butane canisters, the standard size is not good.
Price: on sale is $7.99 (standard price is $19.95) BUY NOW
Video review: https://www.youtube.com/watch?v=zDPHbmizmKE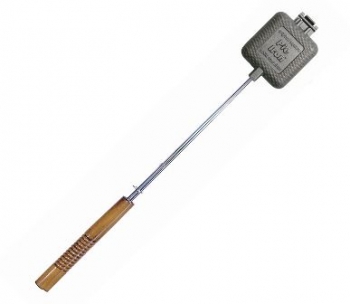 The classic square pie iron is loved by family campers & scouts for 45 years since 1964. To use you need simply place two pieces of buttered bread in the compartment and stuff with preserves, cheese, meat, pie filling, etc. Then close the lid and toast over the fire until done. Made by family camping cookware specialists - Rome Industries.
Pros:
Toasts pies and sandwiches with ease;
Great fun for fireplaces;
Cleaning is very easy;
Solid design that will last for years.
Cons:
Pretty heavy;

Can rust with time

.
Specifications:
Weight is 3 pounds;
Cooking surface is 4.25" x 4.5";
The overall length is 28 inches;
Heavy duty square cast iron design;
Made from solid cast iron with dependable chrome plated steel handles.
Users liked grilled cheese sandwiches that taste perfectly, great price offers and deliver the old-fashioned camping spirit. Among cons – heavy to lift if you are a teen or a girl, a handle is bad and inconvenient to use.
Video: https://www.youtube.com/watch?v=cKB_gKyLHrQ
Alternatives to car toasters/ovens/stoves:
1. Food warmer
A food warmer is ideal for those of us who don't like microwaves and who travel a lot. Truckers/delivery driver /travelers who don't have the lunchroom, fitness enthusiasts, folks with food allergies or special dietary concerns who want to carry a safe, healthy, hot meal with them anywhere they go can use special food warming devices like the one reviewed below. Great for warming your toasts and sandwiches as well.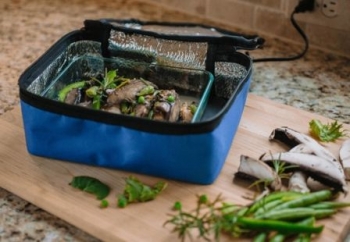 Are you tired of cold sandwiches for lunch? Then say "Hi!" to the Hot Logic Mini Personal, Portable Oven and start taking your favorite hot foods anywhere you go. You can easily warm toasts or sandwiches made at home while being on the road. The Hot Logic Mini uses the patented low-slow conductive heating system to reheat leftovers and frozen meals in one compact, portable "lunch box".
Pros:
Use flat-bottomed, sealed-top food containers of metal, plastic, glass, cardboard, ceramic materials along with this mini-box;
Insulated tote with aluminum lining to maximize heat retention;
Cons:
Low durability – lasts 1-2 years maximum;
Slow heating – up to 2 hours.
Specifications:
Dimensions are 8.75-inch width x 6.75-inch length x 2.5-inch height;
Weight is 4 pounds;
6 Pyrex cups are included;
Can heat up the food up to 150 degrees F.
Video review: https://www.youtube.com/watch?v=gFfYCaKnpAc
2. Electric lunch box or jar
Heated electric lunch boxes are perfect for school, work, camping or a long road trip. Such small devices will ensure you never go out without a favorite PB&J toast. The electric-heated lunch box goes beyond the original school lunch box designed with a simple handle. Many average electric lunch boxes are insulated, but the heated lunch boxes take things one step further and heat your food as well as store it warm. An electric-heated lunch box works a lot like a portable slow cooker, only much faster. They are great for trucker drivers, campers or people who are frequently on the road. They are even perfect for people who want to take a hot lunch to the office but hate waiting to use a public microwave.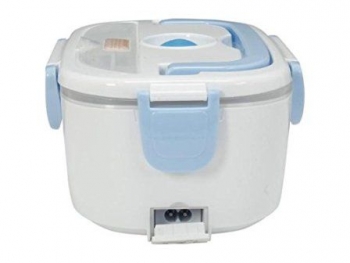 This electric lunch box contains a concealed heating element that is protected by heat resistant materials. It can both keep food cold and warm.
Pros:
Portable and easy to use;
Safety concealed PTC heating element;
Safe and high-temperature resistant material;
Can

withstand high temperatures up to 70 Degree C

;
Cons:
Bad quality and low durability;
Lack of smell-resistance so it will be a bad idea to bring it to your office cubicle;
Bulky and heavy according to some reviews.
Specifications:
Dimensions are 10 x 7.5 x 4.5 inches;
Weight is 1.6 pounds;
Energy efficiency consumes 40 Watts.
Video review: https://www.youtube.com/watch?v=jl3WpGRGbl0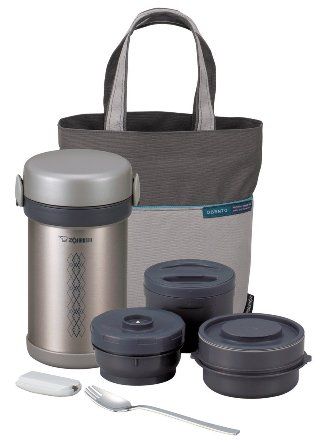 It works well to reheat leftovers or it can completely cook your food from scratch as you drive. When you are ready for your lunch, it is hot and waiting for you to taste it. This cool heated lunch box looking like a regular thermos can serve multiple purposes. For example, it is also perfect for storing and keeping sandwiches or PB&J toasts hot for long periods of time.
Pros:
Easy-to-clean container that washes quickly;
Heat retention after 6 hours* 153°F;
Cold retention after 6 hours** 50°F;
Cons:
Low durability – after 2 months a lid can fall off;
Lid can also get stuck;
Bowls are not solid and warped badly inside.
Specifications:
Vacuum-insulated stainless-steel construction keeps food warm;
Round jar with 4 food bowls for hot or cold lunch storage;
Includes convenient carrying bag for transport;
Microwaveable bowls measure 15.2, 10.1, 9.5, and 6.8 ounces.
Video review: https://www.youtube.com/watch?v=N3IC8IMoBtM
3. Camp stove toaster (folding) for RVs
If you are looking for the simplest solution for your camping vacation you won't find a better alternative to a car toaster that a folding toaster for a camp stove. This looks like a stretched grill that is put on hot cooking appliances or open fire to make your 4 toasts at a time. Usually, it is a durable steel construction with coated wires folding flat for easy packing that will never rust.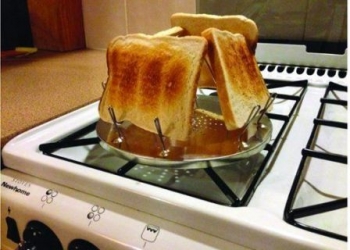 Coleman camp stove toaster is very compact and user-friendly. The ergonomic design allows toast up to 4 pieces of bread at a time. Just place it on your camp stove/grill, place bread and in few quick moments enjoy a warm toast with some hot tea or coffee.
Pros:
Can last up to 10-15 years;
Folds quickly for storage;
Won't rust;
Can toast 4 slices at a time.
Cons:
Flimsy;

Takes a long time to heat.
Specifications:
Dimensions are 8.75 inches x 5 inches;
Weight is 8.5 ounces;
Can toast standard toasts, bagels and big slices of bread;
Eco-friendly and can be placed over any camp stove.
Video review: https://www.youtube.com/watch?v=HNXSUoDnsRs
The cost of portable car toasters
If you're looking for just a basic, inexpensive device, consider toaster sale offers on Amazon, Wal-Mart or eBay. Most top rated toasters from this guide are available on this website with a quite pleasant price tag – from $20 to $50. A bread toaster price is usually quite low, however, if you are looking for a solar toaster, camping gas stove or RV stove then get prepared to pay about $90 and higher. Sandwich makers will cost from $13 to $140 per unit – you should always check the default options and consider if you really need to pay for them. After all, you just need a toast in a car, so just find a two-slice toaster with a removable rack tray – why to pay more than $50 for that?
Where to use portable toasters?
Well, first and foremost – in your car or RV. All devices described in this guide are good to be taken along with you on a family trip, camping weekend with friends or simply in long-distance car drives. The list is long – you may take a portable toaster whenever you need. That's the main reason why you need it in the first place: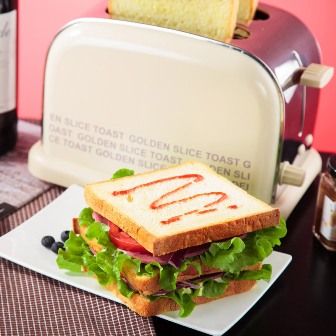 If your needs are simple - you expect to only use it to make toast using standard sized slices of bread, then you can

go with just about any toaster and converter or any other portable 12V appliance for your car/RV/boat

;
If you also want to make sandwiches, bagels, waffles and pop tarts, then you need a sandwich maker;
If you feel like giving up counter space and money for an appliance that only does one thing is a waste and you'd really like something that functions more like an extra, mini-oven, then buy a countertop gas stove that can still make toast on the road, but also be used for a long list of other food types makes the most sense.
You can use camping stoves outdoors where there is a possibility to light an open fire.
Who can benefit from applying portable toaster for a car?
A toaster for a car is a necessary appliance for anyone who loves toast while camping or on the road. Most of the toaster reviews we gathered in this guide will do for any camping or travel needs. Even if you choose an inexpensive basic toaster or oven you can easily toast a slice of bread with it or warm your toast. Most models can also defrost frozen meals (including toasts) – it is very convenient for a family on the road.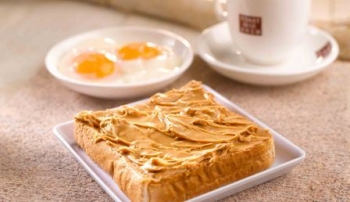 Who can benefit from using portable car toasters:
Camping fans who prefer using portable gas stoves;
RV owners;
Haulers and truck drivers who need to spend hours while driving;
Families who like to have outdoor picnics.
Pros of portable car toasters
Affordable – some portable bread toasters for a car cost less than $30;
Easy to use – most models just require from you to push a launch button to start;
Easy to clean – most models have a removable tray;
Compact to fit your car's trunk or even a backpack;

Designed for more than just making toast

, most rated toasters for a car in this guide are good for cooking full-time meals on the road;
Despite compact sizes, these appliances can toast bread slices quickly and evenly.
Disadvantages of portable car toasters
Like any other appliances, most portable car toasters/ovens/burners offered here have a number of disadvantages:
Most portable toasters for a car are small and that it quite understandable. Do not expect to find a 4-slice toaster for your RV. However, most car owners need small toasters, that is what a 2-slice appliance will mostly suit their needs;
Cheap toasters for a car are hard to clean, especially it is complicated to keep its metallic surface fingerprint free. But there are special cleaning agents for this purpose;

Practically all top rated toasters from this guide need a bunch of different accessories

in order to use them without any problems.
General tips on buying toasters for your car:
Materials – the best car toasters can be made of materials such as stainless steel, chrome, and durable plastic derivatives. Choose according to your needs –

stainless steel is the most practical option for outdoor use, plastic ones are good for indoor use only;

Size – the smaller the better;
Voltage –

12V or 110V device

;
Browning control – by choice;
Energy efficiency – you need to use it on the road, so the quicker it works the better;
Defrost options – it is great to have a device that can warm your frosted toasts;
Reheat options – warm your toast or sandwich on a winter driveway – great idea!
Cleaning functions – the quicker the better, so look for non-stick surface or removable trays;
Life expectancy – the longer the better like with any other appliance;
Special features - self-adjusting option for making sure that your toast is well centered to toast evenly; cancel button —to stop toasting at any time; convection heating — toaster ovens with a convection setting can cook things faster.
Necessary accessories you have to buy with portable toasters
1. 12V to 110 V car converter
Power inverters come in many sizes, measured in watts. The amount of wattage you will require depends on the total draw of the devices you'd like to use. Most power inverters under 300 watts can be connected to a vehicle's battery through the DC (cigarette lighter) plug on the dashboard. They might also come with jumper-like cables for connecting directly to a battery. Larger units are often hardwired into vehicles, RVs or even boats.
We recommend: BESTEK 1000W Power Inverter Dual AC Outlets 12V DC to 110V AC Car Inverter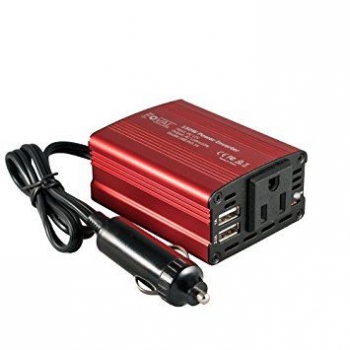 2. Aluminum pans for Road Pro 12 v oven
If you choose to use any of Road Pro 12V devices described above you may need to use special aluminum non-stick pans for making your toast or sandwich.
3. Extension cord with cigarette lighter plug
If you decide to buy any of described Road Pro 12V appliances for making your toast, then you may need to purchase an extension cord with a cigarette lighter plug – so you can use a portable Road Pro device working from a car battery even outside a car. Amazon offers to buy a Road Pro extension cord for less than $9.
4. Butane cartridge
If you choose a gas stove for making a toast in a car then you should consider buying a bunch of butane cassettes/cartridges for charging such device. Amazon offers the set of 4 butane canisters for less than $12.
5. Toast racks
The best toaster ovens come with an array of accessories to help you cook better. Most ovens have a wire rack inside that keeps bread slices close to the heating element. A removable crumb tray is also helpful for catching any bits of food that gather at the bottom and disposing of them quickly. On Amazon, you can also buy a toast rack for keeping your toasts in order after cooking.
Conclusion
Making a toast is simple, if only finding the best car toaster was as easy. If you know what you want and are willing to take the time to see what other customers have to say, you should be able to find the most suiting your needs solution replacing a portable toaster for a car. If toast is a significant part of your daily routine, it's worth getting this right. Keep your morning pleasant even when on the go - find a portable car toaster that works for you.