Monitor Covers, Privacy Screens, Stands - 28 Monitor Accessories That Can Enhance Your Office Desk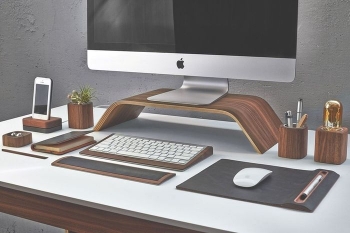 Do you remember the times when monitors used to remind of a boulder occupying a lion's share of the table space? Those times are gone (at least for most office workers and ordinary users!), yet the fact that monitors became thinner, lighter and more convenient to use does not mean they cannot be enhanced. As they say, there's always room for improvement! So this article is dedicated to what gizmos you can find to attach to your monitor and how to make the process of using it more convenient. Add some innovations to your screen!
Mounting
With such a great variety of mounting kits available, you can hang your monitor wherever you want. You can even combine them and mount two or even three monitors together, but this aspect deserves a separate article, so we would like to present you only one mounting type, which seems to be the most flexible variant granting you free space on your table.
It's a display mounting arm which enables you to fix a clamp on your table, attach a monitor to the other end of the arm and position it the way you like.
With such a good extension, you can adjust the angle and tilt the monitor. You can even change the positioning from landscape to portrait! It's easy to set up and adds versatility to your working experience. Using the arm, you can reduce eye, shoulder and back strain, as you can set the monitor where it's most convenient for you to look at it.
As a bonus, you can use it not only with your monitor while at work, but also attach your TV to it at home. Just imagine watching an educational programme while you're sitting and working, and then relocating to your sofa when a football match starts. Just rotate the TV, and it's easy to watch it from another angle! So there's no need to have two TV sets.
The arm is compatible with the majority of monitors of 32" (81.3 cm) or less.
The integrated cable management system helps you keep wires in order.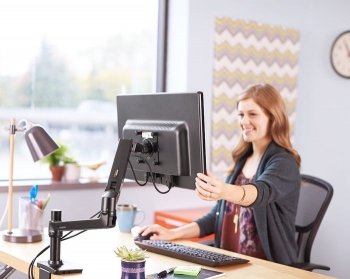 What's in the box?
Upper Arm, lower Arm, base, grommet bracket, bracket cover, wing nut, 10mm knobs (4 pcs.), 10mm screw (4), 6mm screw, 4mm allen wrench, 2.5 mm allen wrench, cable ties (2 pcs.), instruction manual.
Technical details:
Feedback summary
The reviews prove that it is a reliable accessory which really adds flexibility. As to the negative feedback, some claim the screws and joints are either too stiff or too lax, so they find it hard to find how elements must be tuned, so it may take some time to have it work as intended. Besides, several users believe the instructions provided with the item are unclear.
Privacy screens
Tired of your colleague trying to make out what you are googling? Privacy screens are designed to change the angle at which the information on the screen can be seen, so unless you have someone standing right behind you, you will be able to stop worrying someone will see how you're ordering toilet paper during working hours!
This protective screen is equipped with a spring load mount, so you do not have to glue it to the screen. It limits the angle to 30 degrees, so other people cannot see what's shown on your screen from the sides. It also reduces harmful blue light by 30%. Besides, the material is sturdy, so it protects the screen from fingerprints and scratches. It comes in different sizes, so make sure to pick the one that fits your monitor.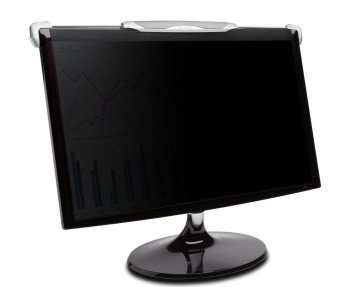 Technical details:
Textured surface;
Limits the field to +/- 30 degrees;
Spring-loaded mount (adjustable springs);
Blue light reduction (up to 30%).
Feedback summary
Feedback suggests that it's a very good privacy screen with a few disadvantages. For instance, it can hang about 1 inch (2.54 cm) away from the screen, so it may be difficult to make out what's shown. Some also claim it's not dark enough. All in all, the majority of those who have bought it like this model.
If you didn't like the previous privacy screen, take a look at this one. There are two ways to install it: a) slide screen on and off, and b) permanent installation. The viewing angle is 60 degrees. Note that it does not work with touch screens!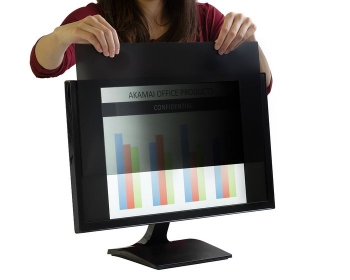 Technical details:
Feedback summary
The overwhelming majority of reviews are positive, so the only drawback is that it may 'put more of a strain on the eyes', as one customer said, and for several people it was not dark enough (though there were only a few of such reviews). One of those who have purchased it also claims he was not given all the parts needed for installation. Anyway, it seems to be one of the best privacy screens around.
Covers
Covers do just what they are supposed to do: they protect the monitor from dust, scratches, spilt coffee and other office disasters. You can also cover your equipment if transporting it. When buying a cover for your screen, make sure you pick the right size.
The outside part of this model is made of stretchable, lightweight and durable neoprene material, whereas the inside is soft to the touch (brushed terry material) and does not damage the vulnerable screen surface. Top loading design makes it easy to use: just put it on the monitor to hide it. This cover is offered in different sizes, so pick the one corresponding to your screen dimensions.
The model has a cutout backing, so it is not difficult to put it on the monitor. By the way, the design of this item enables you to slip it on without disconnecting the cables.
The material used is water resistant, so drops are not likely to soak through.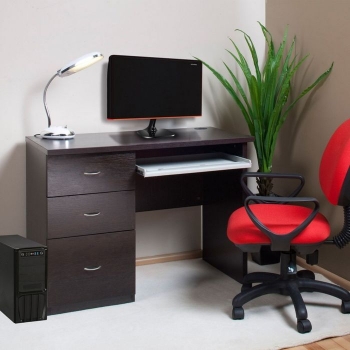 Technical details:
Feedback summary
Everyone seems to love the quality of this item and says it's soft to the touch and really protects their monitors. The only drawback seems to be the smell, the chemical smell that takes a week to subside and is rather acrid. Yet if we forget about this minor drawback and are ready to wait a little bit till it gets OK, then the cover is really good.
That's another good computer monitor cover which protects it from dust, water and other factors. As you can see, it's white and blue, so it may get dirty faster than the previous one, but it is of very good quality and antistatic, which means the material repels dust and other substances. The copolymer cover is capable of remaining flexible even if the temperature drops to -80° F (-62° ??). The variety of sizes available is decent, so you can find the right cover fitting your monitor.
Unlike the previous model, it does not have a slit in the back, so it protects back parts too.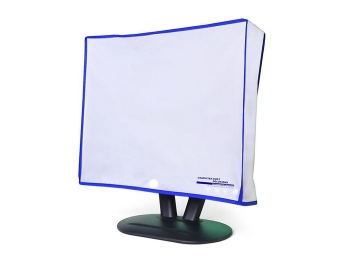 Technical details:
Feedback summary
One of the peculiarities mentioned in the feedback is that the cover is not opaque, so if you hide a black monitor under this white cover, it will still be visible. Also, it cannot protect against the sunlight, because the material is really thin. Besides, the appearance is not liked by some (they claim it can look baggy if you choose the size which does not fit completely, and the blue trims are not that attractive). Mind that it is made of PLASTIC, not cloth!
Still, it's a good cover which does what it's supposed to do.
This cover is designed to protect you from microbes. As the manufacturer claims, it seals the front and back parts of the monitor completely and prevents the transmission of germs. It works even with touch screens, but fits only the monitors of 22.5 inches (57.15 cm) wide and 15 inches (38.1 cm) high.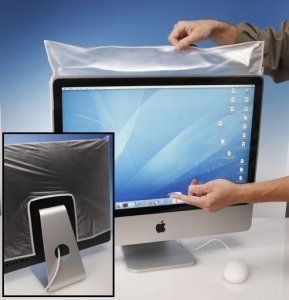 Technical details:
Feedback summary
Unfortunately, there are not many reviews, so it's hard to make any conclusions. We don't know whether it really protects from microbe spreading, but at least it can cover your monitor and prevent dust from building up on it.
This cover is a hood type one. It benefits your working with the monitor in several ways. First, it reduces screen glare and eye fatigue by preventing direct light from getting to the surface of the monitor. Second, it provides shades from other sources of light, such as windows, lamps, etc. Also, it aids in color calibration consistency and can serve as a privacy protection cover so that no one standing or sitting near you could see what's shown on the screen. The hood is easy to install and fits only 27-inch Apple monitors, so make sure it will fit your screen! Of course, there are plenty of covers of other sizes to choose from, so all you have to do is to google a monitor hood of appropriate dimensions. It comes fully assembled, so you won't have to struggle to make all the parts join each other. As to the materials used, it's multi-layered and features a high-density fiberboard as its core, tough embossed cloth material as the outside covering, and the interior is made of a neutral non-reflective woven material. There are also plastic strips on edges that make the product more durable.
It is attached to the monitor by means of an elastic cord.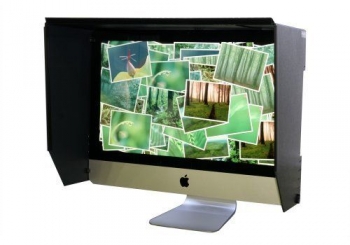 What's in the box
Bumper buttons for positioning, foam strips, the hood, installation instructions.
Technical details:
Feedback summary
Verified customers say it's a good hood that's really easy to install and use, and negative reviews are not numerous. Several purchasers said it kept falling (though others said it was OK and staying in place), and one buyer reported it's too heavy, so his iMac was constantly tilting over. This is quite a surprise, since all other owners of this hood who posted a review were satisfied with it. So, it's a product worth recommending, as it protects your monitor from glares (it seems to be the most valued function, according to the feedback).
Stands
Monitor stands, or risers, help change the angle at which you look at the monitor, making using it more convenient. Since all stands serve the same purpose, we have decided to differentiate them according to styles. Here is a list of stands that you may like, as they add convenience, rise the level at which the monitor stands and often have storage trays to keep things in order.
Since almost all feedback about all the below mentioned stands is positive, we do not cover it in the review.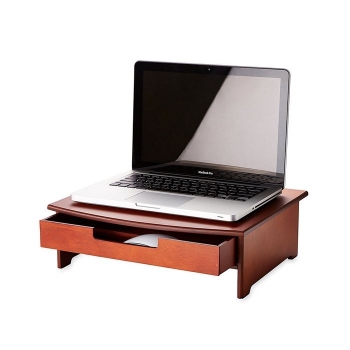 Features: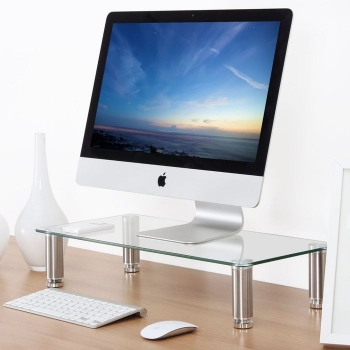 Features: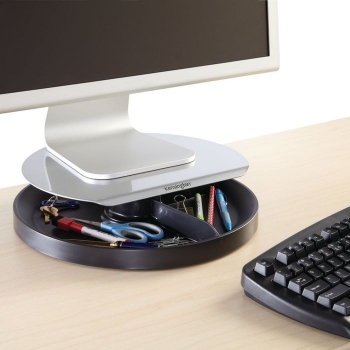 Features: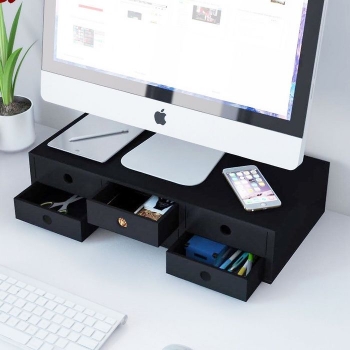 Features: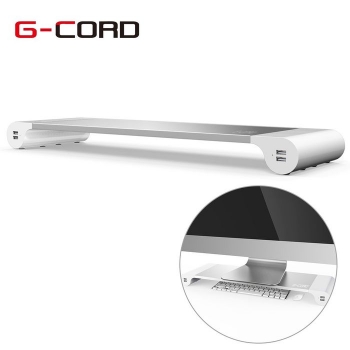 Technical details:
Other
Keeping your monitor safe and well-positioned is important, but different gizmos and accessories that add functions to your monitor seem to be more interesting. In this section, we have gathered several items that can enhance your monitor and add convenience to your working place.
Are you tired of looking for your headset all the time? Just hang it on this special hook that is attached to the monitor. They come in a pack of 2 or 4 and are easy to use. All you need to do is to stick it to the monitor top. The manufacturer recommends waiting 12-24 hours after sticking it before using. They say each hook can hold up to 1.5 kg (3.3 pounds).
You can also hang it somewhere else, on any appropriate corner, so it's not for monitors only.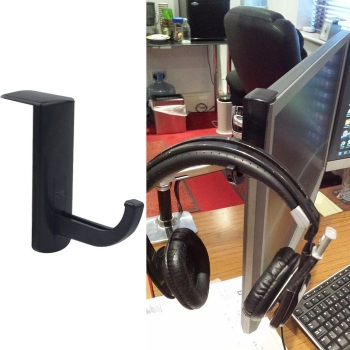 Technical details:
Feedback summary
Let's be honest - it's a rather cheap piece of plastic with quite a cheap adhesive, so do not expect to hang heavy items on it. Some use superglue to fix it in place, otherwise they fall. All in all, it's just a plastic hook you can use if you do not expect excellence from an item sold for $7.
This is a document holder you can attach to your monitor side. It can be very useful to office workers if they have to work with various papers. For instance, you can compare the printed and the digital versions, or put there a document with a reminder or something like that. It uses an adhesive which, as the manufacturer claims, leaves no residue if removed. The clip height is adjustable, so you can switch between the landscape and portrait positioning options.
It can be attached either to the right side or to the left one. Moving forward and backward is limited only by the monitor (otherwise it'd be 360 degrees).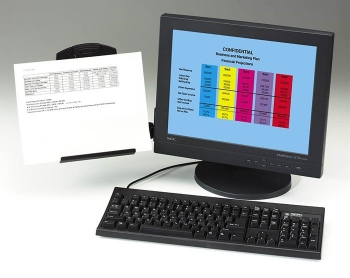 Technical details:
Feedback summary
Many people claim the hinge cannot be tightened, so it keeps falling back. Others report the item falling apart due to poor adhesive and say it does not look sturdy. Nevertheless, there are even more positive reviews according to which the adhesive is good, so the results may vary. The directions provided with the item are confusing. All in all, most people are satisfied with how it works.
Warning: This speaker bar fits only HP business desktop and LCD monitor systems!
Enhance the audio capabilities of your monitor by adding this speaker bar. It is attached to the monitor with the help of a Kensington lock slot. With this speaker under your HP monitor, you can have more free space on your table.
Technical details:
Feedback summary
Despite the fact that the majority are satisfied with the speaker, there is a peculiarity one must expect - it makes its own noise when turned on, and this buzzing is not tolerated by some. Though one of the users managed to tune it by adjusting the unit volume and the source volume, if you want a super quality sound, you'd better look for something else. This speaker distorts sounds when on max volume, but is capable of serving as an ordinary sound bar for an office computer. If you are ready to trade sound quality for more space, order this item.
It's a lighting kit for monitor which is supposed to reduce eyestrain caused by differences in brightness when watching movies, playing games, etc. It's powered by USB and attached to the monitor to add a subtle white backlight.
It is compatible with any monitors of up to 24" (61 cm).
Warning! To have this item working properly, make sure there is a wall or other surface behind the monitor for the shine to appear.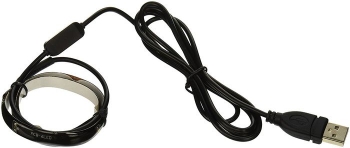 Technical details:
Feedback summary
Feedback suggests that this item really DOES help reduce eye fatigue, but still there are drawbacks. For example, one customer reported it got dimmer with time, others say they want it to be brighter in general, and some say the build quality is not excellent. Despite these claims, the product is good and helps improve your experience while using your monitor when it's dark (though it does not provide a solution to the problem: fatigue will just be felt later).
Here is a clip copyholder which is attached to flat panel monitors. You can also use it with your laptop. The item is equipped with a gooseneck so that you could position the document it's holding the right way. Regardless of position, be it portrait or landscape, this clip will do.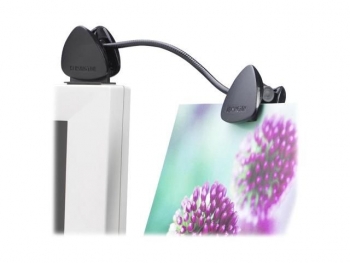 Technical details:
Feedback summary
The item got mixed feedback, because some get sturdy items, while others are not satisfied with the quality. Some say clips are easy to break, and many claim it's not capable of holding more than one piece of paper. It's up to you to decide whether you need this product, because if you have piles of documents, this tiny gooseneck will fall. It's still good for a single copy (or a couple of them).
This item is included in the list just in case you don't want to cover your webcam with a tape and prefer something more attractive. It is a set of reusable stickers that can be used several times. Stick it when you want to protect your privacy and un-stick it when your computer is not in use. The set comprises of 6 sheets of 9 stickers each, making a total of 54. As you can see, the stickers are of different sizes, so you can use them not only with monitors, but also with smartphones, tablets, etc.
Technical details:
Feedback summary
These stickers are of good quality, stick well and leave no residue if removed, though some complained about the adhesive (their stickers fell off for some reason). All in all, it's a simple product that does what it's supposed to do.
This organizer is supposed to bring more flexibility to your working process, as you can put some notes in it, attach a document of a card with a clip, and place your smartphone on a special stand. The board is attached to your monitor via a 3M adhesive which, as the manufacturer claims, is easily removable. The lower part of the board has a hole so that you could charge your phone and put the wire through it.
There are two variants of this product: one is attached to the left side of the monitor, while the other is stuck to the right one.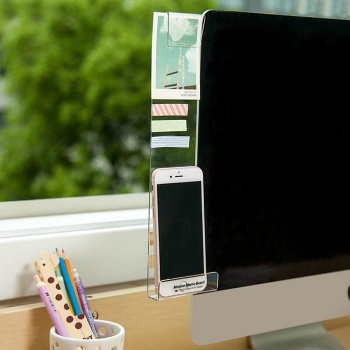 Technical details:
Feedback summary
It's a good product with the only drawback mentioned in the feedback: it's easy to brake. Also, some of the buyers got scratched or broken products, so check what you receive.
This pencil holder looks creative and helps you not to lose pens and pencils all the time. The holders come in two shapes: triangle and trapezoid. It's attached to the monitor by means of a 3M adhesive, which is not reusable, but easily removed. They say it does not damage the monitor surface. All in all, these holders help you organize your desk space better and keep your pens and pencils in order.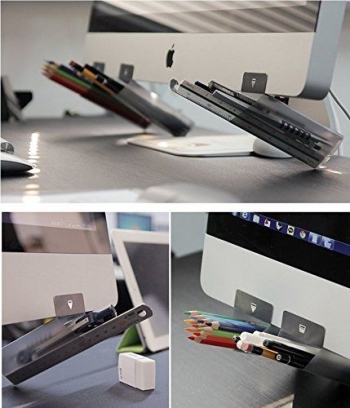 Technical details:
Feedback summary
Purchasers love this product for thick plastic, good adhesive and convenience in storing pens that it brings. Only one of the reviews was negative: if you have a monitor that's too high, the pen holder will not "sit at an angle and hangs perpendicularly", so it was not easy to put the pens in and out. So make sure you have a gap between the screen bottom and the desk which is short enough to have the holders 'standing' on it.
This mirror can help you see what's behind you, so that no one could approach you unnoticed. It is attached by means of a double-sided adhesive. With the 160 degree viewing angle, you can see both you and the surroundings.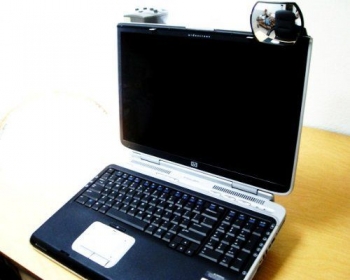 Technical details:
Feedback summary
Most people are satisfied with how this product works, but some do not like the way this convex mirror alters the image. As one of the users said, you can see either an elephant behind you, or just "something that moved past". So if you want to see details, go for a flat mirror (though the angle will be different). Besides, some wish there was a clamp instead of adhesive and enhance the item by attaching a clamp to it.
These glasses can help you relieve eye strain and protect from harmful blue light. They are rather stylish, and you can choose an appropriate size that fits you. Whatever you do, be it gaming or working, these glasses are a good option to protect your eyes. It looks good both on females and males. It comes with a case and cleaning cloth.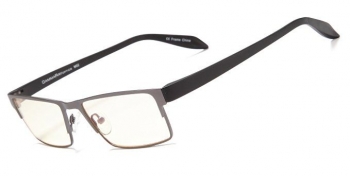 Technical details:
Feedback summary
The feedback suggests these glasses really help relieve eye strain, yet there is a drawback: they get dirty easily (though it comes with a cleaning cloth, so it's not a very serious problem). The major disadvantage of this model is that they can make the image rather blurred, as some users claim, and not all the verified buyers find it comfortable to wear.
This item is designed for decoration of your monitor and partially protecting your screen from dust. The product is mostly for girls, so consider buying it for your small child to entertain her while you're working. There's a toy on top of it. It fits LCD monitors of different sizes, from 15 in (31.8 cm) to 22 in (55.9 cm). Besides, you can install it on a laptop of 14-16 in (35.5-40.6 cm).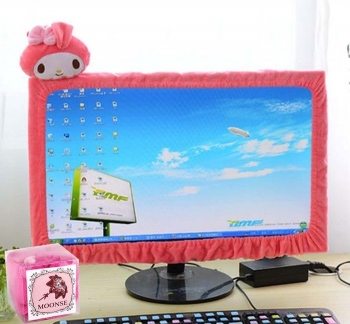 Technical details:
Feedback summary
The girls who posted their reviews loved this product; they say it's really cute and fits their monitors and laptops (except for one person who claimed it didn't fit well).
This message board looks like a deer antler. You can use it to decorate your monitor and stick notes to it. Besides, you can hang something on it (for instance, chains, keys, headphones, etc.). It's attached to the screen with the help of an adhesive.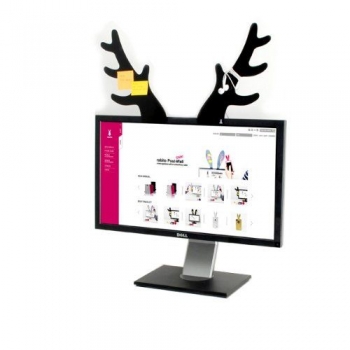 Technical details:
Feedback summary
There is only one review about the item at the moment, and the person who posted it claims it's just what he needed.
It's a bag for carrying your monitor wherever you want. This travel bag fits the screens of 20 in (50.8 cm) - 24 in (61 cm). It features an integrated plastic plate which may help protect your monitor from damage. It's made of woven material and repels water and dirt. Besides, there is an extra holder for a keyboard and 4 compartments for accessories. You can secure your monitor within this bag using 4 points. As to the means of carrying, it is equipped with rugged snap hooks, strap, grip and shoulder pad.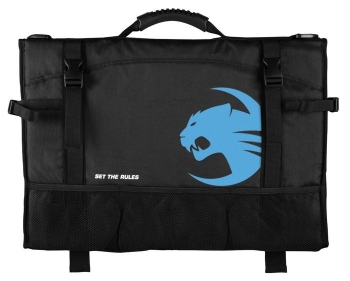 Technical details:
Feedback summary
Most users like their cases, but one person claimed it's not waterproof (because there is an opening in the back), so be sure not to expose it to direct water flow. Some users said it's more of a screen protector for carrying it from one place to another rather than a travel case, and it's the key drawback of this model.
This anti-glare filter helps you prevent eye fatigue happening due to display glare (mind that it's not supposed to filter the glare caused by direct light, for instance, from a window). It also enhances contrast and protects the LCD display surface. It fits both 16:10 and 16:9 aspect ratios. As you the size, you can choose the right one (the price below is stated for the 24 in (61 cm) one).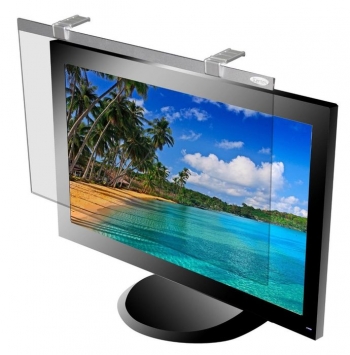 Technical details:
Feedback summary
The tem just hangs on the monitor, so be careful when rotating or moving your monitor. Many people say it's a good screen that really helped reduce eye fatigue, though others claim it cuts glare just a little bit. Perhaps it can be explained by windows right behind their backs, but we cannot confirm it. All in all, there are more users who are satisfied with it than vice versa.
You can attach this light behind your monitor (say, on a wall): perhaps it can help reduce eye fatigue. Besides, if it's dark, you can light the area so that it would be more convenient to type.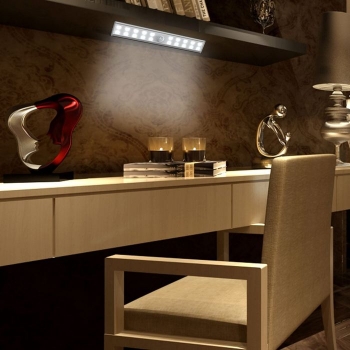 Technical details:
Feedback summary
Most negative feedback is related to poor motion sensor and dim light. As to the first issue, there is a solution to it which is described here in detail. All in all, it's a good light worth buying, as many other people find it a good purchase.
Actually, it's another side panel for notes, but it also features a ruler and small animal images that 'sit' on your monitor. You can remove it once installed, but it will be more difficult to stick it somewhere else, as there's less glue in this way.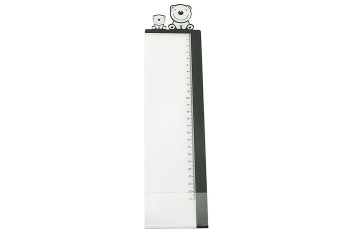 Technical details:
Feedback summary
Almost all who posted negative feedback got scratched or broken items, and one of the verified purchasers had it broken within a few days. All other users like the way it works.
Conclusion
As you can see, there are plenty of ways to enhance your monitor capabilities regardless of their character, be it convenience or aesthetic aspects. With such a variety to choose from, you can turn your ordinary monitor into a multifunctional station and save some space on your desk.