Car Fridges, Freezers Model Reviews, Comparisons And Alternatives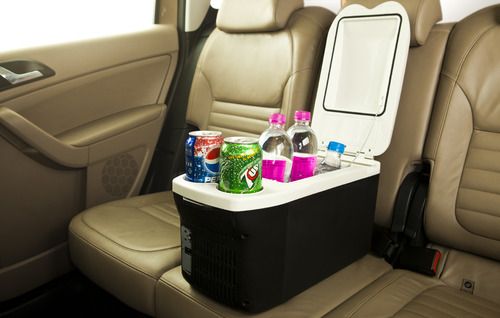 Summer… What can be better than a summer vacation? Of course, camping with friends and family under the warm summer sun. Surely, summertime is great but it can be a real bummer if there is no a small can of cold beer for you and your spouse or cool soda for your kids at hand. And to make these drinks cold whenever you want a portable fridge can be a real life-saver, especially with fridge accessories. For a camper a mini-fridge with freezer is as required during summer vacations as mosquito spray or tents. A passive coolbox or coolbag can be only a temporary solution. How many times did you feel disappointed when you favorite prepared at home dishes turned to be spoiled after few hours in such coolbox? On the contrast, a portable fridge can serve as your home refrigerator – for a 2-day weekend or a whole summer.
Just throw your small 12V camping fridge into the back of your car or load a 3-way freezer to your RV and start your unforgettable summer journey full of bright and pleasant memories!
1. What is a Portable Fridge?
A portable fridge stands for a mobile, fully portable device that serves as a cooling system invented to be applied for saving food and drinks cold when you are camping or on the road. This device can have a various design but mostly consists of three components:
Battery source;
Compressor unit;
Compartments.
Small, lightweight, fully portable and cheap – these are the main qualities you are probably looking for in a car12V fridge. But there is more than meets the eye when it comes to buying a portable fridge for your camping vacations. The following guide will help you to make the right choice without spending money in vain.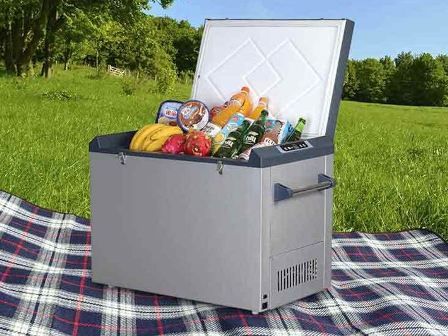 2. Who can benefit from using small portable fridges?
Everyone. Like literally everyone who likes to go camping or have a picnic outside. Portable fridges can be also used at home during a hot summer season as an additional cooling source for keeping your drinks/foods cold. So, literally, who likes to drink cold soda/beer may need a portable fridge.
What are the situations when you may need a portable car fridge:
Camping/hiking/having picnic with friends and family;
Off-road travelling, where electric power is usually not available at all;
Student parties can also have a spare can cooler like a portable fridge;
Trade vehicles can't do without such appliances as well;
Fishing trips can become much better with a portable fridge in the back of your van;
Young moms often use portable fridges to keep breast milk fresh without the necessity to leave a nursery room;
At home during TV nights – a cold beer will always be at your hand without a necessity to visit a kitchen.
3. Benefits of a mini fridge for your car and camping needs
Look at a portable fridge in this picture: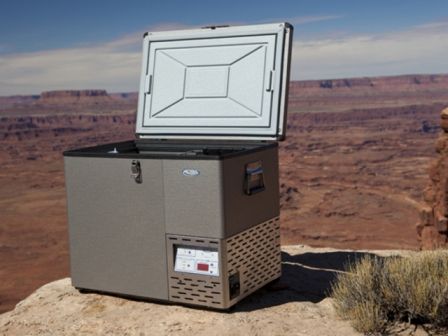 What do you see? The answer seems a bit obvious. A small cooling device that will help keep any food contents put inside cold and fresh for a long time. Nothing more comes to mind? In fact, a portable fridge can offer multiple benefits for daily or occasional use:
Your food stays cold, fresh and safe for children. Forget about melted chocolate or ice-cream;
Frozen foods will defrost slower in such portable fridges so you can even transport frozen meats and fish with you safely;
Unlike passive coolboxes car freezers do not require using ice blocks that turn into the melting mess in few hours;
Despite some battery issues most new models of portable 12V fridges can charge very quickly without instantly killing your car battery;
Besides the portable fridge/freeze units won't just make the cold foods or drinks cool but also freeze warm contents. And some have a whole set of advanced settings;
Simple connection. Most portable fridges for cars come with their own chargers and cords that you can charge with a 12V car light or plug into an 110v socket in your house;
Fridges do not weigh much. Even a teenager can move such appliances from a car or around a house.
4. Disadvantages of portable fridges
Surely, like any other appliance or device, a portable car refrigerator may have certain drawbacks that must be considered before buying. So what are the most common problems related to any types of portable fridges/freezers:
1. Small battery capacity
Even the best portable fridges have this problem. Additional insulation may help to save the previous battery load of a your "little helper" while camping but be prepared to use a car lighter socket for charging the device every 6-7 hours (the worst scenario – some cheap models blow their battery load within 3-4 hours). But also there is a solution for this problem. Some expensive car freezers are based on solar batteries that charge directly from sun energy.
2. You need to buy gas for 3-way freezers
Yes, if you don't like an idea of charging a device in your car then you may need to spend few buck on a gas fuel for your fridge. Gas-based fridges simply won't work without this fuel.
5. The brief history of portable refrigerators
The history of the portable refrigerator began in BC 1000 when the Chinese people invented to collect ice into boxes for freezing their foods and drinks for future and avoid hunting during cold winter seasons. Much time later in 1800 U.S. engineer from Maryland Thomas Moore offered a term "refrigerator" for his new cooling device that in fact was a simple wood tub covered with rabbit fur for insulation and filled with melting ice. Moore invented this device for the transportation of butter that was a request from his friend-farmer.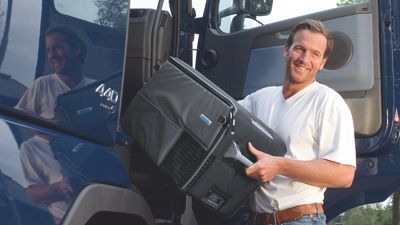 After few more decades and multiple experiments with design Carl Von Linde tested his first portable compressor refrigerator unit. In 1878 he founded Lindes Eismaschinen AG, that is now known as Linde AG. Many businesses started to sell portable and home fridges since the 1900s and in 1920 consumers could choose among more than 200 different models on the market. As for small portable fridges, the first inbuilt freezer was launched for sales by Electrolux. In 1955 about 80% of all Americans had home refrigerators. In 1959 Norcold was founded from a small family business to build the first Dometic portable fridges that set the basic standards in design and components for the following generations of car and RV freezers.
Until the late 1970s the changes were mainly cosmetic but in 1979 Dometic released the first car fridge model that quickly became very popular because it could be charged by means of the standard 12V socket of a car cigarette lighter. Since the models of portable fridges improved according to customer's needs and developed into multiple line-ups with basic and advanced features.
6. Types of portable fridges at the market
If you think that your family will only benefit from investing into a new camping fridge then you are right. With a 2 or 3-year warranty, a high-end portable car fridge can serve for 6 years at least. So, yes, it is a very profitable investment that will save you from any nutrition problems during camping trips. But what is the best portable fridge out there? With so many options on the market, it could be tough to make the best choice.
First of all, you need to understand that there's no such thing as the "perfect portable fridge". There are few types of fridges that you can choose from. Each of them has pros and cons to consider, so choose according to yours and your family needs. So all portable fridges for cars and RVs differ:
I. By design
1) Compressor 2-way portable refrigerator
It works just like a home fridge. The only difference is that it runs on a 12V car battery or 240V AC adaptor. The noise level is medium. A great cheap solution for every family.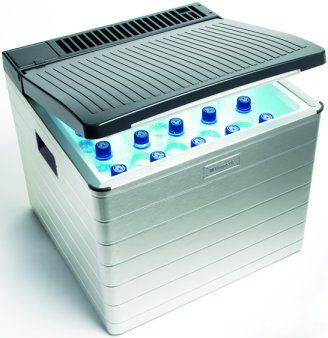 Pros:
Works better than other types (thermoelectric or absorption models);
Has a vast range of sizes – from 13L to 110L;
Keeps the chosen temperature mode under different ambient temperatures;
Won't drain your car battery, especially in an energy-safe mode.
Cons:
Some old models require adjusting the settings each time the ambient temperature changes;
Most models come with adapters but sometimes you need to buy one separately.
Who can use them: regular campers
The average price: from $600 to $2000
NB: it is good for cars with a dual battery system since such type of a portable fridge requires lots of battery charging.
2) Absorption 3-way portable fridge
If you prefer to use a gas-based refrigerator then this is your choice. Such models do not own a motor, they have a heating source that can be charged from a car battery (via an adapter), electricity but mostly LP gas. The noise level is usually low.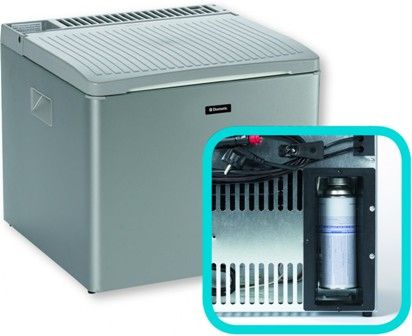 Pros:
These fridges use the source of heat running on 12/240 volts with adapters and gas;
Can cool the temperature up to 33° below the ambient temperature;
Some expensive models have a freezer compartment.
Cons:
Their capacity starts from 39L to 50L and it can be good for big families only. However, for someone it's another advantage.
Who can use them: people who travel a lot, for a whole summer in RVs. They are better for travelling in remote locations where the use of gas is the only option.
The average price: from $350 to $1200
3) Thermoelectric portable fridge
This is a cheap model that was specifically designed for short-term cooling or keeping the food inside warm. They are limited with cooling abilities and cause the drain of car batteries. Also, the noise level is high. But the size can be a real benefit since it is basically a small insulated cooler. The capacity ranges from 7L to 32L.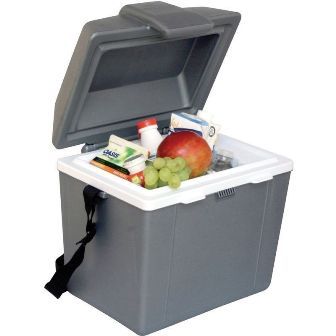 Pros:
They consume the same amount of power as a home hairdryer;
They can be powered by a car lighter as well as with an adaptor;
Small and lightweight – the only option for lone campers.
Cons:
If the ambient temperature is more than 25°C they won't be able to keep foods cool for a long time;
Such models can drain a car battery quite quickly;
Cheap models are noisy and bad insulated.
Who can use them: they are the best for lone travelers who need a small cooler along their trip.
The average price: $50 to $400
II. By specification
1) Car refrigerator
As you may have noticed, most models are suitable for charging by means of 12V car batteries. The choice must depend on the fridge's size according to your needs.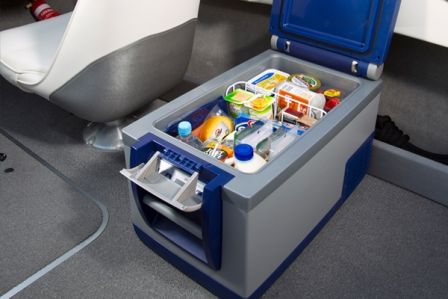 2) RV fridge
Basically, you just need a bigger car fridge to suit in your RV. And the best choice here is a 3-way refrigerator that works on gas or mains electricity. Plus such models are usually big and can replace a standard refrigerator easily. Besides, bigger models are the best for long-time travels and bumpy roads.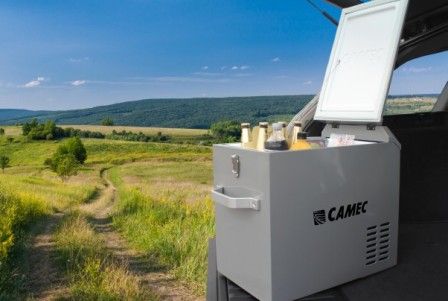 3) Camping fridge
Any other electric or 12V car fridges fall under this category. You are a camper so you know better what you need. Practically any portable fridge will do for camping since they were invented for this.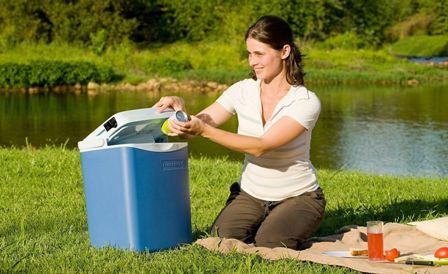 III. By size/capacity
Another important factor to consider when buying a portable fridge. There are very little models like 7L and very big ones – over 80L – but the standard categorization is like this:
25L fridges serve as highly mobile coolers. They are good for keeping cool the small amounts of food. Such fridges can hold no more than 25 soda or beer cans;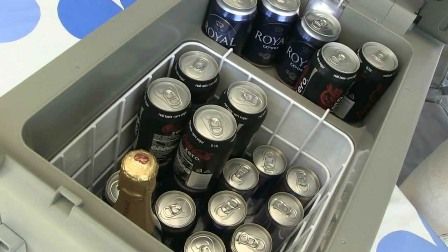 35L chest style portable fridges. These are the best for long-time camping by one person or for a couple. A 35L fridge can cool 45 cans at once;
40L portable fridges. They are called as "standard" portable fridges. The best for a small family who camp for a long weekend. A 40L fridge will cool 60 cans;
50L models are the best for couples who need to camp for a week or for a family of 4 who need to spend a long weekend outside. 72 cans are good for such models;
60 – 65L fridges are the perfect choice for families of 4 members and a long weekend ahead. You can easily store a whole set of cans for the local kid soccer team. A 65L portable refrigerator will cool 106 cans;
80L fridges are the best ones for big families for a whole camping week. An 80L fridge can hold about 120 cans.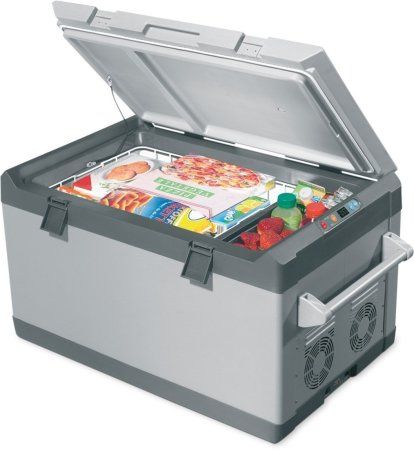 IV. By power consumption
Portable fridges require the power source to function. Most fridges can be charged with the connection to standard 240v power sockets, like the ones at home or on campsites. When power is off, you can connect this fridge to a 12V car battery. Also some fridges run on gas cylinders like your barbeque at home.
A 12V power supply, a 40L portable car fridge sets at 5°C in the environment with the ambient temperature of 32°C and will consume about 0.89 amps/hour over 24 hrs.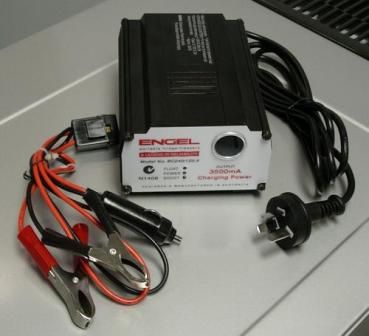 7. Major technical characteristics of portable fridges
Any portable fridge has basic and advanced features that you must consider. Think about what you really need – the climate of your usual camping sites, the amount of food you usually take along, the time spent on a road from your home to the camping site, what is your budget, etc. The following sets of features will help to choose.
I. Basic default features
At any shop, they may say that some features are more important than the others. But only these basics must be included into any portable fridge by default:
A power battery;
An accessory for charging the battery;
The mode for setting a specific temperature;
Thermometer for showing you the interior temperature;
Fully removable lid for reaching the hard places.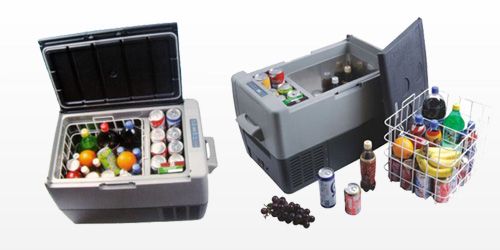 II. Advanced/extra features
Fridge/ Freezer or Dual Zone that lets a device work in both ways – for keeping the cool drinks cold or freezing warm foods;

Emergency mode for keeping the food inside cool even if the thermostat fails;
Easy-to-use controls – the fewer steps for setting up the better;
Multiple temperature zones for different types of food products;
Multiple compartments for various types of foods;
Dual thermostat for different compartments (if a fridge has more than one obviously);
Turbo or boost mode for making a compressor working harder and cool foods quicker;
The built-in 240 volt supply if your 12V car light charger is not an option;
Suspension base with springs;
Slide instead or a lid;
Vibration-resistance;
Secure tie downs;
Quiet running mode;
Low voltage cut-out;
Automatic fan cooling;
Fault indicator for spoiled foods;
Internal light;
Strong handles from both sides;
Additional insulating cover.
8. Where to buy a portable refrigerator?
Buying a portable fridge online is the easiest to do if you have an eBay account or use Amazon shipping services. You can search for specific models, compare, chat and read user reviews. But if you are seeking the great deals for camping equipment it is better to visit the official websites like Waeco or Engel. An official website is always the best way to choose among the newest installments of a certain brand. Local shops can increase the price by 10% at least but they also have seasonal deals so it is up to you to decide where is the best place for you to shop. The average prices have been already mentioned.
9. What to look for in a portable fridge?
Design, capacity, specifications, different features and power consumption – all these factors matter. But what options do you actually need to pay for:
Efficient space utilization;
Stainless steel may look posh but it deteriorates fast and looks shabby. Besides stainless steel is a poor insulator so such models are less efficient;
Fabric covers won't improve insulation. All of them are required mostly for cover;
Buy a model that can last up to 5 years at least;
Internal lighting will save your time and nerves at dark time;
Low-voltage cut-out is essential since it prevents the battery voltage from changing and causing damage;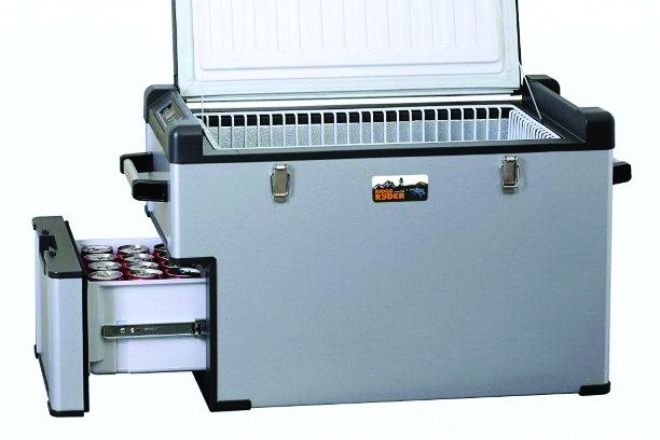 Tie-down handles secure your fridge from sliding during rough traveling;
A slide out tray that can bolt the freezer is really worthwhile;
The ability to run a portable fridge both on mains electricity 240V and 12V car lighters;
A reputable compressor from a reputable brand;
Decent warranty;
Top-notch internal seals;
Included accessories - if a portable fridge needs a bag for transition;
Easily accessible drain plug (the larger the better!);
Spare parts must be included.
10. Popular Brands and Their Comparison
The brand really matters when it comes to portable fridges. There are more than three dozens of U.S. and international manufacturers that produce portable car refrigerators and passive coolboxes. Online reviews are quite useful but still the brand name also means a lot. However, there are only 4 brands that have the leading positions. There is no say that you must choose any of them but since you will probably come across these titles while buying a portable fridge it won't be unnecessary to know more about their strong and weak points:
1. Primus
Primus is known for 3-way camping fridges that can run on gas, 12V car lighters, and 240V sockets. It is also recognized for solid and available dual zone fridge/freezer units with the components that upgrade each year.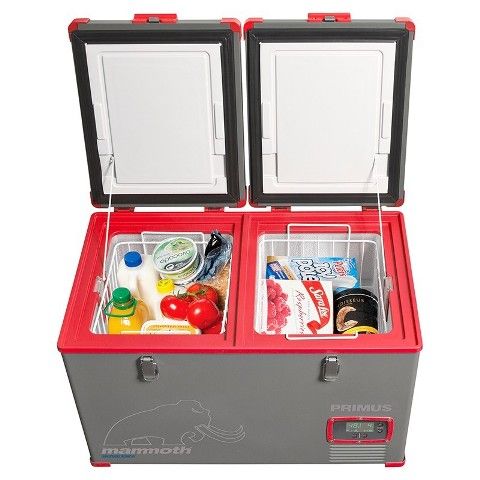 Pros:
upgraded control panel for clearer display;
3-stage battery protection;
upgraded handles for easier opening;
upgraded control software for more accurate temperature display;
removable internal baskets.
Cons:
a steel lid that most Primus models have is not insulating an appliance well.
Available sizes: 37, 45, 60, 65, 74, 94 and 118L
Prices start from: $990
Warranty: 3 years
2. Engel
The vast model line-up is simply impressive and Engel is the most long-running player at the market with a 100-year history of making solid, efficient and available fridges and freezers of any sizes.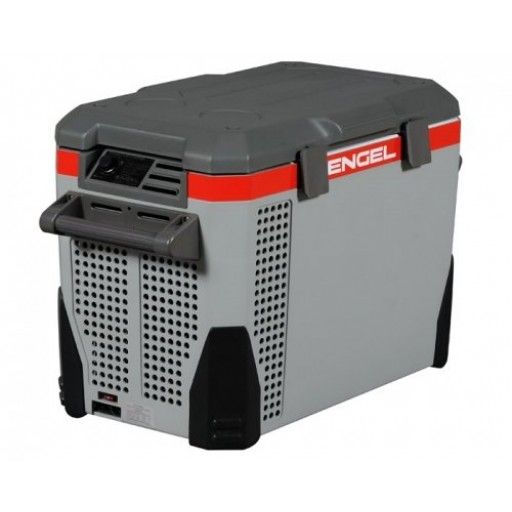 Pros:
A very long and successful history;
Reliable devices good for any climates and weather conditions;
Most new models have only 1 moving part (Sawafuji Swing Motor ) that keep the low maintenance, less chance of overheating and a much longer lifespan;
Temperature adjustment modes are basic;
Digital display;
Optional camouflage transit bag.
Cons:
Very expensive and without any entry level features.
Available sizes:45 and 60L
Prices start from:$1390
Warranty:3 years
3. EvaKool
EvaKool may look ugly since the basic models are mostly huge iceboxes with bolted compressors which are not very beautiful in the back of your car. But a compressor bolted outside means inside a fridge has more space. Also, the internal cabinet has good insulation with polyethylene construction. That is why it doesn't need any transit covers like other portable car fridges for camping need. Also, the newest Fridgemate model will run on comfortably with 30° angle.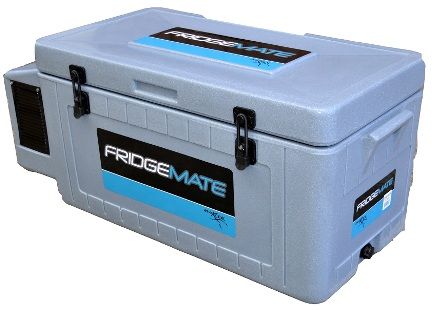 Pros:
The longest 5-year warranty;
Simple design;
Very tough & durable plastic cover;
Fibreglass housing for the best insulation;
Removable divider in most models.
Cons:
Very expensive cost for whole lineups;
Awkward compressor design can be a trouble during storage;
Only one cooling plate.
Available sizes: 70 or 95L
Prices start from: $1190
Warranty: 5 years
4. Waeco
If you want to buy a portable car fridge then the first thing that probably came to your mind is a Waeco fridge. These portable fridge/freezers are quite popular in the United States and worldwide because of their vast range of models and genuine Waeco compressors that are the tech-savvy miracles according to many expert reviews. These little parts provide the fastest speed of cooling foods and drinks if compared with other brands.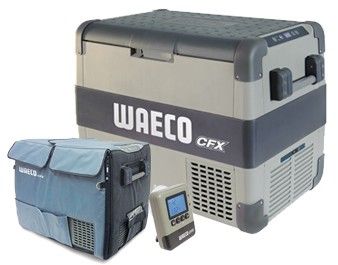 Pros:
Firm plastic construction will deliver less cosmetic damage and prolonged durability;
Polypropylene containers do not conduct heat and provide the best insulation;
The portable fridges of different sizes and specifications;
The greatest price range.
Cons:
Shorter overall lifespan because of many digital circuitry;
Plastic case can easily crack with an irreparable knock.
Available sizes: 35, 40, 50, 61 and 65L
Prices start from: $1090
Warranty: Full 3 years (2 more years on compressor)
11. Reviews of popular portable fridges:
1. Dometic CF-050AC110 Portable Freezer/Refrigerator(the 2-way compressor)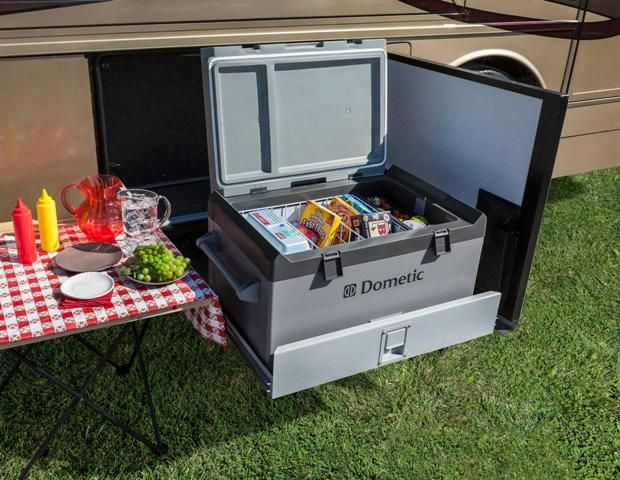 This 2-way portable freezer can work as a freezer too, even under the extreme ambient temperatures. Among its strong qualities is the low amp-hour consumption. This model can be powered by 240V or 12V —straight from your car battery or mains electricity socket at home/RV. The model is relatively lightweight and compact by size, quiet and power efficient.
Technical characteristics:
Quick chill;
Memory and dead battery protector.
Weather-resistant housing;
The capacity is 48 L;
Interior light
Can hold up to 68 twelve-ounce cans;
Includes removable carrying handles and coated wire basket.
The price: $611.41 and free shipping at Amazon.
What do other users say:
Tim D. from Amazon said in his review that "the adjustable temperature ranges from 50 degrees down to 0o F" and "keeps cold all – from frozen diners to Ben & Jerry's ice cream";
Robert C. Austin also from Amazon reviewed that "the LED readout was at 33, but the temperature was 28 o F" and also he said that " the unit was cooling, but the thermostat isn't working good".
Watch the video review:
2. Waeco CA-35 Portable 3-Way Gas/12v/240v Fridge 35 Litre (absorption/3-way fridge)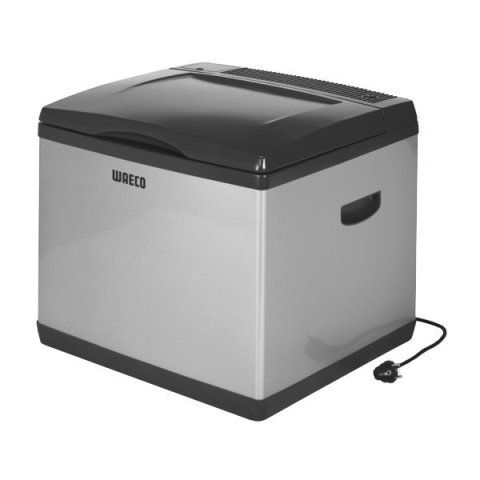 This Waeco fridge work on three different power sources - 240V, 12V or gas. But it is advisable to use gas cylinders for keeping this model working and efficient while the other ways of charging can drain a car battery completely. The time for freezing foods is not very fast but still pretty good. The best thing is the easiest settings to adjust and that can't be changed "by accident". Another bonus is a reversed and removable lid. It is a very compact and lightweight model.
Technical characteristics:
An efficient quick chiller;
All-round rubber seal;
It is ready for connection to 240 volts AC, 12 volts DC or LPG gas;
The capacity is 35 L;
The cooling capacity up to 25°C below ambient temperature;
Convenient 240-volt hook-up;
Switch-over from one energy mode instantly.
The price: $318, you can buy this model at Ebay AU since the model is mostly popular in native Australia and New Zealand.
What do other users say:
Tam from ProductReview.Com.Au rated this device with 4 out of 5 "this fridge works great" and "running empty on electricity for a week well";
Barry from ProductReview.Com.Au reviewed this model too "good fridge that kept frozen food cold for 5 days". He highly recommended this fridge to anybody;
Will47 from ProductReview.Com.Au stayed disappointed because "the fridge wasn't working as promised" and a half an hour is required to start working.
Watch the video review:
3. Whynter FM-45G 45-Quart Portable Refrigerator/Freezer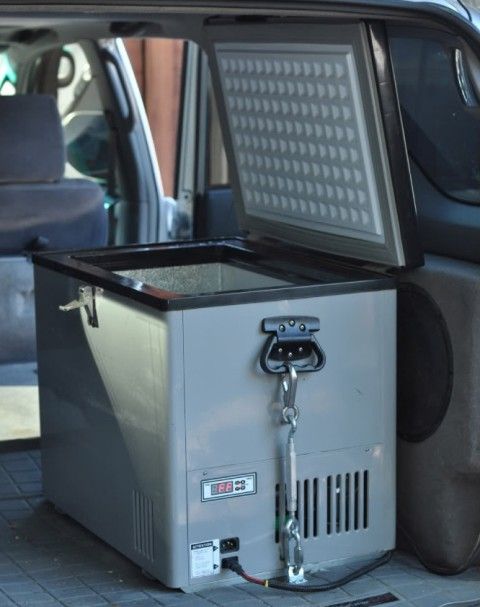 This Whynter fridge is known for the premium quality. It's high portability makes it a great assistant for your RV, campsite, fishing trip, etc. it can be charged by the standard household 110V power and any 12V DC source like a car lighter socket. Can easily cool between -8 to 500F. It can be a little large for an in-vehicle appliance.
Technical characteristics:
The fridge has the capacity of 60 L;
The freezing capability between -8 to 50 degrees F;
LED temperature indicator;
Fast Freeze function;
Tough and solid outer casing;
Side handles for better compatibility;
ETL approved.
The price: $526.32 and free shipping at Amazon.
What do other users say:
Michael J. Troutner on Amazon rated this device with 4 stars out of 5 and wrote "cooled from 80 degrees to 45 degrees in 15 minutes" and "the latch on the top door is great quality". He also said that this fridge can be charged with solar battery;
Xerofall on Amazon said that "the fridge is big, taller and wider than an ice chest". It is huge inside according to this user;
P. Nichols on Amazon said that this fridge is "very heavy despite handles" and "it can be used not very often for moving" because of its large size.
Watch the video review:
4. Engel MT45F-U1 Dual Voltage AC/DC Portable Fridge/Freezer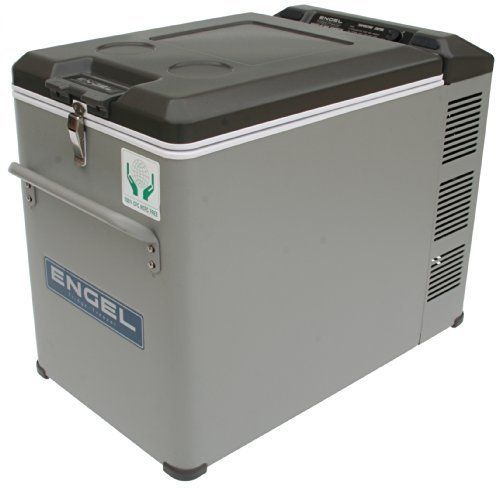 This great Engel model is very efficient dual-voltage fridge/freezer with 43 qts of interior storage. The best advantage of this model is Engel Swing Motor Compressor that needs the minimum power (40% less power) and can run both on AC or DC power. This is a vibration resistant model designed for very extreme weather conditions like 30 degrees from the normal level. The Engel MT45F-U1 is great for camping, boating, RV vacations, hunting and even a home use.
Technical characteristics:
It is ideal for solar power applications;
Huge 43 qt capacity;
Variable temperature control;
Handy carry handles that can be removed;
Both AC and DC cords can be used for charging and they are included;
UL Approved;
100% CFC-Free Compressor;
Among other accessories are green rubber mat, interior wire basket, one extra fuse.
The price: $910.00 and free shipping on Amazon US.
What do other users say:
C. A. Freeman from Amazon website rated this model with 5 stars and said that "it can carry along a weeks supply of groceries" and "built like a tank with its steel housing". However, he said that this model is quite pricey and bulky to move;
On the contrary, Josh Miller also from Amazon said that the Engel MT45F-U1 model is quite "light compared to his fridge" and works great even under the ambient temperature around 85F;
B R Ping from Amazon site was quite disappointed since their unit was working only 'two summer – about 8 months rough" and the company refused to change the model even because the warranty was given for 2 years.
Watch the video review:
5. ARB 10800472 Fridge Freezer- 50 Quart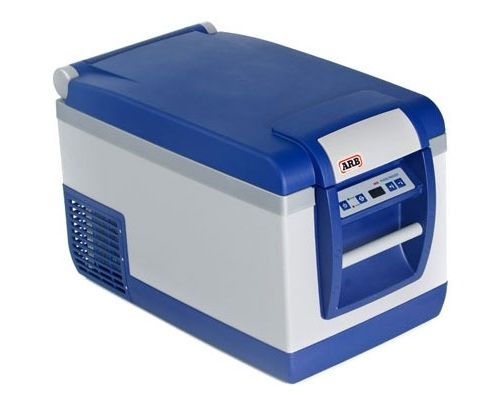 The ARB10800472 freezer/fridge is great for keeping beverages and foods cold or frozen during hunting, camping, off-roading, boating or as an additional home fridge. The model offers the large internal capacity for cooling 72 cans. The charger works perfectly both with 12V/24V DC from a car lighter as well as a standard outlet. The interior temperature down to 00 F for really powerful freezing. The transit bag is not included in the set.
Technical characteristics:
Large 50 qt capacity;
Can keep the temperatures between 50 0 F to 0 0 F;
Completely self-contained unit;
Front-mounted recessed digital control panel with large buttons;
Convenient on/off power indicator;
Bright LED display
The reliable Danfoss compressor;
Large EZ latch for keeping the lid tight and a secure seal;
The quick-release mechanism for lid;
Separate internal dairy/fruit compartment;
Fully removable lid, basket, and handy drain plug for better cleaning;
Right-angled plug-in;
Rear-facing LED illumination;
Heavy-duty insulation and hardware;
100% CFS-Free compressor
And it can be used as a seat for a kid.
The price: $856.73 and free shipping at Amazon.
What do other users say:
HarleyEverHome from Amazon said she "loads it up with vacuum sealed frozen meats" and charges with 12V socket in the back of her truck. She uses this model as her regular fridge/freezer for a whole year and rated ARB 10800472 with 5 stars;
Sprinter123 on Amazon also called this model "great fridge" and "the freezer works greatly even after 5 days of 24-hour work without any charging".
Watch the video review:
12. Alternatives to portable fridges
In this guide were mentioned passive coolboxes and coolbags that are usually chosen instead of portable fridges during camping vacations. They are essential for a family who spends a day tripping or camping. But can they completely replace a portable fridge? Let's find out.
1. Coolbags
Coolbags are probably the cheapest cooling options and they are perfect for trips lasting no more than 1 day or few hours. However, you may need to use additional freeze packs for keeping foods and drinks cool. The insulation is bad since they are made of foam.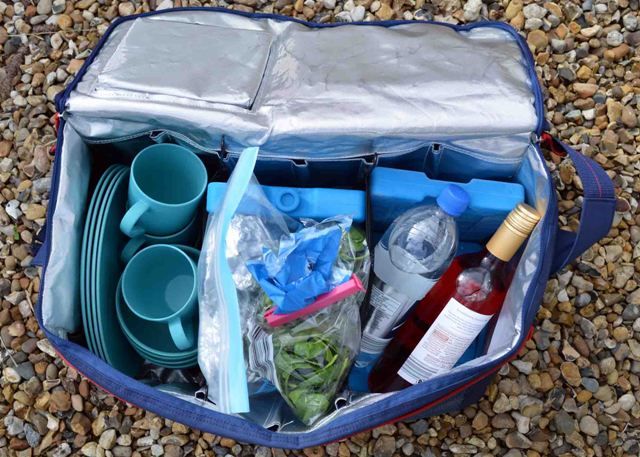 The example of a coolbag is Shearwater L. The model is made of polyester, with silver aluminium foil lining.
Technical characteristics of Shearwater L:
Adjustable shoulder strap;
Fast access opening;
Huge top opening in U-shape;
Five internal dividing points for mesh dividers;
Two double-sided mesh dividers that can be used for holding ice blocks and packaging;
Included mesh pockets inside that were designed to hold ice blocks/bottles;
External side zip-pockets, twin front mesh pocket.
The price: about $50.
Watch the video review:
2. Passive coolboxes
Passive coolboxes are the most basic coolboxes, but they also need additional freezer packs for making things cool. Unlike coolbags they are made of hard shell, also with foam insulation and need a less air to circulate for warming up.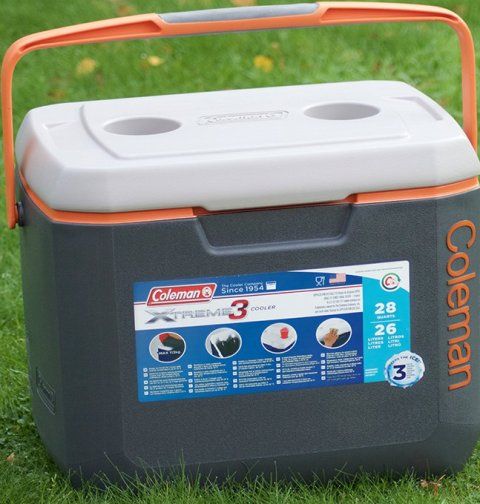 The example of a passive coolbox is Coleman Xtreme 33L CoolBox. The model is one of the best in its segment because of insulation. It is ideal for picnics and day camp trips. The model works better when it's full.
Technical characteristics of Coleman Xtreme 33L CoolBox:
The device offers the capacity of 94L;
Rustproof & leak-resistant channel drain;
Hinged lid with deep holders for beverages;
2-way handles for better storing and lifting;
Cooling performance is no more than 5 days with ice.
The price: $130.
Watch the video review:
13. Necessary accessories to buy along with portable fridges
There is a number of accessories to purchase for portable camping fridges, including covers, transit bags, power supplies and charges, etc. Here is what you need:
Carry bags – but some brands like Waeco fridges come with their own bags;
Protective covers for design or better insulation;
Spare parts;
14. Conclusion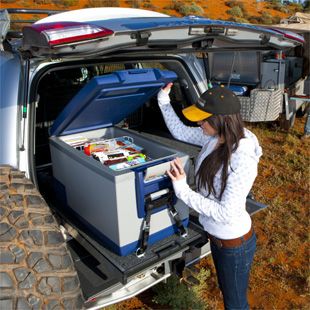 If even after reading these tips, comparisons, and reviews you need one more assuring thing for buying a portable fridge, then catch it. Do you like camping? Do you camp more than once per season? Then yes, you need a portable fridge as your reliable assistant on a road. As you can see, portable fridges can last even the week-long camping trips where ice blocks and cool boxes simply won't be practical. There are multiple options for power operation – gas cylinder, 12V car charger, mains 240V electricity. Nowadays it has never been easier to buy the chosen model online and, literally, nothing stops you from purchasing this awesome cooling device capable serving from 5 to 10 years. Stay cool and make your foods cool as well with portable fridges!