Mini Microwaves for a Car - Portable, Smallest Microwaves and Alternatives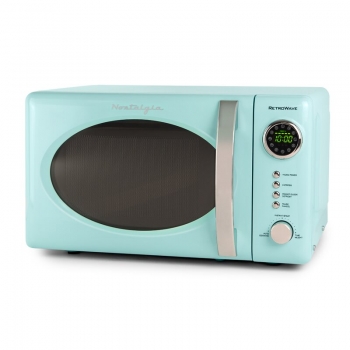 Just imagine that your car has stuck on the road in the middle of nowhere and it seems that the radio forecast promises that very soon you won't be able to drive because of the snow storm. Your car will keep you warm and safe from the bad weather but still you have to spend few unpleasant hours inside.
Then you start thinking: "What a bummer that I missed that dinner because I am already hungry… Oh, wait, that is a great opportunity to use my mini-microwave! Let's heat some soup from my portable fridge!" In this scenario and many others, an in-car microwave oven can be a real life-saver.
Warning! To use the listed microwaves also you will need to buy Pure Sine Wave Inverter to connect the microwave to your car battery. And it will cost you even more than the cost of a microwave. But you will be able to heat products as fast as you get accustomed.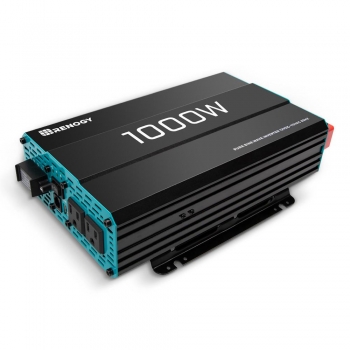 A more affordable and simple solution will be buying something like Warming Lunch Bag. Heating will take more time, but you can use it with your vehicle's DC power outlet. No need to connect directly to your car battery.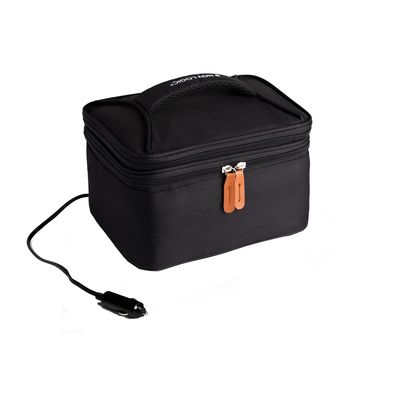 1. Who can benefit from using a small portable microwave oven?
Why would anyone like to buy a small 12V microwave? The most common reason is to be able to reheat home food on during a car trip. The second reason is that portable microwave ovens are up to 50% smaller than their larger "parents".
Such small microwave ovens can be used: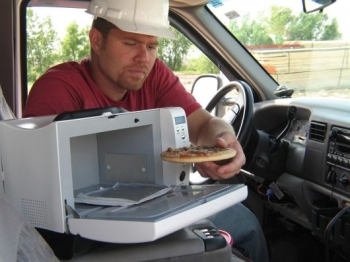 By people who spend 20-30 hours in the car per week because of their work duties or personal reasons;
By users who like to travel or camping in RVs;
By people who don't have time to return for a lunch to their home at their workplace can use their portable car microwave oven;
By college students can benefits from in-car portable microwave ovens while driving home during the breaks or on holidays;
By owners of the fast food trolleys, carts and vans can also benefit from a small car microwave oven to heat hot dogs or burritos for a hungry customer who is in a hurry;
Also, such appliances make sense in caravans and mobile homes.
2. Benefits of a mini microwave for your car
Mini microwaves for car use stand for the excellent choice if you spend a lot of time in your car or don't use a standard microwave for much beyond reheating leftovers. Among other most common benefits of car microwave ovens are: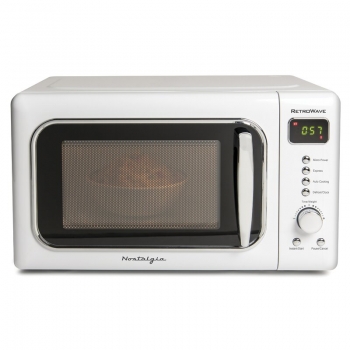 Small microwaves are also much cheaper than larger units;
Mini-microwave ovens take up far less space due to their really compact size;
A number of basic features and special settings (read about them below);
A mini-microwave uses a ridiculously small amount of power resources – 12V from a lighter socket in your car;
Despite a small size a mini-microwave it can warm/cook between 140 and 170oF (60-77oC);
Easy to grip handles for more convenient transportation;
Car microwaves are also ideal for camping, tailgating and roadside dining;
A variety of designs and colors to choose from;
A small portable microwave for a car has all basic features of a standard stove;
There are models 12 Volt portable ovens in the "Lunchbox" style that you can take with at work;
Small car microwaves are good for heating sandwiches, pizza slices, popcorn, fast food, leftovers, liquid food, etc;
Such units can heat baby bottles, food jars in few minutes;
This type of microwave oven could come in handy for unexpected power outages and other emergency situations when you can use a regular microwave oven on your kitchen.
3. Disadvantages of car microwave ovens
Despite numerous benefits portable car microwave ovens have two significant drawbacks:
Quick battery drain. If you chose a 12V microwave using a car battery then prepare that it drains your battery quickly to the point when you won't be able to get your vehicle started;
The capacity of a mini-microwave oven is not enough. Though it may not be a drawback in your case since you need a mini-microwave oven after all, besides car microwaves are available in different sizes and types.
4. Types of microwave ovens for your car
I. By the type of power supply:
a) 12V in-car microwaves- using a car battery for power supply;
b) Lighter socket supplied microwaves– most car ovens use this power supply technology since it doesn't drain the car battery;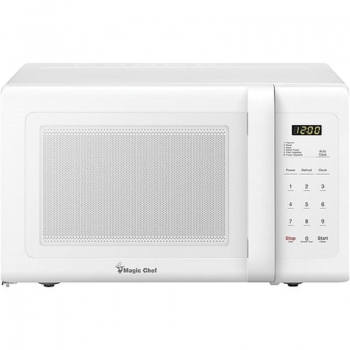 c) USB port as the main power source– when you can connect a small microwave oven to a laptop or any other device with a USB port.
II. By the type of heating technology:
a) Inverter technology
Inverter heating is the option available on high-end portable microwave ovens. If you need to heat food at a 50% power level, most microwaves can switch between 100 % power and 0 % power to the average 50 % power. That is why in-car models use the inverter tech, which allows maintaining the consistent 50 % power supply so you can cook food without being afraid of ruining your lunch.
b) Convection technology
Convection heating is a less common tech for microwave ovens with the prices starting about $120. The convection technology blows the heat in all directions over the food instead of just warming food in portions. An oven with convention tech cooks things more quickly and even. Such microwave oven is able to make better meat or baked meals.
There are few ways to measure a microwave oven size. There are standard measures of height, width, and depth. The external dimensions can also range from 10x18x14 inches (25.4 x 45.72 x 35.56 cm) on the smaller side to 14x24x20 inches (35.56 cm x 60.96 x 50.8 cm) on the larger side.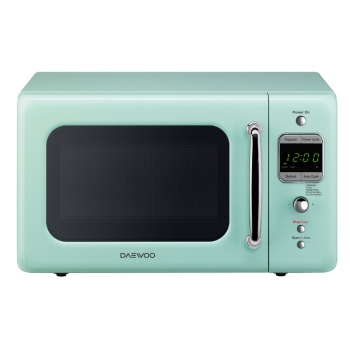 But you must consider the internal capacity of a mini-microwave oven, which can range from less than 1 cubic foot (28.3L) to over 2 cubic feet (56.6L). Keep these parameters in mind when making your choice:
Compact microwave oven for the car - under 1 cubic foot (28.3L);
Midsize microwave ovens – range from 1 (28.3L) to 1.5 (42.4 L) cubic feet;
Full-size microwave ovens - 1.6 (45.3 L) or 2 cubic feet (56.6L);
Extra-large ovens – more than 2 cubic feet (56.6L).
a) Countertop microwaves
These models are best for kitchens and not very suitable for cars because they require the optimal venting of a range hood.
Pros of countertop microwave ovens: countertop microwaves usually cost less than over-the-range models and they don't require any installation—plug in and use.
Cons: even midsized countertop models we take about roughly 3 square feet of space which mean they can be used only for RV trailers and not for smaller vehicles.
Cost: from $40 to $700
External dimensions (HWD): from 10x18x14 inches (25.4 x 45.72 x 35.56 cm) to 14x24x20 (35.56 cm x 60.96 x 50.8 cm)inches.
Internal capacity: under 1 cubic foot (28.3L) to over 2 cubic feet (56.6L).
Wattage: 600-1,200 watts.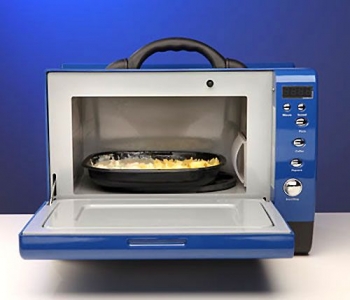 b) Over-the-range microwaves
Also titled as OTRs such microwave ovens are usually used as replacements for countertop ovens. It's a built-in model hanging above your range and saves precious counter space. These units are definitely the multitaskers.
Pros: OTR microwaves leave the counter space clear. Commonly they have more features than a countertop appliance.
Cons: their price is higher, poor ventilation and their installation also might require an electrician.
Price: from $190 to $1,300.
External dimensions (HWD): these units are usually wider than countertop ovens, about 16x30x15 inches (40.6 x 76.2 x 38.1 cm).
Internal capacity: under 1 cubic foot (28.3L) to over 2 cubic feet (56.6L).
Wattage: 600-1,200 watts.
c) Built-in microwaves
Built-in microwaves can be installed within custom cabinets or over counters but flush with the bottoms of flanking cabinets. Commonly built-ins don't have finished sides, vents, work lights.
Pros: built-in models keep counters clear, a range hood, which works better at venting than ORTs.
Cons: such units are expensive and professional installation adds to that cost.
Price: from $500 to $5,000.
External dimensions (HWD): drawers tend to have more depth than a countertop or OTR model, about 15x30x26 inches (38.1 x 76.2 x 66 cm).
Internal capacity: under 1 cubic foot (28.3L) to over 2 cubic feet (56.6L).
Wattage: 600-1,200 watts.
5. Major technical characteristics of portable car microwave ovens
I. Basic default features
Many portable microwaves for use in a car have the same set of common functions – the basic or default settings. Here are some microwave cooking essential functions:
The cook timer menu – to show how much is left to cook food;
Defrost options not just to heat but to defrost your food;
The power level menu - compact ovens use about 600 to 800 watts. More watts give more cooking power;
The beeper to give an audio signal when food has been cooked or heated;
Sensors - measure emitted steam to demonstrate when the food is done in order to prevent over- or undercooking;
Shortcut keys – early versions of microwave ovens only had automatic popcorn settings. Now even small in-car microwave ovens have auto settings for different types of foods like oatmeal, pasta, stew, grits, along with reheating or defrosting options. Avoid paying extra money for shortcut keys that won't be any use to you;
Numeric keypad – it is used to set power levels and cooking times. It's easier to use than a dial. Many modern mini-microwave ovens use LED dial with touch screen tech.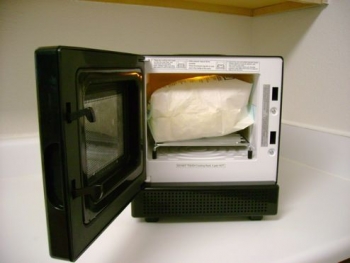 II. Advanced (extra) features
Some higher-end microwave ovens have more presets than just the basic settings for cooking potato, pizza, and popcorn. Extra features will cost you more than basic pack include, but you may actually need. Many mini-microwaves are offered in few versions according to the set of extra features that may include:
A 1-minute/30-second key – this feature extends the preset cooking time, allowing doing quick adjustments to the previous settings—for example, pushing the button more than once exceeds the time extension;
Grilling and browning options;
Broil, steam and speed cooking;
Removable racks – to cook several foods at once. But most small ovens do not have such options to save space;
Safety lock – to prevent kids or pets use a microwave oven in an unsafe way;
Slow cooking – this feature is usually available in convention mini-microwave ovens. They offer the 4-hour maximum cook time.
6. How to choose a quality microwave for a car?
Pick a car microwave oven according to the type and size - Compact models can cost very little but typically offer the least cooking space which may be exactly what you need for your car. You don't need an oven with a good vent so you can save up some cash;
Keep in mind the stuff you are going to cook - Simple tasks like reheating dishes and cooking items like popcorn should work wonders for you. Extra cooking features will need a larger oven that will cost more than a small portable microwave oven;
Check the available volume - The volume allows estimating how many items you can place inside a mini-microwave oven. The volume of a typical small microwave oven varies from 0.5 (14,1L) to 0.8 cubic feet (22.6L);
Evaluate the wattage - Wattage is one of the most significant things to consider when evaluating a portable microwave oven. The higher the wattage, the faster and more evenly the food will be cooked. However, don't expect much from in-car ovens since their main purpose is to remain small;
Evaluate the number of settings - The most default settings allow adjusting the time to ensure even cooking of particular meals. Manually set the time limit, some ovens offer preset times for purposes ranging from heating coffee to defrosting frozen meal;
Estimate the use of extra features - A great example of an effectual extra feature is preset settings for particular cooking purposes or a turntable that rotates the food for even cooking. An oven may have a security lock for protection from kids;
Choose a pre-programmable microwave oven - To manipulate the way your food is prepared you can buy a programmable microwave oven for your car. A program allows creating the multi-step program that cooks food according to your needs. The program will allow adjusting the intensity of your oven for more even and efficient cooking;
Buy a portable and simply-to-clean oven microwave for a car - The simplicity of cleaning stands for an important advantage for any appliance and gadget. It would be great if the inside of your microwave car oven is made of non-stick material.
7. Reviews of popular portable car microwave ovens:
There are not so many really working prototypes of mini-microwaves so your choice may seem limited. Most of represented below reviews of car microwave ovens are the best ones at the market, the others are their counterfeits or non-working devices that can be unsafe for you and your vehicle.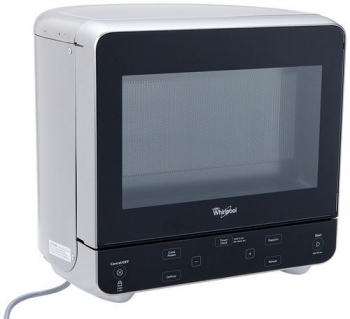 Pros: quite tall, big inside, the interior light goes on when you open the door
Cons: limited features
Characteristics:
Type: smallest microwaves
Size: 15.4 x 14.1 x 13.8 in (39.12 x 35.81 x 35.05 cm)
Weight: 33 lbs (14.96 kg)
Capacity: 0.5 cu. ft.(14.15L)
Maplin in-car microwave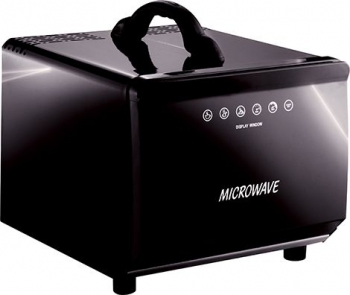 After mini fans and small vacuum cleaners, Maplin offers their latest 12-volt item – the mini in-car microwave oven. This oven offers the warming power being attached directly to the car battery for a 660W of cooking action or 175W of the cigarette socket.
The main features include:
The neat touch screen and LED interfaces to help to dine safely on the go while driving a car;
A handsome steel casing;
That unit is enough to warm up a pizza in just 3 mins.
Where to purchase: Available only on the official website in the UK.
Cost: £90 ($136).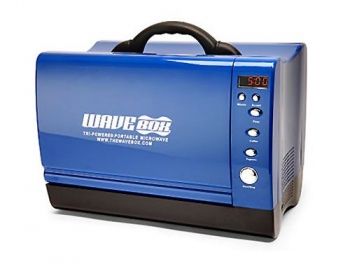 It is the world's first portable 12-volt microwave oven titled as The WaveBox by Power Hunt. The WaveBox is the best appliance for mobile cooking. Just plug the WaveBox oven into the PNP Power System (new patented technology) and you can cook or reheat the foods and beverages in minutes.
The main features include:
The capacity 0.7 cubic feet (19.8L) and 660 watts of power;
There is a microcrystalline material plate;
It cooks/reheats quickly and evenly without a turntable;
3 pre-set timer buttons make using quick and easy;
The oven can be manually set with the cook timer up to 20 mins;
Reinforced ABS casing to withstand rough use in any tough environment;
The easy-grip handle;
The WaveBox comes with the extra feature CoolBag – an inbuilt soft-side cooler keeping your food cool;
No inverter is used;
No lighter socket plug is used.
It is the most popular and positively reviewed mini-microwave for a car on the market nowadays.
Cost: a DC only version will cost you $300; an AC/DC version for $335. BUY NOW
If you are looking for a cheap microwave car oven with minimal basic settings consider the 12V In-Car Microwave made by the Chinese manufacturer Zhejiang Entive Electric.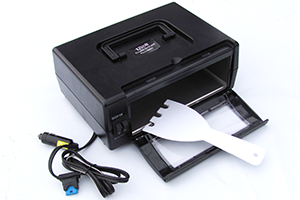 The main features include:
175W provided from a cigarette lighter socket or 660 W of a car battery;
The steel construction with heavy-duty handle;
LED screen with touch screen operation;
Heat up a pizza in 4 mins, a coffee in 6 mins.
Where to purchase: Available for stock order on Alibaba and AliExpress.
Heinz Beanzawave USB Powered Smallest Microwave Oven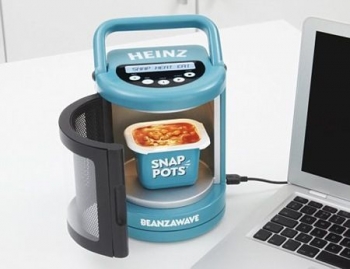 The Heinz Beanzawave is the smallest portable USB microwave oven ever created. This appliance appeared on the market in 2009 and still has the smallest parameters among other mini-microwave ovens.
The main features include:
7.4 inches tall by 6.2in (15,7 cm) wide and 5.9 inches (14.9 cm) deep;
powered by your laptop's USB port or lithium ion batteries;
the Beanzawave uses a combination of mobile phone radio frequencies to heat the inserted food;
sleek design and a plastic heat-proof case.
Where to purchase: Available in the UK, on the official website.
Cost: $160.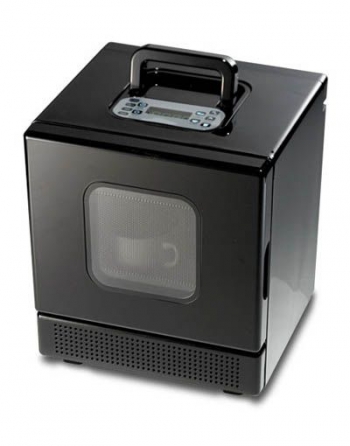 The iWaveCube portable microwave oven weighs only 12 pounds (5.4 kg), offering the one cubic foot capacity with the inbuilt carry handle for better portability.
The main features include:
600 watts of energy;
Currently available in 8 colors — black, white, silver, blue, green, red, pink and yellow;
The remote control feature;
The control panel will shift from the top to the front of the microwave oven.
The 90-day money back guarantees along with 1-year replacement warranty is also offered for the buyers of iWave Cube portable microwave oven.
Watch review of this car microwave oven:
8. Alternatives to classic microwaves for a car:
It is a standard-sized travel mug that keeps hot beverages and liquid foods warm. The small but efficient heat coil is hidden safely in the base of the travel mug making it is possible to heat or cook fast soups, liquids, and beverages.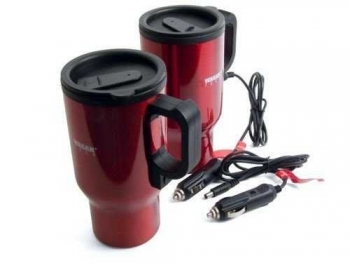 The main features include:
The mug keeps warm or re-heats cooled beverages or liquid foods;
Use the car's 12-volt lighter socket;
The mug is well-insulated so it can keep your beverage hot for up to 2 hours after you unplugged the device;
3 colors - blue, silver and red – are available;
The mug fits in the standard cupholder.
Where to purchase: Available on Amazon.
Cost: $15.85 for two travel mugs (sold as a one set). BUY NOW
The Hot Logic Mini stands for a portable cooking appliance designed to cook and re-heat steaming meals with little effort. It is a personal portable oven for a sandwich or a small pizza.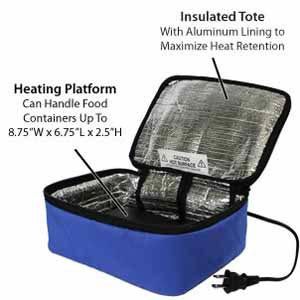 The main features include:
It is about the size of a lunch box with the zipped top;
It has its own portable power supply;
Basically it is a hot plate inside an insulated with aluminum lining hot bag;
Unlike any regular microwave oven this appliance works with a variety of containers made of metal, cardboard, plastic and glass.
It can heat up the food in 60 to 120 minutes and then keeps it warm until you zip the container out and eat your meal;
The gradual heating process cooks the food even without drying or burning it out.
Where to purchase: Available on Amazon, on the official website or on WalMart.
9. Conclusion
There are many reasons to buy a car microwave for travel. The reason is quite obvious—a small microwave won't take up much room in your car and will save you from hunger without a necessity to visit a road diner. You can put it in a car and still have enough space for other appliances and stuff in your car.
The small portable car microwave will be a cheap and yet worthwhile investment. And you will be able to cook a wide range of meals in a small in-car 12V microwave, including pasta, pizza, popcorn, reheat or defrost food and many other options available in regular microwave ovens. But the best is that you can take a small microwave oven anywhere.