Neck Fans - 7 Tiny Devices Hanging on Your Neck That Effectively Beat the Heat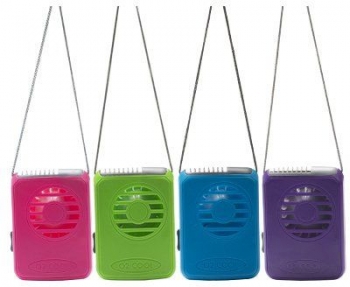 "The thing with heat is, no matter how cold you are, no matter how much you need warmth, it always, eventually, becomes too much."
Looking for a breath of fresh air on a deadly hot day? Think about that – there is a hot day, the air is secretive, moist and far from fresh, it exhales into your face with its heavy breath. Or pretend you are driving the car on a sizzling road with air conditioner out of order, the air is stiff and burning. Regardless of the killing heat you can experience, the solution can be way simple and affordable – it is called a necklace fan. Now you might think what this device is, why it is so helpful and why we decided to place it in a list of useful accessories.
There is an easy explanation: a neck fan is a small ventilator that provides a directed air flow right to your neck and face. It hangs on a neck like a necklace so that you have your hands free with some fresh air coming to your face. It normally works from batteries with some models offering a rechargeable USB port.
A neck fan might be really helpful during your trips to tropical countries or any place you know the weather is unbearably hot. A fan is small and lightweight to make as little discomfort as possible. It will save your face from sweating severely and will give it a comforting waft of a light breeze. If you are deciding on a portable fan to help you beat the heat, you should pay attention to the list of neck fans below. Let us explain why you should do that.
First, we have gone through every unit presented below to analyze each aspect and we are sure our deep study will save your time. Second, we have picked up only the best products from the point of view of customer reviews as if we were walking a mile in their shoes to experience what they did. And lastly, we paid attention to problems that customers faced in using each particular model.
But before we go to the list of neck fans, there are some aspects you should mind before buying the device:
Charging time – some fans take about 4 hours to be charged. Before buying, think of how much time you plant to spend with your neck fan working.
Working time – it may range from 2 to 13 hours depending on a speed mode you use and a battery lifetime. Duracell batteries last very long. One user claimed they lasted a month running 5-6 days 8 hours shift.
Recharge options – some neck fans offer two options: batteries and USB charging. Some runs batteries only, keep that in mind.
Item weight – the lighter it is the better. Do not forget that you are going to wear it all day long on your neck.
The number of speed modes – it is always good to have a couple of speeds, though maximal speed sucks the battery life severely.
Our List of Most Efficient Necklace Fans: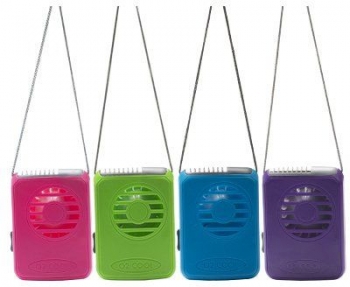 Pros: quiet – can be used in any place without making much noise, powerful, provides good steam of air, helps against severe hot flashes, nice for long walks, a hands-free device, a variety of color options, an adjustable neck strap, handy.
Cons: no batteries included, cheaply made.
Characteristics:
size – 5 x 1 x 3 inches (12.7 x 2.5 x 7.6 cm.)
weight — 3.2 ounces (90 g.)
batteries: 2 AA
speed modes: 3 speeds
assorted color.
Most common usage problems:
the absence of a slide on/off button to keep a fan from accidental switching in a purse
not convenient for jogging because it bounces around
some users wished it to be a little stronger
a little heavy after having it for several hours in extreme heat
an uncomfortable strap.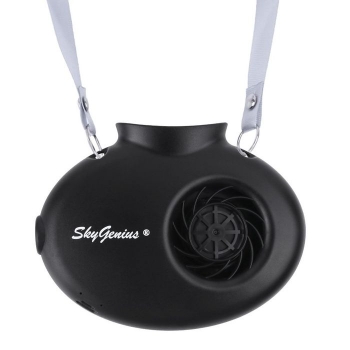 Pros: bigger than most portable fans but comfortable to wear, pleasant-to-skin satin ribbon, quite, powerful, variable speeds, rechargeable, helpful to people prone to excess sweating, perfect for the hot humid weather, great quality, holds a charge for a good long time, essential oil option.
Cons: aromatherapy foam falls down easily, a little heavy.
Characteristics:
size: 7.4 x 5.9 x 3.9 inches (19 x 15 x 10 cm.)
weight: 9.62 ounces (102 g.)
battery capacity: 2200mAh
operating time: 2-6 hours
charging time: about 4.5 hours.
Most common usage problems:
it should be charged fully before work, otherwise, it won't work for long enough
a bit loud to have it in quiet places
a speed switch is tough moving.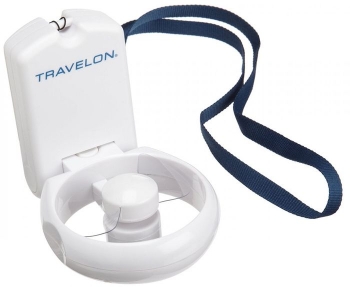 Pros: it is hinged and can be set on the table or unfolded in a flat position, 3-speed options, safe rubber blades, a strong lanyard, runs for quite a long time on 4 batteries, powerful but not noisy, great for stuffy places where air is not moving (planes, trains, buses, car drives), helps in coping with hot flashes.
Cons: cheaply made, two batteries do not run long enough.
Characteristics:
size: 11 x 7 x 3 inches (28 x 18 x 7.6 cm.)
weight: 5.6 ounces (160 g.)
batteries: 4 AA (not included)
setting options: hang around the neck/sits on the surface
speed modes: 3 speeds.
Most common usage problems:
it is hard to push open the battery cover
a fan lacks a charging cord
on the highest speed mode the vibration causes a fan moving
the highest speed sucks batteries very fast
speeds are controlled by multiple presses on the button which is unreliable.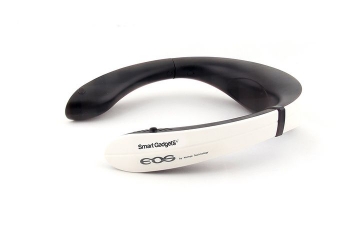 Pros: smart gadget with HEPA filters, produces clean air, excellent for stuffy places, USB powered, adjustable size, ergonomic design, small and convenient, has an inbuilt aroma diffuser that provides Natural Organic Aroma, great for traveling to overcrowded cities, can be helpful for Mast Cell Activation Disorder, provides the cool air at right angle, good for people suffering environmental allergy, charging indicator.
Cons: quite noisy, expensive.
Characteristics:
size: 1.4 x 1.4 inches (3.5 x 3.5 cm.)
weight: 8.1 ounces (230 g.)
charging time: 4 hours
operating time: 13 hours
speed modes: low and high
Most common usage problems:
people irritated to a noise or suffering a migraine should not wear it for the risk of anxiety;
might be uncomfortable to sleep with it on the plane because of a thick back part.
Pros: an air ionizer+fan = 2 in 1 device; lightweight, provides different options for wearing/using (a neck strap and belt clip), sleek design, efficient, easy to manipulate, handsfree, convenient on/off slide switch.
Cons: noisy, the fan is not effective as a cooling fan but for fighting negative ions.
Characteristics:
size: 1.8 x 0.95 x 2.7 inches (5 x 2.4 x 7 cm.)
weight: 1.44 ounces (40.8 g.)
charging time: 4 hours
operating time: 8 hours with the fan, 240 hours without the fan
USB cable included
a neck strap and belt clip included
charging indicator: yes
Most common usage problems:
some customers found it loud with the noise resembling a shaver
a charge port is very sensible and can break when plugged in improperly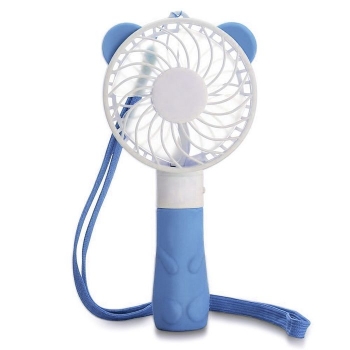 Pros: rechargeable, very long operating time, looks lovely, great for kids due to a funny design, charges quickly, compact, useful for traveling, can be charged through a power bank via a mini USB cable, 3 color options, has a charging indicator.
Cons: cheap material
Characteristics:
size: 7.5 x 3.5 x 1.4 inches (19 x 9 x 3.5 cm.)
weight: 6.6 ounces (187 g.)
built-in battery capacity: 1200 mA
speed modes: high and low
charging indicator: yes
USB charge cable included
a lanyard included
Most common usage problems:
no battery option
it can't stand on its own
you should move it around to cool each area.
Not a fan but an effective cooling alternative you might want to try: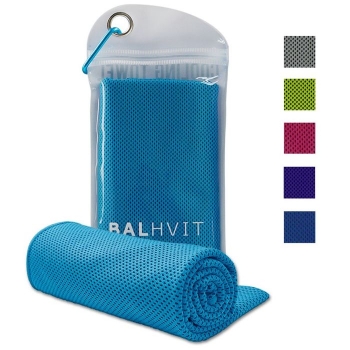 Pros: no charging is required, multiple usage options, provides 50 SPF protection for the skin, does not warm to body temperature, works effectively, comes in a handy package, a simple and safe way to remain cool, provides a long-lasting relief, very absorbent, easy to care for, different colors available.
Cons: there is no a choice of color.
Characteristics:
size: 40 x 12 inches (100 x 30 cm.)
weight: 4.2 ounces (120 g.)
color options: 5 colors
carabineer is included
handy waterproof package
30-day money back guarantee
Most common usage problems:
does not stay cool very long, so you need to wave it around to cool it down again or wet it
due to the first aspect, it may be not so convenient to use it in a training class.
We hope, among the variety of options you will decide on a neck fan that fits your needs. Moreover, all of them can be found on Amazon, an online store known for its sound reputation and cooperation with trusted retailers, which mean you can always buy the product, test it and return it (specify the terms for a definite product). It implies your purchase is risk-free and life-saving when fighting desperate heat is concerned. Wish you a blissful cool all day long!