11 Most Rated Portable Coffee Makers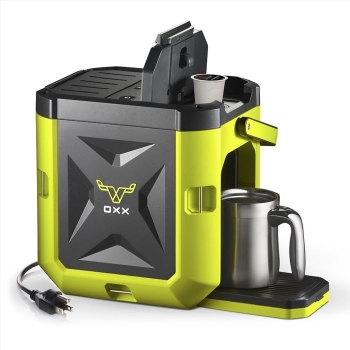 If you are like most Americans, you start your day with a cup of coffee. Supposedly, you have a coffee machine at home that you took pains over choosing. You got used to it, you know how it sounds when brewing, it produces the crema just the way you like. The home is your castle, with your coffee machine this is a nice castle to live in. But let's look outside the walls of it.
According to the National Coffee Association and the Specialty Coffee Association of America, the average consumption in the United States is 3.2 cups of coffee per day. That means that certain amount of coffee is being drunk during the day, specifically during work hours outside the home. It is good when you work in the office with a cozy break room and a coffee maker but many professions require life on the go. With that in mind and with the idea how to solve the problem of stale office coffee, Jonh Sylvan created a K-cup coffee and a small single server brewing machine – a breakthrough in the life of every coffee monger. He was not a pioneer in promoting compact coffee machines but he raised it to a new level.
The smaller the better?
Not exactly. A portable device, be it a compact coffee machine or an iron, is no comparison to a full-size appliance. First, because it causes you to compromise certain device features, and second because the price is not necessarily lower proportionally to its size. However, with these reasons mentioned, portable appliances are in high demand, portable coffee makers are no exception. But what make small coffee machines so special that people used to buy them? Let us see some of the causes:
Key Benefits of Portable Devices
Portability. Would you refuse a freshly brewed cup of coffee at your campsite? With a compact camping coffee maker, you can enjoy your favorite drink anywhere. Being portable and transportable, small coffee machines can be easily taken to the trip.
Size. No secret, portable devices are normally of a smaller size, which is much easier to take on the go. Also, if you lack space in the kitchen, a compact coffee machine definitely takes a smaller footprint on the counter.
Power options. Unlike a full-size coffee maker that needs a power outlet, a portable version of it can work by sucking energy from various sources like lithium ion batteries or car power. This is beneficial when there is no electricity.
Durability. Some portable coffee machines are dust- and wet-resistant so that they can be safely used outdoors. To add more, OXX COFFEEBOXX stood the test of durability by being placed under the SUV wheels.
Performance. With a limited amount of functions and customization, small coffee makers brew a nice shot of espresso and creamy latte. If you opt for a compact Keurig coffee maker, the variety of coffee tastes is numerous.
We have analyzed the assortment of the best compact coffee machines to present you with the list of 11 most rated appliance of different types. With all pros and cons studied, we hope choosing a small coffee maker will be fun instead of tiresome.
The Best Models of Compact Coffee Machines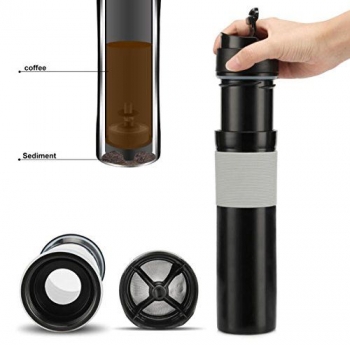 Pros: French press doubles with a mug, made of high-quality plastic, lightweight, spill-resistant lid, great for traveling or taking it on the go, separates the sediment, takes little time to brew, durable, no leakage, no filters needed.
Cons: directions are unclear.
Characteristics:
size: 2.6 x 2.6 x 10.2in (6.6 x 6.6 x 26cm)
weight: 10.2oz (290g)
color: black, wine red
material: plastic
pressure: no
Most common usage problems:
there is some liquid left with the grounds, that causes the mess when cleaning.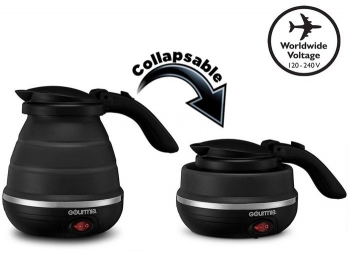 Pros: extremely compact and reliable, dual voltage compatibility, lightweight, lid lock, auto shut-off, integrated spout filter, efficient, made of high-quality material, excellent for traveling, easy to use, collapsible, convenient to use, easy to pack.
Cons: min and max markers are not distinct.
Characteristics:
size: 4 x 7.8 x 5.8in (10 x 20 x 15cm)
weight: 1.2lbs (544g)
color: black, white
material: plastic and silicone
capacity: 17oz (0.5L)
power: 120V - 220V
Most common usage problems:
kettle turns on once you plug it in, need time to get used to
the switch does not turn off so you should unplug immediately after boiling
water can't be reboiled just at once, need to wait for some time
the first batch of water boiled may have a chemical taste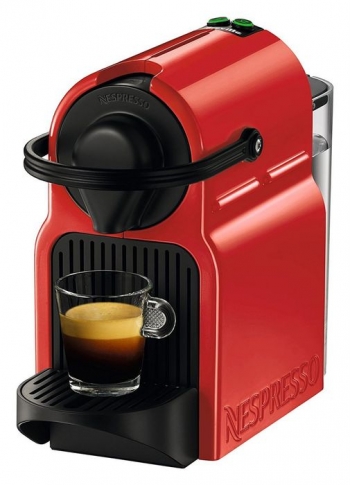 Pros: aesthetically very attractive, compact, stylish design, makes a good layer of crema, fast to warm up and brew, the variety of tasty and convenient coffee pods, easy to use, makes great espresso, the function that allows to start brewing the coffee once the water is hot, affordable price,
Cons: the instructions are complicated, the machine is noisy when brewing.
Characteristics:
size: 12.4 x 4.7 x 9.1in (31.5 x 12 x 23cm)
weight: 5.3lbs (2.4kg)
color: red
material: plastic
pressure: up to 19 bars
Nespresso capsules x 16
power: 120V
Most common usage problems:
the majority of parts are made of plastic, thus seem less reliable
water reservoir does not fit completely
load/drop design is inconvenient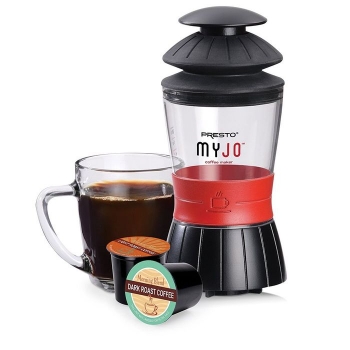 Pros: convenient, compact design, easy to use, great for traveling, silicone grip provides easy handling, inexpensive but efficient, has a refillable cup, can be used with K-cups, good for brewing tea, easy cleaning, no electricity is required.
Cons: unclear instructions.
Characteristics:
size: 4.1 x 4.1 x 9in (10.5 x 10.5 x 23cm)
weight: 14.1oz (400g)
color: black
material: plastic and silicone
Most common usage problems:
the first attempt may fail because of unclear instructions
you need two hands to pump so should be careful
sensitive silicone valve
coffee grounds may backflow into the clean water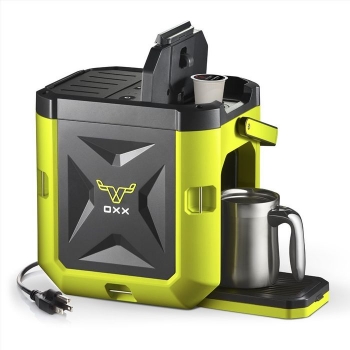 Pros: heavy-duty construction, ultra-tough, crushproof, brews coffee in 100 seconds, works for 8, 10 and 12oz cup sizes, water- and dust-resistant, can be used outdoors, large water tank, spill-proof design, a carrying handle, an integrated carbon water filter.
Cons: short power cord, coffee sprays intensely.
Characteristics:
size: 11 x 9 x 11.5in (28 x 23 x 29 cm)
weight: 12 lbs (5.44kg)
color: desert tan, hi-viz green, special ops black
material: impact resistant plastic
water tank capacity: 85oz (2.5L)
power: 120V
Most common usage problems:
it spews the coffee in 3 seconds after it stops brewing, you should know about that and wait not to take the cup away, otherwise, the coffee will spill on the tray
requires cleaning every time after using.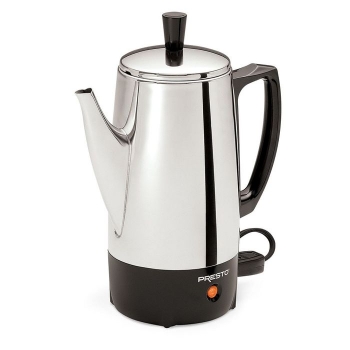 Pros: classic design, indicator light, detachable cord, automatic keep-warm mode, cool-touch handle,
Cons: electrical connectors designed poorly.
Characteristics:
size: 4 x 7.5 x 10in (10 x 19 x 25.4cm)
weight: 6lbs (2.7kg)
color: silver
material: metal stainless steel
power: 120V
Most common usage problems:
mind the stem – it should fully engage into the base, otherwise, there is a risk of weak coffee
it's hard to see how much water is in the pot
the taste of coffee from percolator differs from the one out of the French press or coffee machines.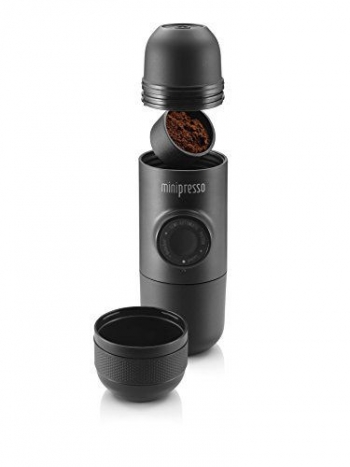 Pros: small to fit any bag, easy to clean and operate, lightweight, versatile, brew a perfect espresso, good for traveling, quick to brew, impressive body design, consistent result.
Cons: only makes 1-1.5 shot at a time.
Characteristics:
size: 7 x 2.5 x 2.4in (18 x 6.35 x 6.1cm)
weight: 10.4oz (300g)
color: black
material: plastic
coffee amount: 1 shot (50ml)
pressure: 8 bars
Most common usage problems:
nozzle can't be disassembled for thorough cleaning
do not tamp the grinds, otherwise, the pressure can break the device
the pump is quite tender and can blow up with intense use.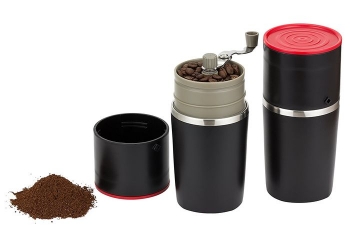 Pros: dual function ceramic grinder and travel mug, provides even grind, compact, durable and efficient, the hand crank folds for easy transportation,
Cons: no lid for the grinder.
Characteristics:
size: 3.7 x 8.3 x 3.7in (9.4 x 21 x 9.4cm)
weight: 14.4oz (408g)
color: black
material: stainless steel
coffee amount: 8 oz (235ml)
Most common usage problems:
the beans can spill around because of the lack of a cap
grounds can get into coffee because the grinder does not fit perfectly, or this is the matter of trails and fails to make it fit.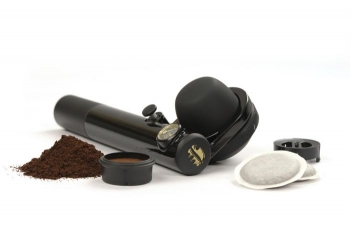 Pros: compact and small, lightweight, portable, fits any bag, no electricity needed, brews excellent espresso, easy to use and wash, hard and durable.
Cons: used only for espresso shots.
Characteristics:
size: 8.5 x 2.8 x 4in (21.6 x 7 x 10cm)
weight: 1lb (453.5g)
color: black, silver
material: plastic
pressure: 16 bars
Most common usage problems:
the device does not maintain 16 bar pressure throughout the brewing process
it is quite heavy, if it was made of aluminum it would be great for traveling
it requires certain efforts to pump it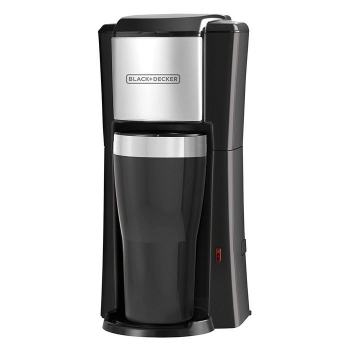 Pros: convenient one-touch operation, dishwasher safe, travel mug included, brew directly into a travel mug, compact, permanent grounds filter, automatic shut-off, optimal brewing temperature, easy to clean, indicator light, small footprint.
Cons: on button feels pretty cheap.
Characteristics:
size: 6.1 x 5.5 x 9.4in (15.5 x 14 x 24cm)
weight: 2.1lbs (952g)
color: black
material: plastic
water tank capacity: 12oz (355ml)
Most common usage problems:
not all the water may be processed over the time, if so just switch off the coffeemaker and press the start button again
black inside makes it difficult to see the max line
the start button is inconvenient.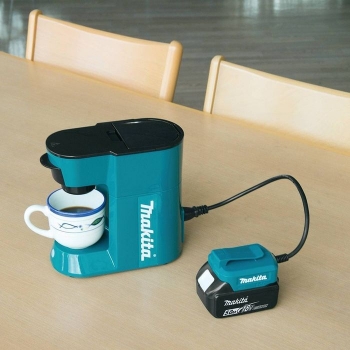 Pros: cordless, two power options: to plug in and use the battery, no paper filter needed, permanent filter, has a battery adapter, compact and portable, boil dry protection, great for camping or when you have no power.
Cons: 1 lithium ion battery is required.
Characteristics:
size: 6.1 x 10.7 x 10.4in (15.5 x 27 x 26.5cm)
weight: 3.6lbs (1.63kg)
color: green
material: plastic
power: 18V
coffee amount: 5oz (150ml)
Most common usage problems:
it makes one 4 oz cup of coffee at a time
the battery is good for only two cups of coffee
can't fit a big cup
For an affordable price and convenient size, a compact coffee machine is worth your test. Order one from an online store you trust, take it with you on a trip or bring it to your office. See how this portable appliance will provide you with aroma cup of coffee anytime you need it.