Puppy Fences - 9 Simple Devices to Keep Your Pet Under Control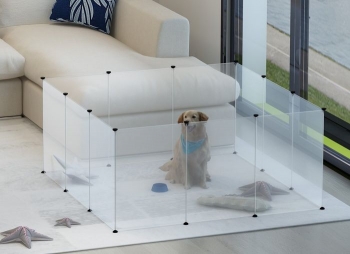 Would you like to have a pet that causes no trouble? Think about that. The pet that does not shed hair, make no noise, and cause no problems at all! It's neither a bird nor a fish or turtle. This is a hamster and it sounds like the best pet ever, isn't it? But for dog-lovers, there is no other alternative to wiggle-waggle tails, noisy barking, non-stop licking and much fun over a simple tennis ball. Having a dog or cat is definitely enjoyable but not only – it is also health-improving!
According to the study conducted by the Queen's University, Belfast, the dog-owners lead healthier lives due to lower cholesterol and blood pressure. Dogs require walking, the activity that is really good for health. Other studies show that cats and dogs help people deal with stress, which can be a source of more serious conditions. Moreover, pets can boost your mood. It's happiness to come home to your god and get a portion of love right in a doorway. All that would be inspiring to take a dog right away but for one thing.
The truth is that dog's behavior can be stressful itself. Just imagine you find your puppy sneaking for snacks in the litter bin or tearing up a feather pillow. Not so funny at all, right? Yet beneficial features of having dogs prevail over their destructive behavior, especially when you have a simple gadget to control that.
A pet playpen – this is a fence that allows you to limit the area where your puppy can play, especially when you are out. A pet playpen (also known as an exercise pen, puppy fence, pet gate) ensures your peace of mind and lows the risk of destruction your pet can cause. This is a must-have device for puppy owners and a life-saving one for full grown dogs. If you are planning to buy a pet playpen, you may face a dilemma which one you need: a puppy fence, or a dog gate, or a pet playpen? Let us help you make the right decision by providing some issues to consider before buying:
puppy fence/gate – it is normally used in the doorway to prevent a puppy from coming in/out a certain room. It can be in a form of a folding screen that stands on its own or it should be screwed to opposite walls. Regardless what you choose, a dog gate should be heavy enough to block the doorway, yet convenient for you to use it.
pet playpen – it consists of several panels attached into a ''what-you-like''-shape exercise pen for your pet. Mind the height and the size of the area it provides. Puppy playpens are normally used indoors and outdoors.
pet tent – a pop-up tent that provides your god with a confident area (smaller than a puppy fence and pet playpen do). A pet tent can be used both indoors and outdoors. It can be a good nursing area for little puppies.
The List of Most-Rated Puppy Playpens, Gates and Tents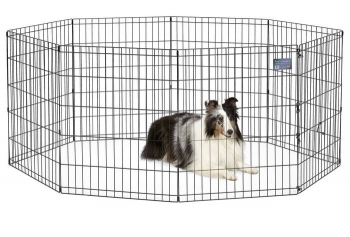 Pros: a highly rated Amazon's choice product with hundreds of reviews, easy and quick to fold and unfold, can be used indoors and outdoors, 2 or more pens can be put together and arranged in a number of configurations, large play space, optional tops are available, easy to store and transport, sturdy, a choice of models, quite large.
Cons: plastic protectors do not stay put so the pet can scratch the floor; requires safer or heavier locks for covers to prevent dogs from snapping off the blankets.
Characteristics:
panel size: 62 x 30 in (157.5 x 76 cm)
constructions: 8 panels
weight: 19.4 lbs (8.8 kg)
height: 30'' (157.5 cm)
play space: 16 sq ft (1.5 sq m)
material: gauge wire
available in 5 different heights
with and without the door option
plastic floor protectors included
Most common usage problems:
can get rusty overtime when used outside in snow and rain
not good for hardwood floors
do not try to use this pen without being present to observe dog's behavior and manage the risk of sticking
not for small animals like ferrets (spacing size is quite large)
not for a strong puppy like 16 lbs.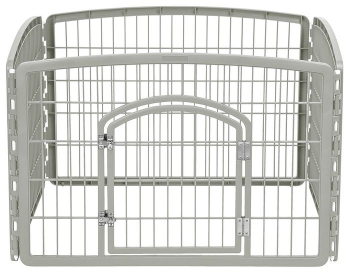 Pros: easy to assemble and disassemble, pieces can be bought additionally to enlarge a playpen size, great for small dogs (Chihuahua, Shih Tzu, Yorkie, and similar), a variety of colors available, works well together with a kennel crate, aesthetically appealing, great potty training tool for puppies, dog-friendly.
Cons: lightweight which is good for transportation but not for puppies over 5 lbs, must be secured on the ground, flimsy, velcro fasteners from the roof do not work properly.
Characteristics:
panel size: 36 x 24 in (81 x 61 cm)
construction: 4 panels
weight: 12.7 lbs (5.5 kg)
height: 24'' (61 cm)
play space: 8 sq ft (0.75 sq m)
material: molded plastic
color: 7 options
with a door option
a roof addition (sold separately).
Most common usage problems:
playpen needs to be blocked with heavy items to prevent a puppy from moving it
can change shape to a diamond when a strong puppy is trying to get out of it
small dogs jump out so it requires a cover
the side with the door does bow out a bit as if the door is weighing it down.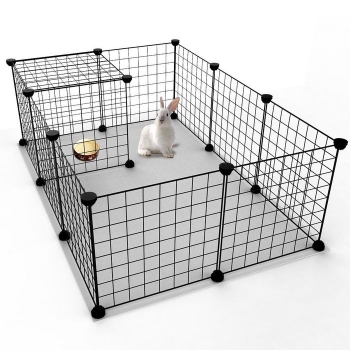 Pros: quick and easy to assemble and disassemble, customizable and expandable design, sturdy, portable, convenient to use, washable and durable wire material, easy to store and transport when disassembled, a variety of configurations, versatile.
Cons: not suitable for strong puppies or large pets like cats and grownup dogs; no door.
Characteristics:
panel size: 14 x 14 in (35.5 x 35.5 cm)
construction: 12 panels
weight: 7.97 lbs (3.6 kg)
height: 14'' (35.5 cm)
play space: 8 sq ft (0.75 sq m)
material: metal grid.
Most common usage problems:
when making a roof, it does not fit well
might be flimsy for active pets, they can bend the wires
it's not tall enough, so you should buy an additional set to build the second row
some customers said they had to zip tie each piece to ensure no escaping
the things can easily fall apart, for example, when cleaning a playpen.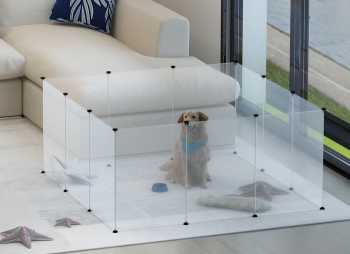 Pros: thick material, provides large enclosed space, can be easily rearranged, movable, two and more playpens can be attached to each other, good for small pets, no grid rattling sounds, pretty decals included in a pack, easy to transport, a see-through feature.
Cons: easy to come off, flimsy, for small animals only or not very active ones; black connectors are tough to attach.
Characteristics:
panel size: 28 x 21 in (71 x 53 cm)
construction: 12 panels
weight: 10.75 lbs (4.9 kg)
height: 28'' (71 cm)
play space: 28 sq ft (2.6 sq m)
material: transparent plastic
Tespo connector x 28
wooden hammer x 1
Most common usage problems:
since most customers found black connectors difficult to attach, they used zip ties to succeed
the connectors are not made of hard plastic, they are wires framing plastic sheets, that's why they are hard to connect
active puppies can move an exercise playpen and rip it apart
hard to put it together, someones else's help is required
separate when cleaning it.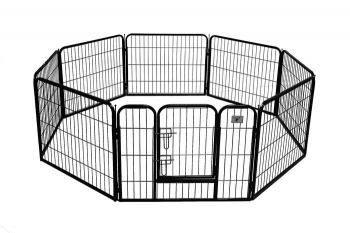 Pros: excellent quality, convenient pin connectors, durable grids, affordable, versatile, two and more playpens can be attached together, customizable, sturdy, attractive, heavy enough for a medium dog, easy to transport and set up.
Cons: door hinges are stiff; thin rod between the hinges (does not look secure)
Characteristics:
panel size: 28 x 24 in (71 x 61 cm)
construction: 8 panels
weight: 28 lbs (12.7 kg)
height: 28'' (71 cm)
play space: 20-28 sq ft (1.85 – 2.6 sq m)
material: metal
Most common usage problems:
the fence won't stand on its own if it's put in a straight line like a pet gate
hard to move it when setting up because the pieces separate
mind the spacing because little dog's paw can get caught in between the rods
no way to anchor the playpen down indoors
the pet can get caught in a V-shaped area.
The Best Pet Gates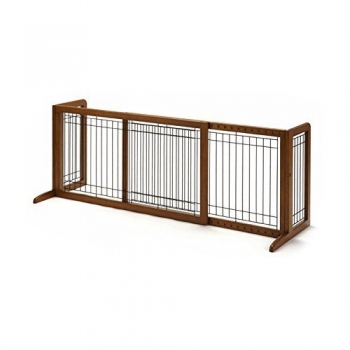 Pros: perfect size, unobtrusive, functional, equipped with little rubber pegs on the bottom to grip the hardwood floors, wood is solid, rods are nicely painted, sturdy construction, looks beautiful, adjustable width, side panels for safely confining pets, freestanding.
Cons: no doors in a pet gate.
Characteristics:
dimensions: expands from 26.4 to 40.2 in (67 – 102 cm)
weight: 16 lbs (7.25 kg)
height: 28'' (71 cm)
material: metal rods and hardwood
construction: 4 panels
size: small and large
color: autumn matte, origami white, wood
Most common usage problems:
an adjustable function is not very convenient – you should use the screw to do that (this is the major complaint among users)
stepping over a pet gate is not very convenient, it lacks a door
the dog can get trapped between a pet fence and a wall.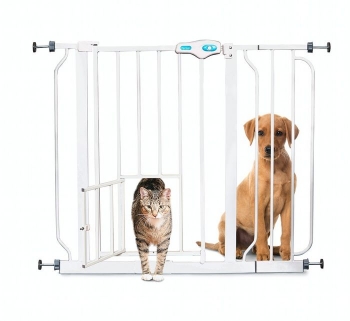 Pros: sturdy and durable, also works as a baby play fence, easy modification, well constructed, nice latch, versatile, easy installation, no drilling is required, even an old person can install it without any help, easy to use, clear instruction, the locking mechanism is simple.
Cons: gate opening is narrow, you must use the lock all the time to prevent pet's coming out, jumpy dogs can jump over it.
Characteristics:
dimensions: expands from 29 to 37 in (73.5 – 94 cm)
weight: 11 lbs (5 kg)
height: 30'' (76 cm)
material: metal
construction: 4 panels
extension kits: sold separately
wall protectors: sold separately
Most common usage problems:
when installing, mind gabs on the sides, which can be too big for a pet to slip through (extensions can help)
a cat door is too large, many customers wished it to be smaller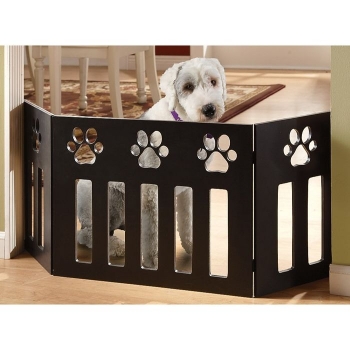 Pros: aesthetically beautiful, easy to use and transport, takes little storage space, heavy-weighted, customizable, easy to step over it, sturdy, works for small dogs, a stand-alone gate with no other component to help it stand up.
Cons: hinges are cheaply made.
Characteristics:
dimensions: expands up to 4 feet wide (122 cm)
weight: 9.4 lbs (4.25 kg)
height: 19'' (48 cm)
material: wood
construction: 3 panels
Most common usage problems:
mind the height and your dog's temperament because it best works for small dogs only
though the maximum extension is 4 feet, customers claim it works best up to 3 feet wide (a middle panel is 23.5'' (60 cm), side panels are 12.25'' (31 cm) each)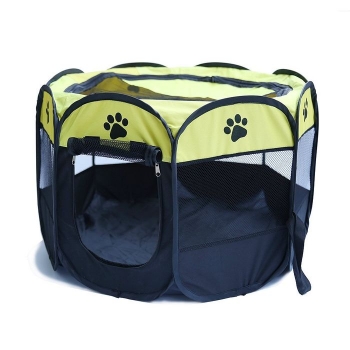 Pros: has removable top and bottom, easy to clean, washable, features 8 mesh windows and 2 zipped side doors, 4 color options, available in a small and large size, folding design, easy storage, portable, easy to dismount.
Cons: no
Characteristics:
dimensions: 28 in (71 cm) in diameter
weight: 1.46 lbs (0.66 kg)
height: 18'' (46 cm)
material: waterproof oxford fabric and mesh cloth
size: small and large
color: 4 options
construction: 8 panels
Most common usage problems:
small size playpen works for smalls dogs only, more like a kennel or a sleeping zone
Taking into account a range of pet playpen options, we hope now it is easier for you to decide on the one to suit your needs. All of the above-mentioned exercise pens and puppy fences can be found on Amazon, an online store with checked and proved goods from reliable retailers. Take time to study the pens and make no fuss upon buying. Your pet is your family, it requires love and care, even when care means some restricted area.