Portable Chicken Coops Buying Guide - Hen Cages, Wooden Houses, Permanent Chicken Coops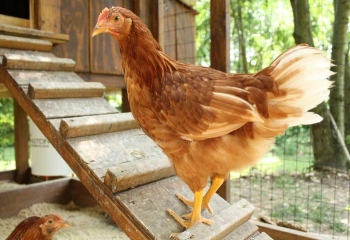 You have come from the local grocer and start putting food you have just brought into the fridge. Here are tomatoes, cheese, bread… Hey, what's wrong with the eggs? One is cracked, one is smaller that it has been promised, another one is greenish.
That's enough! You can never be sure eggs you buy are of good quality. Think of what conditions there may be, what those hens may eat, etc. If you have made up your mind and decided to make your own small chicken farm, it is highly recommended to buy a portable chicken coop. And we would like to give you advice on how to do it - will you gift us a couple of eggs in return?
1. Who needs a portable chicken coop?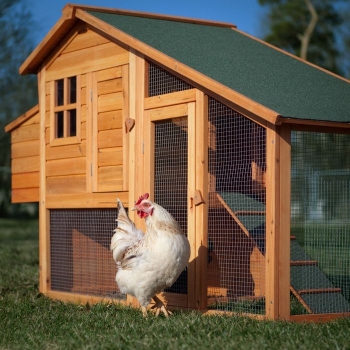 2. What kinds of chicken coops there exist?
Chicken coops can be either permanent or portable. Of course, it is possible to move a permanent coop, but in this case it is going to be very difficult. Portable chicken coops may differ in size, modules, structure, etc. Such characteristics as size, comforts and others cannot be used to distinguish kinds of coops. The only criterion that seems to be reasonable is the design. So, in terms of design chicken coops can be:
Arks. Arks are often triangular in shape. It is a type of coop that is small and provides access of daylight while keeping hens within a coop;
Sheds. Sheds are common sheds that are enhanced with everything needed to turn an ordinary shed into a place where hens can be kept. That is the 'fence', feeders, waterers, etc. Such a type is distinguished by a slanted roof;
Houses. Chicken houses. Such coops remind of ordinary houses. The main feature of this type is that it includes different modules that allow hens to walk outdoors if they feel like it while staying within the coop borders. However, chicken houses are difficult to move, so they cannot be called portable, or at least easily portable.
3. How to choose a portable chicken coop?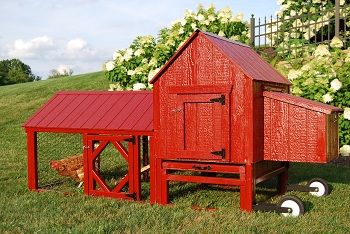 When choosing a portable chicken coop, keep in mind the following aspects:
Size. It is better to take a chicken coop of a bigger size than you need now if you plan to keep more hens. Also, it is such a pleasure to gift eggs to friends that come to visit you!
Material. Choose a coop that is made of material that does not contain arsenic. First, it is dangerous to animals. Second, it spoils soil;
Durability. Since the majority of chicken coops are installed outdoors, it is highly recommended to choose durable models that can stand harsh weather. Your hens may be brave enough to stay outside during storm, but the chicken coop must be their fortress!
Portability.If you want to move the coop very often (whatever you need it for), it is better to pick the model equipped with wheels. As a bonus, portable chicken coops are way easier to maintain, as you can take it to a place where you clean it.
4. Where can I buy a portable chicken coop?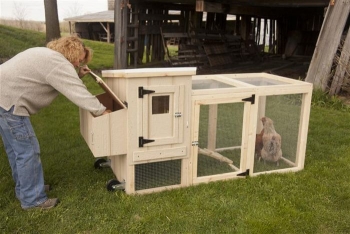 Portable chicken coops are found both in online stores of general purpose (such as eBay) and in special stores.
Amazon.com is a very popular website that provides an opportunity to order almost any kind of goods. There is also a guarantee on all the goods being shipped by Amazon company. Even if you do not want to place an order, you can just check what models there are available in the market, as there is a great variety of goods presented;
Petco.com is a special store where you can buy chicken coops, extension pens for them, outdoors runs, etc. The store sells goods for any kinds of pets (including dogs, cats, fish and many others). In short, it's a pet shop;
There are many other websites where you can buy chicken coops, but mind the price and the guarantee. More than that, it might be better to come to your local store where goods for farmers are sold, and see models for yourself.
5. How can I make a chicken coop myself?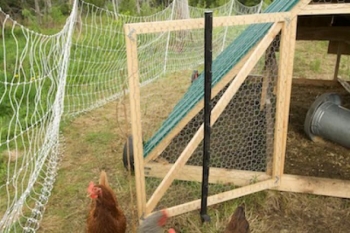 Most chicken coops are quite expensive (around 150-300$), so if you cannot afford one, it does not mean you cannot buy a hen and enjoy fresh and healthy eggs. Try building a coop yourself - it is cheaper and more customizable, since you are the one who can alter the plans and make the coop of your hens' dreams!
There are many plans for chicken coops, so decide which size you need and adjust the numbers of materials to you needs.
Keep in mind that the most common mistake of hen owners is placing too many chickens into one coop! Chickens require space to lay eggs properly, so if the only thing they will be able to do is to stand and watch, not daring to move not to stand on the neighbour's leg, it will not be great for them.
If you make the coop that is too big, it is not an error. Your current hens will feel comfortable, and you will have an opportunity to add more chickens to the chicken coop later.
Another option of making a DIY chicken coop
Well, a few notes before we start making a chicken coop. A chicken coop comprises of an enclosed space where chickens can lay eggs and sleep (and hide if they have claustrophobia!) and an 'open-air' space where they can walk when they feel up to. Also, the enclosed part should be elevated.
Another thing to consider is choosing a place for your coop. It is better to find a square where the 'open air' part will be shaded. Hens are not fond of sunbathing (though some would not reject a cocktail), so it is recommended to place coops under large trees. If there is no way to do so, shade this zone with some material.
Step 1.Make a rectangular bottom frame using rot-resistant lumber. Avoid using lumber that contains heavy metals, such as arsenic. Prepare chicken wire (metal mesh) that should be used to cover all the sides of the open-air part. It will keep your chickens in and predators out. Use metal corner bracers to put the parts together. Make sure the diagonals are equal. Again, mind the size. It should be no less than 3 square feet (0.28 square meters) per bird.
Step 2. We recommend building an A-frame. In addition, use 2 pieces to strengthen the bottom frame. Use deck screws to fasten the parts together. Avoid using nails, as they may hurt chickens.
Step 3. Add three planks to shape the entrance as shown. Planks in the middle that run the length of the coop may serve as roosts. 6 to 10 inches (15-25 cm) of roosting space per bird is enough. Roosts should be elevated at least 2 feet (~60 cm) off the ground.
Step 4. Build nest boxes. They can be built into the frame of the coop and lined with hardware cloth. It is recommended to use plywood and fasten the nest boxes directly to the frame. One square foot (0.09 m2) of nesting space is enough for 4-5 hens.
Step 5. Add side plywood doors to protect nests from the elements. Also, doors make it easy to have access to eggs. Remember to leave the bottom parts of the A-shape open to ensure good ventilation. Make one big door at the front by fastening together a wooden frame and a diagonal support. Staple chicken wire to it.
Step 6.Make a roof. It can be made of any material that is not harmful. You have some unneeded galvanized steel roofing? That will do too. You can even use tarp if there is no other waterproof material available.
Step 7. Make it portable. That is, attach wheels to one of the sides. Make sure the distance between the frame and the ground is not enough for hens to escape.
And here we go! Keep in mind that you should be very careful while dragging the coop so as not to let any chicken get under the frame!
Thanks to Lauren Ware for the ideas.
Here are a few videos that may help you make DIY chicken coops:
6. Top 5 models of chicken coops.
Here is the usual list of top 5 models of chicken coops found in the market!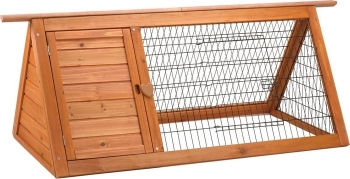 Cheap, but usable model for those who cannot afford a more expensive version.
This A-shape hutch is distinguished by the following parameters:
It is very easy to assemble - all you need is a screwdriver;
Easily portable and can be moved around the yard;
Seven square feet (0.65 square meters) of living space;
Dimensions: 24.5 x 53.5 x 21 inches (62.2 x 135.9 x 53.3 cm);
Weight: 22.5 pounds (10.2 kg);
It is large enough for 2 full-sized hens;
Customer reviews:
- "I bought a few of these hutches to keep bantam chickens in. They are perfect for keeping breeder pairs or trios in. They are extremely simple to assemble. With an electric screw driver, it only took me about 15 minutes to put the first hutch together.
The nest box latch is not a great design, so I recommend installing your own bolt lock for greater security. Also, for added predator-proofing I suggest attaching chicken wire or hardware cloth to the bottom if you plan to leave these outside unattended, as an animal could easily dig under to get inside the hutch" - Jane Donut
- "This is very rugged yet very light weight. It is not as large as the photo suggests. I would not put more that one full sized chicken or two banty chickens in it. I also would not feel comfortable leaving a bird in it long term or unattended for long periods of time. This I say for two reasons. One, it could easily get tipped over. Two, it is made from cedar and, as any chicken person knows, long term exposure to cedar is toxic to chickens". - Gunny D.
- "It looks good on paper, but the manufacturer should modify this to include a floor". - Jordan Knoles
Pawhut Deluxe Wooden Chicken Coop with Backyard Outdoor Run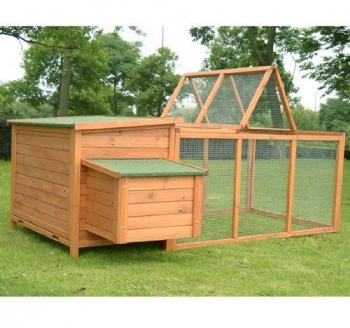 This chicken coop is bigger than the previous one and is a good model to start your own farm.
Dimensions: 57 x 87 x 32 inches (144.78 x 220.9 x 81.2 cm);
Convenient ramp allows pets to access sleeping area;
Features protected outdoor space;
Element-protected space;
Weight: 93 pounds (42.2 kg);
Customer reviews:
- "Good coop for adult chickens. However, in South Florida, there are rats, snakes, racoons, possums and cats - all of which can fit through the gap between the nesting section and the main house. The underside sliding tray is also a site for animal invasion. I've lost baby chicks to a possum before, so I used steel hardware cloth across the bottom to make the coop predator proof". - Wendy Hilt
- "This is a great Coop Very well made and has lots of room! I would recommend this for anyone wanted to keep 4-5 chickens". - TheSmallTownGardener
- "We ordered this coop for our pet duck and chick, both of which had just gotten old enough to move outside. The house and pen went together easily. Our pets love their new house. Especially nice is the way the "roof" of the pen opens making it very easy to feed and water the animals". - Kimberly Kirkpatrick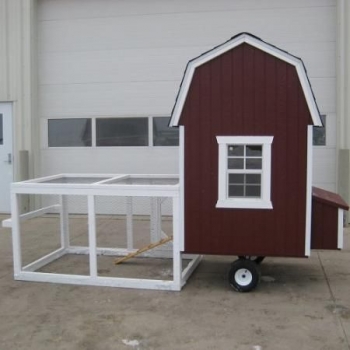 This barn-style chicken coop is portable and can be home for up to 6 chickens;
Price: 1780-3100$ BUY NOW
4 nesting bins with easy access egg collection;
It is made of solid plywood;
14 x 21-inch (35.5 x 53.5 cm) working tempered glass window and screen;
Panelized sections for easy assembly;
Dimensions: 99 x 72 x 30 inches (251.5 x 182.88 x 76.2 cm);
Weight: 875 pounds (396.9 kg);
Large enough for 10 chickens;
Convenient construction for egg collection;
Human-sized door;
Reviews:
- "The solid plywood construction provides a safe storage environment and the mounted wheels make transportation easy. Four easy access nesting bins make this coop suited for holding up to six chickens. This coop features a working glass window and a chicken run". - www. houzz.com
Pawhut Deluxe Large Wooden Bunny Rabbit Hutch / Chicken Coop w/ Large Out... <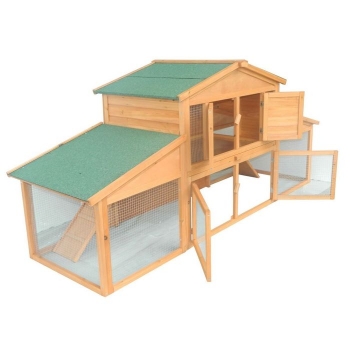 Front doors for easy access to pets;
Open air space for running;
Multiple ramps for better traffic;
Requires assembly;
Overall Size: 90.6 x 27.6 x 39.4 inches (230.1 x 70.1 x 100 cm);
Run Size: 84.5 x 24.4 inches (214.6 x 61.9 cm);
Upper Window Size: 10.3 x 12 inches (26.1 x 30.48 cm);
Lower Window Size: 16.7 x 13.8 inches (42.4 x 35 cm);
Material: Solid China Fir construction;
Wired bottom!
Customer reviews:
- "It was easy to put together and had a surprisingly sturdy roof. The only drawback for me is the wooden locks they are too easy for a predator to get into and I am replacing them with a hook and eye. a divider option in the center would be nice. Great cage for the price". - Bunnytopia.
- "Appearance is great! Needs some alterations, if you live in a cold weather area. Would have liked a nesting box on back but you get what you pay for, & it should be easy to attach one yourself. Overall very nice for the cost". - Becky J. Miller.
- "Hutch works very well for my 3 hens. I live in Western WA where it rains a lot so the double covered runs are a big plus. I let my chickens out to free range during the day and they come back to roost at night. I call it my chicken palace because it looks so nice". - Gary Uhlig.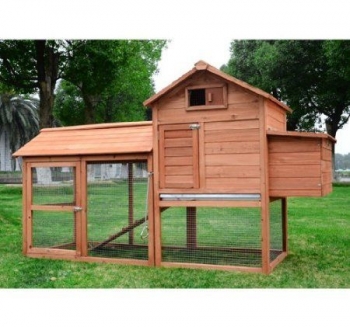 Features window for air circulation;
Hinged door that allows easy cleaning and feeding;
Ramp featured;
Features nesting box;
Removable dividers to make the nest box into 2 nest areas;
Fits for 2-4 chickens depending on breed and size;
Overall Size: 82 x 34&3/8 x 52.5 inches (208.2 x 87.3 x 133.5 cm);
Interior of Outdoor Run: 64 x 23.5 x 39.3 x 19 inches (162.5 x 59.6 x 99.8 x 48.2 cm);
Living Quarters Interior: 25&1/4 x 23&1/2 x 24 - 31 inches (64.1 x 59.7 x 61 cm);
Nesting Box Interior: 20 x 11&3/8 x 14 inches (50.8 x 28.9 x 35.56 cm);
Weight: 97 pounds (44 kg);
Customer reviews:
- "The run is a good size for our two hens (although they much prefer open range in the yard). We live in the city, so the size is perfect...not too big, not too small. The coop is easy to clean and pretty easy to build as well. It took about an hour with no issues. The only change I would suggest is to have the roost nailed in. We are going to nail it in ourselves because one of our ladies likes to knock it down every day". - Amy Bomberger.
- "The coop assembly instructions aren't great, but if you're handy with a drill the assembly shouldn't take more than an hour (including a couple mistakes along the way). One recommended change is that all the locks need reinforcing if you have predators in your area. Something as simple as a second lock does the trick nicely. Also, a latch on the roof is helpful to prevent a strong wind gust from blowing the hen house roof open. Finally, the coop sits directly on the ground without any additional barriers. Again, if you have predators in your area, you might want to add a little more protection for your chickens by adding hardware wire to the bottom of the coop to prevent diggers from getting in from the bottom". - Jessica Bayer.
- "I bought this and assembled it in about 3 hours. While I like the design the wood feels almost like balsa wood and is a bit cheap feeling. Another person who spoke to me after i got it said that its very susceptible to water/warping so he recommended painting it. It feels like its raw wood or if anything a super thin layer of something on it. For those who care its made in China". - Chris L. Margason.
7. Conclusion.
So if you want to enjoy fresh eggs laid by chickens that eat healthy food and are cared of, it is a wonderful idea to make your own small farm. Portable chicken coops have advantages over immovable ones, such as the opportunity to provide fresh grass for the hens and high mobility. If you do not want to build a coop yourself (which is quite easy and fun), there are many versions available in the market that feature both spaces for nesting, roosting and running in the open air.