13 Best Bathroom dispensers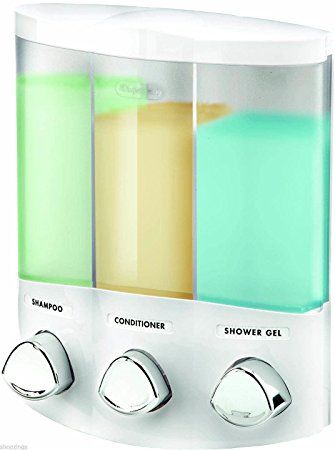 A dispenser is a very comfortable device that easily and equally dispenses the toiletries it is used for. Nowadays the variety of bathroom dispensers is absolutely immense. You can find dispensers for soap, toilet paper, toothpaste, foam, shower gel, etc. There is a range of benefits bathroom dispensers are loved for and here are some of them.
What are the benefits of using dispensers in the bathroom?
They keep bathroom cleaner – Dispensers are essential for making you enjoy cleanness in the bathroom. For example, instead of having your bar soap soaking in a tray on a countertop, you can opt for the liquid soap dispenser to keep it neat. The same with squeezed toothpaste tubes.
They keep toiletries organized – Toilet paper, shampoo, shower gels and other stuff you normally use every day can be carefully arranged with the help of bathroom dispensers. Some of them are of a large capacity so that you won't need to refill them for weeks.
They are economical – Dispensers are designed in a way to dispense the most optimal amount of a certain product. If you run out of kid's toothpaste every week, a toothpaste dispenser is a must-have.
They are aesthetically beautiful – Because many dispensers are available on the market, it is possible to choose any to fit your bathroom interior or to stand out, depends on your preferences.
They are convenient – The main reason people decide on bathroom dispensers is that they are very comfortable to use. And easy to refill.
So below there is a list of most rated and handy bathroom dispensers you can have in your restroom, too.
Most rated bathroom dispensers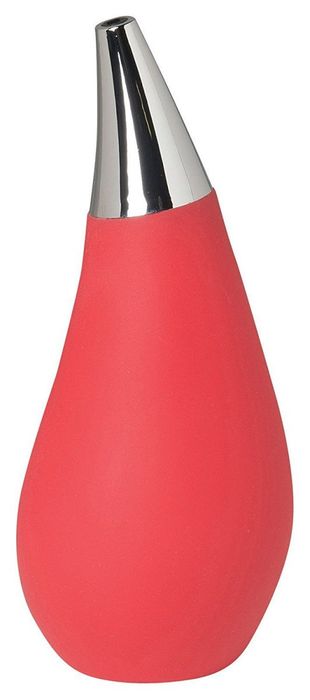 If apart from clean hands you also want to have a touch of style in your bathroom, opting for this unusual drop-shaped dispenser is a must. It is available in some colors, which are bright, stylish and extremely beautiful. The metal-like nozzle is chic. It works smoothly by giving a dispenser a light squeeze. It neither falls down nor drips soap and can easily substitute your traditional bottle.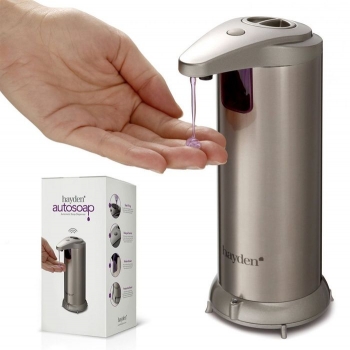 When your bathroom accessories are so clever that you do not need to touch anything but still get what you want, it is fantastic! Now with even the dirtiest hands, your soap dispenser will remain clean if only this is an autosoap dispenser. Sleek modern design with no-finger-print surface makes such a dispenser an excellent choice for your bathroom.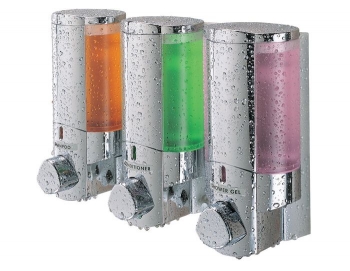 An excellent example of how effective can three things be united together. Three chamber dispenser is a must-have decision for those who take a shower at least once a day. Fill them with shower gel, shampoo, and conditioner. Due to clear plastic, you will always see what exactly is inside the sections. Enjoy the showing and the way how you take it when there is a three chamber dispenser.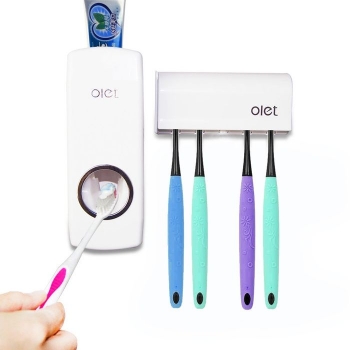 If you don't like squeezed and crumpled toothpaste tubes as we do, you need to calm down your nerves with a toothpaste dispenser; better with a toothpaste dispenser set. This is a nice bathroom accessory to keep your dental care products organized. The holder is perfect and prevents toothbrushes from getting covered with mold like they do when standing in the glass, while a toothpaste dispenser squeezes the paste neatly.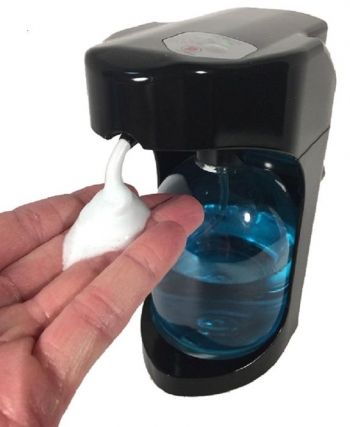 Do you like hands-free activation? You can enjoy it in your bathroom as soon as you get this bathroom dispenser. The sensor is very responsive and never fails while the device is flawless in producing soft foam out of the soap+water mixture. The amount of soap depends on its thickness and the brand. You can either mount it or place the dispenser on the counter and enjoy it anyway. It turns your washing into a pleasing experience.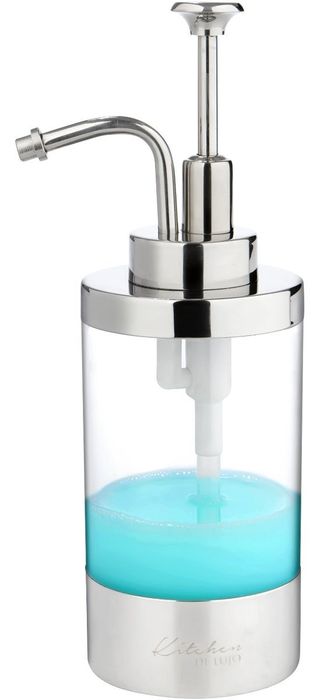 This soap dispenser works just exactly as the oil can pump, in one word – smoothly. If you don't like the routine of pushing the dispenser with your thumb but would rather prefer to easily touch it, then you will definitely like it. What is more, it emits just the right amount of soap. Sounds like a clever device you should have on your countertop.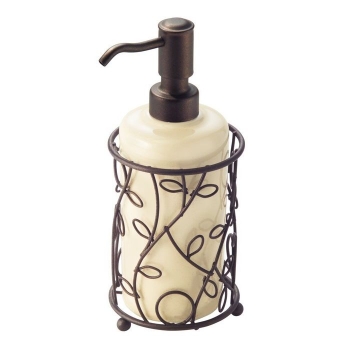 Stoneware and metal are a timeless classic which is elegant to have in the bathroom. Give your little room a bit of a chick touch and enjoy using a beautiful bathroom accessory every day. Simple but subtly decorative, it works like a classic soap dispenser with the only difference – it is so beautiful that it is pleasant to use it.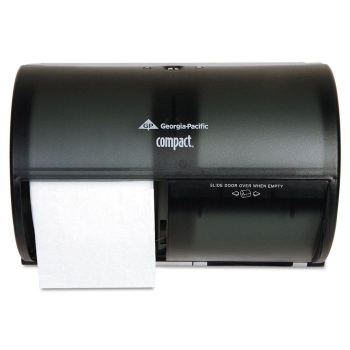 When single tissue roll runs out too fast, decide on a double tissue dispenser. It is easy to install, refill and use. This is a nice device that keeps toilet paper covered from possible spills. Though it still might not protect it from your cat: double tissue dispenser sounds like a double pleasure it can shred.
Funny dispensers
These bathroom dispensers are quite unusually but really creative with no sacrifice to their functionality. You can pick them as an idea for a present.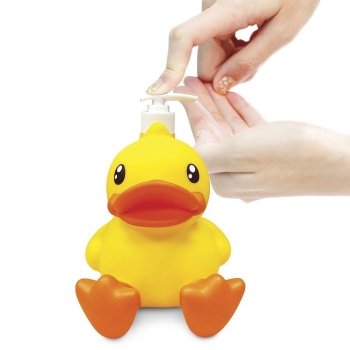 Looking for an easy way to make your children love washing hands? Buy them a funny soap dispenser. Being a lovely bathroom accessory, it functions as a usual dispenser. It is large so you can use it for shampoo if your little one does not like hair washing. It would be a nice addition to your ducky style bathroom if you have one.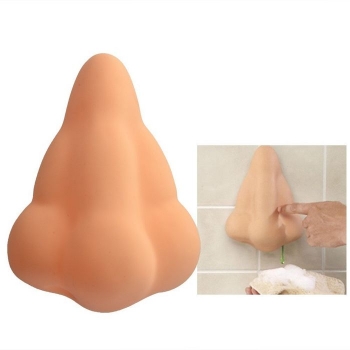 People with a good sense of humor would like this funny device especially if they have green shower gel. This can be a nice idea for a creative present. Each nostril is responsible for a certain type of liquid, so you can use two of them. It is large and capacious; it can be compared to ogre's nose, just imagine you have a part of Shrek in your bathroom, literally.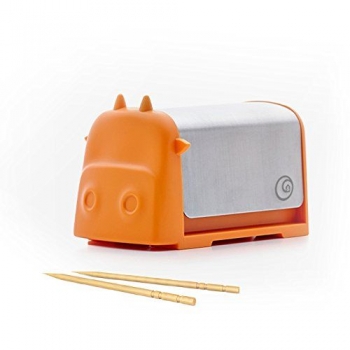 What is the best place for dental care routine? The bathroom! So if you use toothpicks, a nice place to store them is a bathroom over-the-sink cabinet while a nice box to keep them neat is a funny cattle dispenser. It may be a little bit confusing to pick one but it is definitely a funny design decision. This toothpick dispenser is loved by users of different age.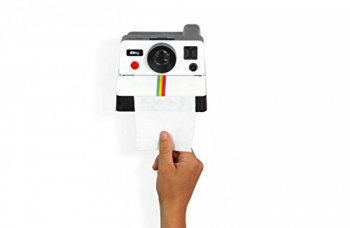 This is a funny thing to have in a bathroom. Polaroid toilet paper dispenser will give a retro touch to your restroom. If you are nostalgic for the 80s or you just want to turn a boring usual thing to a stylish accessory, here is your chance. This can be a nice present idea to a photo fanatic.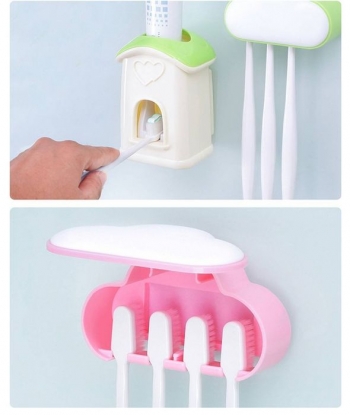 This is one of most useful bathroom accessories. It comprises a great idea how to make kids brush their teeth in a funny way. You can create your own story about the tooth fairy living in a lovely house and taking care of small kids' teeth. Such a funny dental care won't seem daunting. The set consists of a toothpaste dispenser and a brush holder.
With such a large array of bathroom dispensers it can be hard to choose only some of them. Actually, you don't need to because the majority of them are affordable and won't hit your pocket. Instead, they will really facilitate in using toiletries on everyday basis. Enjoy your stylish restroom and pretty accessories!