Portable Small Fax Machines: A Comprehensive Buying Guide
'Come on, what are we talking about? Are you serious? Do you really want us to use fax machines when I can email anyone I want? Why not use pigeon post too then?'
Well, there are lots of such talks these days, but in this buying guide we will tell you more about the devices that are neglected and given undeservedly little attention, though prove to be useful both in business and at home - portable fax machines! Let the pigeons envy!
Reasons why fax machines are still needed.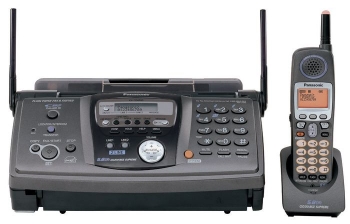 It is quite a common question nowadays - why do we still need fax machines if we have the Internet? To some extent, this question is reasonable. However, if we look into this matter, we will see that there are plenty of reasons why you should not throw away your fax machine or buy one.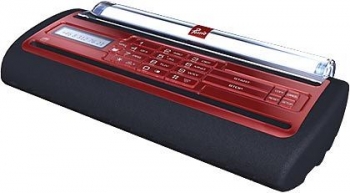 Advantages of portable fax machines.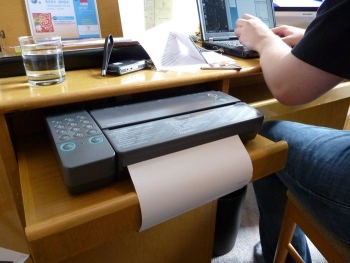 Impressed by all those benefits listed above? Then you will be happy to learn that portable fax machines combine all of them with another one - portability! However, the advantages of portable fax machines go beyond the ones we have already mentioned.
Portability. This quality makes thousands of businessmen want to buy a portable version of fax machines. It can be taken anywhere, for instance, for business trips, holidays, expeditions, rescue missions, etc.;
Various options. There are so many versions of fax machines present in the market that everyone can choose a model according to his or her needs. If all you need a fax machine to do is send and receive documents, there are simple devices (that are generally cheap, unless you want to buy a retro item!);
Design. Fax machine design may vary, so you can choose a device with any style you like, be it minimalistic or exquisite;
A number of features. Portable fax machines can be either standalone devices dedicated only for sending and receiving documents, or be part of MFP, which means you may have a 'business station' featuring scanning, fax, and printing pieces of equipment;
Wireless technologies. Since many modern fax machines use wireless technologies, they can be used anywhere regardless of whether you need to have an opportunity to send faxes on vacation or a business trip.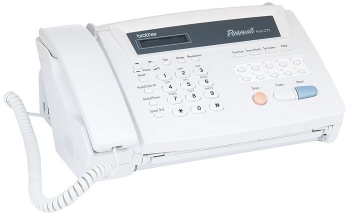 Drawbacks of portable fax machines.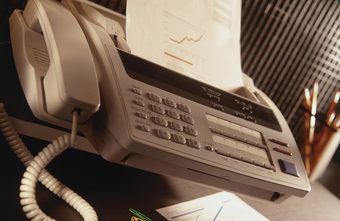 Almost everything has drawbacks, and portable fax machines are no exception.
Price. When it comes to affordability, high quality MFPs with fax machines integrated are not considered to be cheap. Still, if all you need is to send and receive texts and documents, a simple fax device would not worth that much;
Limited functions. Unlike to the Internet, fax machines lack the ability to process files, so the tasks that can be solved by using a fax machine are quite specific;
Paper-handling options. Some portable fax machines are too small to handle papers of large size.
Types of portable fax machines.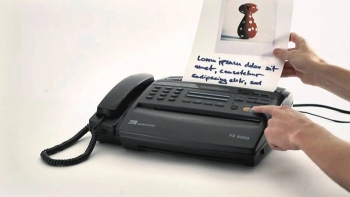 Modern fax machines fall into two types: inkjet fax machines and laser fax machines. Both print on plain paper.
Inkjet fax machines. This type is perfect for those who receive less than 30 faxes daily and produces crisp texts at low cost. It is a standard solution for home;
Laser fax machines. This type uses an LED printing engine and reminds of laser printers. These devices can produce images of high quality and are used for heavy-duty routine. They are easy to maintain and rarely require something beyond toner and paper. Such equipment is generally more expensive than inkjet fax machines.
How to choose a portable fax machine.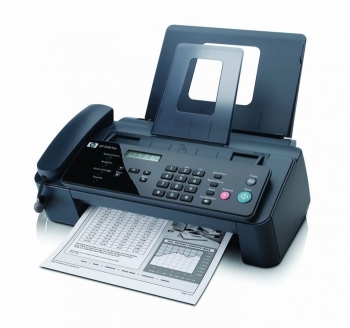 Choosing a portable fax machine can be tricky, since you never know what exactly you may need next tomorrow. Follow these steps to ensure you will enjoy your device!
Think of what exactly you want this item to do. You are to plan whether you are going to need merely to send and receive faxes from time to time or need a fully functional device that is capable of sending faxes, printing and scanning. If the latter is your option, pick an MFP, a compact multifunction fax. Small portable fax printers are the best choice for those who rarely use faxes;
Consider costs. This is needless to say you should buy a model that will not ruin your family budget. Here we imply not only purchase costs, but also maintenance costs - toners may be expensive, so take your time to learn more about accessories for this or that compact fax machine;
Design matters. Of course, you will be happy to look at the fax machine you have just bought if the looks of it appeal to you. Hence, it is one of the important aspects of choosing a mobile portable cellular fax machine;
Mind the options. This step is closely connected to the first one, so think again of whether you need to synchronize your fax machine with the cloud, whether you will need to store the documents you send, etc. Ask the vendor if there is no information about some option you need;
Check fax sending speed. The higher speed a fax machine is capable of, the less the phone charges will be. High speed compact fax machines are generally expensive, but they are worth it in the long term;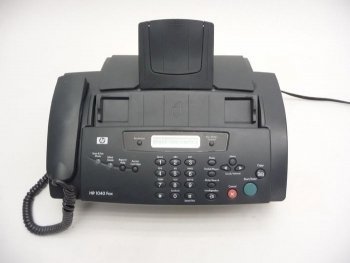 Learn about data compression protocols. Devices that use Modified Read (MR) or Modified Modified Read (MMR) protocols send documents 25% faster than Modified Huffman (MH) protocol, so pay attention to what technical characteristics the device your are considering has;
Memorable memory. Memory is used for data storage, so if there is no paper, so instance, you can receive the fax using integrated memory. If standard memory is not enough, you can buy additional modules;
Paper-handling ability. Fax machines can work with different types of documents, but you should pay special attention to the maximum size of documents, since there are limits.
Reviews of popular models.
Here is a list of top 5 models available in most stores that you will enjoy!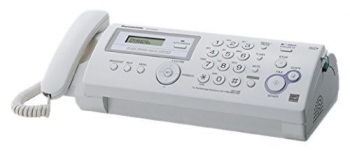 Classic device at its best. This device is cheap, but knows its fax business!
Features:
10 sheet auto feeder;
Convenient navigation;
Two lines up to 16 characters;
You can see the name of the person calling;
Able to make 20 copies;
2 line corded phone;
LCD display;
Caller ID memory;
PC connection;
Uses thermal film rolls - it is quite an old technology, but they do not dry out like inkjet cartridges;
Dimensions: 12 x 12 x 10 inches (30.5 x 30.5 x 25.4 cm);
Weight: 6 pounds (2.7 kg);
Customer reviews:
- 'This is perfect for us because it uses a film which doesn't dry out in the head like an inkjet fax. NOT only that it doesn't spit any paper on the FLOOR. Gotta love that!
It is the best fax machine I've been around' - Lexi Genoa
- 'Works great. Only disappointed that a full type cartrage did not come with it. Soon have to purchase a replacement' - Teri L. Childers
- 'Works well, and compact. For the price we couldn't find ANY fax machine locally, and it works very well without any errors'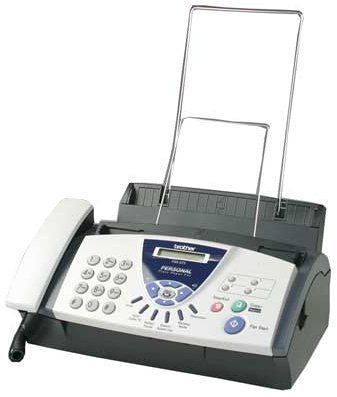 This lightweight device is highly portable.
Features:
Convenient faxing;
Capable of sending fax, making calls and copying;
Black and white copying, 400 x 400 dpi resolution;
It takes 15 seconds to transmit a page;
Has memory integrated that can store up to 25 pages;
50-sheet paper capacity;
10 page auto feeder;
104-station auto dialing;
Dimensions:15.5 x 13 x 9 inches (39.4 x 33 x 22.9 cm);
Weight: 3 pounds (1.36 kg);
Customer reviews:
- 'Bought this to have a fax machine at home. It was easy to set up. Doesn't take up much space on the desk and you have a built in phone with caller ID, too. The copy machine part of fax makes nice clean copies, too. This wouldn't be very cost effective if you are going to receive a lot of faxes or make a lot of copies. It is great for someone like me who has to fax stuff for work occasionally and doesn't want to drive to the library and pay $2.00 a page' - okiemunchkin
- 'This fax is perfect for the home. Takes up little space, inexpensive to operate and very reliable.
It is NOT a business machine on any level. As with most things in life you get what you pay for, and this fax provides great value for its price.
Pros: plain paper, small footprint, easy to use
Cons: transfer cartridge annoying to replace. We rerolled it twice and it is still good (cheap, I know, but then I bought a cheap fax...)' - Xuruev
- 'This has been a great purchase. I don't receive or send many faxes, but this is fine for occasional use. This machine would probably not be the best choice if you plan on getting lots of faxes' - Louise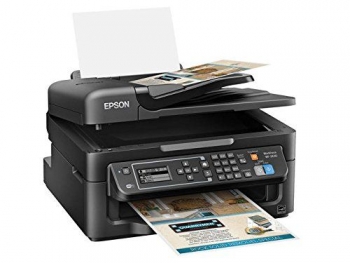 This is a multifunctional device that features anything you may need for your business or home needs.
Features:
Scanner, copier and fax;
9 ISO pages per minute (black) and 4.7 ISO pages per minute (color);
Print from any devices, including iPads, iPhones, smartphones, etc;
Four ink cartridges for easier and cheaper replacement;
Space-saving design;
Dimensions: 10.4 x 19.1 x 16.8 inches (26.4 x 48.5 x 42.68 cm);
Weight: 16.5 pounds (7.48 kg);
Customer reviews:
- 'This WorkForce WF-2630 Model has a very small footprint. When not in use, it measures a mere 8.7 inches high, 15.4 inches wide by 14.8 inches deep. When it is fully open for printing, scanning, copying or faxing, it measures 15.4 inches wide by 21.3 inches deep by 10.5 inches high. If you are short on space, this is a great fit for your desktop. I had no problems quickly connecting this WorkForce to my Windows 7, but my neighbor had some issues connecting her WorkForce to her Windows 8' - Tante Maren
- 'I bought two of these, one for home use and one for business. You need to trust me when I say this... you will spend an unbelievable amount of money on ink for this printer! Do your research (I should have) on the print capacity of the cartridges. I have never spent so much on ink in my life' - Ronald Jones
- 'I haven't had this little guy very long, but so far I am happy with it. I don't print that much at home, so if it prints a little slow I really don't care! What I have printed thus far has come out looking very nice. Setup was quite easy. The wi-fi works great, I can print from my phone, and can scan to my Google Drive. It's perfect for me!' - Jeff M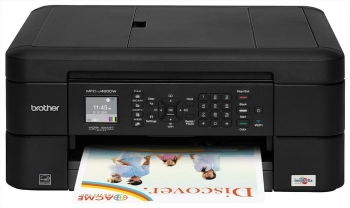 This wireless color photo printer, scanner and copier.
Features:
Easy setup;
'Mobile device printing via AirPrint, Google Cloud Print, Brother iPrint&Scan and Wi-Fi Direct';
2-sided printing;
Inkjet printing;
100 sheet paper capacity;
Handles documents of up to 8.5"x14" (21.6 x 35.5 cm);
20 sheets feeder;
Dimensions: 15.7 x 13.4 x 6.8 inches (39.9 x 34 x 17.3 cm);
Weight: 16.8 pounds (7.62 kg);
Customer reviews:
- 'difficult to wireless connect to my router, and never did, just use the direct attachement with usb... dosen't come with correct usb, but I had one with my old printer so it works. Just be sure your router is compatible (mine is, but requires a little extra, apparently mine is difficult (tp-link)). Not really brothers fault, but .... also printer default settings could be better... hence 4. Regardless, I like this better than my old hp' - M. Bryant
- 'Truly an "all in one" printer. This printer does it all including two sided printing. Setup is easy and if there are any problems (unlikely), there is a toll-free phone number for Brother. I have mine connected wirelessly to a desktop, a laptop, and my iPhone 5s. I have it connected via USB port to my "main desktop". "Pairing" was easier than with other wireless devices I have. The entire setup process went without the least problem. You're sure to appreciate the "footprint" of this Brother printer and scanning is great. As usual, the supplied ink cartridges are "starter cartridges". I still cannot understand why the manufacturers cannot afford to provide "full size" cartridges with the printer... and why do they not supply a usb cable. This seems to be the norm with all printer manufacturers. Is their profit margin so low that they cannot "go the extra mile" and please the customer? In any event, this is a nice printer that should provide long service for your printing, copying, scanning, and fax requirements' - Vista Bill Raley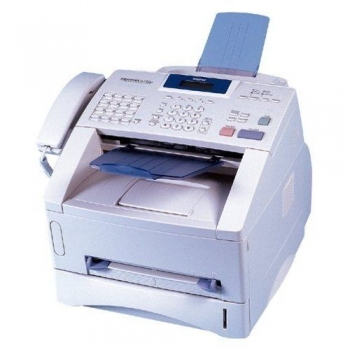 This is a business class laser fax that is quite expensive, but is distinguished by advanced characteristics.
Features:
High speed fax modem - 33.6 kbps;
Fast copying, 15 pages per minute;
8 MB memory that is capable of storing 600 pages;
60 sheet auto feeder;
250 sheet paper tray;
Parallel and USB interfaces;
Optional 10/100 baseTX Ethernet;
All in one machine;
Transmits as fast as 2 seconds per page;
232 station auto dialing;
Dimensions: 17.1 x 17.4 x 12.7 inches (43.4 x 44.2 x 32.6 cm);
Weight: 23.3 pounds (10.5 kg);
Customer reviews:
- 'I have a copier. I have printers. I needed a fax. I receive 100-150 faxes a day. This is simply a great fax machine. Nothing more and absolutely nothing else. It is quiet and extremely fast. "Pick one thing and do it great" - this is what this machine does. It isn't OK at a lot. It's great at one thing. It sends and receives faxes' - B. Budlong
- 'My only complaint is that the delay for re-dials is 5 minutes, and there's no menu adjustment to shorten it. But then again, this is not an unusual problem, and far less serious than some of the other problems I've had with other machines. If you're looking for a fax machine for your home, a multifunction printer that emphasises printer features may be a better choice for you. But if you're in a business situation in which you need to do a lot of faxing, this is one heck of a good fax machine' - Warren Holzem
- 'We have used it for almost two years and it has functioned perfectly. I especially like the scan then send feature. We often load several documents at once to different phone numbers and just let it crank away. Never a problem. It is not cheap but it is professional grade' - Paul D. Woolfrey
Conclusion.
As we can see, portable fax machines are still useful, especially for business. It is recommended to buy a portable multifunctional device with fax, scanner and copier in case you ever need something more than just sending or receiving faxes. So give it a try - or buy a pigeon!