Cute and funny Mocoro Robotic Furball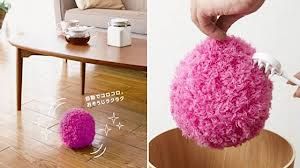 Only the Japanese can make the dust-cleaning machine into a pretty and cute thing. Thus, we would like to present to you the unique and truly adorable robotic wool ball Mocoro. Mocoro will be rolling from one side of the room to the other, at the same time collecting all the dirt and dust onto its surface. Its outer fabric coating is made of a microfiber cover that is easily removed for cleaning or washing in the washing machine. For the active usage and effective cleaning Mocoro requires three AA sized batteries and thus can operate with them for three hours, every 15 minutes automatically turning on and rolling around your house, leaving no chance of dirt and dust.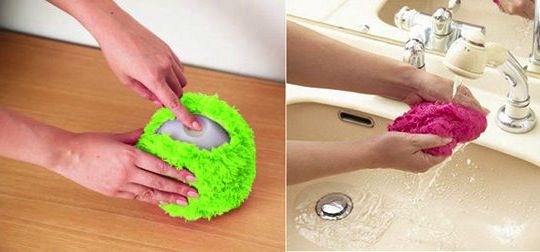 New robotic vacuum-cleaner with fun way to deal with dirt
In addition to the extravagant look and fun way to deal with the dirty floor, Mocoro is available in pink, orange and green colors for just $ 64; it is replacing the traditional humming vacuum cleaner. Even though the modern citizen who is following all the news of the high-tech will not be amused by another robotic vacuum-cleaner, but new Mocoro will not leave anyone indifferent. Portable vacuum-cleaner can be really reliable assistant in housework as well as Multifunctional Robotic Windows Cleaners Winbot 7 or Smart Portable Iron.
The best solution to keep your home clean
Mocoro Robotic Furball is a cheap and funny solution to everyday cleaning that can cause you lots of nerves and simple discomfort. This new portable device will be a perfect solution for all people who would like to keep their place clean and tidy but at the same time do not want to kepp big and noisy vacuum cleaner and have no money for the robotic device that costs at least three hundred Euros. In such a way Mocoro Robotic Furball will be just perfect.
In essence it is a lump of microfiber, reviving every 15 minutes, and rolling around the room. No dust bag or strained roaring engine. The funny thing is please not only the owner, but also his cat and other pets. Also children while playing around will be pleasantly amazed by the bright and so energetic device jumping around. Pretty device looks really funny and creatively in the same manner as The Bat - flying computer mouse or Weather-cautious Forecast Umbrella.
Small and cute household device
From the technical side, as we already mentioned the Mocoro is a robotic portable device that is really small and cute. It is offered in pink, orange and green colors. The dimensions of the device are 12.1 cm in width and 12.1 cm in height and about 11.6 cm in depth. The weight of the Furball is about 270 g not including the batteries. So you can transport the vacuum-cleaner as easily as Nomand Portable Green Coffee-Machine or Convenient Microwave for the Car.
For convenience, the buying kit includes cleaning brush for Mocoro which is enough for a thorough cleaning, though if you feel like, the cover can be also washed in the washing machine. So we think it is a perfect solution for a small family living in a small flat or for young people who do not like to clean their house even once a week. Mocoro Robotic Furball is cheap, funny and really functional.